Quick and easy muffins just got a little healthier with the addition of acorn squash, whole wheat flour, walnuts, greek yogurt and then flavored with fragrant cardamom. Sure to become your new go-to-muffin recipe.

I'm so excited to share my most favorite muffin recipe with you'll!
Breakfasts are usually some kind of cereal or toast or smoothie in our home. But, it's a whole different story on the weekends when Pudding Pop demands "weekend special" like pancakes / waffles / french toasts / muffins. Let's face it, muffins are just an excuse to eat cake for breakfast. Similar ingredients minus the frosting. I try sneaky ways to amp up the nutrition in muffins, so that I will feel good about feeding my family cake for breakfast and Sylvester would still be thrilled to get his "weekend special". Win-win:)

Squashes are at the peak of freshness this time of the year. While pumpkins and butternut squashes are preferred by many, I love using the humble smaller squash piled next to them. These are so much easier to work with when compared to the larger counterparts. Rich in potassium, magnesium and vitamins, they can be roasted for an easy side dish, cooked, mashed and stirred into mac n cheese, made into soups…the options are endless and even acorn squash waffles. Today, they take the form of a healthy baked good.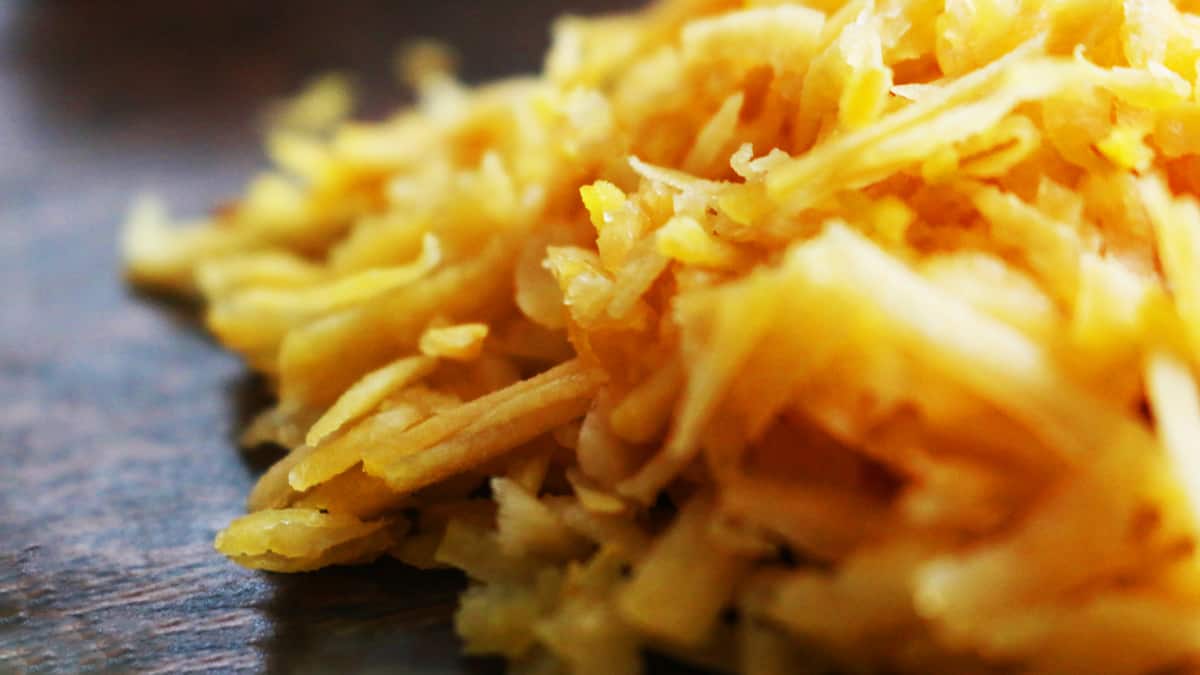 These muffins could not be any simpler. Two bowls and a whisk is all you require (oh yeah, a grater too…). Mix all dry in one bowl, wet in another, stir dry into wet, followed by grated squash and chopped walnuts and bake. Voila! I found few recipes online that required cooked and mashed squash. But, I wanted to make a version that can be prepared quick on your lazy or may be busy weekend morning.

Notes:
-Grind few whole cardamoms in a spice grinder / coffee grinder, until fine powder. I usually make a bigger batch, store the leftovers in the freezer. Cardamom powder adds a wonderful flavor to many baked goods / chai latte / desserts / curries.
– To prepare acorn squash, cut few wedges, scrape off the seeds, peel the skin and grate on the coarse side of your box grater.

Acorn Squash Muffins
Ingredients:
1/2 cup whole wheat flour
1/2 cup all-purpose flour
1/2 cup + 2 tablepoons sugar
1 teaspoon cardamom powder
1/2 teaspoon baking powder
1/2 teaspoon baking soda
1/4 teaspoon salt
2 large eggs
1/2 cup greek yogurt
1/4 cup vegetable oil
1 1/2 cups coarsely grated acorn squash
1 cup walnuts, coarsely chopped, divided
Preparation:
Preheat oven to 350 degrees F. Line a muffin pan with 9 paper liners.
Whisk together first seven ingredients (flour through salt) in a medium bowl and set aside.
Whisk together eggs, yogurt and oil in a large bowl, until smooth. Add flour mixture and stir until just combined.
Stir in grated acorn squash and half of the chopped walnuts, until evenly mixed.
Divide batter into the prepared muffin pan, sprinkle remaining walnuts on top, bake for about 25 minutes or until a toothpick inserted in the middle comes clean.
Place pan on a wire rack to cool completely.
Makes 9 muffins