The 5-ingredient breakfast parfait that is a feast for the eyes!
I have a confession to make – Chia seeds found it's way into my kitchen only about 3 weeks ago. I know…I know…..I realize the stupidity too. So, what changed my mind? A lady was contemplating at our local Sprouts one day, holding on tightly to a bag of chia seeds. "Do I have some already or did I run out", she said. "Huh", I went, not sure if she was trying to start a conversation with me. Then, both of us realized that she was just thinking loud. So long story short, she's a chia seed lover and uses them very frequently. That got me thinking, may be the Universe is telling me to hop on the chia seed bandwagon. I picked up a bag, convincing myself that I'll give it a shot. And oh boy, am I glad I tried:) Loved it so much, these tiny seeds are so versatile and oh so healthy!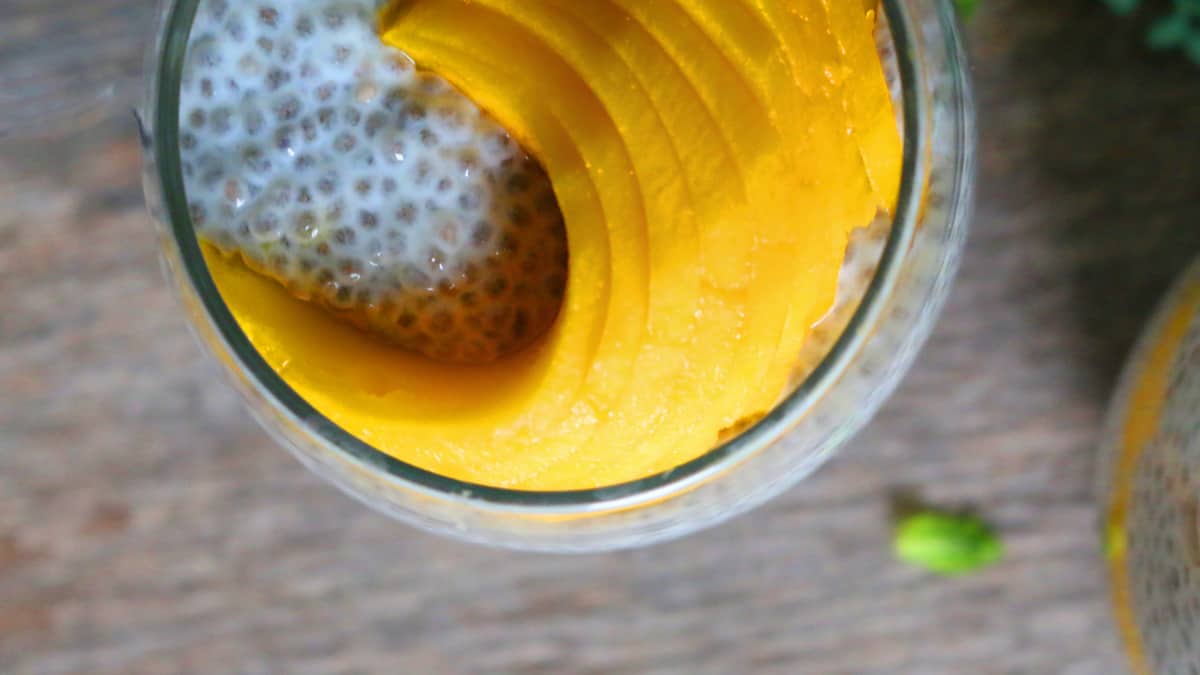 Now, the title of this recipe explains it all. The yogurt and sugar from mango lassi is mixed with milk and chia seeds, soaked overnight for the seeds to plump up and become almost like tiny pearls. My kids found it very similar to the black tapioca pearls in the famous bubble tea. Just give it a good stir in the morning, and layer with ripe sweet mangoes or berries. The greek yogurt makes this thick and delicious and it is so good just as is!! I was thinking hard to jazz it up, may be with coconut or cardamom. But, the simple taste was so satisfying that I forced myself to leave as is.

Notes-
-1/4 cup sugar gives the perfect amount of sweetness, but increase if you like your breakfast sweeter.
---
Skill level – Easy
Deconstructed Mango Lassi and Chia Breakfast Parfait
Ingredients:
1 cup milk (whole or 2 %)
1/2 cup greek yogurt
1/4 cup chia seeds
1/4 cup sugar
1 ripe mango, peeled, seed removed and sliced or chopped
Preparation:
1. The previous night, whisk together milk, greek yogurt, chia seeds and sugar in any medium container until yogurt is mixed well. Cover container with a lid or plastic wrap and place in the refrigerator overnight.
2. Stir once after about an hour or two, to distribute seeds evenly.
3. To assemble, stir chia-yogurt pudding again and then spoon some into 2 serving glasses alternating with sliced or chopped mango.
Makes 2 servings
                              Don't forget to pin this image!