Canned tuna and avocado patties, smothered with the most delicious Thai curry mayo, topped off with a fried egg – all in a burger.
Whoa, that's a lot on a burger!
Seriously? It is YUMMMMMM!
That mayo…. is so darn tasty.
The best part? It is all healthy ingredients (ok, except the mayo)
The taste of Thai curry paste differs by the brand, so feel free to use your favorite. I like Thai kitchen brand, because it is can be found in most super markets and Amazon. Above all, it's super delicious.
This burger is a hearty (with heart healthy ingredients) one after a long tiring day or healthy and filling weekend lunch, when all you have is errands, errands and more errands.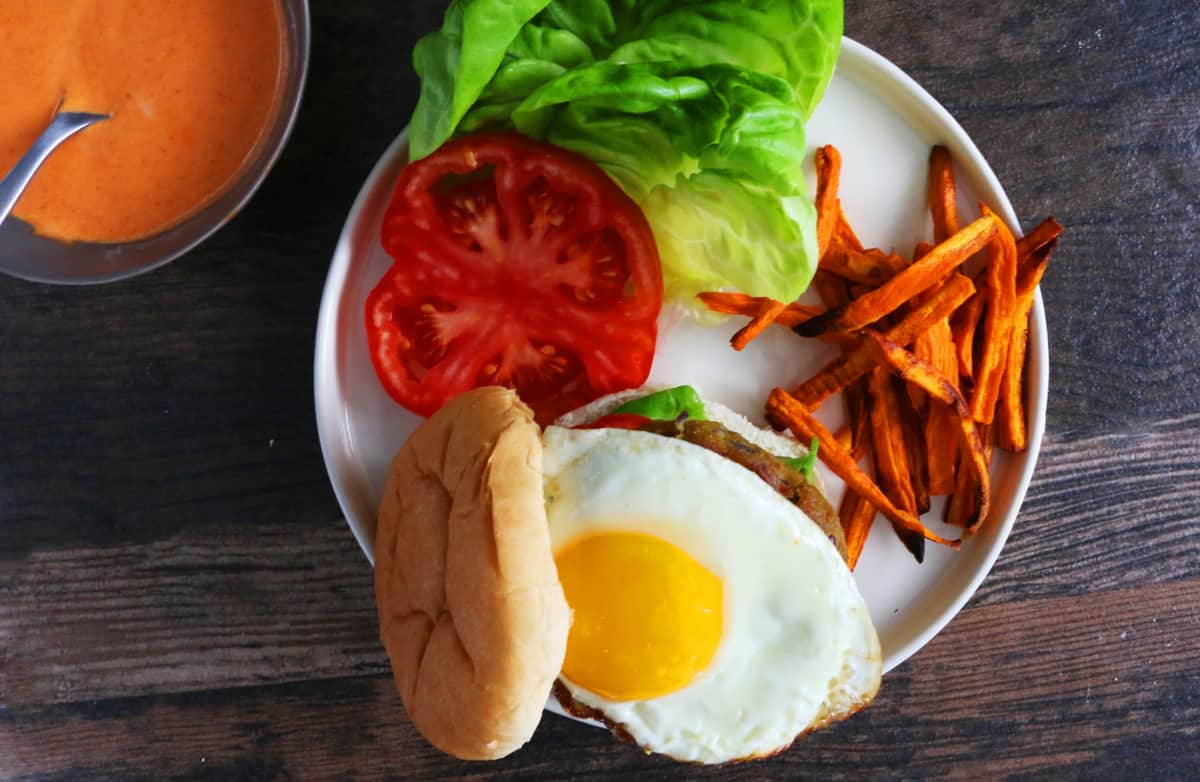 ---
Skill level – Intermediate
Avocado & Tuna Burger with Thai Curry Mayo
Avocado & tuna patties
2 x 5-ounce cans tuna (packed in water), drained well
1 medium ripe avocado, mashed
1/2 cup plain bread crumbs
1 large egg
1/2 cup chopped onion
1/4 cup chopped cilantro
1 garlic clove, grated
1/2 teaspoon salt
1/2 teaspoon coriander powder
1/4 teaspoon cayenne pepper powder
1/4 teaspoon turmeric powder
3 tablespoons olive oil
Thai curry mayo
1/2 cup mayonnaise
1 tablespoon Thai red curry paste
1 teaspoon lime or lemon juice
1 teaspoon honey
Additional ingredients:
4 hamburger buns
lettuce
tomato slices
4 fried eggs
Preparation:
To make Avocado & tuna burger
1. Mix all ingredients (except olive oil) together in a medium bowl, until well combined. Divide mixture into 4 equal portions and make even size patties (about the diameter of your burger bun).
2. Heat a 9-inch cast iron skillet (or any non-stick skillet) with about 3 tablespoons olive oil, until moderately hot. Cook patties over medium heat for 4-5 minutes, until evenly browned on both sides. Transfer to a paper towel lined plate.
To make Thai curry mayo,
Stir all ingredients together in a small bowl. Place in refrigerator until serving time.
To assemble burger,
Place lettuce leaves, tomato slice, avocado & tuna patty on each bottom bun. Drizzle some Thai curry mayo and then top with a fried egg. Close burger and enjoy.
Makes 4 burgers
Don't forget to Pin this image!