10 minutes, one sheet pan to make this garlic bread + garlic shrimp mash-up (with some bursting cherry tomatoes).
Ohhh, yes I did.
The epic garlicky overload.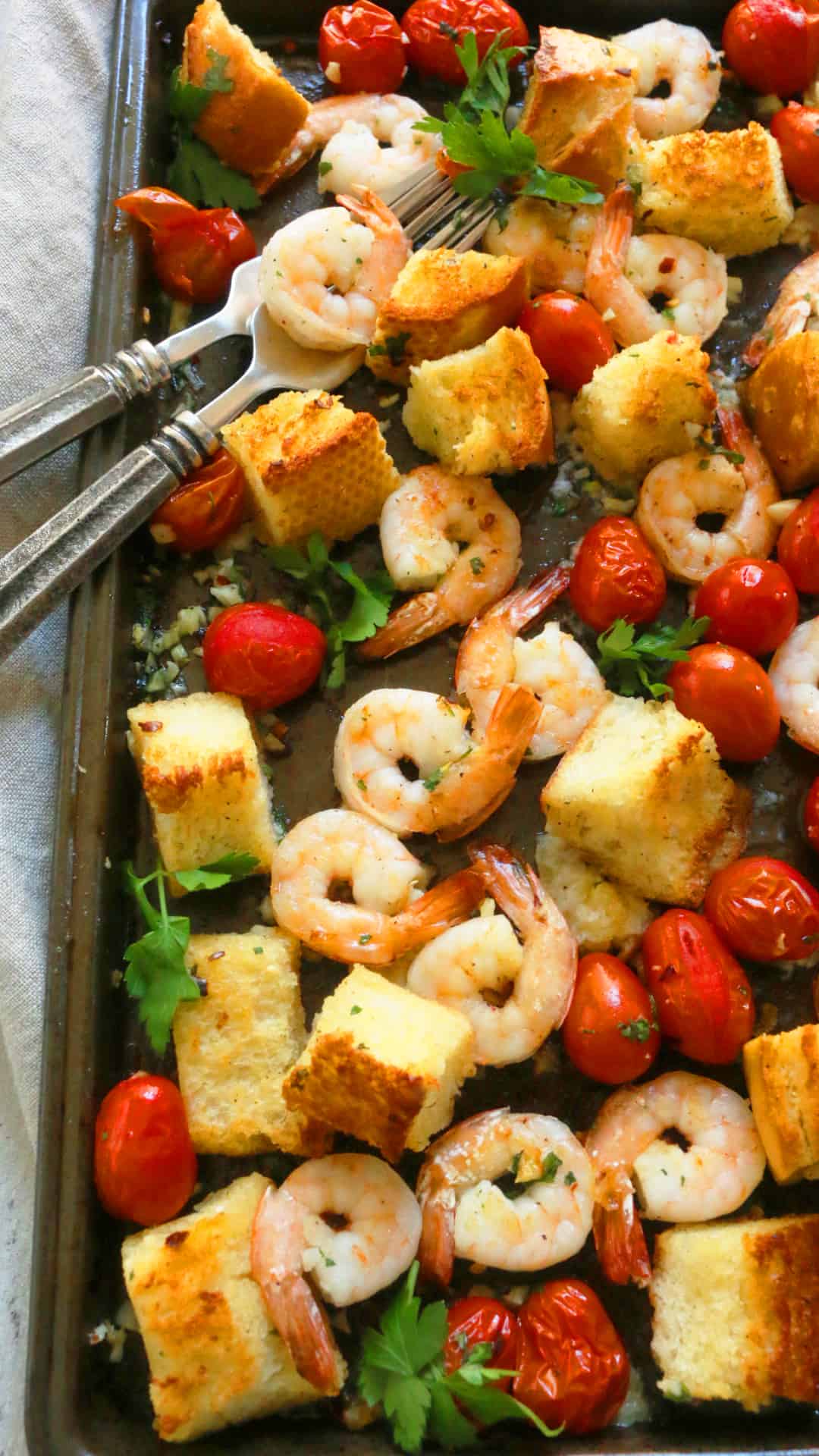 The bread – perfectly golden and crispy on top but soft with all the garlic butter & shrimp juices soaked in the bottom (I could just eat a bowl of this).
The shrimp – perfectly cooked with all the garlic bits sticking to it ( I try to scoop more garlic from the pan when eating) with a hint of spice.
The tomatoes – sweet summer cherry tomatoes that gets lightly charred and soft.
---
Skill level – Easy
Garlic Bread and Shrimp Sheet Pan Dinner
Ingredients:
1/2 pound shrimp, peeled and deveined (tails intact or removed) (31-40 per pound)
1/4 loaf Italian bread (approximate) cut into 1 1/2-inch cubes
15 cherry tomatoes (approximate)
4 (medium) cloves garlic, finely chopped
1/4 cup fresh parsley, finely chopped
4 tablespoons unsalted butter, melted
2 tablespoons extra virgin olive oil
1/2 teaspoon red pepper flakes
1/4 + 1/8 teaspoon salt
1/8 teaspoon pepper powder or few turns
Preparation:
1. Preheat oven to 400 degrees with a rack positioned in the middle.
2. Into a large sheet pan, toss all ingredients until thoroughly combined. Spread to place everything in a single layer.
3. Place sheet pan in the middle rack of the oven and bake for 6 minutes.
5. Switch oven to broil (let the sheet pan remain as is) and broil for 4 minutes, until bread is golden brown. Keep a close watch while broiling.
6. Remove sheet pan and serve
Serves 2-4
Recipe notes
Soft French bread can be used instead of Italian bread
(shrimp)