Dairy-free, gluten-free, vegan, no-added fat and no-added sugar. Sweet, ripe mangoes and peaches topped with oat-nut-date streusel and baked for a healthy and guilt-free breakfast, dessert or snack.
The perfect summer fruit crisp.
It's fast, healthy and uses in-season fruits.
And it's just freaking GOOD!
No butter. No oil. No sugar. No flour.
Really?? Yessss.
Artificial sweeteners <— not a fan.
All natural ingredients.
Sweet, ripe juicy mangoes or peaches and oranges —> Sweeter the better.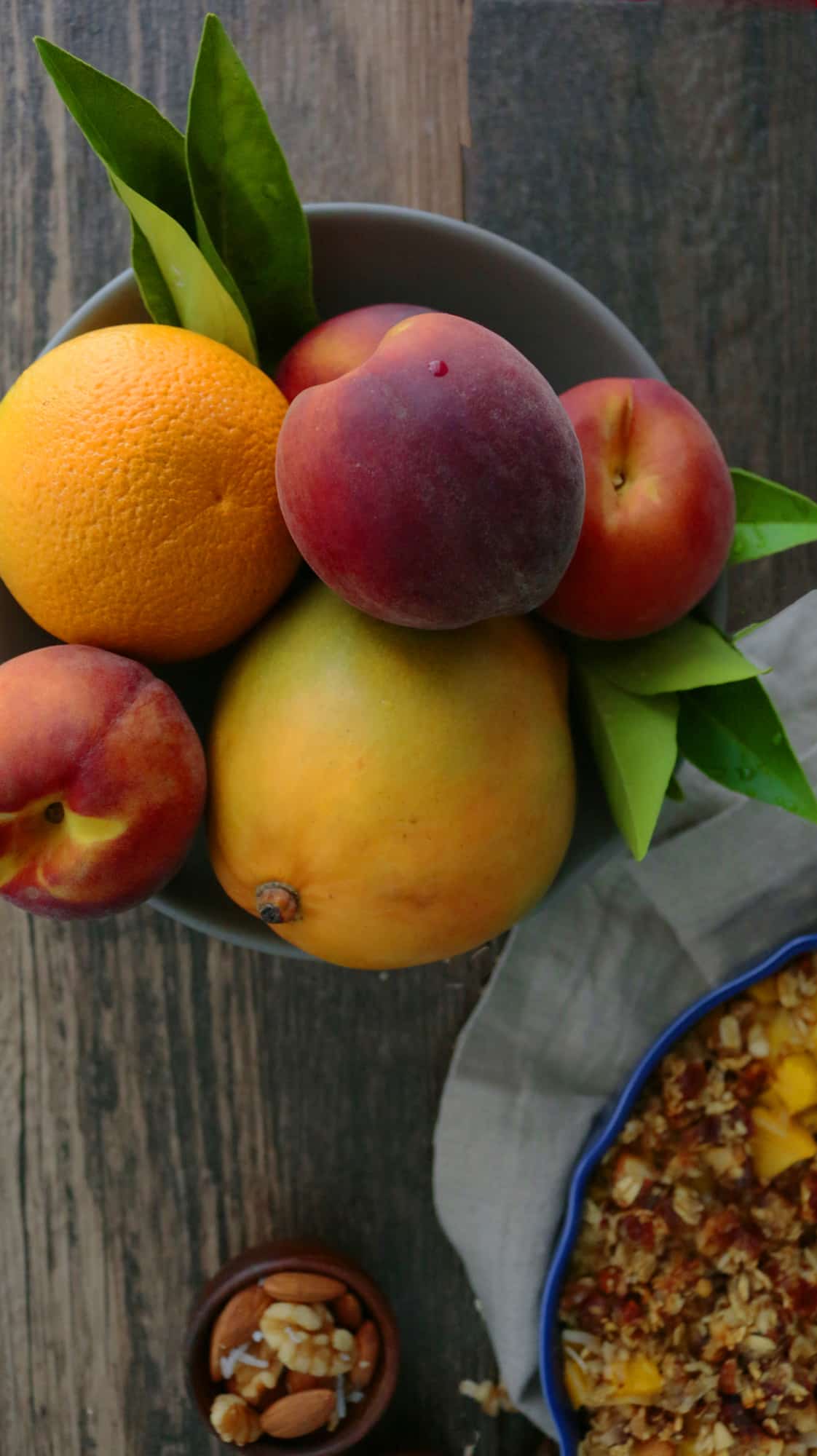 ---
Skill level – Easy
Ridiculously Healthy Summer Fruit Crisp
Ingredients:
4 cups chopped mangoes or peaches or a combination of both, peeled and cut into 1/2-inch cubes (refer notes_1)
1/2 cup + 2 tablespoons freshly squeezed orange juice, divided
1/2 cup old fashioned oats
1/4 cup toasted almonds, coarsely chopped (refer notes_3)
1/4 cup walnuts, coarsely chopped
1/4 shredded coconut (sweetened or unsweetened)
4 large medjool dates, pitted and chopped into very small pieces (refer notes_2)
1 pinch salt
Preparation:
1. Pre heat oven to 400 degrees F. Have a 9-inch oven safe skillet or pan ready.
2. Place the chopped fruits and 1/4 cup orange juice in the skillet or pan, toss well and spread evenly. Set aside.
3. Into a medium bowl, combine remaining 1/4 cup + 2 tablespoons orange juice, oats, almonds, walnuts, coconut, dates, salt. Mix well with finger tips, until mixture is thoroughly combined. Scatter mixture evenly over fruits.
4. Place pan in the middle rack of the oven and bake for about 20 minutes or until the top is deep golden.
5. Place pan on a wire rack to cool.
6. Spoon crisp into bowls and serve hot, warm or room temperature and/or with sweetened greek yogurt.
Makes 3-4 servings
---
Notes :
Since there is no added sugar, use sweet, ripe, juicy fruits for the recipe. Only mangoes (skin peeled) or peaches (skin peeled) or a combination of both can be used. Berries do not seem to work well in this recipe.
Soft large medjool dates work great. If you are using the Noor variety, then chop 10 dates into very small pieces, soak them for 30 minutes in 1 cup of warm water, drain water completely and use in the recipe.
To toast almonds, place almonds in a sheet pan (in a single layer), bake for about 10 minutes in a preheated 350 degree oven. Place pan on a wire rack to cool completely.
(peach)