Easy microwave chocolate fudge layered with raw cookie dough, salty crunchy pretzels all topped off with a chocolate drizzle.
All things in life needs a chocolate drizzle!!!
Easy, quick, microwave chocolate fudge,
Raw, safe-to-eat cookie dough,
Salty, crunchy, crispy pretzels,
More salt,
Chocolate drizzle to finish.
Sweet, salty, fudgy, soft, crispy, crunchy…these fudge bars will satisfy ALL cravings!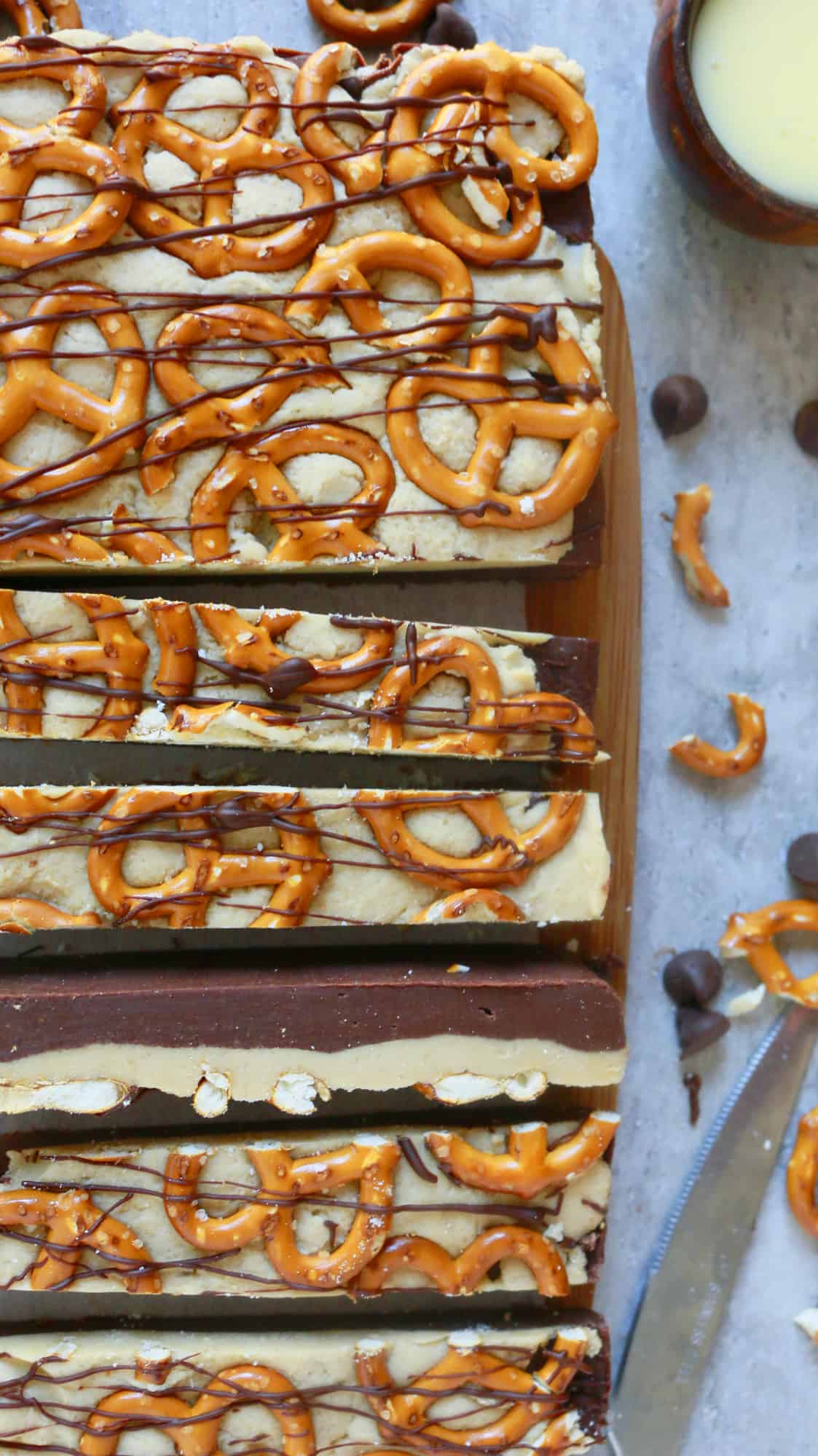 ---
Skill level – Easy
Chocolate Cookie Dough Pretzel Fudge
Cookie dough layer
4 tablespoons (1/2 stick) unsalted butter, room temperature
4 tablespoons (1/4 cup ) packed dark brown sugar
1 tablespoon sugar
1/2 teaspoon vanilla extract
1/2 cup all purpose flour
1 pinch salt
Chocolate fudge layer
1 cup (6.2 ounces by weight) semi-sweet chocolate chips
1/2 cup sweetened condensed milk
Chocolate drizzle
3 tablespoons semi-sweet chocolate chips
1/4 teaspoon vegetable oil
Additional ingredients
12-16 pretzels
1-2 pinches salt
Preparation
1. Grease the bottom and sides of a 9 x 5 inch loaf pan with non-stick cooking spray. Line the bottom with parchment paper and set aside.
2. Make cookie dough layer – Into a medium bowl, place butter, both sugars and vanilla extract. Beat with an electric beater on high speed for about 1 minute, until creamy. Add flour and salt, beat again in low speed, until the dough in thoroughly combined. Set aside, until you make the chocolate fudge.
3. Make chocolate fudge – Into another medium microwave safe bowl, place 1 cup chocolate chips and sweetened condensed milk. Melt on high for about one minute (stirring every 20 seconds), until completely melted.
4. Immediately transfer chcolate fudge into the prepared loaf pan, spread evenly. (If the fudge is little thick, then use the back of spoon to spread).
5. Evenly crumble cookie dough on top of chocolate fudge. Gently press with the back of a spoon or your fingertips, to smoothen.
6. Place pretzels on top (pressing gently into the dough) and sprinkle with additional salt.
7. Finally drizzle with melted chocolate ( Place 3 tablespoons of chocolate chips and vegetable oil in a small microwave safe bowl, microwave until completely melted. Use a fork to drizzle).
8. Place loaf pan in the refrigerator for at least 2 hours to firm.
9. Run a knife around the edges on the loaf pan, to loosen and transfer on a counter. Cut into bars or squares. Store in a covered container in the refrigerator. Let fudge thaw at room temperature for at least 10-15 minutes before enjoying.
Serves 10-12
(fudge)