An amazingly crispier, spicier version of your favorite popcorn chicken!!!!
My kids have been stuffing their face every time.
It vanishes right before my eyes….
So freaking good, EPIC.
I really wanted to share with some friends, who I know will devour this.
But, my dear family wipe it clean.
How can a deep fried chicken not be addicting, right?
Even better if it's crispier and spicier.
(The secret is the textured flour)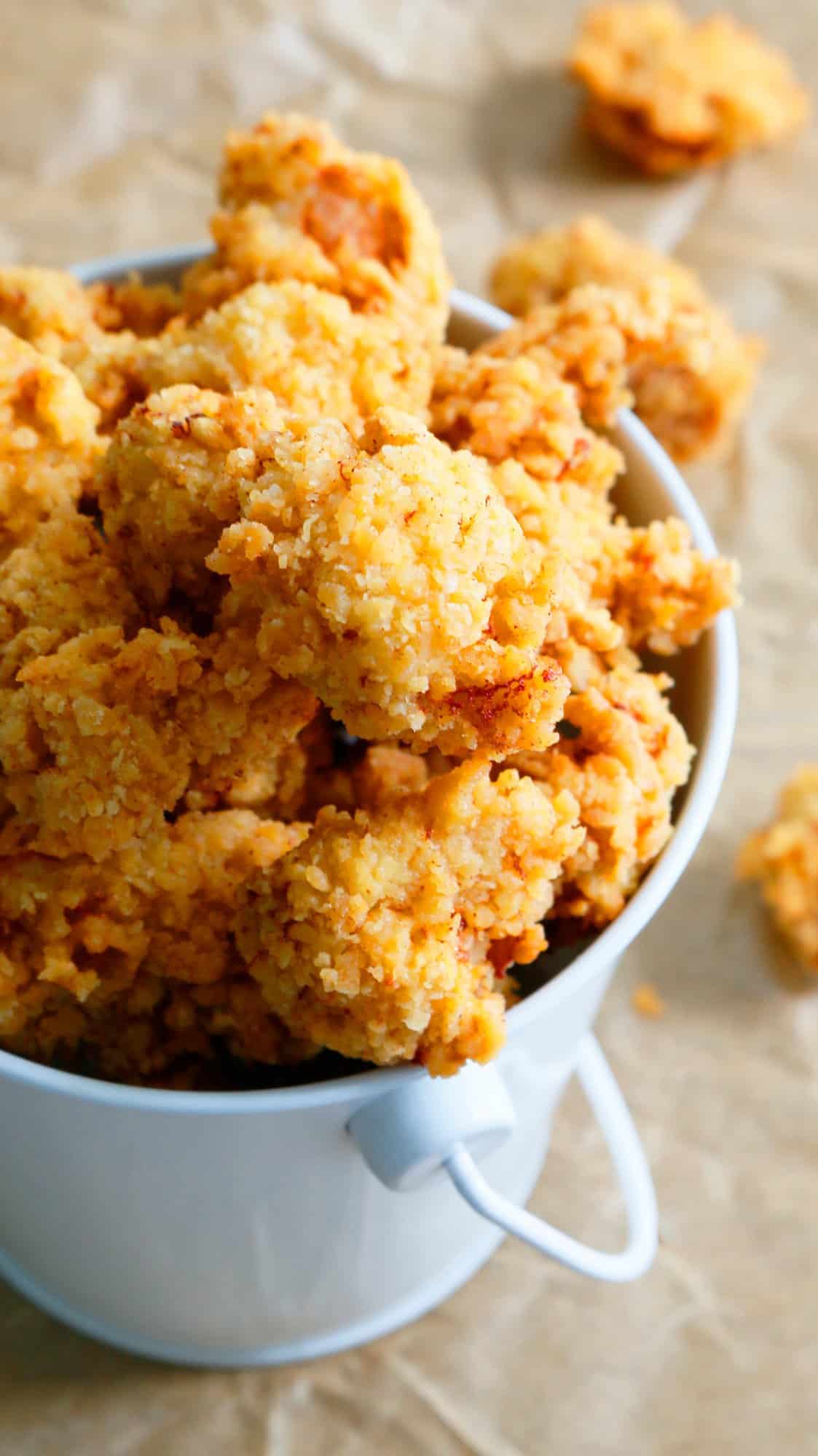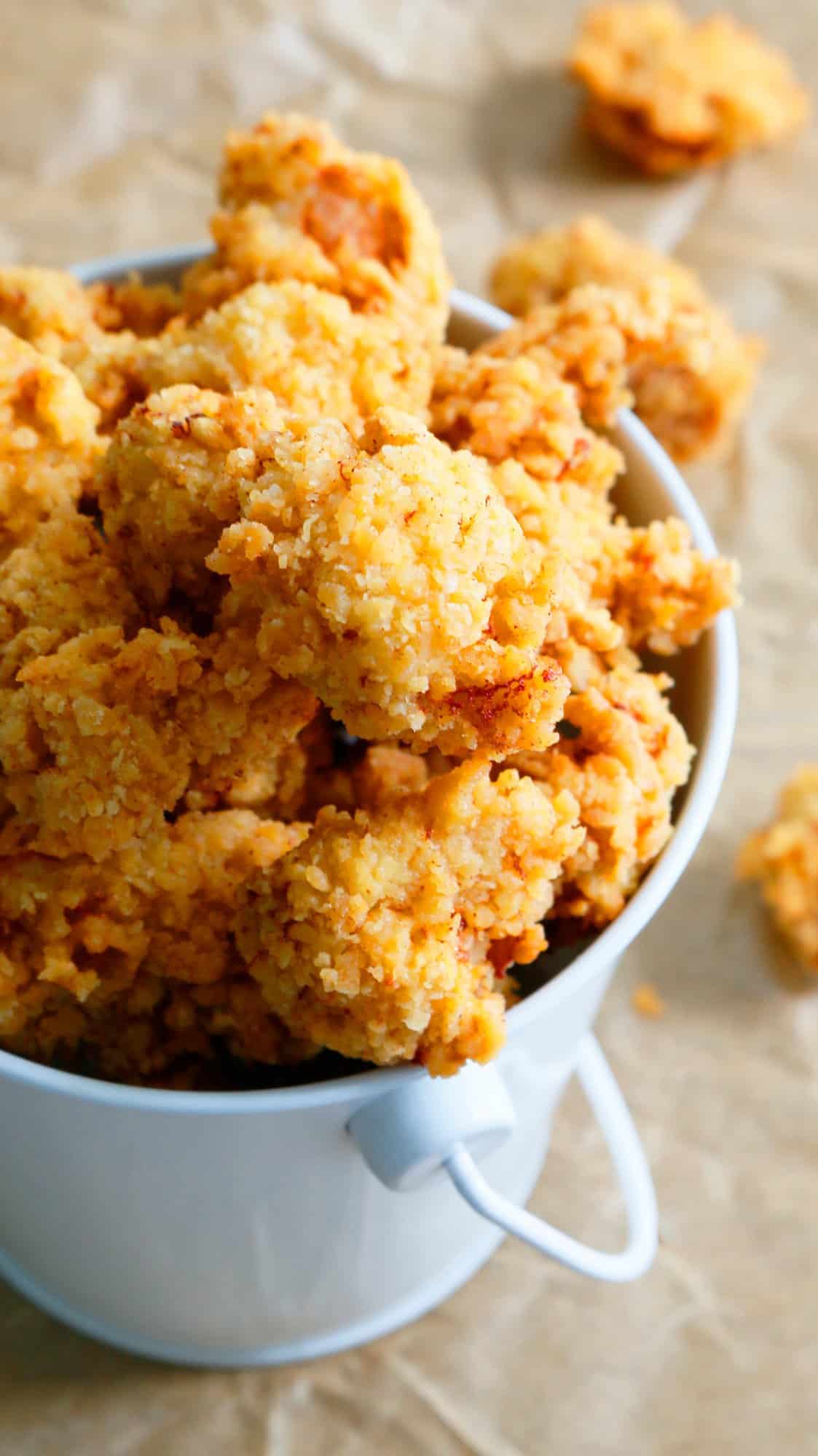 ---
Skill level – Advanced
Amazingly Crispy Buttermilk Fried Popcorn Chicken
Ingredients:
1 1/4 cup buttermilk
1 large egg
2 teaspoons coriander powder
1 1/2 teaspoons cayenne pepper powder
2 teaspoons salt, divided
1/4 teaspoon turmeric powder
2-3 boneless skinless chicken thighs, cut into bite size chunks, refer notes_1
2 cups all purpose flour
vegetable oil, for frying
Sriracha mayo
1/2 cup mayonaise
2 tablespoons water
1 tablespoon + 1 teaspoon Sriracha sauce
Preparation:
1. Stir together buttermilk, egg, coriander powder, cayenne pepper powder, 1 1/2 teaspoons salt and turmeric powder in a large shallow dish. Mix in chicken, cover dish and let marinade in refrigerator 2 – 8 hours (overnight is best).
2. Meanwhile, place flour in a shallow bowl, add remaining 1/2 teaspoon salt and scant 1/3 cup of the buttermilk marinade (spoon buttermilk from the bottom and the sides to measure 1/3 cup, It might be a little difficult, since there might not be excess marinade, but move the chicken pieces around and you will be able to fill up that cup) and mix with your fingertips, until evenly combined (it will be crumbly and look like textured dry flour, refer picture).
3. Pour oil to about 1 1/2 inches to 2 inches height, in a large dutch oven, heat over medium high heat until moderately hot (about 350 degrees F).
4. Working with one piece at a time, remove chicken from marinade, evenly coat with flour (press lightly for flour to adhere) and place on a plate in a single layer.
5. When the oil is hot, fry chicken in 3-4 batches, until golden brown on both sides (about 5-6 minutes for each batch). DO NOT over crowd the pan (that will make the chicken not crisp as much). Drain on a paper towel lined platter.
6. Serve hot/room temperature with/without Sriracha mayo
Sriracha mayo
1. Stir all ingredients together
Serves 2-4
---
Notes:
1. Organic chicken thighs tend to be smaller in size when compared to the normal ones. So, go with 3 thighs (if organic) and 2 (if not)
2. Chicken thighs are always my favorite cut of meat to use, since it tends to be very juicy and flavorful when cooked.
3. If you are having trouble filling in the 1/3rd cup measure with marinade, then using a tongs, transfer the chicken pieces into a seperate bowl/ plate, letting the marinade drip back into the bowl. Now, you will have only the marinade in the bowl and it's so much easier to measure.