Adorable mice cookies are so perfect for Halloween or any time of the year.
Happy Halloween, friends!
Couple of more weeks until the beginning of October. And then we are full on Halloween mood.
But, I got a head start super-duper early. Because….
I just can't wait!!!!
Let's chat about these mice.
Aren't these super cute?
My kids didn't want to eat them, so they could keep them forever:)
Want to see the Christmas trees that I made with the same dough/process? click here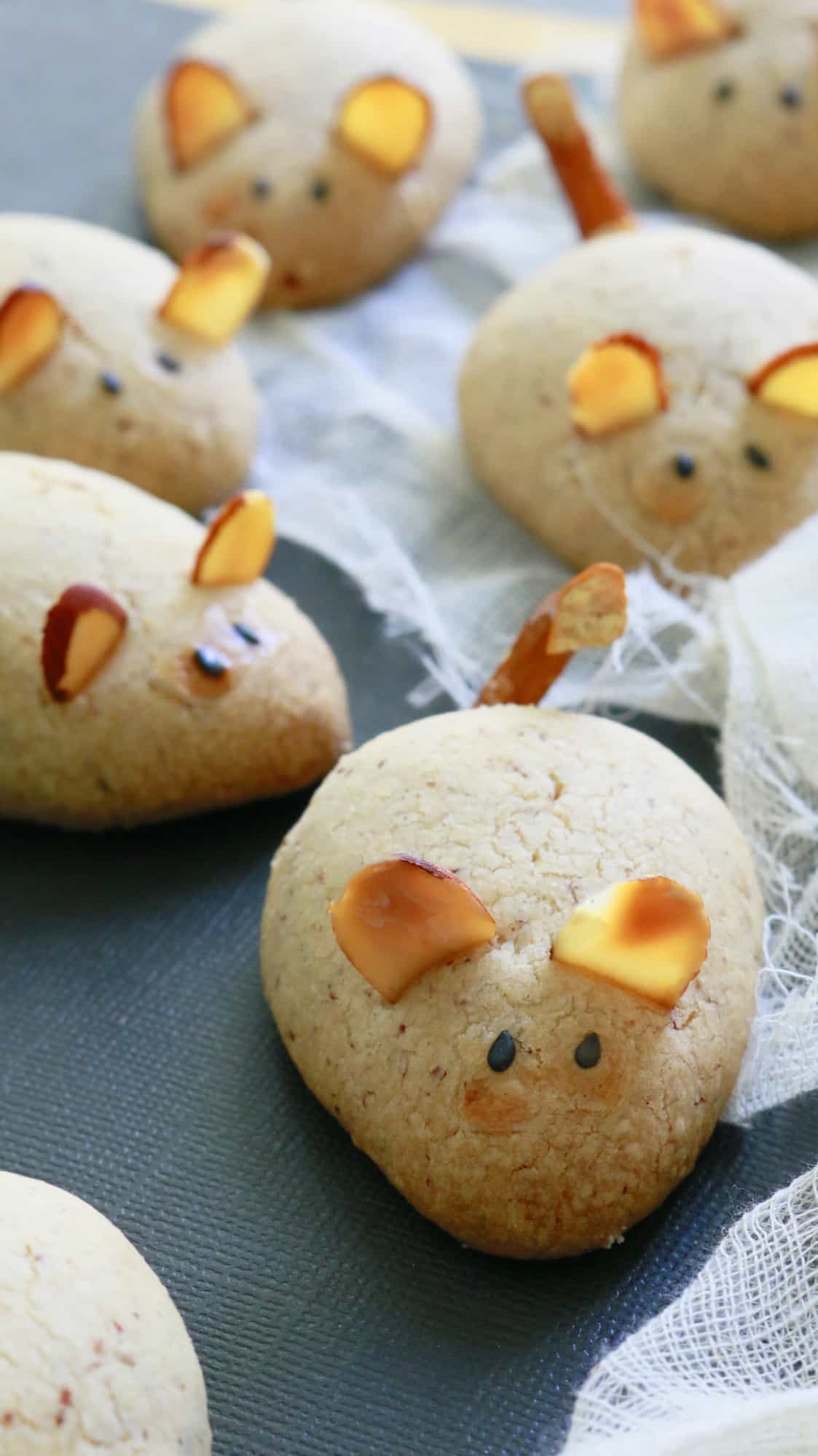 Process toasted pecans, flour and salt until finely ground. Set aside.
Cream butter, confectioners sugar and salt with a wooden spoon.
Stir in ground flour mixture to form dough.
Make about 2-tablespoons measure balls.
Break parts of pretzel to resemble tails.
Shape dough into balls, then gently roll into ovals and shape one end of oval into pointed end. Insert broken pretzel into the fat end of oval, sliced almonds and black sesame seeds on the pointed end to make face.
Chill and bake.
---
Skill level – Intermediate
Pecan Mice Cookies
Ingredients:
1/2 cup toasted pecans, not heaped
1 1/4 cups all purpose flour, spooned and leveled
1/2 teaspoon salt
1 stick (1/2 cup) unsalted butter, room temperature
1/2 cup + 1 tablespoon confectioners sugar
1/2 teaspoon vanilla extract
Additional ingredients:
20 or more pretzels, for tails
36 black sesame seeds, approximate
36 sliced almonds, approximate
1 egg white, beaten lighlty
Preparation:
1. Line a baking sheet with parchment paper and set aside.
2. Combine pecans, all purpose flour and salt in a food processor. Process for about one minute, until finely ground. Set aside.
3. Combine butter, confectioners sugar and vanilla in a medium bowl, stir with a wooden spoon for about 2 minutes, until creamy. Add the ground pecan-flour mixture and stir until it gathers together to form a dough.
4. Divide dough into 2 tablespoon measure balls, then gently roll into ovals and shape one end of oval into pointed end. Place all prepared mice in the prepared sheet pan, spacing evenly apart.
5. Break each pretzel to get tails. Dip one end of the broken pretzel into egg white and insert into the back fat end of the body to make the tail. Repeat to fix all tails.
6. Similarly, dip one end of each sliced almond into the egg white and insert the egg white side into the front pointed end to make one ear. Repeat process to fix all ears.
7. Using a small (food safe) paint brush, brush (very lightly) the eye area of the mouse with egg white. Using your finger tip, place sesame seeds on the face area.
8. Place baking sheet in the refrigerator, for a minimum of 5 hours or upto a day.
9. Preheat oven to 325 degrees F.
10. Place baking sheet in the middle rack of the oven and bake for 40-45 minutes, until golden brown (rotate pan halfway through baking). It sounds like a long time for cookies right? But, these are some fat cookies. So, it needs that low and slow time bake through and crisp evenly.
11. Place pan on a wire rack to cool completely.
Cookies can be stored in a covered container for about 4 days.
Makes about 18 cookies.
---
Notes
Egg white acts as a glue when baked and helps in adhering the pretels/almonds/ seeds really well.
I ended up breaking more than 20 pretzels (29 to be precise) to get long tails. But, guess what? Broken pretzels make a great snack as well.