Crunchy, yet soft crust encasing cheesy pesto chicken filling. These calzones are what I make when I have leftover cooked chicken.
Happy Halloween peeps!!!
All the trick-or-treaters need filling yet comforting dinner , right?
(Well, even if they prefer to happily munch away on candy).
So, I try to make it fun, easy to eat and best of all – something they'd actually crave.
These calzones hit the spot.
Every child and all adults in my home have been loving this for many, many years.
I always, ALWAYS make extras, wrap in ziplock bags and freeze. (Pop in the microwave for a minute or two to thaw and heat).
Because, these are perfect for school lunch <— Kid fav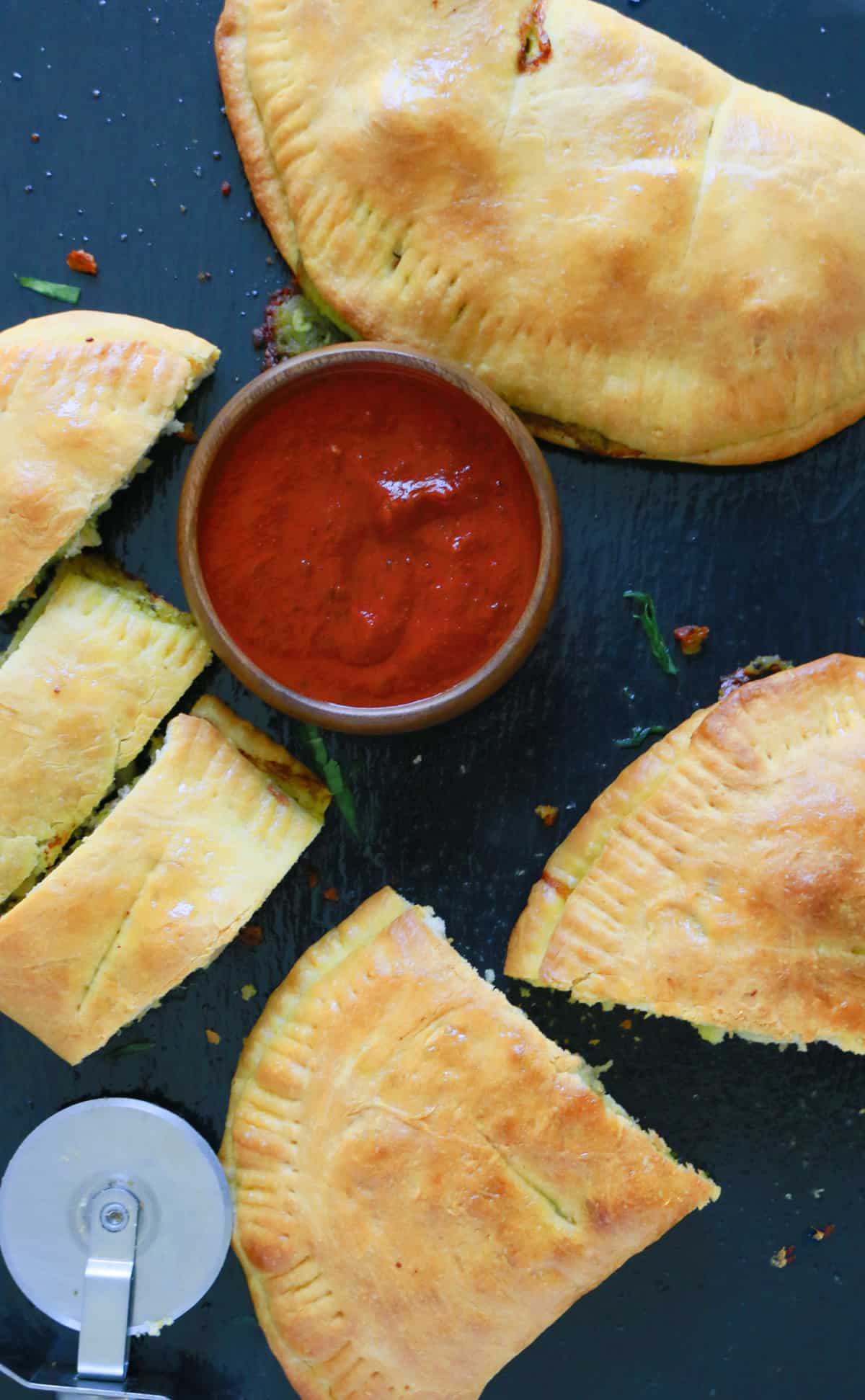 ---
More recipes with jarred pesto:
Skill level – Easy
Pesto Chicken Calzone
Ingredients:
1 1/2 cups chopped cooked chicken (cut into 3/4 inch chunks), refer notes
1 1/2 cups grated mozzarella cheese
5 tablespoons basil pesto sauce
1/2 recipe pizza dough
marinara sauce, to serve
Preparation:
1. Preheat oven to 425 degrees F with oven rack set in the middle. Line a baking sheet with parchment paper and set aside.
2. Stir together chicken, mozzarella and pesto in a bowl. Set aside until you roll out the dough.
3. Divide pizza dough in half, roll each half into a 8-inch circle (if it sticks to the counter, then grease the counter with little olive oil). Place half the pesto-chicken mixture on one half the circle (leaving 3/4-inch border) and fold the other half dough over the filling, press the edges with your finger slightly and then press with the tines of a fork to seal. Gently transfer calzone onto the parchment lined baking sheet.
4. Proceed with remaining dough and filling to make another calzone.
5. Lightly brush tops of calzone some olive oil and place pan in the oven. Bake for about 25 minutes. Increase oven to 450 degrees (do not remove pan from the oven) and let bake until the tops are golden brown (5 – 8 minutes).
6. Place pan on a wire rack to cool slightly.
7. Serve calzones with marinara sauce for dipping.
Makes 2 servings.
---
Notes:
Toss 2-3 boneless skinless chicken thighs with some salt, pepper and a touch of olive oil. Place (in a single layer) in a 9-inch cast iron skillet. Bake in a 425 preheated oven for about 18-22 minutes, until chicken is cooked through. Cool chicken and chop into 3/4 chunks. Measure 1 1/2 cups for the recipe. (OR) Chopped leftover rotisserie chicken works well.
Recipe can be divided into 4 to make 4 small calzones.