These delicious anytime cookies are vegan, gluten-free and made with a handful of real ingredients. It's hard to resist gobbling them once you've taste one.
Enjoy these as a quick breakfast with milk or coffee or as a anytime snack.
This may be classified as one of the best healthiest cookies EVER!!!
Just sayin.
No really!!!
A simpler version of these cookies first appeared here.
So darn tasty and most importantly adored by many.
Chewy, crisp, creamy, sweet and nutty.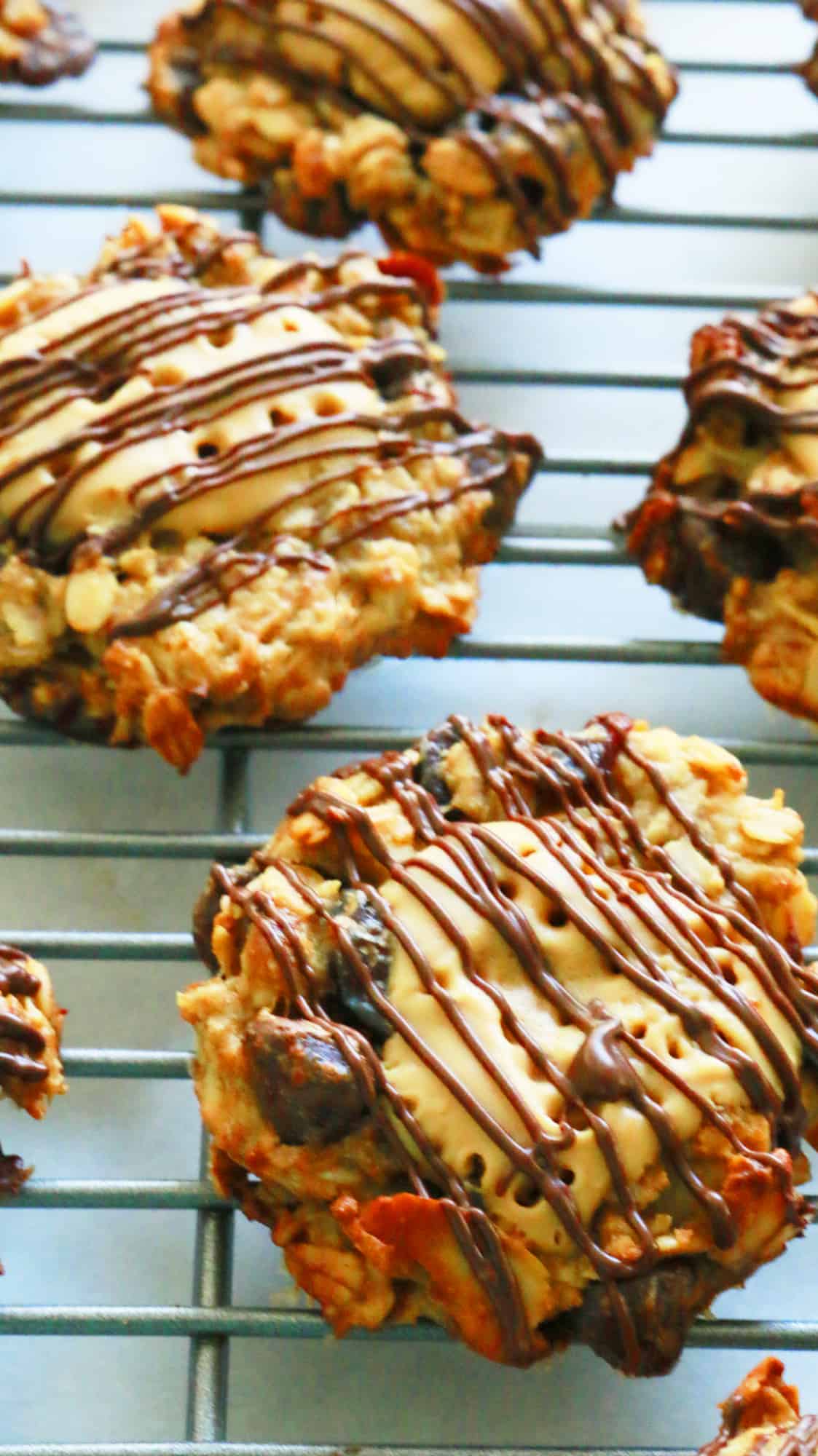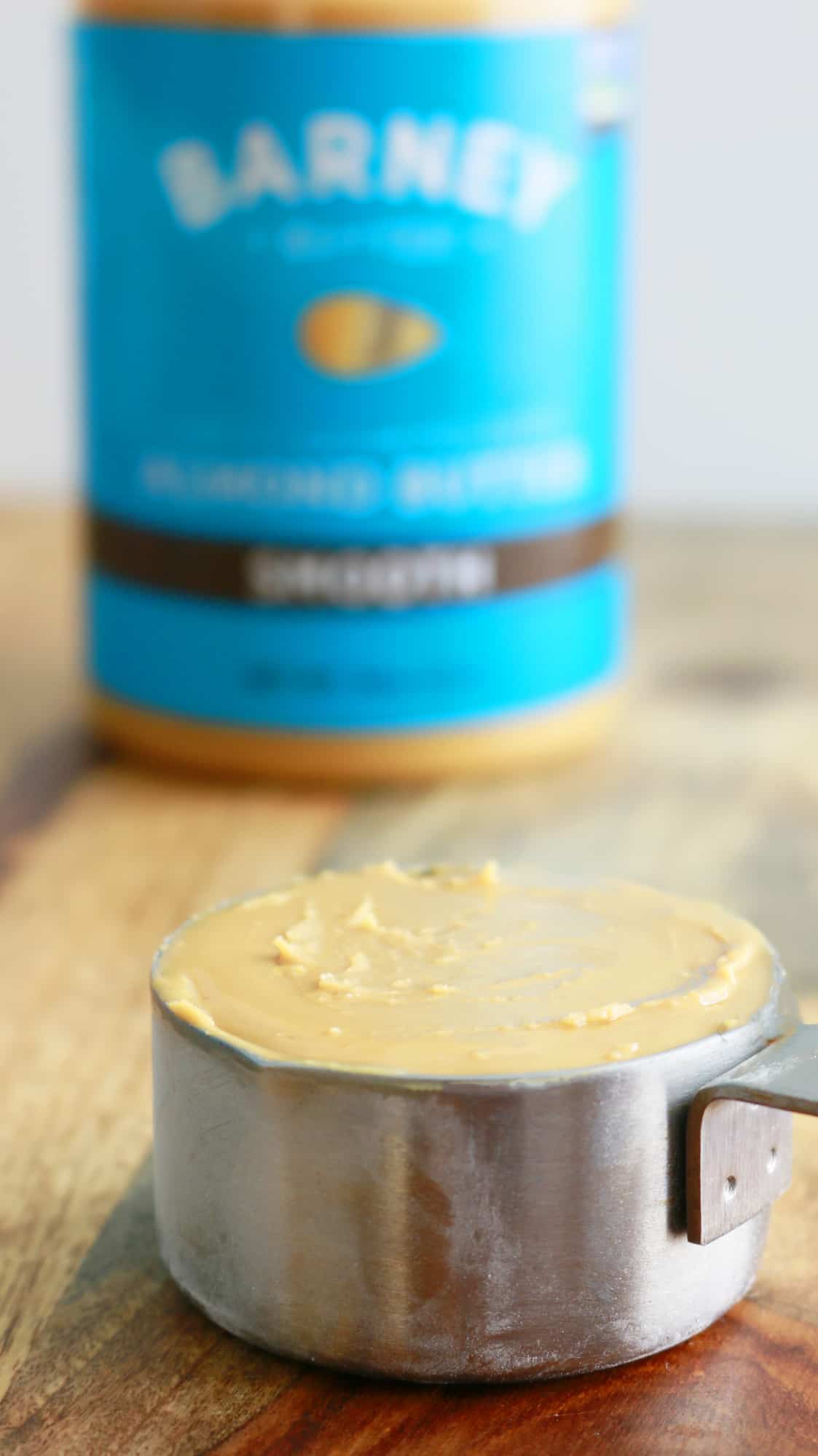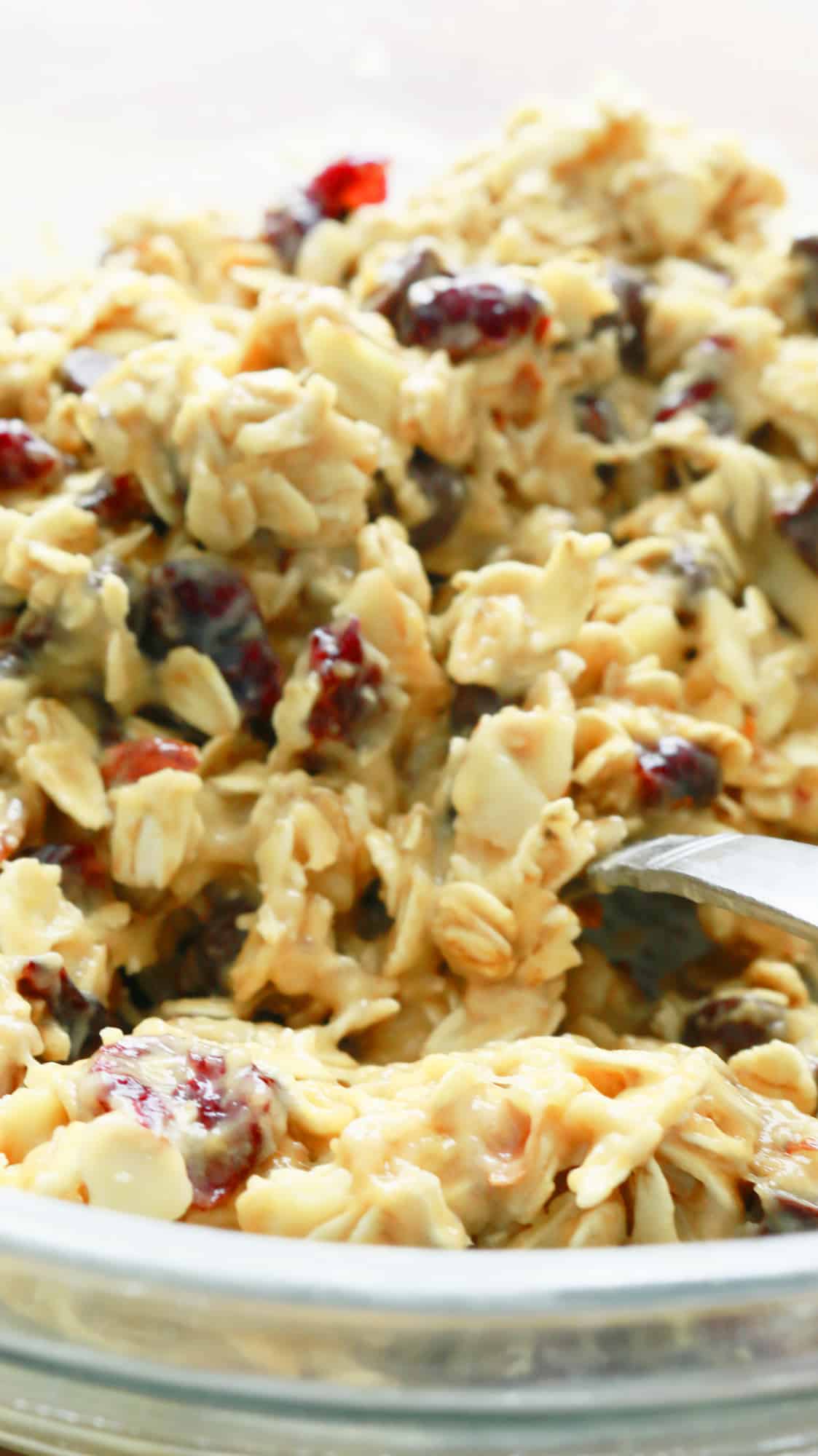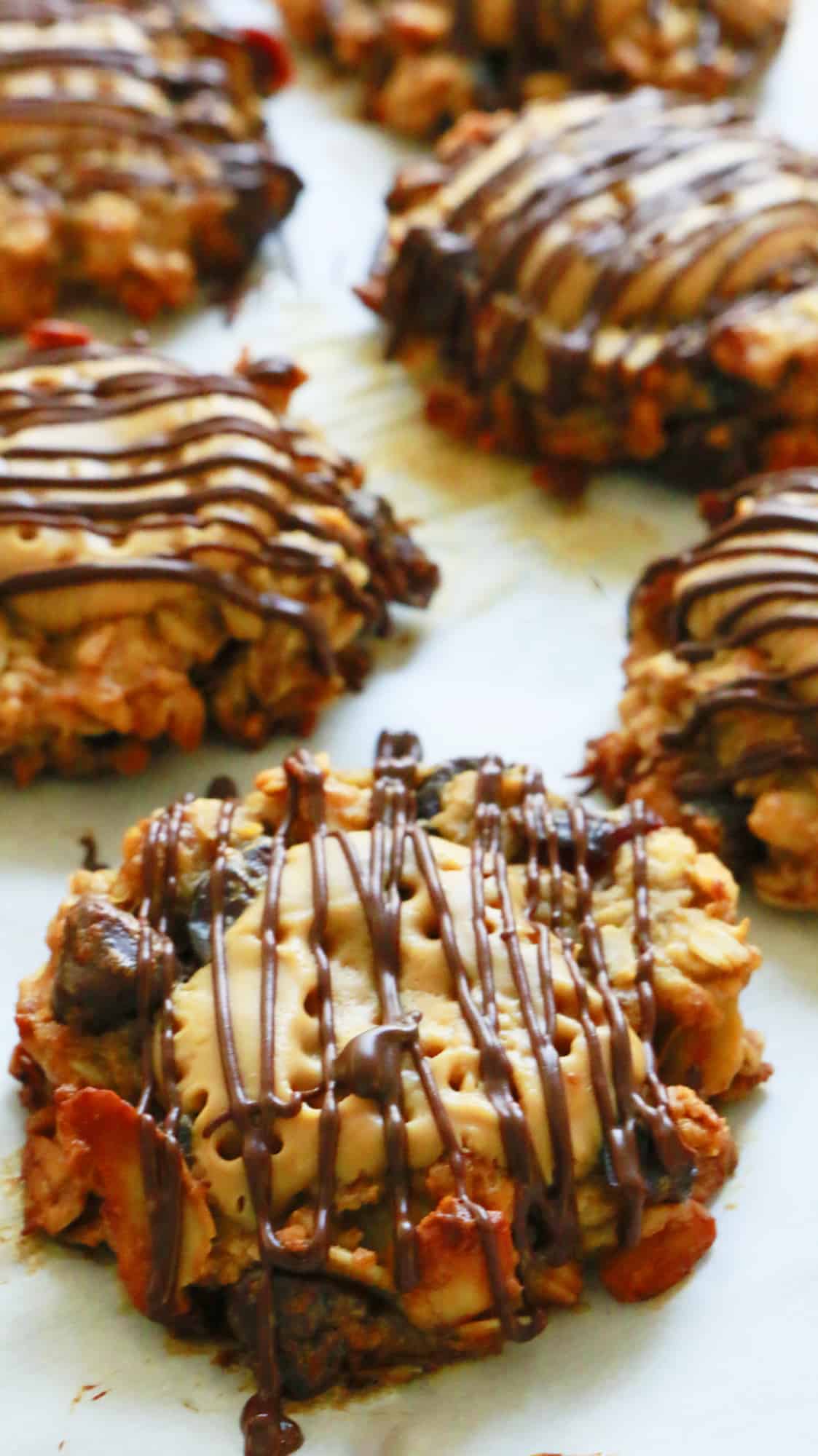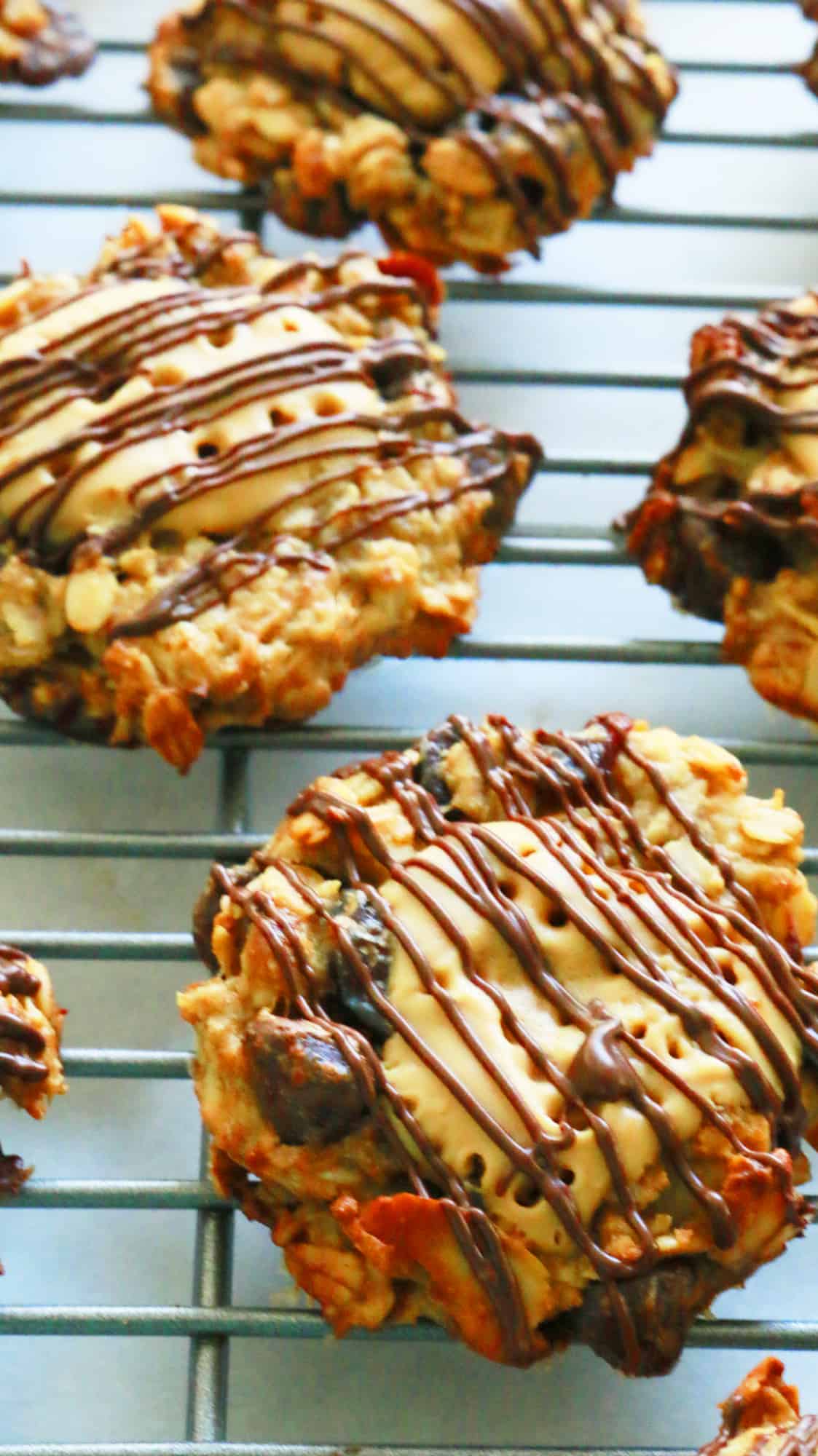 ---
Skill level – Easy
Healthy Almond Butter-Chocolate Chip Cookies
Ingredients:
1 very ripe banana (medium – large), mashed
1 cup old fashioned oats
1/2 cup almond butter, divided
1/4 + 3 tablespoons semi-sweet chocolate chips, divided
1/4 cup sliced almonds
1/4 cup dried cranberries
1/4 teaspoon vegetable oil
Preparation:
1. Preheat oven to 350 degrees F. Line a baking sheet with parchment paper and set aside.
2. Stir 1 mashed banana, 1 cup oats, 1/4 cup almond butter, 1/4 cup chocolate chips, 1/4 cup sliced almonds, 1/4 cup dried cranberries together in a medium bowl, until well combined.
3. Spoon 2 tablespoons measure dough on the prepared baking sheet, spacing evenly apart (cookies will not expand). Using your fingers or the back of a spoon, pat them gently into 2-inch circles, leaving a shallow middle.
4. Spoon about 1/2 to 1 teaspoon almond butter in the middle of each cookie.
5. Bake cookies in the middle rack of the oven for 25-30 minutes, until golden brown (turn pan around halfway through baking). (It took 28 minutes for me)
6. Place pan on a wire rack to cool completely.
7. Place remaining 3 tablespoons chocolate chips and 1/4 teaspoon vegetable oil in a small microwavable bowl. Microwave on high for 30-40 seconds, until completely melted and smooth (stir once after 20 seconds). Transfer melted chocolate into a ziplock bag, snip of a tiny corner and drizzle on top of cookies. Alternatively, you can drizzle with a spoon or a fork.
8. Set cookies aside until chocolate is set.
Cookies are best eaten within a day or two.
Makes about 14 cookies
---
Notes:
Since the sweetness comes mainly from the banana, use a very ripe one.
I used no-stir Barney almond butter <– one of my favorites