Spicy roasted chickpeas that is tangy, crunchy and highly addictive. Chickpeas that tastes like tandoori chicken!!!!!
Happy 2018!
The first week of New year…reality.
Healthy yet satisfying snacks but without compromising on flavor. 
I LOVE this chickpeas. We have been eating batches of these all through December, just to make sure they are perfect for you.
These taste just like tandoori chicken minus the chicken <—YUM
Great for snacking (healthy snacking that is!) or toss in your favorite salads to spice things up or stuff into naans and salted yogurt, lettuce and cucumber slices. 
If you are craving for something spicy and crunchy then these spicy roasted chickpeas are your perfect solution.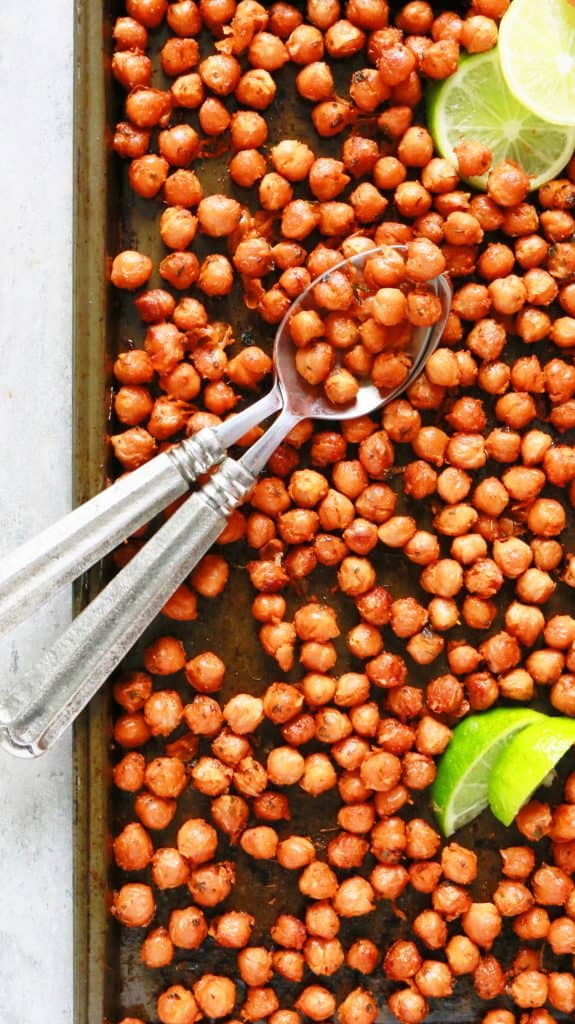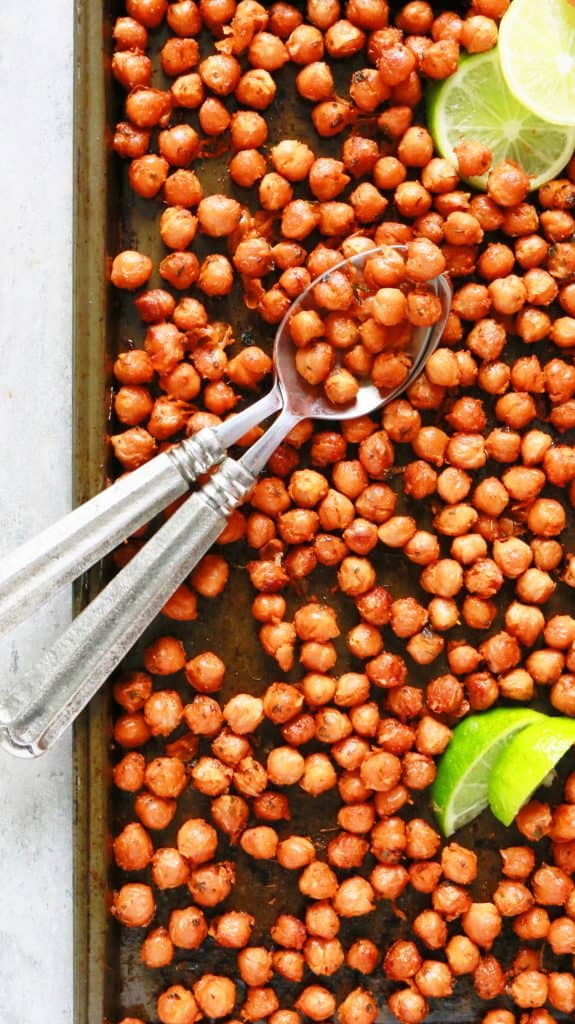 Spicy Tandoori Roasted Chickpeas
Spicy roasted chickpeas that is tangy, crunchy and highly addictive. Chickpeas that tastes like tandoori chicken!!!!!
Ingredients
2

tablespoons

vegetable oil

1

tablespoon

greek yogurt (or plain thick yogurt)

1

teaspoon

kasoori methi (optional)

refer notes

1/2

teaspoon

salt

1/2

teaspoon

coriander powder

1/2

teaspoon

cayenne pepper powder (or Indian red chili powder)

1

garlic clove, grated

1/4

teaspoon

grated ginger

1

small pinch

orange food color (optional)

1

teaspoon

lime or lemon juice
Instructions
Pre heat oven to 400 degrees F or 205 degrees C. Have a 9-inch cast iron pan or medium (oven safe) non-stick skillet or a baking sheet lined with parchment paper ready.

Add all ingredients (except lime or lemon juice) into the skillet or pan, stir well until evenly combined (make sure all the yogurt is thoroughly combined and well distributed). Spread them evenly in a single layer.

Place pan in the middle rack of the oven and bake for about 40 minutes, until crisp. (While the beans are baking, have one teaspoon of lime or lemon juice ready).

Remove skillet or pan from the oven and place on a wire rack and immediately add the lime or lemon juice, stir well with a spoon to coat all beans with the juice. Spread them in a single layer again and let cool.

Enjoy warm or at room temperature
Recipe Notes
Kasoori methi is dried fenugreek leaves that adds a very authentic tandoori taste. It can be found in all Indian grocery stores, some Asian supermarkets  and Amazon.
Orange color gives it a tandoori chicken look. It's totally optional. 
Do not reduce the oil. 
If you'll love this tandoori spicy roasted chickpeas recipe or make it yourselves, please let me know. Please rate, leave a comment or tag #kitchenathoskins on Instagram. I'd love to see your creation!
You might also like:
Spicy Garbanzo Bean Burger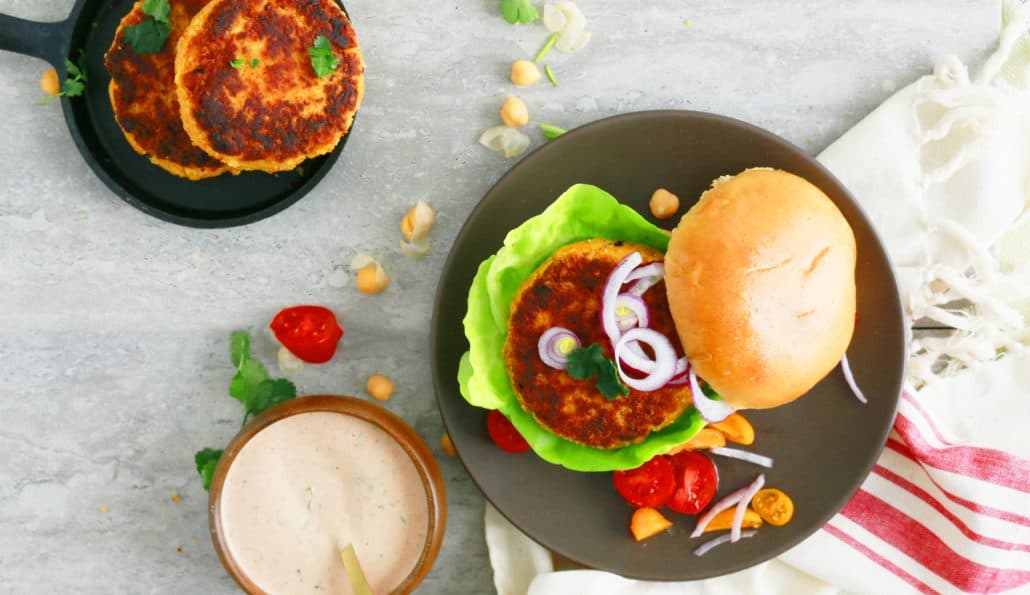 Zucchini Medhu Pakoda
Easiest, Creamiest Kulfi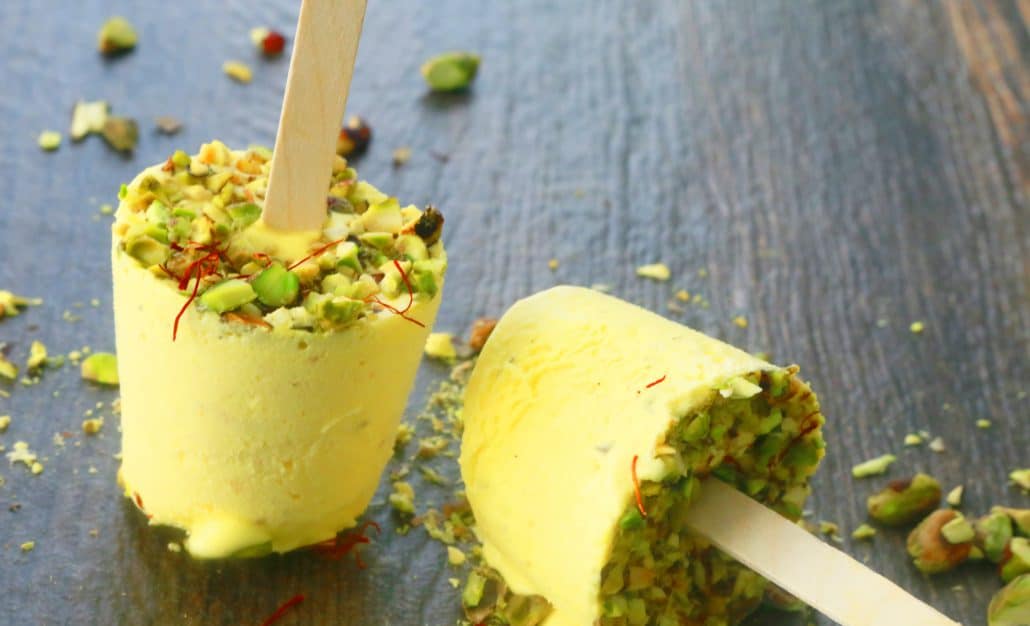 All contents and images are my original work, unless and otherwise mentioned. Please do not use my recipes or images without linking back to www.kitchenathoskins.com. If you wish to republish a recipe, please rewrite in your own words and don't forget to include a link back to the original recipe.