Welcome to Next Week's Meal Plan!
I want to help you find inspiration and ease some of the morning stress that come with packing lunch for work or school (or weeknight dinners). That's why, as promised, this series is shifting — every week I'll be sharing meal plans that you want to see. And it's not too late — tell me what kinds of meal plans you want to see in the comments below.
Both adults and little eaters will enjoy this meal plan, which is packed with family favorites like one pot chicken Parmesan Pasta and the best part is that most of these meals can be prepared over the weekend for a stress-free week.
This Spicy instant pot cilantro lime rice with black beans and corn is a delicious variation to the classic cilantro lime rice. This is great as is with some guac, cheese and sour cream or an accompaniment to all your Mexican meals.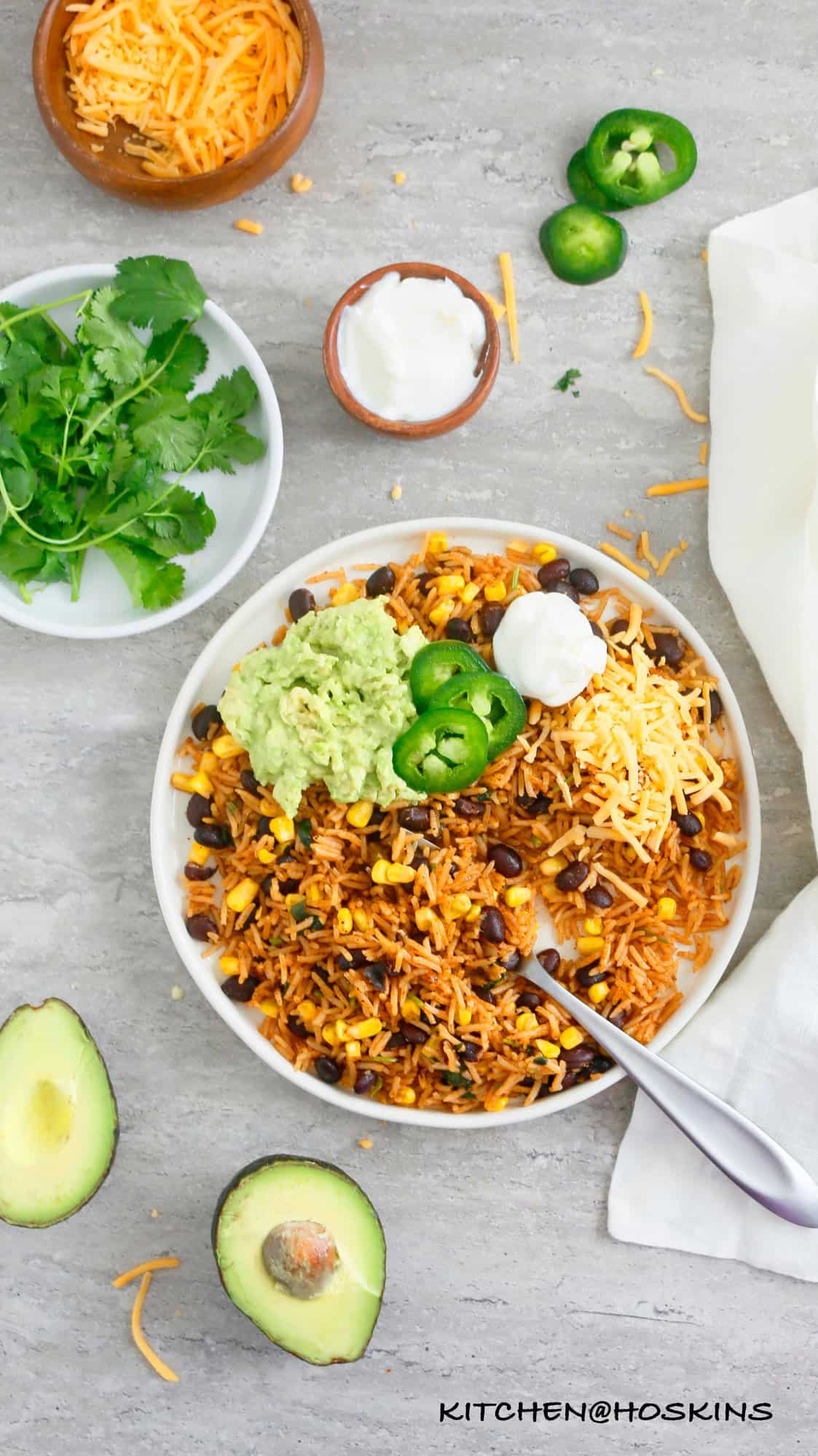 This Instant Pot chicken parmesan pasta recipe is an easy weeknight dinner recipe. All the flavors of classic chicken parmesan made into a one pot, comforting meal. Easiest clean up!
Snack Box Wednesday –

Ginger Garlic Pita Chips + Hummus (store-bought) + Carrot Sticks + Grapes
Ginger Garlic Pita Chips
Ingredients
2 whole wheat or regular Pita Bread
2 tablespoons vegetable oil
2 teaspoons finely minced ginger
2 teaspoons finely minced garlic
1/2 teaspoon red pepper flakes
1 tablespoon chopped cilantro
Salt to taste
1 pinch turmeric powder (optional)
Instructions
Pre heat oven to 350 degrees.
Cut each pita bread into 8 wedges and set aside.
Stir together all remaining ingredients in a small bowl.
Using a pastry brush, brush the spicy oil on both sides of each pita wedge and place on a baking sheet. Sprinkle any remaining spice mixture on top of the wedges <— we don't wanna waste any of this goodness.
Bake for about 14-17 minutes, until golden brown in color. Place baking sheet on a wire rack to cool completely.
Spicy chicken ranch quesadillas that are cheesy, spicy and are delicious topped with pico de gallo. Eat them hot or pack for lunch.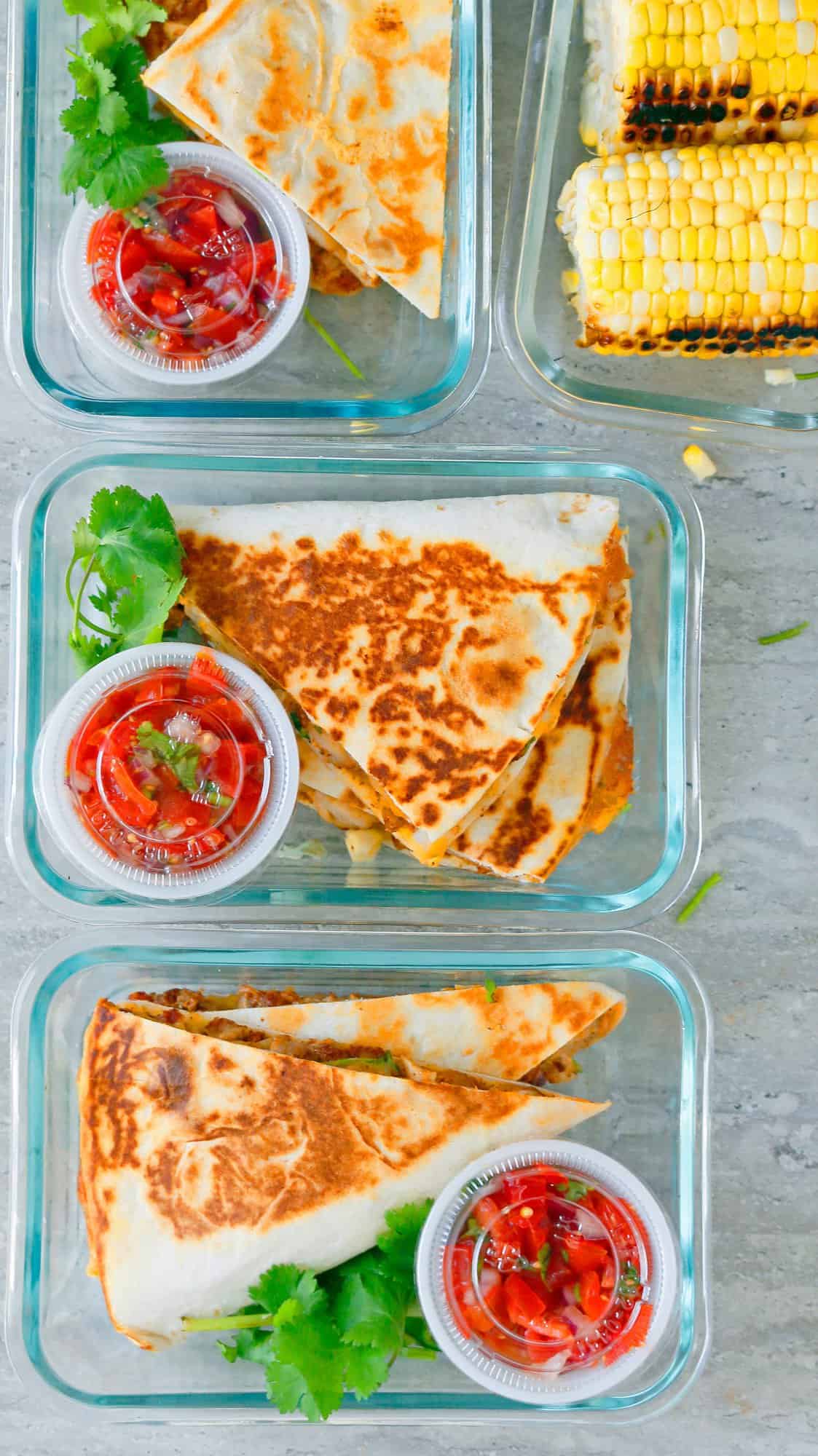 Heavenly brown sugar buttered cream cheese and 5-minute candied walnuts makes a humble bagel irresistible. Bagels with buttered cream cheese and candied walnuts is an easy meal prep option for breakfast or school lunch box.
Some of the links above are affiliate links, which pay me a small commission for my referral at no extra cost to you! Thank you for supporting kitchenathoskins.com
All contents and images are my original work, unless and otherwise mentioned. Please do not use my recipes or images without linking back to www.kitchenathoskins.com. If you wish to republish a recipe, please rewrite in your own words and don't forget to include a link back to the original recipe.