Welcome to Next Week's Meal Plan!
I want to help you find inspiration and ease some of the morning stress that come with packing lunch for work or school (or weeknight dinners). That's why, as promised, this series is shifting — every week I'll be sharing meal plans that you want to see. And it's not too late — tell me what kinds of meal plans you want to see in the comments below.
Both adults and little eaters will enjoy this meal plan, which is packed with family favorites like Salsa Chickpeas Meal Prep and the best part is that most of these meals can be prepared over the weekend for a stress-free week.
Say hello to the easiest meal prep ever!!! Cooked white rice, ripe avocado, sliced jalapeño and chopped fresh cilantro all prepped with one skillet, flavorful salsa chickpeas that is ready in under 6 minutes. This vegan, gluten-free, healthy, 4 ingredient salsa chickpeas meal prep is fabulous for lunch or dinner.
Skip takeout and make this restaurant favorite right in your instant pot! Easy, healthy and flavorful Instant Pot Thai Chickpea and spinach curry is delicious for weeknight dinner or meal prep.
This wholesome 4 ingredient guilt free chocolate hummus is made with garbanzo beans, dates, cocoa powder, vanilla extract and sea salt is so delicious served with cinnamon sugar pita chips. Easy, quick and so good for you!
A super easy recipe for baked falafel using canned chickpeas with the addition of beets. Simple, wholesome and most importantly delicious baked beet falafel meal prep with pita bread and a cucumber tomato salad.
Healthy, easy, quick chickpea taco meal prep bowls that is nothing short of delicious. An amazing combination of tacos chickpeas,tangy pico de gallo, sweet corn, shredded cheddar, spicy jalapenos and creamy avocado slices – all piled on a bed of white or brown rice. Meal prep for the week or make it for dinner!!!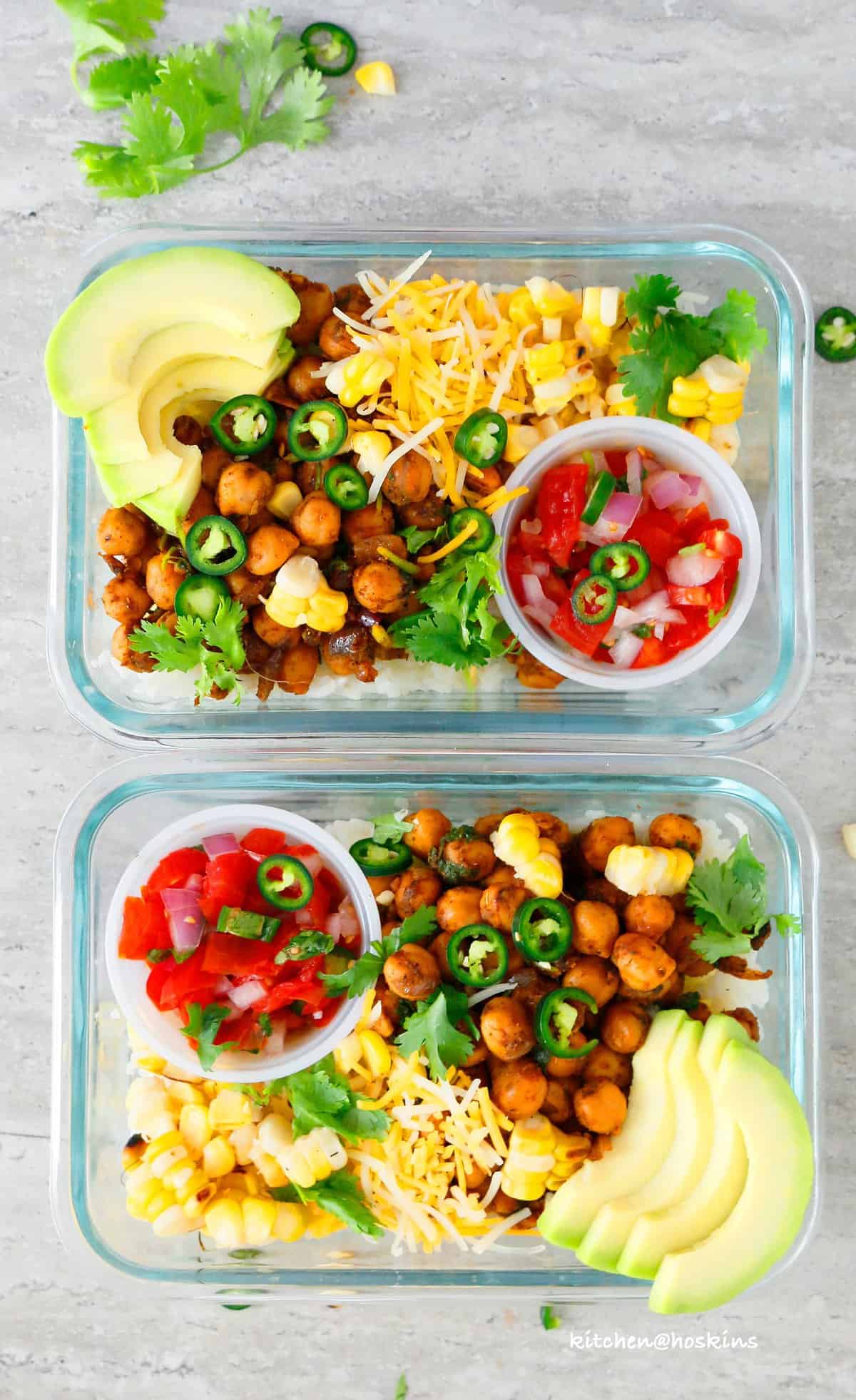 All contents and images are my original work, unless and otherwise mentioned. Please do not use my recipes or images without linking back to www.kitchenathoskins.com. If you wish to republish a recipe, please rewrite in your own words and don't forget to include a link back to the original recipe.