Easy Gluten Free Baked Oatmeal recipe is not overly sweet, made with wholesome nutritious ingredients and requires minimal prep. This is a great oatmeal for a crowd or to be baked now and enjoyed for the rest of the week or made into baked oatmeal cups.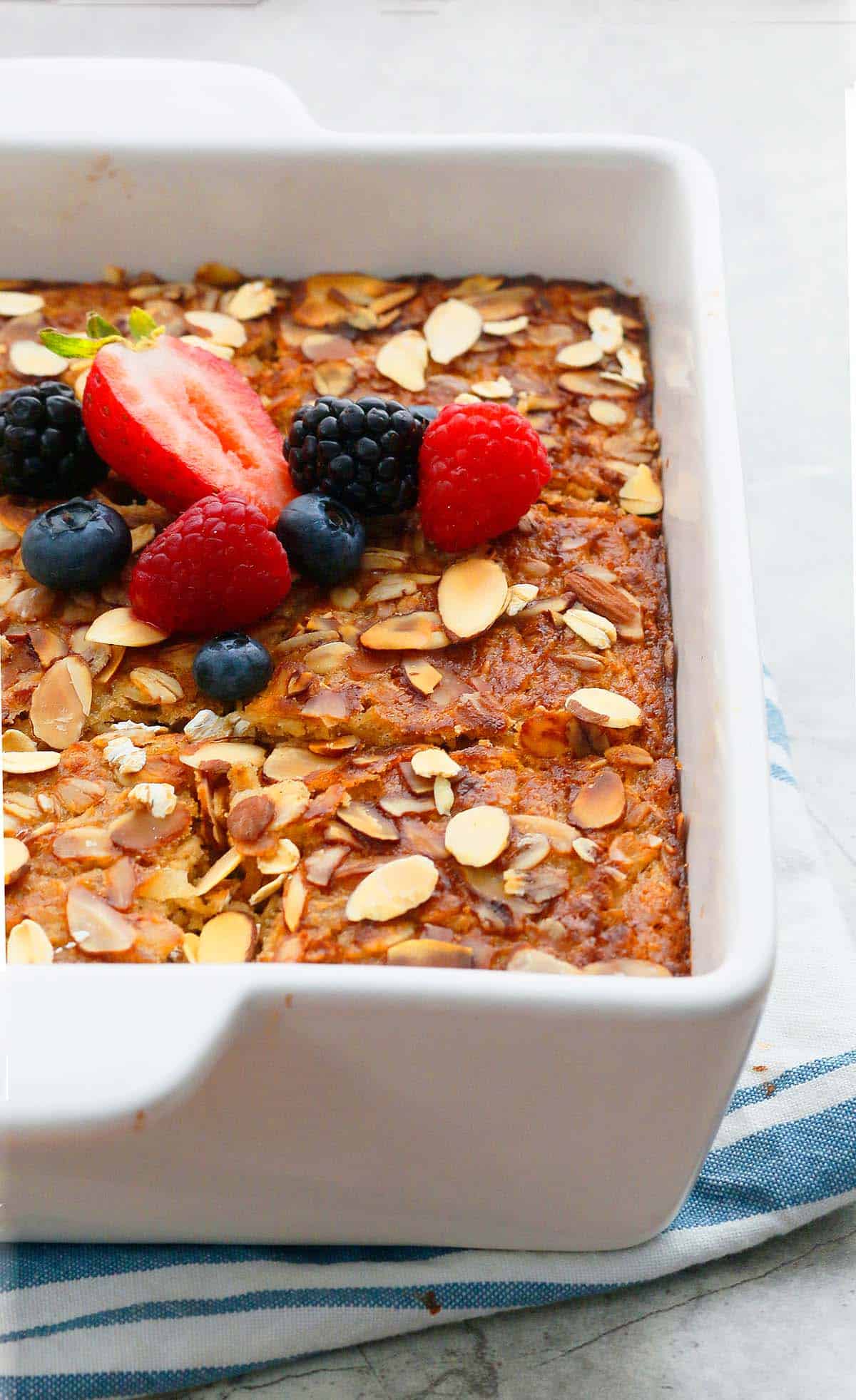 Evenings are beginning to get cooler and the "school at home" is scheduled to begin in a couple of weeks. So, it is time to move away from Overnight Oats weather to our trusty Oven.
Busy mornings with everyone at home always means a refrigerator with stocked up goodies. Even better if it is made with simple and healthy ingredients like omelette, muffins, smoothies or healthy bars.
This recipe is technically a breakfast bread pudding but much, much healthier. It loaded with wholesome ingredients like rolled oats, milk, almond butter (or use peanut butter), banana and eggs for binding. It will keep you full all morning long and a great healthy breakfast idea for kids before they head out to school.
What is Baked oatmeal?
Baked oatmeal is a warm breakfast casserole that is baked and it has structure! Oatmeal is a more creamy porridge like consistency that is made fresh on the stovetop or microwave enjoyed hot. On the other hand, this is more of a breakfast casserole, that is cut into squares and enjoyed. A totally different way to eat oatmeal for breakfast.
My favorite part? It can be made ahead, refrigerated and reheated for a quick grab-and-go breakfast for the rest of the week.
Baked oatmeal vs Cooked Oatmeal
Regular oatmeal (made in stove top, instant pot, microwave or air fryer, yes you might love this creamy oatmeal made in air fryer) has a creamy porridge like consistency, but baked oatmeal is made much like bread pudding, where bread is replaced by oats and other healthy ingredients to make hearty and soft casserole dish with a texture.
Baked oatmeal vs Overnight oats
Overnight oats is uncooked oats that is soaked overnight in liquid, which results in the oats soaking up all the liquid and is eaten cold straight out of the refrigerator (perfect for summer months). Whereas, easy baked oats recipe is cooked and eaten warm.
VERY HEALTHY BAKED OATMEAL RECIPE
Easy – just stir, dump and bake
Made with whole some ingredients
Mildly sweet
Great for serving a crowd
Minimal dishes
Can be made gluten free
Can be made vegan / vegetarian
Use your favorite add-ins
Great for breakfast or snack anytime
Adaptable for allergies
Ingredients:
For this banana baked oatmeal recipe you will need:
Old fashioned Oats – This recipe works with old fashion oats (We used Quaker oats) and not other kinds like steel cut or quick cooking oats. Use gluten free certified oats for a gluten free option.
Ground cinnamon – Ground cinnamon is the only flavoring used here. Vanilla extract / Ground Nutmeg (for some Fall vibes) can be used if desired.
Banana – Select well ripened bananas and mash them well before using, This is one of the main sweetener for the recipe.
Almond or Peanut butter – Creamy almond butter or peanut butter may be used and Sun butter for a nut free option.
Eggs – Eggs are main binding ingredient. Use 2 large eggs and it does not matter if they are at room temperature or cold.
Coconut Oil – Melted (not hot) coconut oil or melted butter may be used (again not hot)
Milk – Whole, reduced fat or fat free are all good options.
Brown sugar – Golden or light brown sugar is recommended.
Sliced Almonds – Sliced almonds or chopped walnuts will be great here. More details on toppings are listed below.
How to make baked oatmeal?
Step-1: Stir oats, ground cinnamon, baking powder and salt together in a bowl.
Step-2: In another larger bowl, whisk mashed bananas, eggs, almond/peanut butter and coconut oil together. Add milk and mix until smooth.
Step-3: Add the dry ingredients and mix until combined.
Step-4: Transfer into a greased 9×9 inch baking pan and sprinkle your favorite toppings. Bake for about 40 minutes or until golden .
Cool completely before cutting into squares.Got more ripe bananas? Check out Air fryer cake, Banana muffins, Gluten free banana muffins, Egg free banana bread or Healthy chocolate smoothie.
Expert tips
Make ahead instructions: Baked and cooled oatmeal can be refrigerated for up to a week. To reheat – remove one slice from the refrigerator and microwave for about 30 seconds (or longer) to heat up.
9×13 inch pan – The recipe can be doubled to make into a 9×13 inch easy baked oatmeal.
Make it right away – Bake the oatmeal as soon as you make the batter. Do not let it hang out on the counter (or fridge). This will let the oats absorb the liquid.
Don't over-bake to get the best baked oatmeal texture.
Let it cool for cleaner cut portions.
Can I skip baking powder? Baking powder lifts it up and makes it more lighter instead of being dense. However, you can skip it if you wish to.
Can I use steel cut oats?
No. Old fashion oats or rolled oats are the only type of oats that will work in this recipe.
Did it turn out soggy? That could be because the oats was not baked enough or the liquid proportion was off.
Recipe adaptations for food allergies
Dairy free – Use almond milk, oat milk, coconut milk (does add a strong coconut flavor) or other dairy free milk instead of the regular milk.
Gluten Free – Use Gluten free certified oats
Peanut Allergy – Use Almond butter
Nut allergy – Use Sun butter
Egg allergy – Replace eggs with flax eggs or add more banana (use 1 medium mashed banana for 1 egg) or applesauce instead (the slices might not be as neat).
Make it vegan – Using plant based milk and replacing eggs with flax eggs/ mashed banana / applesauce, makes it a vegan baked oatmeal.
Toppings:
Any of these or a combination will make a delicious topping-
Sliced almonds
Chopped Walnuts
Chopped toasted Pecans
Shredded Coconut
Semi sweet Chocolate Chips (highly recommended)
A drizzle of almond or peanut butter after it has cooled
Sliced Bananas, strawberries, blueberries, chopped apples are all great options
Best banana Baked Oatmeal Add-ins:
You can use any of these ingredients to stir into the batter before baking-
Chopped nuts (walnuts, pecans, almonds….)
Raisins
Dried cranberries
Shredded coconut
Semi sweet chocolate chips
Serving suggestions
It is more of a healthy breakfast pudding! Serve it with a drizzle of maple syrup and fresh berries.
Storing instructions
Refrigerate oatmeal in airtight container for 4 to 5 days or freeze for up to 1 month. To freeze – cut oatmeal into squares, wrap each sqaure in plastic wrap and place in a sealed gallon size zip lock bag. This makes it easier for reheating.
Re heating instructions
To reheat from the pan, wrap pan in foil and bake in pre heated 350 degree oven for 15 to 20 minutes or until heated through. cover with foil and reheat in the oven at 350ºF for about 20 minutes or until warm.
To reheat frozen squares, place a square in a microwave safe plate and nuke for about a minute.
Frequently asked questions
Is baked oatmeal healthy?
This recipe is made with wholesome and nutritious ingredients like old fashion oats, milk, almond butter or peanut butter, banana and eggs. So, it is very healthy!
Can you use instant oats for baking?
Instant oats does not hold up to the baking process and requires much less liquid. Hence, it will make the dish soggy and a mushy mess. So, we highly recommend using only rolled oats.
More tasty oatmeal recipes:
Instant Pot Apple Cinnamon Oatmeal with Rolled Oats
Yield: 9
Healthy Gluten Free Baked Oatmeal with Bananas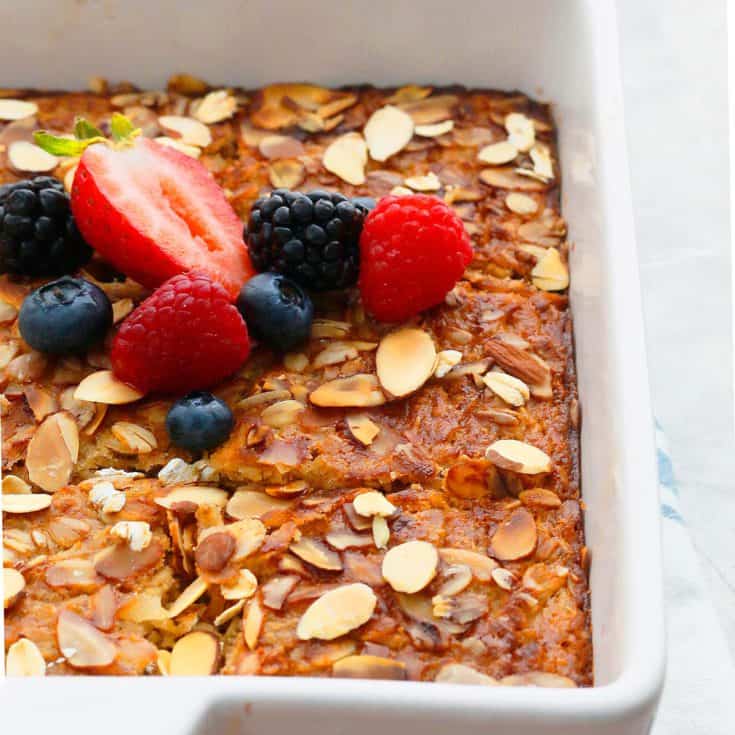 This Healthy Baked Oatmeal recipe is made with wholesome ingredients like oats, milk, banana, almond or peanut butter and eggs. An easy breakfast casserole great for a grab and go breakfast for the week.
Ingredients
Dry Ingredients
Wet ingredients
2 medium bananas, mashed (about 1/2 to 3/4 cup)
2 eggs, large
1 and 1/2 cups milk
Optional ingredients for Topping
2 tablespoon sliced almonds / chopped walnuts / chocolate chips / shredded coconut / chopped apples / berries
For serving (optional)
Instructions
Pre heat oven to 350°F and spray a 9x9 inch baking pan with non-stick cooking spray and set aside.
Add all dry ingredients into a medium bowl, stir well and set aside.
Add all wet ingredients (except milk) into another larger bowl and whisk until smooth. Mix in milk followed by the dry ingredients and mix well, until thoroughly combined.
Pour into the prepared baking pan and sprinkle sliced almonds or any other toppings that you desire on top.
Bake for 35 to 40 minutes, or until the top is lightly golden.
Optional step - If you like a more deep brown top (as seen in pictures), then after 35 minutes of baking time, switch oven to broiler mode and cook for 4-6 minutes. Keep a close watch to make sure that it does not burn.
Place baking pan on a wire rack to cool completely. Slice and serve with a drizzle of maple syrup if desired and fruits.

Cooled oatmeal can be cut into perfect squares. If you are serving oatmeal warm, then spoon onto a plate.
Notes
Make it Nut-Free - Use Sun butter instead of almond/peanut butter and skip the chopped nuts on top.
Make it Gluten-Free - Use gluten free oats
Make it vegan - Use non-dairy milk and flax eggs
Add-ins - You can use any of these ingredients to stir into the batter before baking - Chopped nuts / Raisins / Dried cranberries / Shredded coconut / Semi sweet chocolate chips.
Make ahead instructions: Baked and cooled oatmeal can be refrigerated for up to a week. To reheat – remove one slice from the refrigerator and microwave for about 30 seconds (or longer) to heat up.
9×13 inch pan – The recipe can be doubled to make into a 9×13 inch easy baked oatmeal.
Make it right away – Bake the oatmeal as soon as you make the batter. Do not let it hang out on the counter (or fridge). This will let the oats absorb the liquid.
It is not good served cold. Enjoy warm or room temperature.
Nutrition Information:
Yield:
9
Serving Size:
1
Amount Per Serving:
Calories:

343
Total Fat:

18g
Saturated Fat:

6g
Trans Fat:

0g
Unsaturated Fat:

9g
Cholesterol:

42mg
Sodium:

114mg
Carbohydrates:

40g
Fiber:

5g
Sugar:

15g
Protein:

9g
I am not a certified dietician or nutritionist. You are ultimately responsible for all decisions pertaining to your health. This information is provided as a courtesy and should not be construed as a guarantee. This information is a product of online calculator such as Nutrifox.com.. Although Kitchen at Hoskins attempts to provide accurate nutritional information, these figures should be considered estimates. Varying factors such as product types or brands purchased, natural fluctuations in fresh produce, and the way ingredients are processed change the nutritional information in any given recipe. Furthermore, different online calculators provide different results depending on their fact sources and algorithms. Under no circumstances will Kitchen at Hoskins be responsible for any loss or damage resulting for your reliance on the nutritional information. To obtain the most accurate representation of the nutritional information in a given recipe, you should calculate the nutritional information with the actual ingredients used in your recipe, using your preferred nutrition calculator. You are solely responsible for ensuring that any nutritional information provided is accurate, complete, and useful.
Some of the links above are affiliate links, which pay me a small commission for my referral at no extra cost to you! I am a participant in the Amazon Services LLC Associates Program, an affiliate advertising program designed to provide a means for us to earn fees by linking to Amazon.com and affiliated sites. Thank you for supporting kitchenathoskins.com
All contents and images are my original work, unless and otherwise mentioned. Please do not use my recipes or images without linking back to www.kitchenathoskins.com. If you wish to republish a recipe, please rewrite in your own words and don't forget to include a link back to the original recipe.