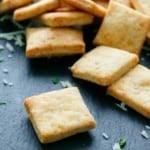 Print Recipe
Homemade Parmesan Cheese Crackers
These homemade parmesan cheese crackers are crisp, nutty, buttery and is a great snack for both kids and adults.
Other ingredients
4

tablepsoons

unsalted butter, cold, sliced

1/4

cup

whole milk

additional flour, for rolling the dough
Preheat oven to 375 degrees F. Line a sheet pan with parchment paper and set aside.

Add sliced cold butter, process for 10 seconds.

Add milk ( To be exact, measure milk with a 1/4-cup dry measuring cup instead of a liquid measuring cup). Prosee dough until it begins to gather together (about 20 seconds).

Dump dough one the kitchen counter, gently give 2-3 kneads to make dough into a smooth, flat, square disc.

Lightly dust the counter with some all purpose flour and roll dough (dust the top with some flour too) into a 12 X 12 inch square. Move dough often to ensure it does not stick to the counter and lightly dust with more flour if it starts sticking.

Cut into 1 X 1 inch squares ( I used a ruler and pizza wheel). Transfer squares onto the prepared baking sheet, spacing about 1/2-inch apart (crackers will not expand while baking).

Bake crackers (in the middle rack of the oven) for 23-26 minutes or until golden in color ( DON'T LET THEM TURN DARKER). Place pan on a wire rack to cool comleteely.

Crackers can be stored in an airtight conrtiner for 3-4 days.