Vegetarian version of the classic buttermilk fried chicken! Perfectly crispy and crunchy buttermilk fried cauliflower are so addictive that you can't stop with just one. Oh yes, these are spicy too.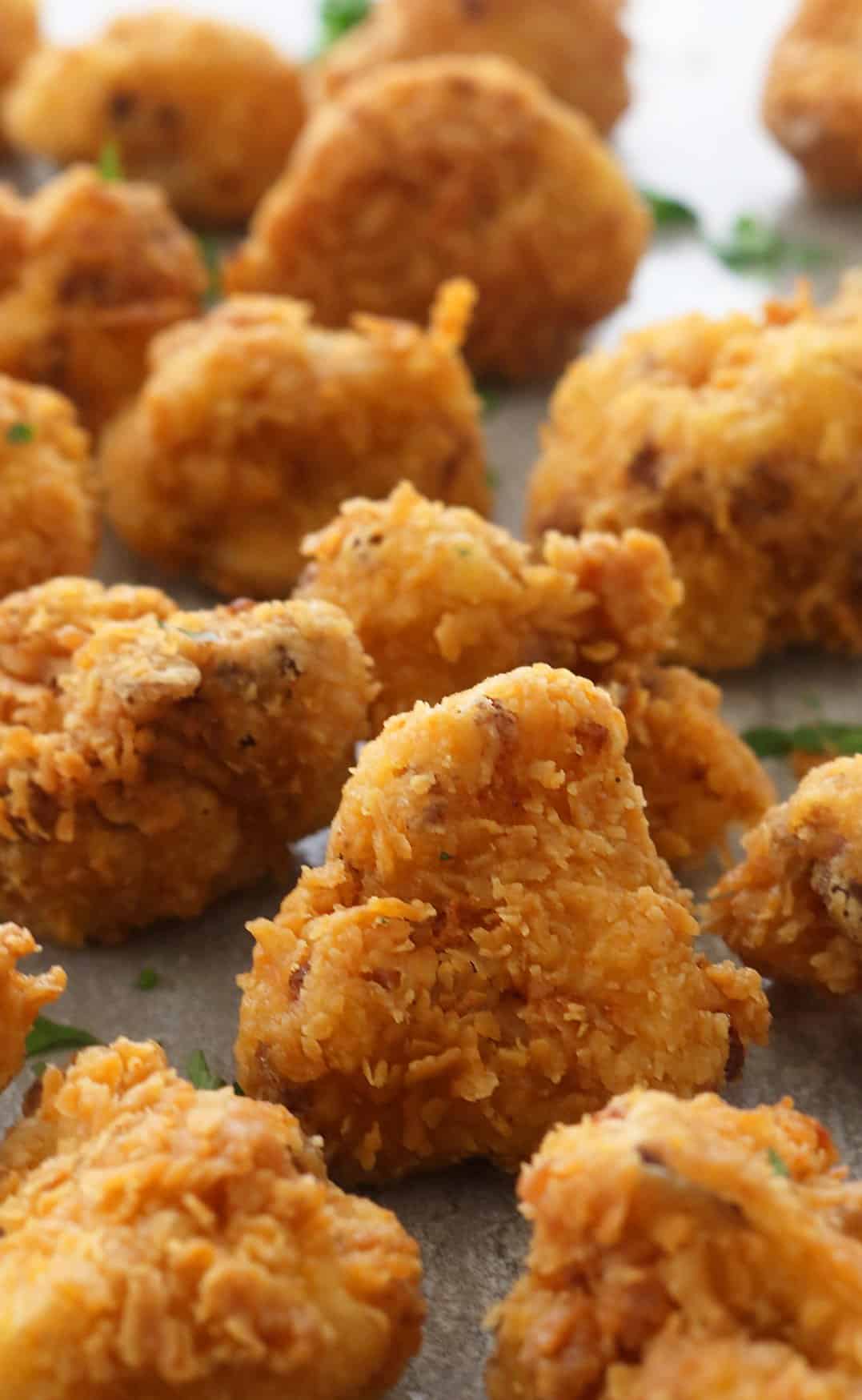 When life gives you cauliflower, you deep fry 'em!
Crispy, crunchy exterior with craggy bits of deep fried flour coating…
Soft cooked cauliflower inside….
GOLDEN BROWN PERFECTION!!!
There is something about deep fried foods thats just hard to beat.
You know it's not good for ya. But, you still crave!
Like these Fried popcorn chicken <—- dangerously addictive.
How to make spicy, crispy fried cauliflower?
Three step process : Soak – Dredge – Fry
Soak – Marinade cauliflower florets in a spicy buttermilk marinade for at least 15 minutes (refer picture above – left)
Dredge – Dredge cauliflower florets in flour. Not just plain flour —-> Mix some spicy buttermilk marinade into the flour, until it becomes a textured flour (refer picture above – middle and right).
Deep fry until golden brown in batches.
Ain't complicated!
I agree, this is not an easy buttermilk cauliflower recipe but, it is definitely the best buttermilk fried cauliflower.
If you are really not into deep frying and wanna a healthier option, then check out this crispy baked cauliflower recipe –> Baked Bang Bang Cauliflower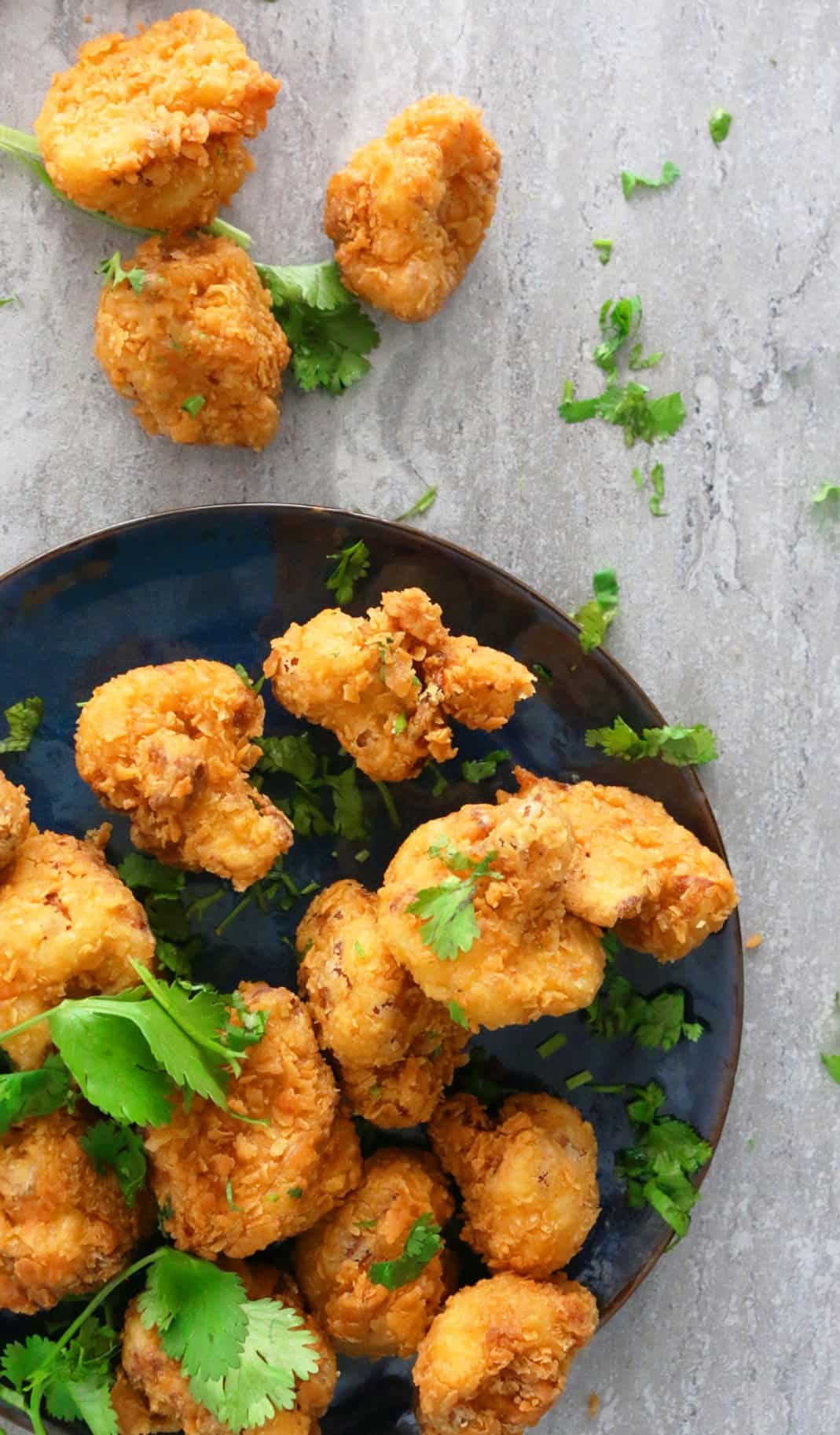 How to make crispy and crunchy buttermilk fried cauliflower that is truly crispy?
You adopt a secret technique.
A technique that promises crunchy deep fried cauliflower every time!
Usual dredging methods includes, coating cauliflower in a marinade, dredging in flour and deep frying <— Good. But we want great!
We go a step further and mix some of the spicy buttermilk marinade into the flour to make a textured flour and then coat marinated cauliflower in this coating. The bits of flour gets really crunchy when deep fried making this cauliflower really crispy.
Crispy cauliflower fries for the win.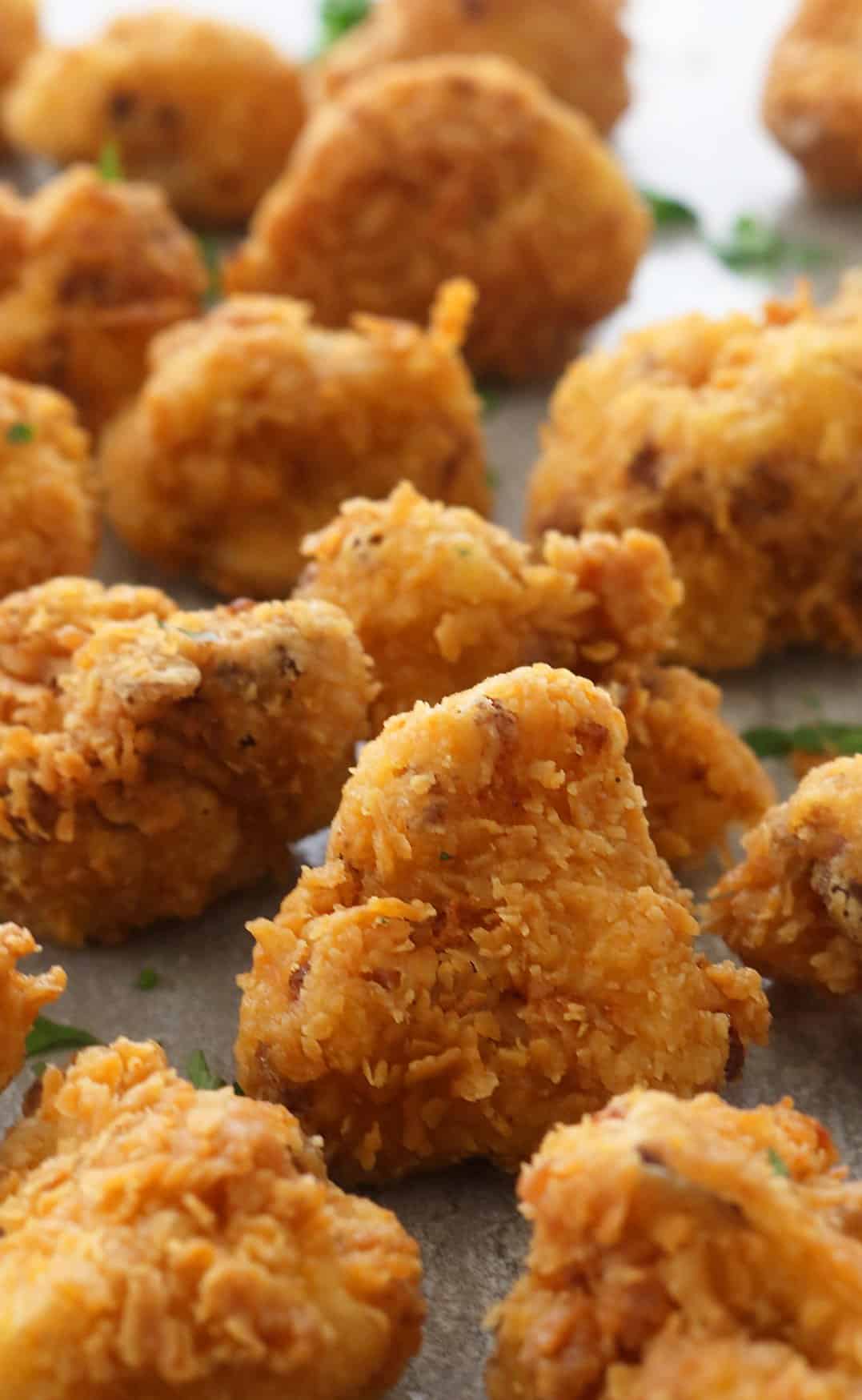 How to enjoy these amazing crispy and crunchy cauliflower?
Appetizer with Sriracha ranch or ketchup
Snack for your next game day
Forget chicken nuggets and serve these cauliflower nuggets to your little nuggets. You will be pleasantly surprised.
Stuff them between burger buns, with a spicy coleslaw and you have an awesome lunch —> spicy fried cauliflower sandwich.
Top 'em on your favorite salad. Show your salad some deep fried love.
Print Recipe
Crispy and Crunchy Buttermilk Fried Cauliflower
Vegetarian version of the classic buttermilk fried chicken! Perfectly crispy and crunchy buttermilk fried cauliflower are so addictive that you can't stop with just one.
Ingredients
Buttermilk marinade
1

cup

buttermilk

2

teaspoons

coriander powder

1 and 1/2

teaspoon

salt

1

teaspoon

cayenne pepper powder

1/2

teaspoon

garlic powder

1/2

teaspoon

paprika

1/4

teaspoon

onion powder

1/4

teaspoon

turmeric powder
Additional ingredients
1

head

cauliflower (medium size), cut into 1 to 11/2 inch florets

vegetable oil, for deep frying

1

cup

all purpose flour

1/4

teaspoon

salt
Instructions
Stir all buttermilk marinade ingredients together in a large bowl, until combined.

Add cauliflower florets, stir well to coat thoroughly (let every nook and cranny get coated), set aside for about 15 minutes (make it right away, if pressed for time).


Into a large dutch oven or a large saucepan, pour vegetable oil until about 1-inch height, heat over high heat until moderately hot (about 350 degrees in a deep fry thermometer).

While the oil is heating, place all purpose flour in a shallow bowl, add remaining 1/4 teaspoon salt and 3 tablespoons of the prepared buttermilk marinade (try to scoop from the bottom of the bowl). Mix with your fingertips, until thoroughly combined (this creates texture in the flour and guaranteed crispiness).

Working with one floret at a time – remove from the buttermilk marinade, coat with flour (pressing on all sides for flour to adhere well) and place on a plate in a single layer.

Deep fry in three batches, until deep golden on all sides ( about 6 minutes per batch). Drain on a paper towel lined platter.

Serve hot for appetizer / snack / side dish with ketchup or ranch or Sriracha ranch.
All contents and images are my original work, unless and otherwise mentioned. Please do not use my recipes or images without linking back to www.kitchenathoskins.com. If you wish to republish a recipe, please rewrite in your own words and don't forget to include a link back to the original recipe.