Crispy and crunchy Deep Fried Cauliflower Recipe – Vegetarian version of the classic buttermilk fried chicken. Perfectly crispy and crunchy cauliflower is addictive that you can't stop with just one. Oh yes, these are spicy too!!!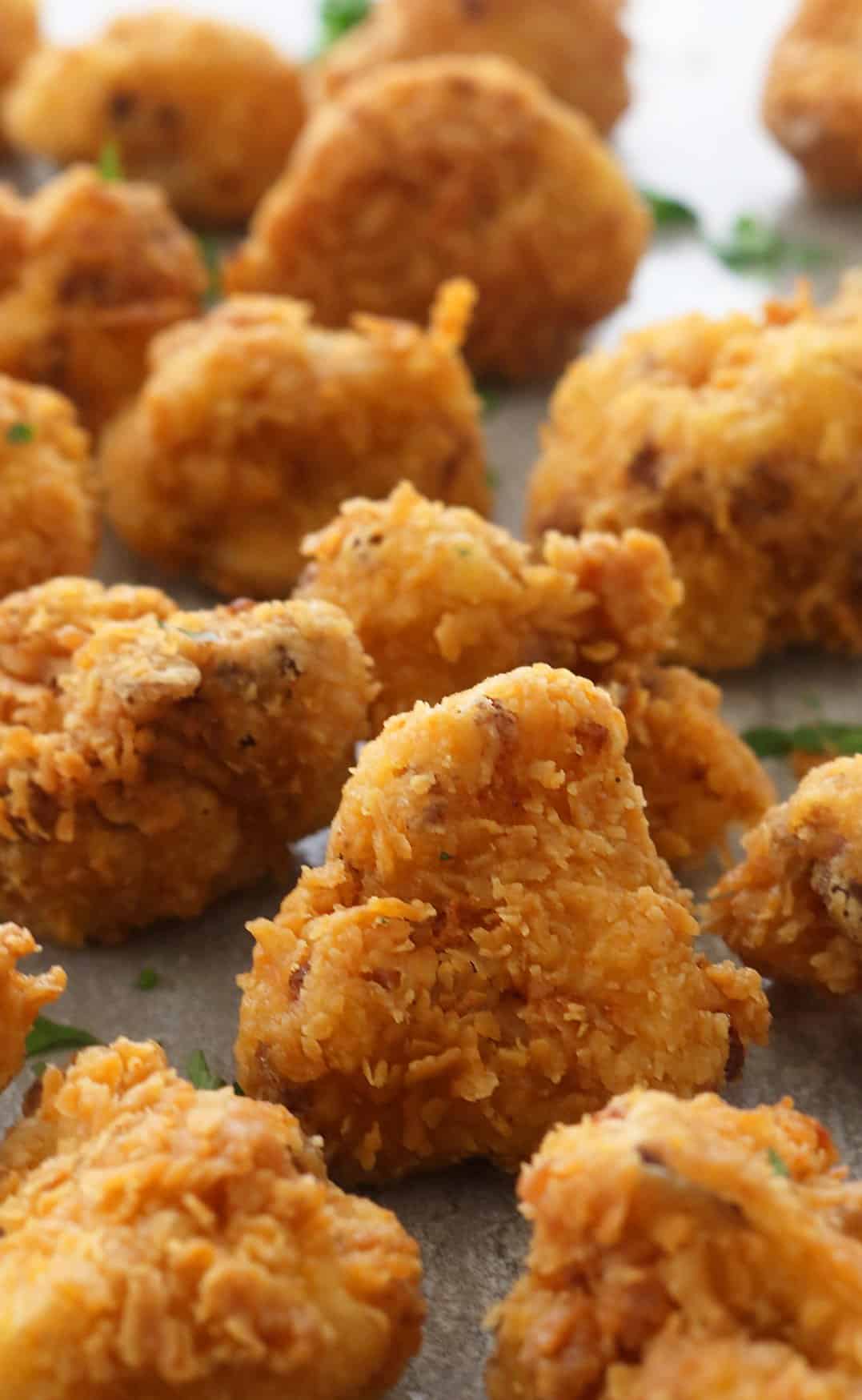 When life gives you cauliflower, you deep fry 'em!
Crispy, crunchy exterior with craggy bits of deep fried flour coating...Soft cooked cauliflower inside.
GOLDEN BROWN PERFECTION!!!
There is something about deep fried foods thats just hard to beat. You know it's not good for ya. But, you still crave! Like these Fried popcorn chicken <—- dangerously addictive.
Why is this THE BEST Deep Fried Cauliflower recipe?
Crispy and crunchy exterior
Soft cooked cauliflower inside
Spicy
Highly addictive
Golden brown perfection
Flavorful
D-E-L-I-S-H
If deep frying is not your thing or you wanna healthier cauliflower, then you will love these Air Fryer Crispy Cauliflower, baked bang bang cauliflower , these tacos made with them or Cauliflower Wraps recipe.
More cauliflower recipes :
Sweet & Spicy Sriracha Roasted Cauliflower and Cashews
Creamy Instant Pot Thai Curry Cauliflower Soup
How to make deep fried cauliflower?
Three step process : SOAK – DREDGE – FRY
Step-1: Soak – Marinade cauliflower florets in a spicy buttermilk marinade for at least 15 minutes (refer picture above – left)
Step-2: Dredge – Dredge cauliflower florets in flour. Not just plain flour —-> Mix some spicy buttermilk marinade into the flour, until it becomes a textured flour (refer picture above – middle and right).
Step-3: Deep fry until golden brown in batches.
Done and DONE!!!
I certainly agree, this is not an easy buttermilk fried cauliflower recipe but, it is definitely the best Deep Fried Cauliflower!!!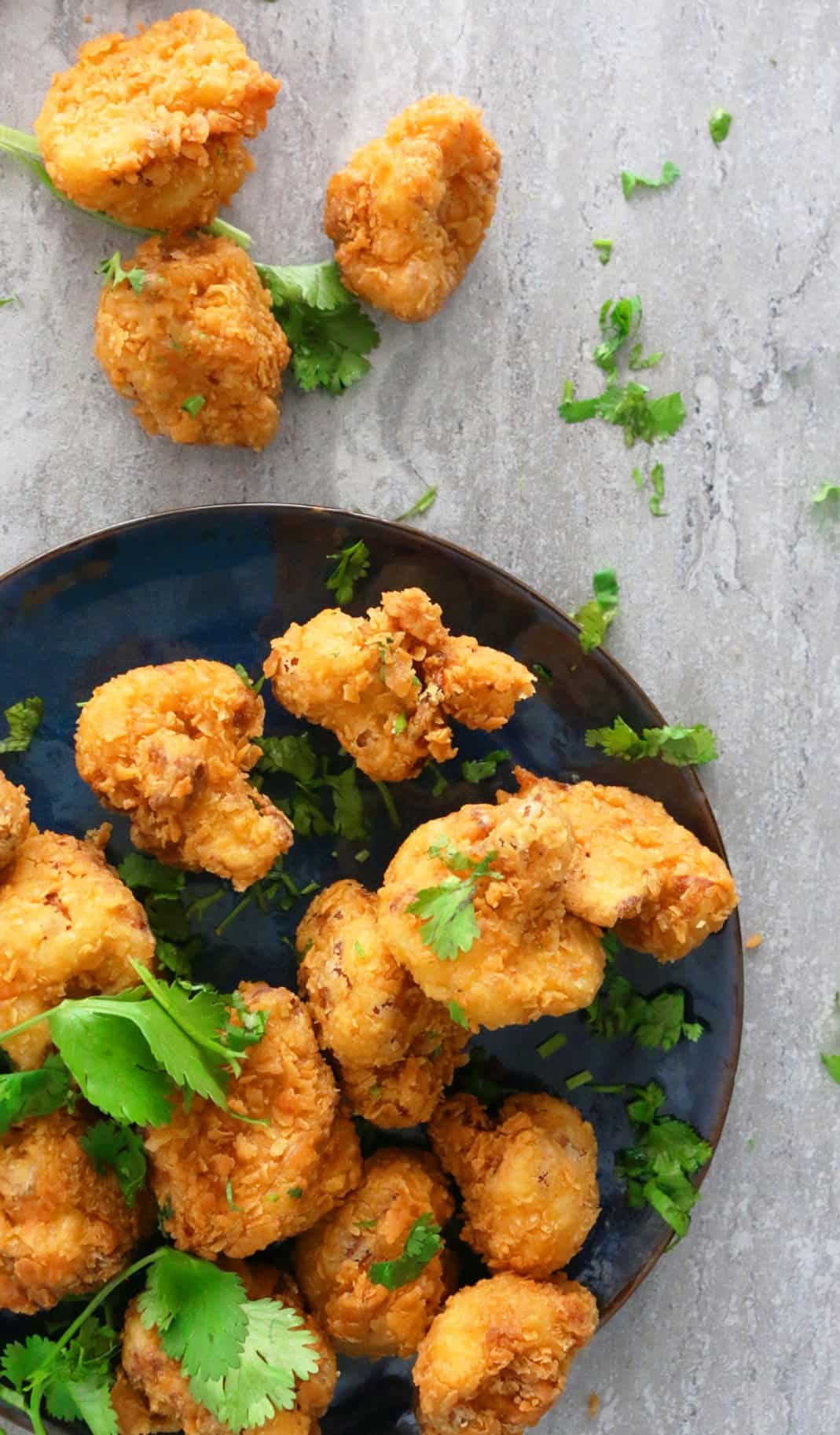 Tips and tricks in making buttermilk fried cauliflower:
There is a secret technique!!
A technique that promises crispy cauliflower fries every time!
Usual dredging methods for crispy cauliflower fried includes – coating cauliflower in a marinade, dredging in flour and deep frying <— Good. But we want GREAT!
So, we go a step further and mix some of the spicy buttermilk marinade into the flour to make a textured flour and then coat marinated cauliflower in this coating. The bits of flour gets really crunchy when deep fried making this fried cauliflower really crispy.
Best crispy cauliflower bites for the win!!!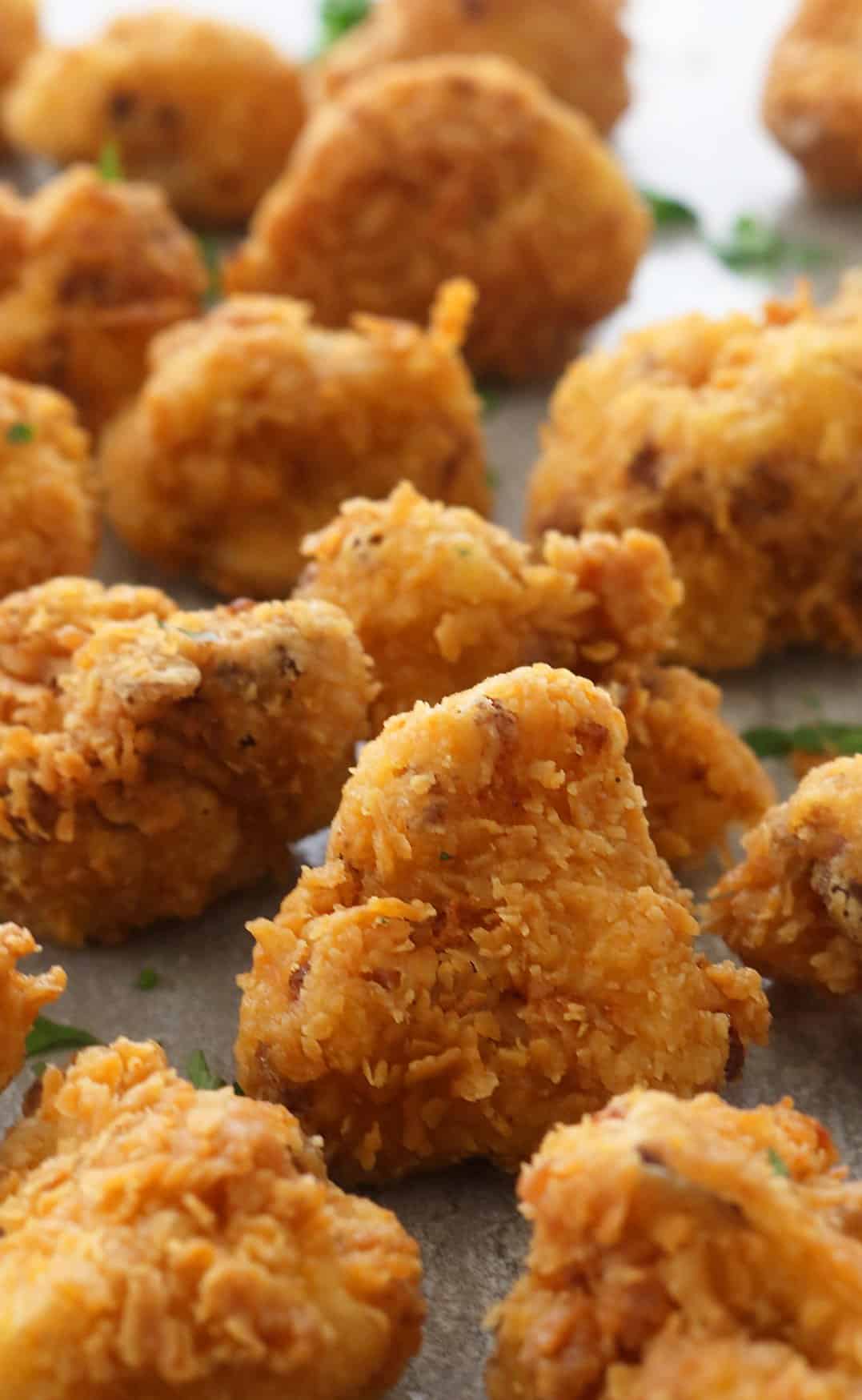 Serving suggestions:
Appetizer with Sriracha ranch or ketchup
Snack for your next game day
Forget chicken nuggets and serve these fried cauliflower nuggets to your little nuggets. You will be pleasantly surprised.
Stuff them between hot dog buns with a spicy coleslaw and you have an awesome lunch —> spicy fried cauliflower sandwich.
Make 'em into spicy fried cauliflower tacos – Serve over charred corn tortillas, spicy coleslaw, cilantro, shredded lettuce and top with a sliced jalapeño.
Top 'em on your favorite salad. Show your salad some deep fried love:)
Expert tips:
Eat them HOT – The high moisture content in cooked cauliflower tends to soften the crust over time. So, this fried cauliflower recipe is best eaten hot.
Marinade if possible – Letting the cauliflower soak up some of spicy buttermilk marinade makes them more delicious.
Adjust spiciness – Adjust cayenne based on family's spice level.
Storage instructions:
Unfortunately, this deep fried cauliflower needs to be enjoyed hot for that incredible crispy texture. However, leftover cauliflower can be stored at room temperature for a few hours.
Few reader feedbacks:
"I went exactly by the recipe it turned out wonderful all my guys are real happy and I'll definitely use it again thank you so much ."
"It is so good!! Even my nieces liked it (though it was a bit spicy for their liking-but they don't like any spice)"
"Soo good, you almost forget that its cauliflower. Definitely making this again!"
"These came out really good. My new favorite way to eat cauliflower, the leftovers heated well in my air fryer. I most definitely recommend this recipe."
"SO GOOD. I let the cauliflower marinate in the buttermilk a lot longer than 15 minutes and it was great."
"Absolutely incredible!"
"This cauliflower recipe is good, will definitely make again"
More appetizer/snack recipes:
Spicy Ginger Garlic Pita Chips
Baked Barbecue Chicken Meatballs with avocado
Print Recipe
Crispy and Crunchy Buttermilk Fried Cauliflower
Vegetarian version of the classic buttermilk fried chicken! Perfectly crispy and crunchy buttermilk fried cauliflower are so addictive that you can't stop with just one.
Instructions
Stir all buttermilk marinade ingredients together in a large bowl, until combined.

Add cauliflower florets, stir well to coat thoroughly (let every nook and cranny get coated), set aside for about 15 minutes (make it right away, if pressed for time).


Into a large dutch oven or a large saucepan, pour vegetable oil until about 1-inch height, heat over high heat until moderately hot (about 350 degrees in a deep fry thermometer).

While the oil is heating, place all purpose flour and cornstarch in a shallow bowl, add remaining 1/4 teaspoon salt and 3 tablespoons of the prepared buttermilk marinade (try to scoop from the bottom of the bowl). Mix with your fingertips, until thoroughly combined (this creates texture in the flour and guaranteed crispiness).

Working with one floret at a time – remove from the buttermilk marinade, coat with flour (pressing on all sides for flour to adhere well) and place on a plate in a single layer.

Deep fry in three batches, until deep golden on all sides ( about 6 minutes per batch). Drain on a paper towel lined platter.

Serve hot for appetizer / snack / side dish with ketchup or ranch or Sriracha ranch.
Notes
These are best eaten hot.
Due to the high moisture content in cauliflower, it softens when cold.
Some of the links above are affiliate links, which pay me a small commission for my referral at no extra cost to you! Thank you for supporting kitchenathoskins.com
All contents and images are my original work, unless and otherwise mentioned. Please do not use my recipes or images without linking back to www.kitchenathoskins.com. If you wish to republish a recipe, please rewrite in your own words and don't forget to include a link back to the original recipe.