This Baked Chicken Burger is moist, juicy and flavorful! Packed with cauliflower and carrot, cheese, mashed avocado and Sriracha mayo, these ground chicken burgers can be made on stove top as well.
If you love chicken burgers, then check out this Air Fryer Burger, Burger patties or the ground chicken meatballs.
As an Amazon Associate and member of other affiliate programs we earn a small commission from qualifying purchases through our affiliate link. For more information read our Non-Disclosure Agreement.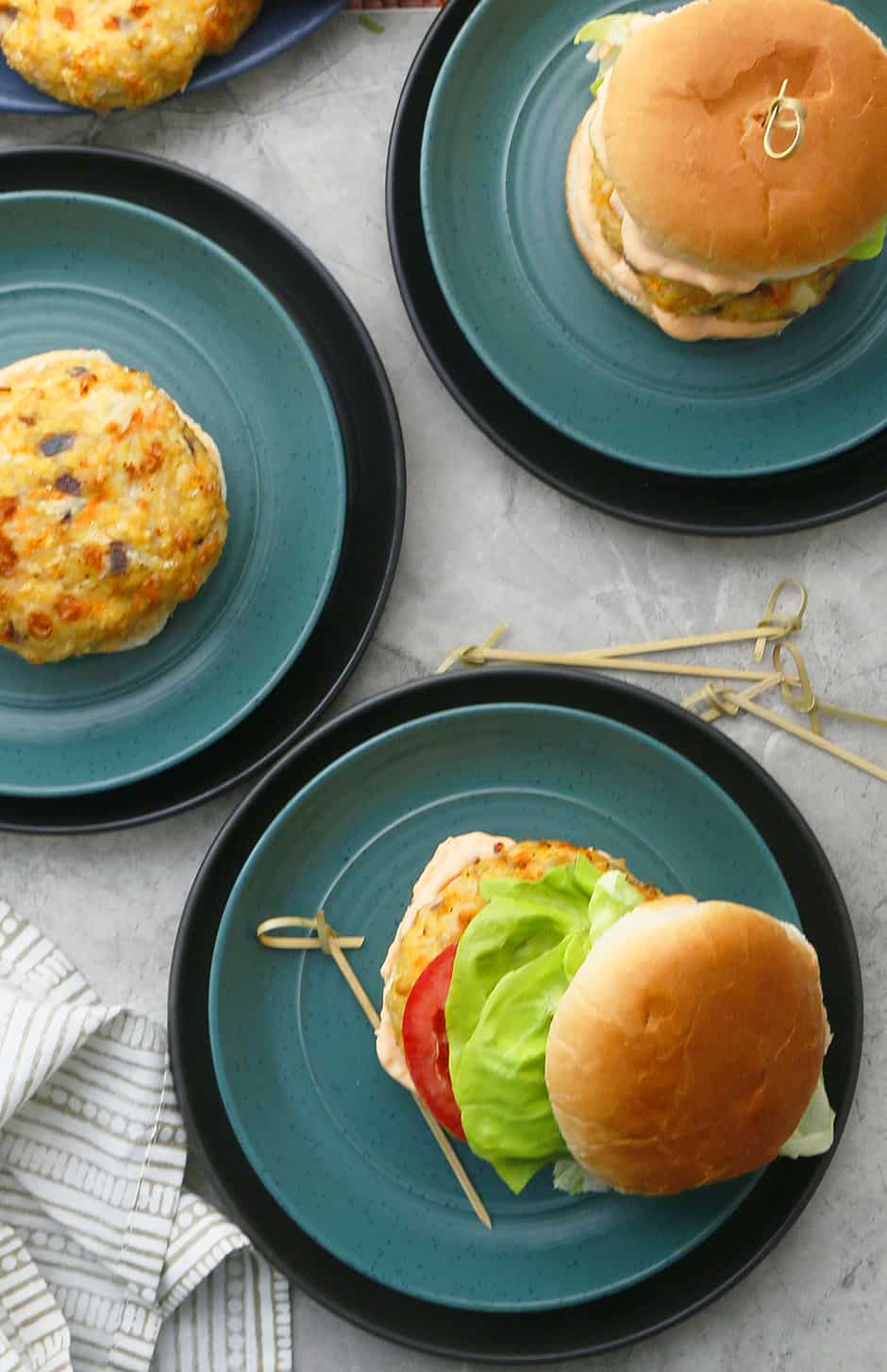 Baked Chicken Burger
Really good chicken burger, but healthier......much healthier because they are baked instead of shallow fried, made with lean ground chicken and added vegetables like cauliflower and carrot in the patty.
Why this recipe works?
A good burger begins with a good patty - A patty that needs to juicy and flavorful. The SECRET here is that these chicken patties are made with grated veggies and cheese along with chicken, which keeps them moist and adds tons of flavor. It is no secret that cauliflower packs in a lot of moisture and all that cheese keeps the burger moist and delicious -----> No more dry burger!
Why are you going to love this recipe ?
Very easy (Mix all ingredients, shape and bake)
Freezer friendly ( Store 'em in zip lock bags and thaw at room temperature. Heat in a skillet or microwave or oven).
Tasty
Endless possibilities to serve.
Veggies are sneaked in <--- Great, even for picky eaters
Guilt-free
Easy clean up
It involves avocado <--- my favorite
Great for work or school lunch box
What's good on a chicken burger?
They are delicious with a variety of toppings, like -
Onion, Lettuce, Tomato, Avocado, Cheese, Guacamole, Pickles, Salsa, Marinara sauce, BBQ Sauce and Caramelized onions.
How long to bake?
It depends on the thickness of the patties and the oven temperature. It took about 24 minutes at 400 degrees F. When an instant read thermometer registers 165°F, in the middle, they are safe to eat. Another easier way to check for doneness, is to gently press in the middle and it should have some resistance and not feel soft.
Pro Tips for success
Don't over handle the meat. Mix until thoroughly incorporated.
Grate vegetables in the coarse side of box grater.
Try not to use ground chicken breast - It is too lean and does not have much flavor.
Sauce can be made ahead and stored in the refrigerator for up to 2 days.
Use ground turkey instead.
Use your hands to mix the the patties. It's a little messier but the ingredients will combine much easier this way. You can wear tight fitting plastic cloves to keep your hands clean.
Can you make chicken burgers ahead of time?
You can make the burger mix a day ahead of time and keep it covered in the fridge until you are ready to use it. Let the mixture come to room temperature before you shape and cook the patties.
Seasoning
This recipe is super flavorful with minced onion, garlic, salt, pepper, red pepper flakes and pepper jack cheese adding a hint of spicy and cheesy goodness. The garlicky sriracha sauce makes it even more delicious when paired with creamy avocado.
How to make in a skillet?
Make the patty as instructed. Heat one to two tablespoons oil in a cast iron skillet over medium high heat. Cook chicken patties, until deep golden on both sides and cooked through (4-5 minutes per side).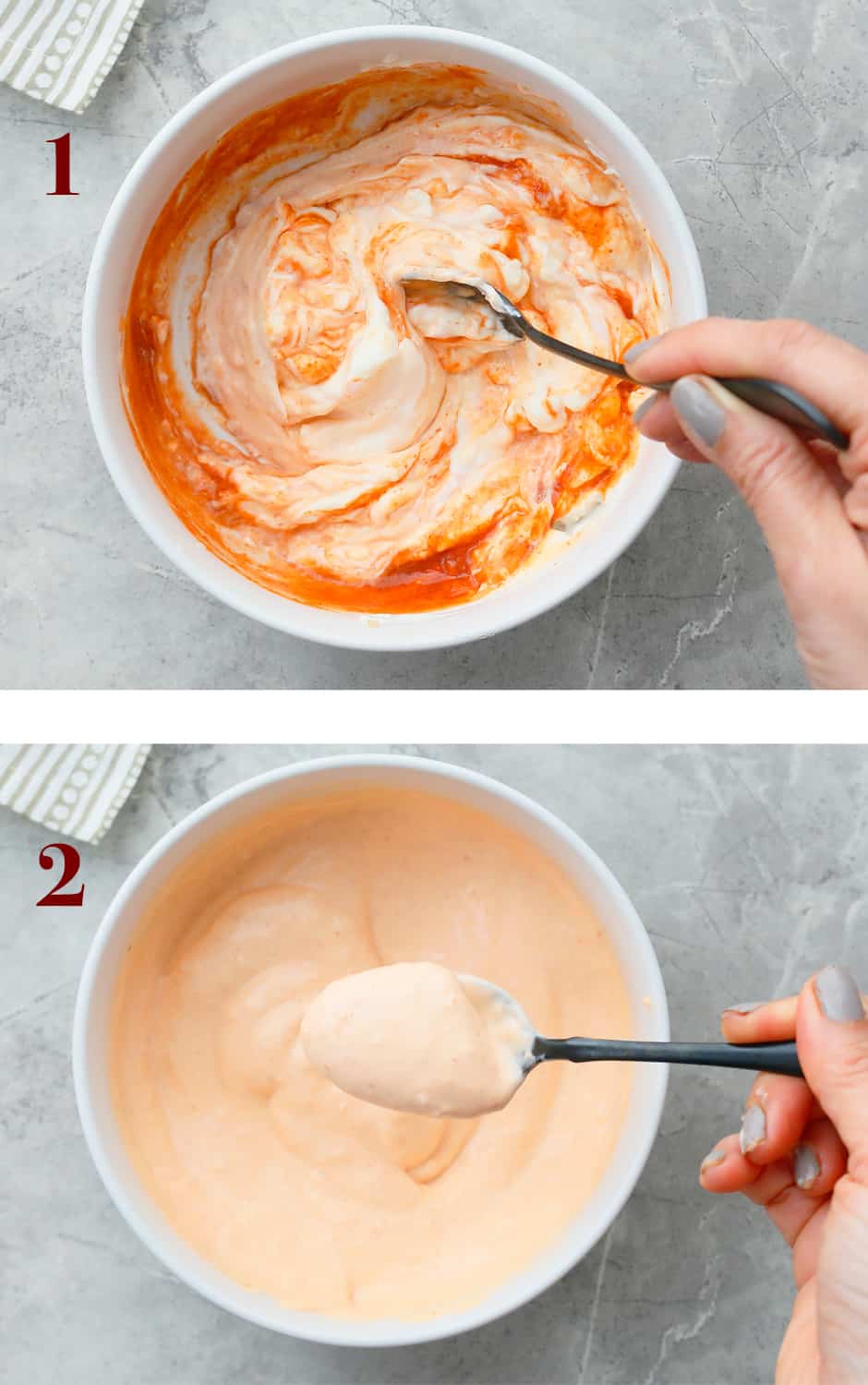 How to make?
Main components:
Burger patty, Sriracha mayo, Toasted bun, Avocado, Lettuce and Tomato <------- standard burger components.
Make patty - Mix ground chicken, grated cauliflower, carrot, cheese, egg, panko and seasoning together in a large bowl. Shape them into patties and bake in a 400 degree oven for about 23 minutes or until cooked through.
Make sauce - Mix sriracha sauce and mayonnaise together in a small bowl.
Toast buns - This step is optional - Brush the inside of burger burns of room temperature butter and cook in a skillet (only buttered side), until golden brown.
Assemble burgers - Place sauce, burger patty, mashed avocado, lettuce and tomato in between burger bun and eat.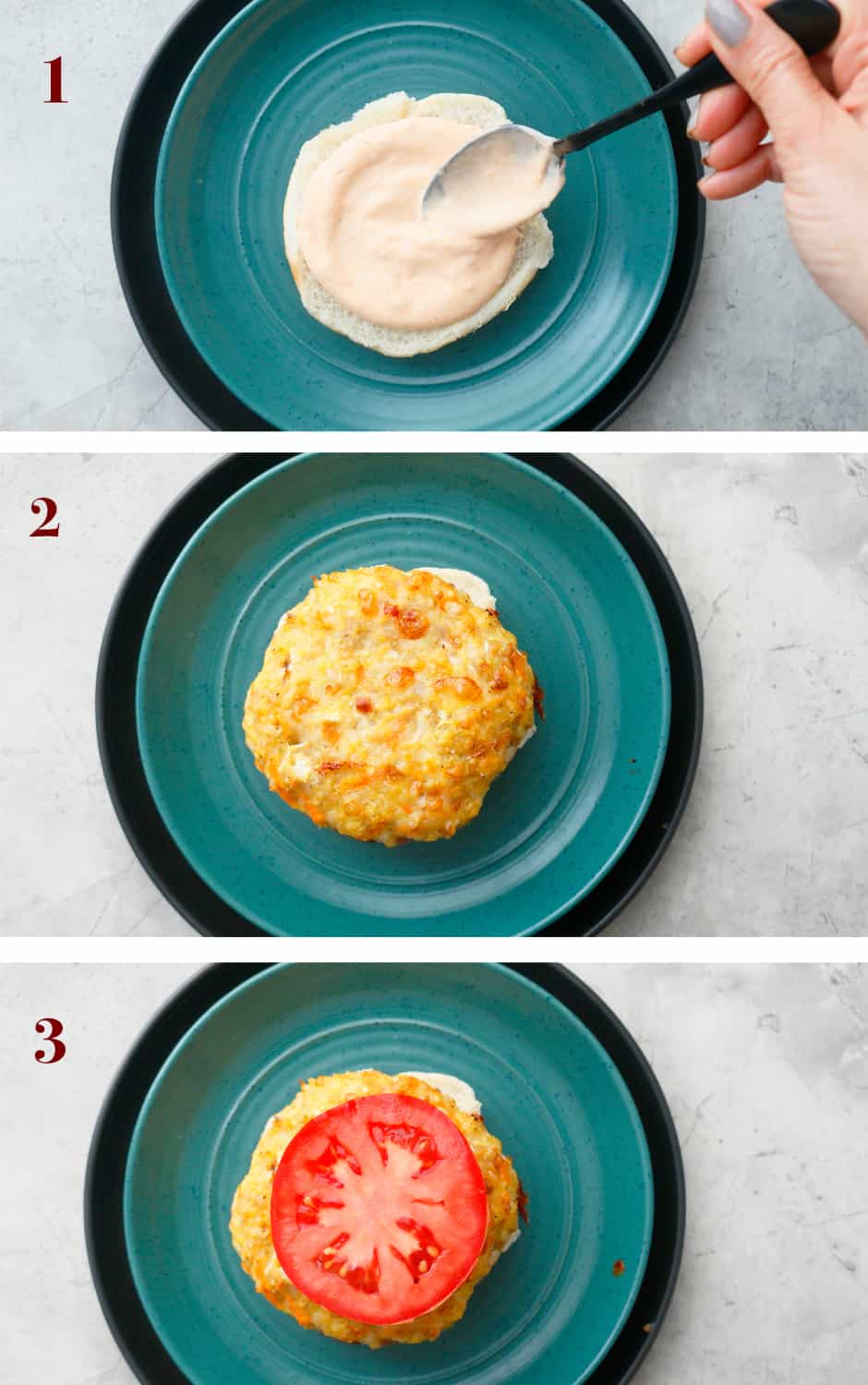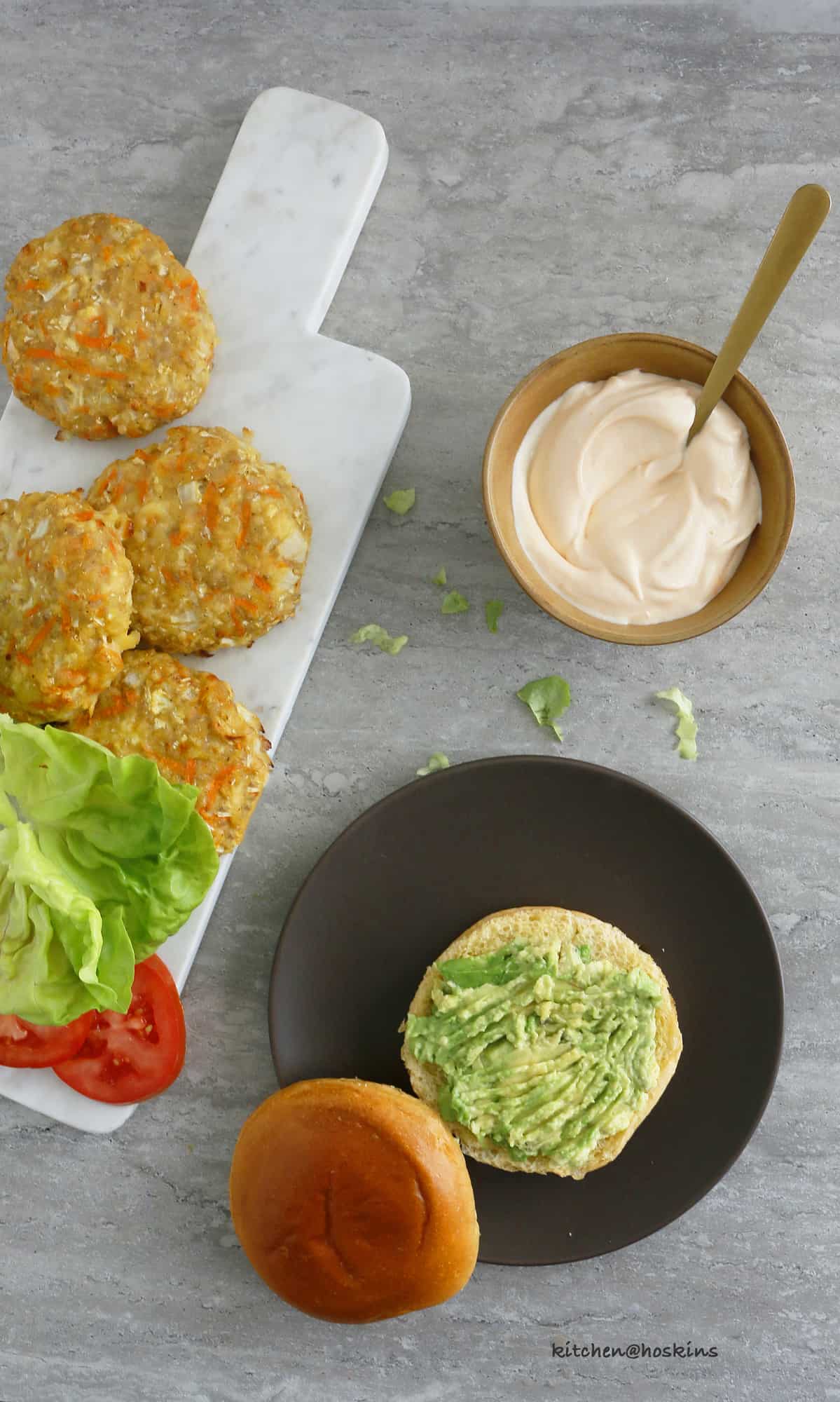 How to store?
Leftover patties can be refrigerated for to 4 days.
To reheat - cook in a non-stick skillet, placed over medium heat and cook on both sides, until heated through.
Sauce can be refrigerated for 2 to 3 days.
Can you freeze?
Yes, you can freeze after cooking for up to 3 months in a sealed zip lock bag. To re-heat, thaw in the fridge overnight and reheat on the stovetop, oven or air fryer.
Chicken burgers in oven is great for lunch, dinner or meal prep. You will also love these Lunch Box Recipes or check out a huge collection of family friendly dinner ideas.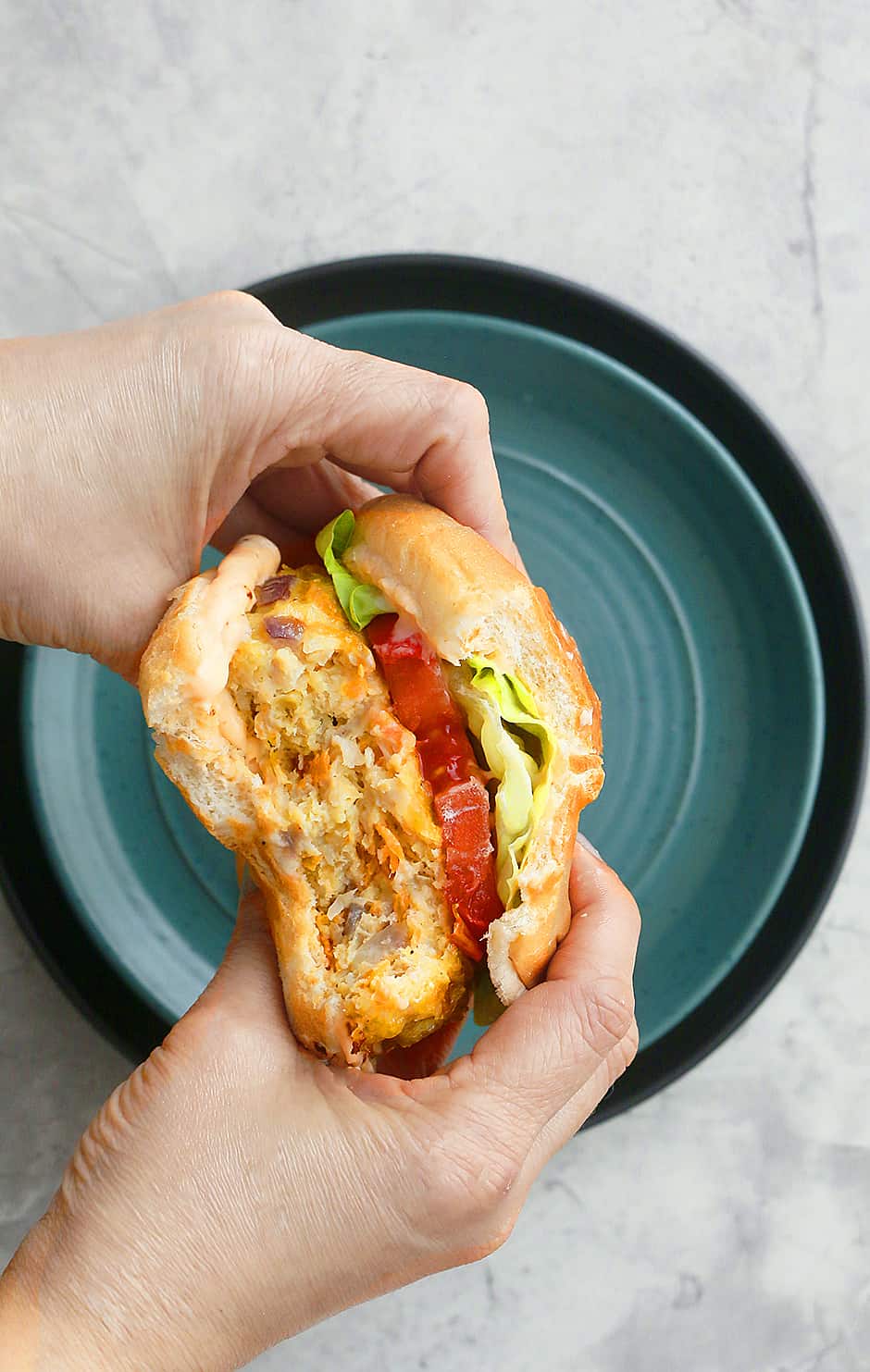 Frequently asked questions:
Is a chicken burger healthy?
Chicken burgers are generally healthy since they are leaner and lower in calories. It is more healthier when the patty is baked in the oven or grilled instead of pan frying.
How many calories in a baked chicken burger?
The baked chicken burger patty is only 322 calories each. Total calories will depend on the buns used and the additional toppings.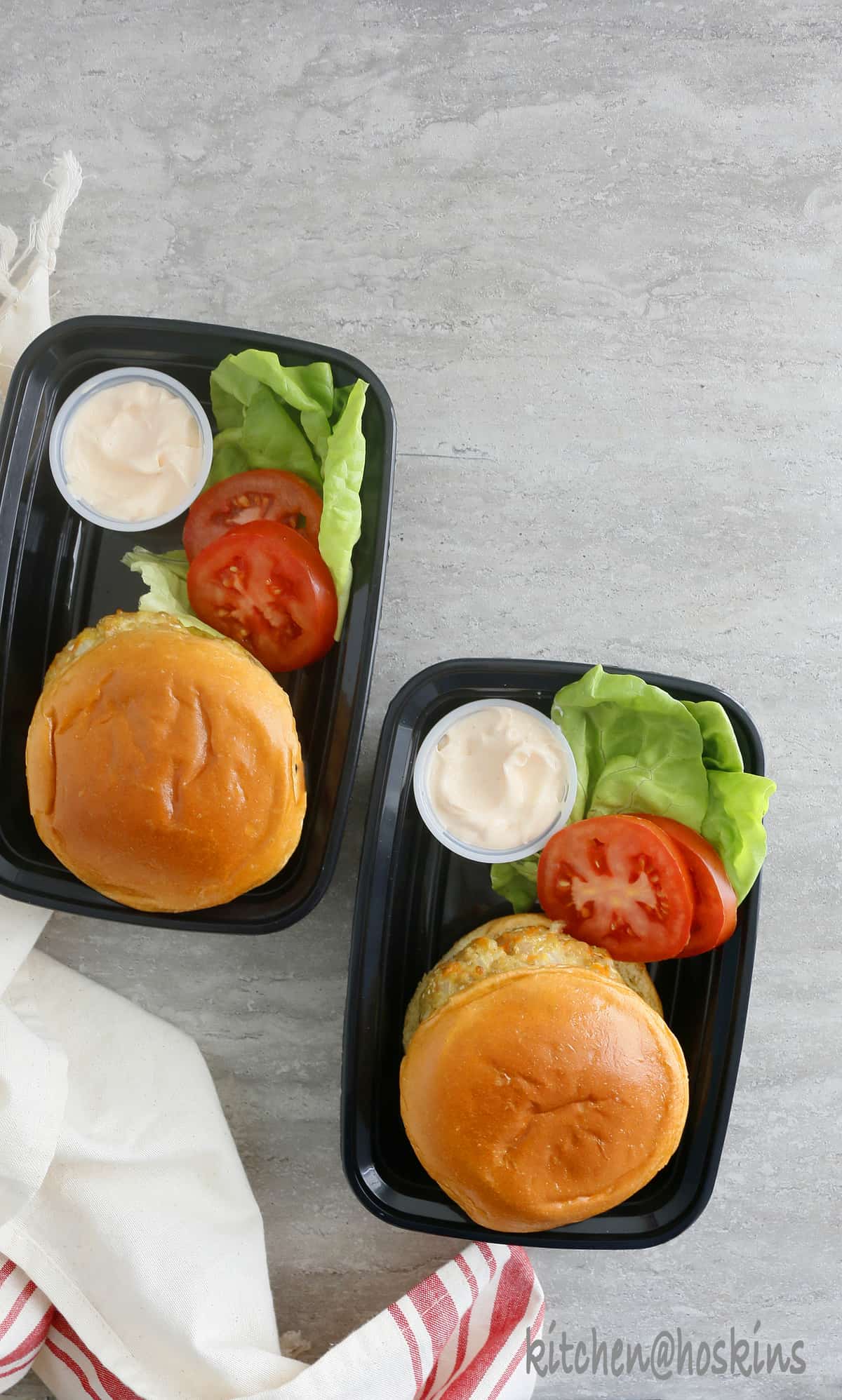 More Recipes with ground chicken to try-
Follow me on INSTAGRAM, TIK TOK, FACEBOOK or PINTEREST for more delicious recipes.
Baked Chicken Burger with Sneaky Veggies
Yummy baked chicken burger with sneaky veggies is loaded with cauliflower, carrot, pepper jack cheese, mashed avocado and Sriracha mayo. Weeknights, lunches, lunch box (yes...scroll down for how-to) or just about anytime!
Print
Pin
Rate
Ingredients
Baked Chicken Burger Patty
1

pound

ground chicken

1

cup

grated cauliflower (grated in the coarse side of the box grater)

1

cup

grated carrot (grated in the coarse side of the box grater)

1

cup

grated pepper jack cheese (or Monterey jack )

1

large

egg

¾

cup

panko breadcrumbs

½

cup

minced onion

2

large

garlic, finely minced

¾

teaspoon

salt

⅛

teaspoon

ground black pepper

⅛

teaspoon

red pepper flakes (more if you like it spicy)
Sriracha Mayo
¾

cup

mayonnaise

1 and ½

tablespoons

Sriracha sauce (more or less depending on your taste)

2

garlic cloves, finely grated
Additional ingredients
5

burger buns

1

large

ripe avocado, mashed

lettuce

sliced tomatoes
Instructions
Make Baked Chicken Burger Patty
Preheat oven to 400 degrees F. Line a baking sheet with foil and spray with non-stick spray.

Place all ingredients in a large bowl. Mix well with hands.

Divide into 5 equal portions and shape into a disc about the diameter of your bun (about 3 ½ inch). (If using very large buns, then you could make 4 burgers instead of 5)

Place on the prepared baking sheet and spray a coating of non-stick cooking spray on top.

Bake for 21-25 minutes, until cooked through. 

Place pan on a wire rack to cool slightly.
Make Sriracha Mayo
Stir all ingredients together and refrigerate until serving time.
Assemble Baked Chicken Burger with Sneaky Veggies
Top the bottom of a burger bun with some mashed avocado, top with a chicken patty, Sriracha mayo, tomato slices and lettuce. 
Notes
Freezer Friendly - Store cooked and cooled ground chicken patties in zip lock bags and thaw at room temperature. Heat in a skillet or microwave or oven.  To cook on stovetop : Make the patty as instructed. Heat one to two tablespoons oil in a cast iron skillet over medium high heat. Cook chicken patties, until deep golden on both sides and cooked through (4-5 minutes per side). 
Nutrition
Serving:
1
Serving
|
Calories:
528
kcal
|
Carbohydrates:
28
g
|
Protein:
23
g
|
Fat:
36
g
|
Saturated Fat:
7
g
|
Polyunsaturated Fat:
18
g
|
Monounsaturated Fat:
10
g
|
Trans Fat:
0.1
g
|
Cholesterol:
129
mg
|
Sodium:
909
mg
|
Potassium:
565
mg
|
Fiber:
1
g
|
Sugar:
4
g
|
Vitamin A:
77
IU
|
Vitamin C:
1
mg
|
Calcium:
93
mg
|
Iron:
3
mg
Nutritional information is based on third party calculations, should be considered estimates and not be construed as a guarantee. Varying factors such as product types, brands purchased, produce, the way ingredients are processed and more change the nutritional information in any recipe.
Did you make this recipe? I'd love your feedback! Please let me know by leaving a comment or review below or snap a photo and share on Instagram.
Some of the links above are affiliate links, which pay me a small commission for my referral at no extra cost to you! I am a participant in the Amazon Services LLC Associates Program, an affiliate advertising program designed to provide a means for us to earn fees by linking to Amazon.com and affiliated sites. Thank you for supporting kitchenathoskins.com
All contents and images are my original work, unless and otherwise mentioned. Please do not use my recipes or images without linking back to www.kitchenathoskins.com. If you wish to republish a recipe, please rewrite in your own words and don't forget to include a link back to the original recipe.