These Almond Flour Waffles are made with just 5 basic ingredients! They are crispy on the outside, light and fluffy on the inside and are simply the BEST!
If your family loves waffles in the weekends or from the toaster for a quick grab-and-go breakfast on weekday mornings, here are more recipes to try - Mini Waffles, Apple Cinnamon Waffles, Healthy Waffles or Oatmeal Waffles.
As an Amazon Associate and member of other affiliate programs we earn a small commission from qualifying purchases through our affiliate link. For more information read our Non-Disclosure Agreement.
ALMOND FLOUR WAFFLES
These homemade Belgian style waffles are light and fluffy with crisp exterior and slightly sweet with subtly almond flavors.
They are the perfect breakfast to start your day if you're looking for a healthy breakfast for the family. This recipe is a healthier spin to our popular classic Belgian waffles, so you know it's going to be a good one.
We adore these not only for their incredibly light texture but they are also made with no special ingredients like cornstarch, arrowroot, tapioca, potato or cream cheese. This recipe uses basic ingredients that are always stocked in every kitchen like eggs, milk, baking powder and sugar along with the ground almonds.
Here's our latest addition to our huge collection of almond flour recipes, that are naturally gluten free, healthy, grain free, oil free and wholesome.
They are a great alternative to store-bought freezer waffles, because these freeze amazingly well and are a great way to get more protein into my kids' mornings before school. Also, perfect for picky eaters as these are nutrient dense, filling and satisfying.
We love a tall stack of fluffy pancakes, but my kids tend to gravitate towards waffles and I can totally see why. The iconic shape with deep pockets to hold puddles of warm maple syrup, they are sure amazing for breakfast or brunch. Serve them alongside a fresh orange smoothie and an omelette made in the air fryer for a healthy start to your day.
WHY YOU'LL LOVE THESE?
5 Basic ingredients - No speciality ingredients needed.
Incredible texture - Deep golden crispy exterior with a light, airy inside from the beaten egg whites.
Easy to make - The batter come together in minutes with a hand held electric beater.
Diet friendly - Made with wholesome ingredients, these are healthy, grain-free, low-carb and gluten-free.
Meal prep - We love to double the recipe and store leftovers in the freezer for an easy breakfast on busy mornings.
HEALTH BENEFITS
Made using finely ground almonds, they are lower in carbohydrates, higher in healthy fats, protein, fiber, vitamin E and magnesium. The protein is bumped up from the addition of eggs and milk, so it does tend to keep you feeling full and satisfied for a longer period of time.
Made without any oil, these are guilt free and has no gluten. You might find yourself not reaching for a snack until lunch time!
DO THEY GET CRISPY?
The secret to a light and fluffy inside with a crisp outside is beaten egg whites that is gently folded to create an airy batter. These might feel a little soft when removing from the iron, but a few minutes of resting time on a wire rack will help them crisp up. Few tips for a crisp texture:
Rest on wire rack - This allows air circulation on both sides and help them crisp as they cool.
Color, color, color - Be patient and let cook until deep golden in color.
Don't deflate when mixing batter - Make sure to fold the beaten egg whites gently without loosing much of the air.
If yours don't get crispy, then there could be three possible reasons – The iron wasn't hot enough, you removed them earlier before developing a deep golden brown color or the batter was much thicker than it was supposed to be.
Re-Crisp
If yours have cooled before you had a chance to eat, then pop them in a toaster to get them hot and extra crisp.
To keep them warm and crispy while the others are cooking, preheat your oven to 200 degrees and place them directly on the rack to stay warm while the others cook.
TIP - Cook them to a deep golden brown for a crisp exterior!
WHY ARE MINE STICKING TO THE IRON?
These have no gluten so they tend to be fragile when compared to the regular guys. Make sure to spray your maker with a generous coating of cooking spray, brush with melted butter or any cooking oil even if your iron is non-stick.
CAN I ADD BLUEBERRIES?
Sure can, blueberry waffles are a classic for a reason! Gently fold about a cup of fresh blueberries into the batter as the last step before cooking. Frozen blueberries tend to bleed into the batter, but if you don't mind blueish streaks then go ahead and use frozen guys.
WHAT IRON TO USE?
There are several different types and shapes of press, maker or irons available in the market. We like to use a Belgian maker, with a deeper, larger grid pattern for the iconic look. We like this one from Amazon with deep squares to hold lots of syrup and toppings. However, use whatever you have at home.
Don't own a waffle maker? Try this delicious gluten-free pancake recipe - Oat Flour Pancakes.
INGREDIENTS
Here's an overview of the very basic ingredients you'll need. The exact measurements are included in the recipe card below.
Almond flour - Be sure not to use meal. These are two different ingredients and will drastically change the final recipe.
Eggs - An essential in making a Belgium style recipe. Use two large eggs and they can be used straight from the refrigerator. Unfortunately, egg substitutes won't work here, because the beaten egg whites is the key for providing a lift and airy texture.
Sugar - A bit of sugar elevates the natural sweetness and makes them tasty. Use regular white, brown, coconut sugar or skip to make them sugar-free.
Whole milk - We used regular whole milk. You could also use reduced fat, almond or coconut milk instead.
Baking Powder - Gives the much needed lift and airy texture.
PRO TIPS FOR SUCCESS
Grease the waffle maker with non-stick cooking spray before cooking each batch - This is extremely important when working with recipes without gluten.
Do not use almond meal instead.
Cook until deep golden brown for a crisp texture.
Be gentle when removing from the iron as these are a little delicate.
Don't over mix – As with all baking recipes, DO NO OVER MIX the batter
Make sure the iron is pre heated before pouring the batter.
VARIATIONS
This easy recipe is a base for different flavorings and add-ins. It can be customized with whatever you have on hand or that your family desires. Here are a few suggestions:
Chocolate Chip – Stir a few tablespoons semi sweet chocolate chips at the end.
Blueberry - Gently fold in a cup of fresh blueberries.
Lemon Blueberry – Add 1 teaspoon of finely grated lemon zest and some blueberries.
Vanilla - Use a dash of Vanilla extract.
Cinnamon – Add ½ teaspoon of ground cinnamon.
Sliced almonds - Stir chopped sliced almonds for an added crunch.
TOPPINGS
There are so many different ways you can top your Almond Flour Waffles! Here are some of my favorite topping ideas:
Maple syrup – Is it even breakfast without a warm drizzle of maple syrup?
Softened salted butter
Whipped cream – Serve as a dessert and top them with regular whipped cream or coconut milk whipped cream and fresh berries.
Yogurt - A dollop of sweetened greek yogurt
Chopped nuts – Add some crunch by topping with toasted chopped almonds or pecans.
Fresh fruits - Fresh strawberries, blueberries, black berries, raspberries, sliced bananas or chopped peaches.
Tropical - Top with coconut milk whipped cream, chopped pineapple and shredded coconut.
Nutella - Can anyone go wrong here?!
Fried Egg - Add some crumbled crisp bacon.
Chocolate Chips - Mini chocolate chips or shaved dark chocolate.
Sprinkles - Surprise the kids on their birthday!
Candied Nuts - Candied pecans or caramel walnuts.
HOW TO MAKE?
This recipe is so easy to mix together and prepare!
Preheat your iron.
Beat egg whites - Seperate eggs and beat the whites until very think and peaks form.
Make batter - Beat all remaining ingredients using the hand mixer for about a minute and then gently fold in the beaten egg whites.
Cook - Grease the hot maker with a liberal coating of non-stick cooking spray and cook each batch for 5 to 6 minutes or deep golden in color.
HOW TO SERVE?
I usually serve these hot for breakfast on weekends with warm maple syrup and fresh berries along with a healthy breakfast smoothie or Cheddar Bay Biscuits.
These are also great as brunch for company served along with -
HOW TO STORE LEFTOVERS?
Leftovers can be refrigerated in a sealed container or frozen for up two months. We love to freeze them when compared to refrigerating, since it softens them and does not crisp back up as much compared to the frozen guys.
HOW TO FREEZE?
These freeze wonderfully. Place them on a baking sheet in a single layer and place in the freezer until they are frozen. Then transfer to a freezer bag, seal well and freeze. These will stay well in the freezer for up to two months.
HOW TO KEEP WARM?
This recipe makes a delectable guilt free breakfast or brunch for family and friends. Here are some of my favorite ways to keep them warm until serving:
In oven - Preheat the oven to 200 degrees F. Place the waffles on a rack set inside a baking sheet and keep in the oven to stay warm while the others cook.
Toaster - Pop cooled guys in a bread toaster and toast for 30 seconds or a minute, until warm and crisp.
HOW TO REHEAT?
These are great made from scratch recipe instead of buying store-bought frozen ones. Make a double batch or store leftovers in the freezer for a convent healthy breakfast when in a hurry. You can use any of the following methods to reheat:
Toaster – Pop one or two frozen guys in a bread toaster for 1-2 minutes, until hot and crisp.
Oven – This method works best when you are reheating several at the same time. Place frozen ones directly on the oven rack in a single layer, in a preheated 275°F oven for 9 to 12 minutes.
Microwave method – Microwave one or two for about a minute or until hot. This is not one of our preferred method since it softens them.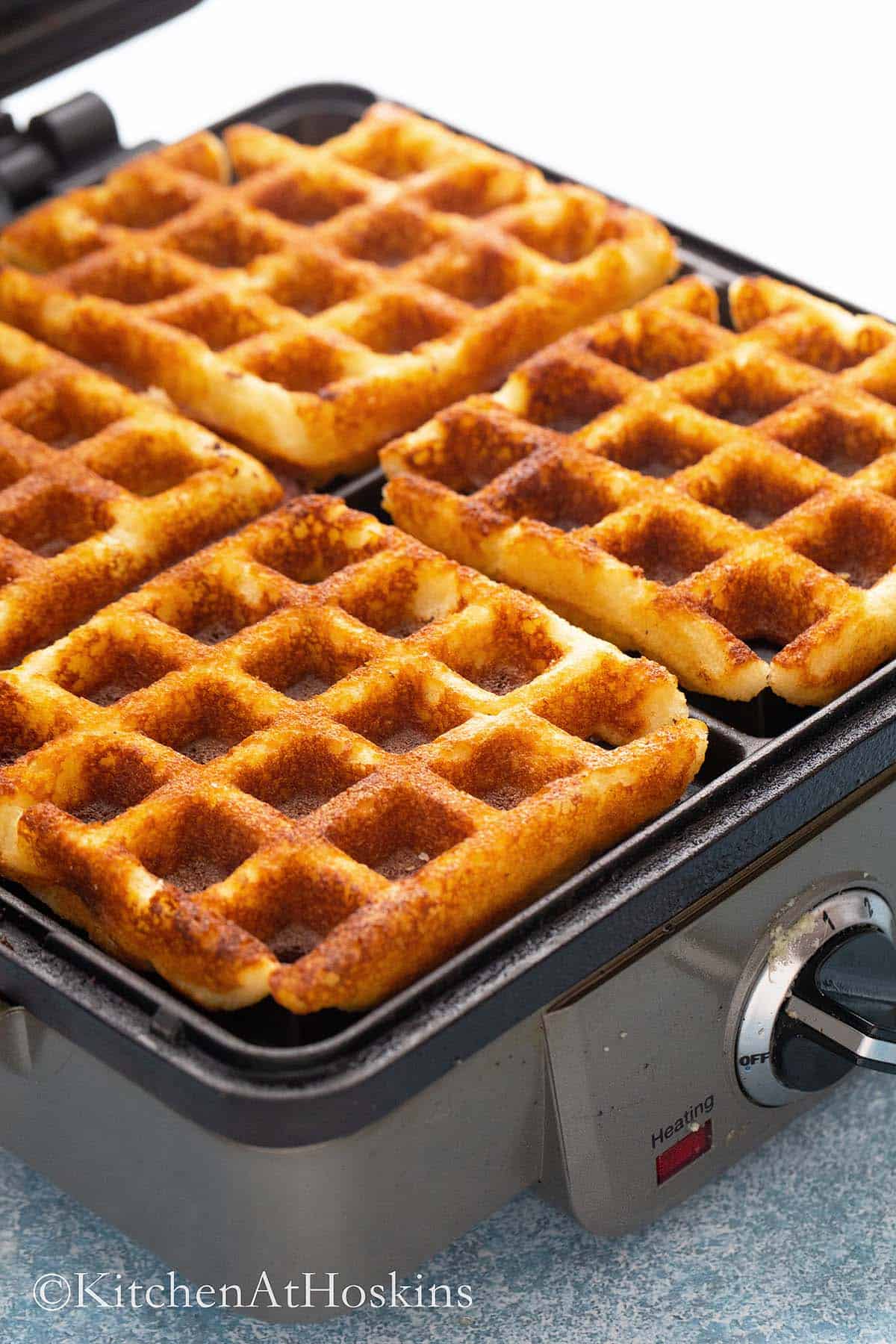 FREQUENTLY ASKED QUESTIONS
How many carbs in each?
One serving has only 5 grams of carbohydrates when compared to 20 to 30 grams when using regular flour.
Can I use flax egg?
No! The egg is the key ingredient in binding gluten free ingredients and providing a much needed lift. However, here is an egg free waffle recipe that you might like.
Can I use regular flour?
Unfortunately, We don't recommend substituting all-purpose flour in this recipe, since he texture would be significantly different.
More Healthy Almond Flour Breakfast Ideas to try:
Follow me on INSTAGRAM, TIK TOK, FACEBOOK or PINTEREST for more delicious recipes.
Almond Flour Belgian Waffles
These Almond Flour Waffles are made with just 5 basic ingredients! They are crispy on the outside, light and fluffy on the inside and are simply the BEST!
Ingredients
2 eggs, large
2 tablespoons sugar (white, brown or coconut)
2 teaspoons + ½ teaspoon baking powder
¼ teaspoon salt
1 cup milk
1 teaspoon vanilla extract, optional
To serve
Items used
Instructions
Pre heat your waffle iron.
Seperate the eggs and add the two whites into a medium bowl and both yolks into a larger bowl.
Using a hand held electric beater, beat the egg whites (on high speed), until stiff. Set aside.
Add all remaining ingredients ( almond flour, sugar, baking powder, salt, milk and vanilla) along with the egg yolks. Using the same beater, beat the mixture for about one minute (begin low and increase speed), until thick and thoroughly combined.
Using a rubber spatula, gently fold the egg whites in three additions, until just combined. (Don't over mix)
Liberally grease you waffle maker with non-stick cooking spray. Make waffles according to manufactures instructions, until deep golden brown (it took about 6 minutes in my waffle iron). Remove gently, as these are not sturdy like regular waffles.
Serve hot with maple syrup.
Notes
Grease the waffle maker with non-stick cooking spray before cooking each batch – This is extremely important when working with recipes without gluten.
Do not use almond meal instead.
Cook until deep golden brown for a crisp texture.
Be gentle when removing from the iron as these are a little delicate.
Don't over mix – As with all baking recipes, DO NO OVER MIX the batter
Make sure the iron is pre heated before pouring the batter.
Nutrition Information:
Yield:

12
Serving Size:

1
Amount Per Serving:
Calories:

62
Total Fat:

4g
Saturated Fat:

1g
Trans Fat:

0g
Unsaturated Fat:

3g
Cholesterol:

33mg
Sodium:

86mg
Carbohydrates:

5g
Fiber:

1g
Sugar:

4g
Protein:

3g
am not a certified dietician or nutritionist. The information is a product of online calculator such as Nutrifox.com, although Kitchen at Hoskins attempts to provide accurate nutritional information, these figures should be considered estimates and not be construed as a guarantee. Varying factors such as product types or brands purchased, produce, and the way ingredients are processed change the nutritional information in any recipe. Furthermore, different online calculators provide different results depending on their fact algorithms. Under no circumstances will Kitchen at Hoskins be responsible for any loss or damage resulting for your reliance on the nutritional information. To obtain the most accurate nutritional information in a given recipe, you should calculate the nutritional information with the actual ingredients used in your recipe, using your preferred nutrition calculator. You are solely responsible for all decisions pertaining to your health and ensuring that any nutritional information provided is accurate.
Did you make this recipe? I'd love your feedback! Please let me know by leaving a comment or review below or snap a photo and share on Instagram.
Some of the links above are affiliate links, which pay me a small commission for my referral at no extra cost to you! I am a participant in the Amazon Services LLC Associates Program, an affiliate advertising program designed to provide a means for us to earn fees by linking to Amazon.com and affiliated sites. Thank you for supporting kitchenathoskins.com
All contents and images are my original work, unless and otherwise mentioned. Please do not use my recipes or images without linking back to www.kitchenathoskins.com. If you wish to republish a recipe, please rewrite in your own words and don't forget to include a link back to the original recipe.