This almond flour cake is so soft, light and fluffy with a moist crumb. Made with just 4 ingredients, it is mildly sweet and is delicious plain or made into a layer cake.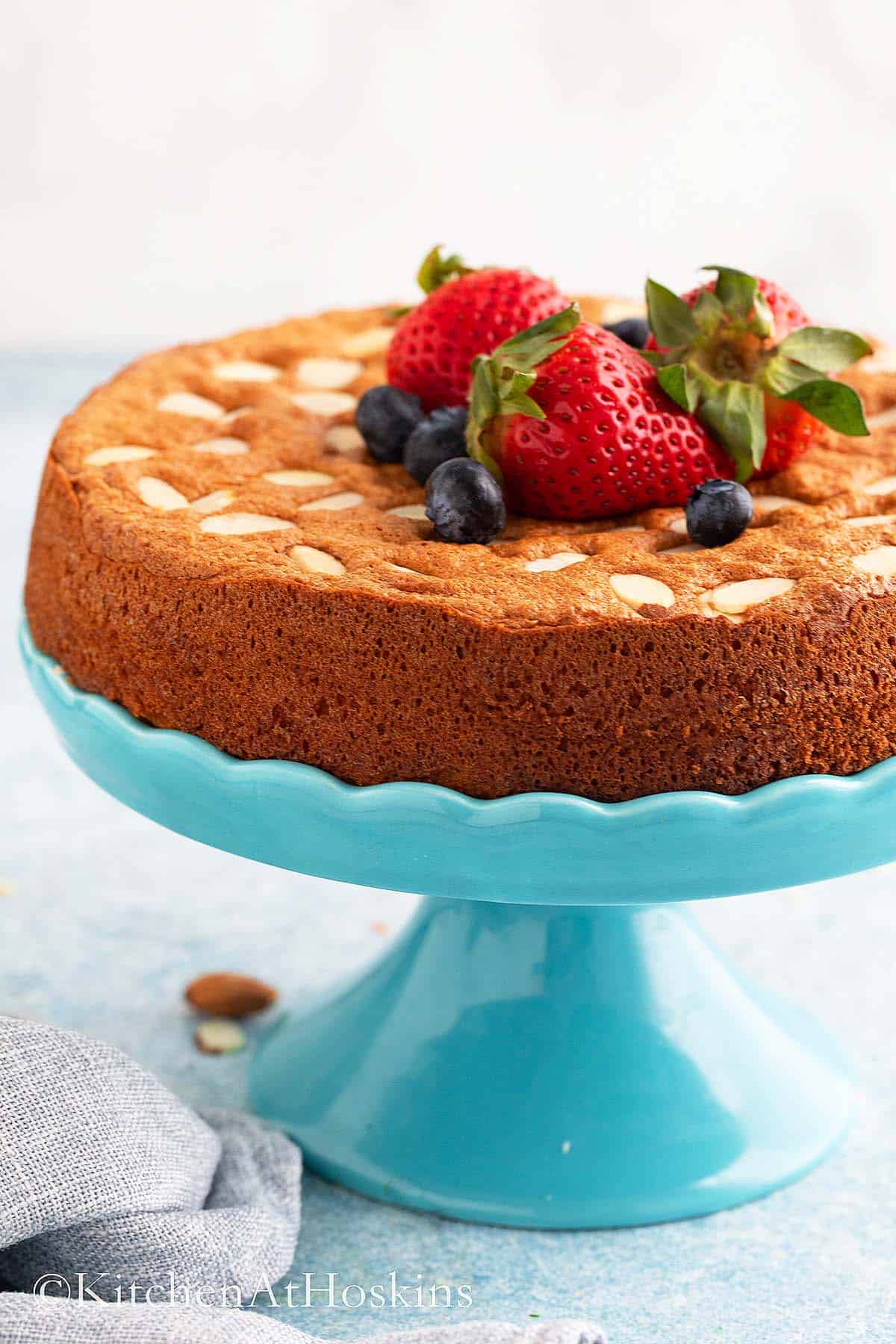 If you want to eat cake for breakfast or something light for dessert, then this almond flour cake is perfect for you. It tastes absolutely divine with an ultra soft fluffy texture and a moist crumb.
Almond flour transforms a cake's texture with it's high fat ratio which imparts an amazing moistness and a fine crumb to the baked good like this almond flour chocolate muffins or almond flour chocolate cake.
This easy cake recipe doesn't require separating the eggs, beating the egg whites or creaming butter. It boasts a straight forward method of beating eggs with brown sugar and then mixing in the dry ingredients.
Let the simplicity not fool you. It looks elegant with the sliced almonds and really doesn't need any other embellishment other than some fresh berries and may be a light dusting of confectioners sugar on top!
It's wonderful served with a cup of coffee or with whipped cream and berries for a simple dessert. This recipe is naturally gluten and dairy free because it is made without any butter or milk. If you love this recipe, check out this collection of almond flour dessert recipes!
Jump to:
Why you'll love this recipe?
Ease: Snack cakes are renowned for being easier than layer cakes, since there's no assembly or decorating required. The cake batter doesn't require any complicated mixing and everything is made in one bowl.
Only 4 ingredients: It's made with just 4 pantry ingredients, making it such an easy dessert recipe to make.
Texture: It's flavorful, moist with pillowy soft crumb.
Healthier: This recipe relies on the natural fat from almonds instead of butter or oil, which can often weigh down a cake. There's an unbeatable natural moisture from brown sugar and ground almonds that not only keeps the cake light, but also makes it a healthier sweet treat. Your friends and family will never know it's gluten free!
A Reader writes "Tried this recipe tonight on a whim since I had all of the ingredients and I've been wanting to experiment with this flour since I have never used it before. It came out so delicious!!! The cake texture is so good it reminds me of these guava cake bars at my local grocery story. I'm going to try it again but with a fruit/homemade jam filling in between a layer. I can already tell this one is a keeper my husband loved it too!!!"
Ingredients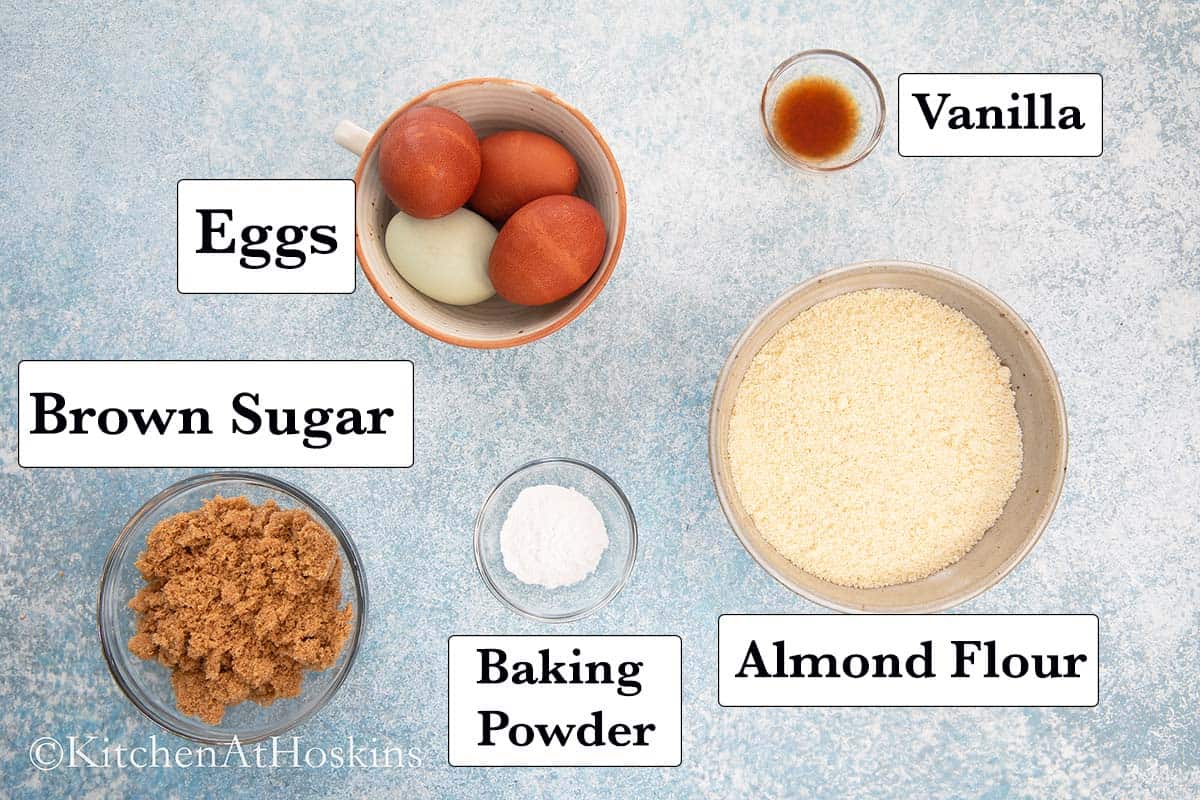 Scroll down to the recipe card below for full information on ingredients and amounts.
Almond flour- Make sure to use blanched variety to help guarantee a softer, lighter cake crumb. Almond meal is almonds ground with skin and is much coarser in texture which is not best suited for this recipe.
Eggs- You need 4 whole eggs for this almond flour cake recipe. The egg whites create an airy texture and the yolks are excellent for adding moisture and richness. Eggs also provide a lot of the structure, bind everything together and help the cake rise.
Brown sugar- You'll need light or golden brown sugar for this recipe. Dark brown tends to impart more caramel notes, which over shadows the lovely almond flavor.
Baking powder- It gives a much needed lift.
Variations
Spread a layer sweetened whipped cream and top with fresh berries.
You can use almond extract, lemon or orange zest instead of vanilla.
How to make?
You can find full printable recipe below, but here is a quick overview of the procedure along with step-by-step photos.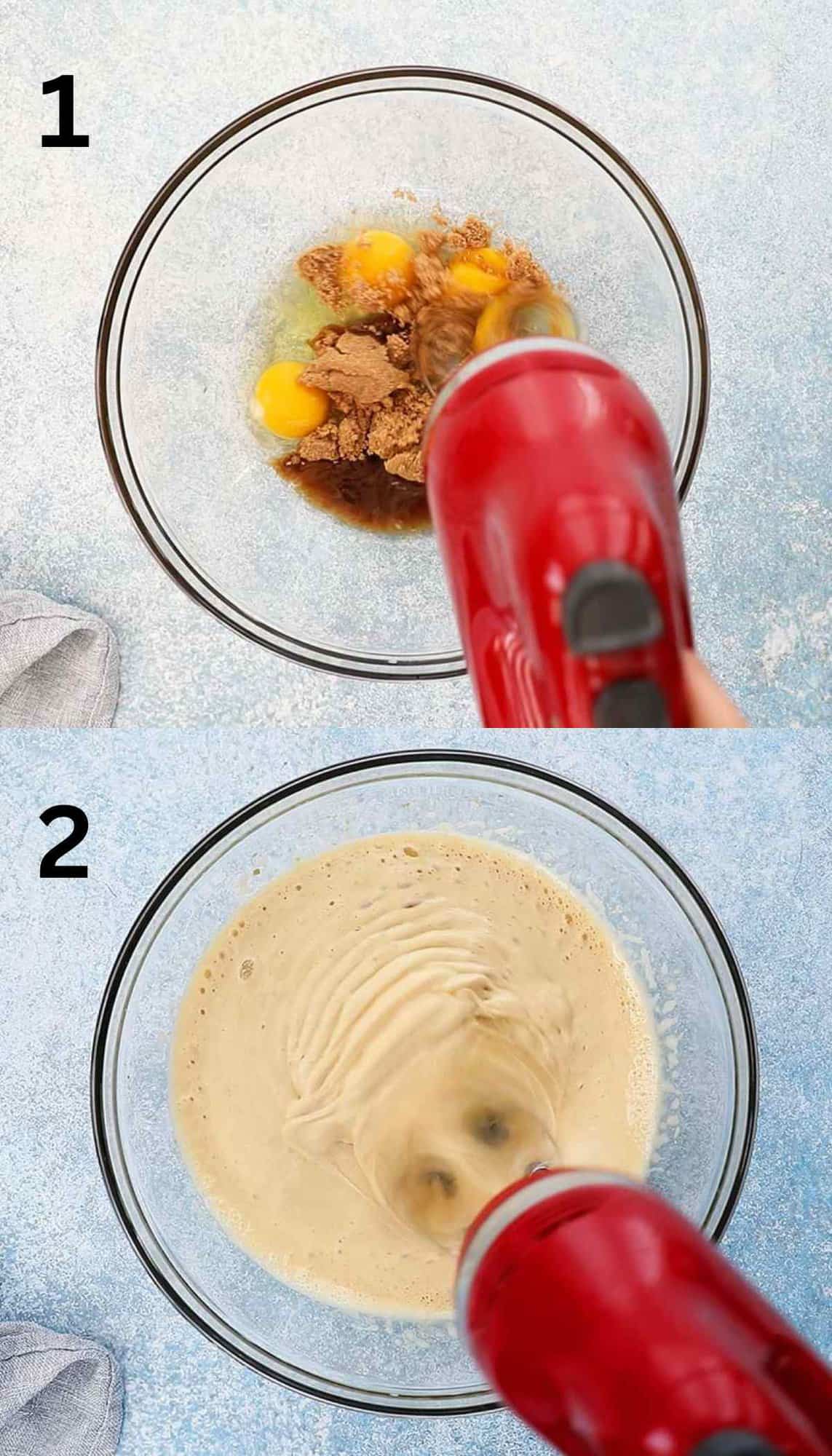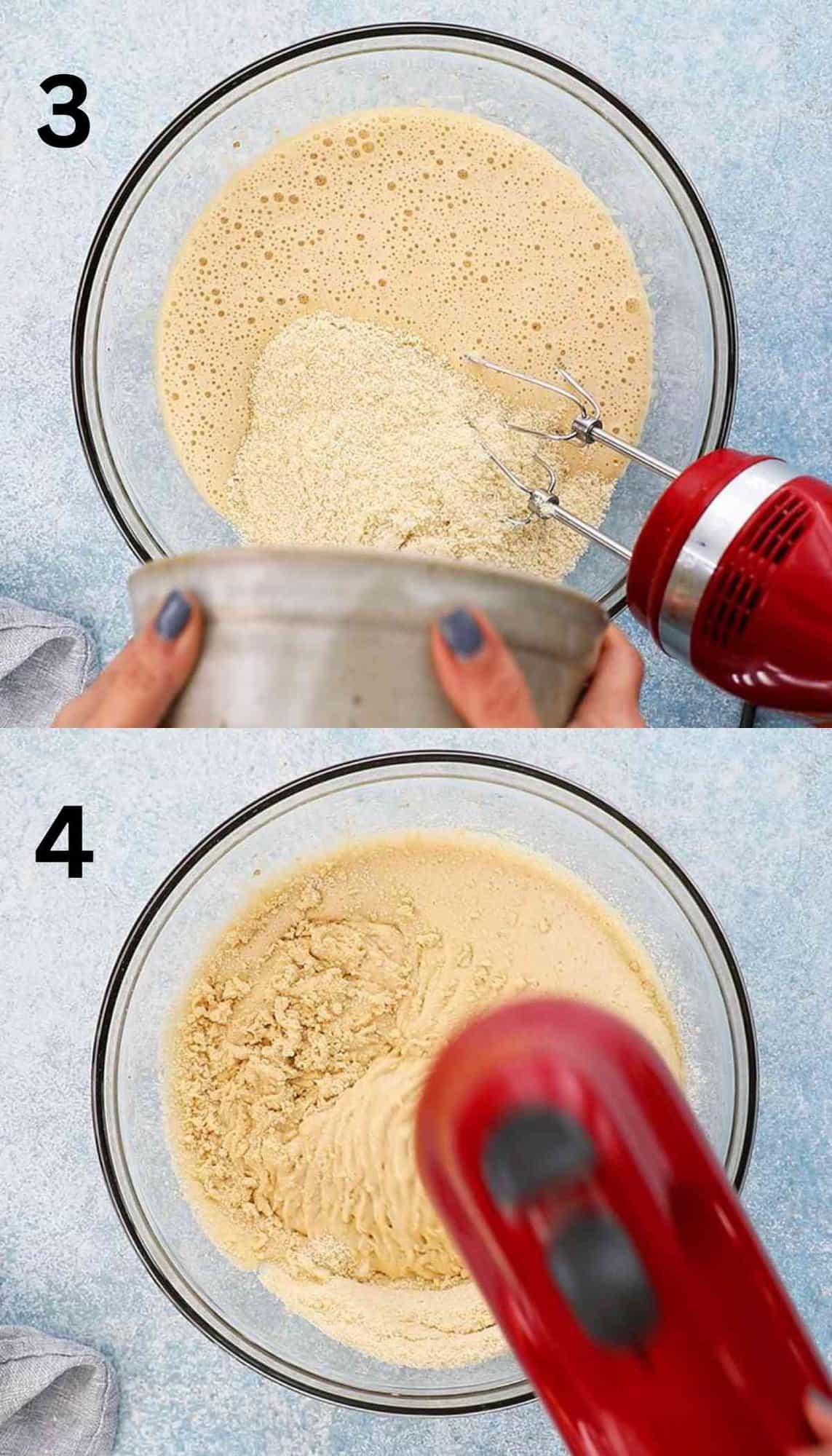 1 & 2: Add 4 eggs and brown sugar into a large bowl and begin beating with an electric beater for about 4 minutes. The egg mixture will have increased in volume and look pale in color.
Tip: Make sure to leave you eggs at room temperature for several hours before baking. When you beat with the mixer, the warmer egg's protein traps air bubbles and it expand when baking, which results in a lighter textured baked good.
3 & 4: Add blanched super fine flour, baking powder, salt and vanilla extract. Continue beating, beginning on low speed and gradually increasing to high.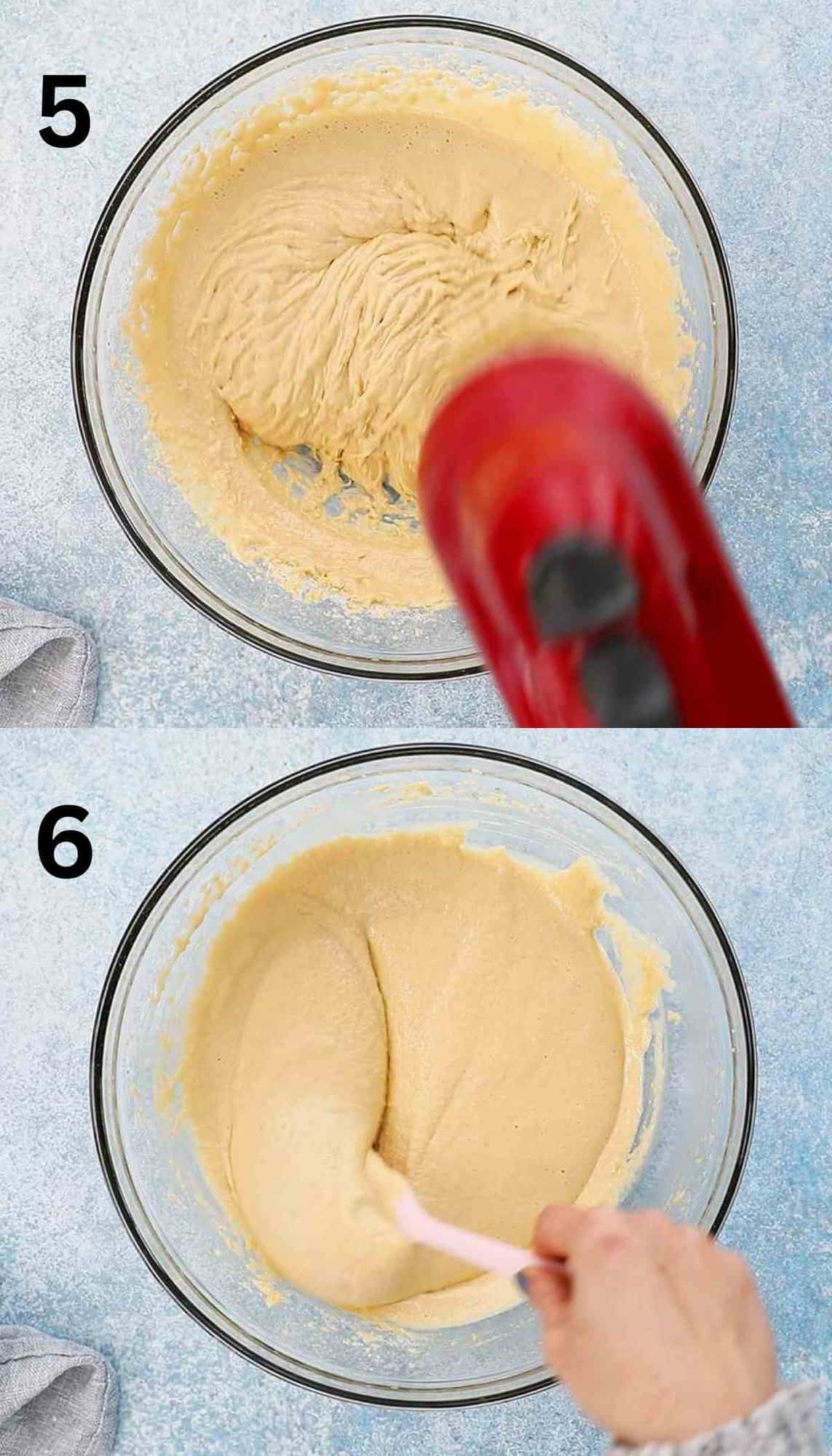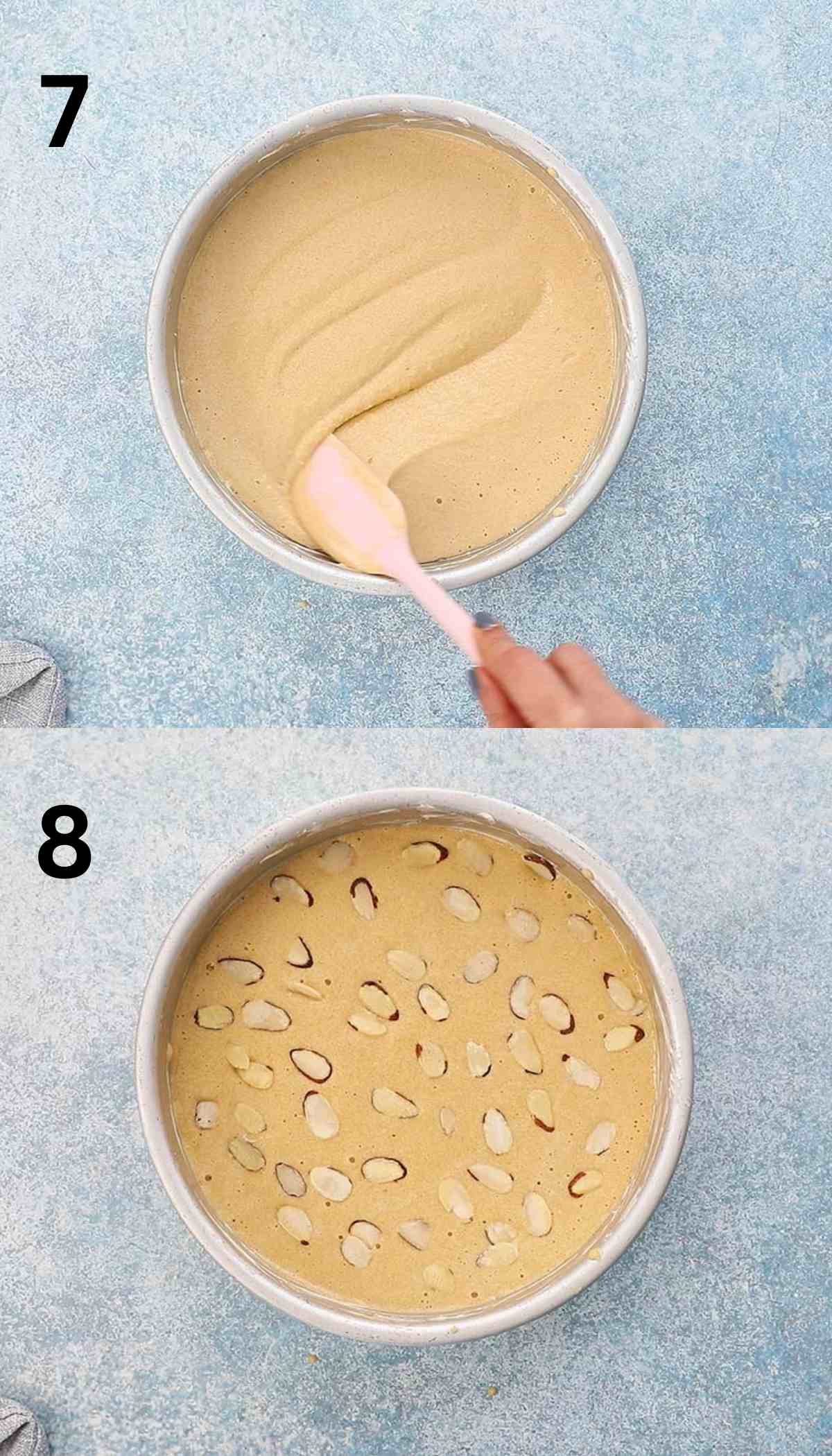 5 & 6: The batter will have have thickened after about 1 minute. Remove beater and gently stir using a rubber spatula to mix any dry mixture attached to the sides of the bowl.
7: Grease a 8-inch round baking pan with cooking spray or melted butter and line the bottom with parchment paper. Transfer batter into the prepared baking pan and gently smooth the top so the batter is spread evenly.
8: We like to sprinkle the top with some sliced almonds which not only adds texture but also makes it visually appealing. Bake in a pre heated 350 degree oven for 30 to 35 minutes or a tooth pick inserted in the middle comes clean.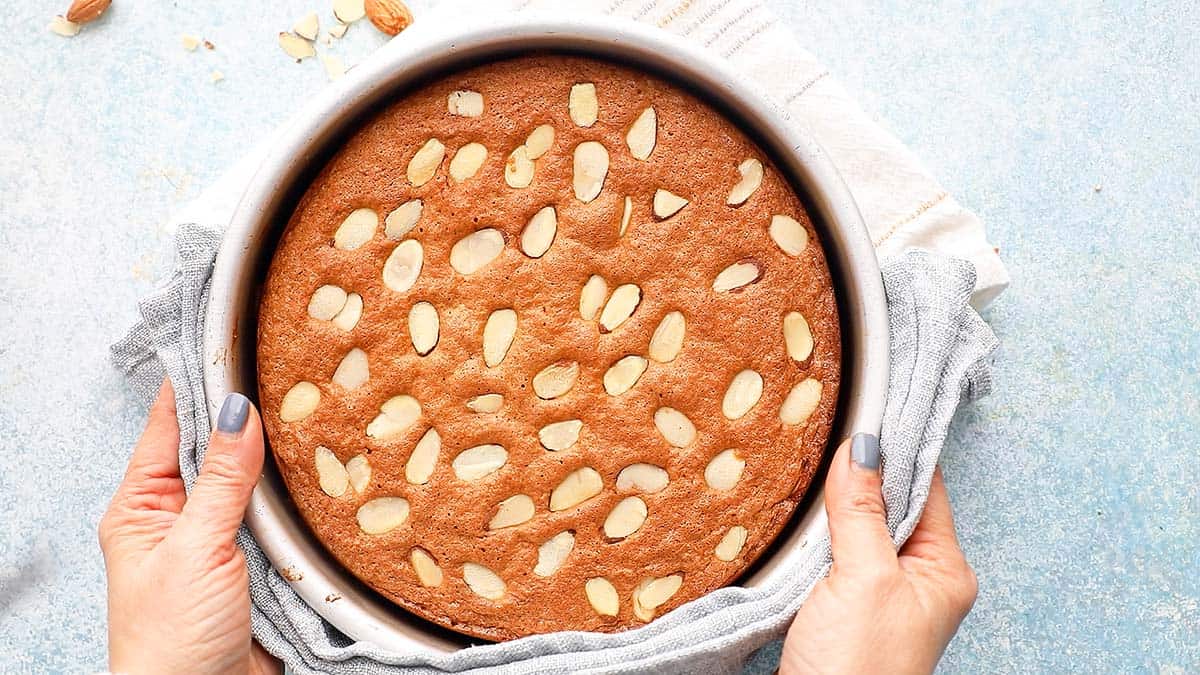 How to serve?
Serve it simply sliced with a cup of coffee or with some whipped cream and fresh berries for a light dessert. If you love snack cakes, then try my orange cake or air fryer banana cake next.
You can also spread your favorite frosting on top for simple one layer almond flour cake or double the recipe, bake in two cake pans and make a layer cake.
How to Store?
To store: Store leftovers in an air tight container at room temperature, for up to 1 week. You can store the cake in the refrigerator if you'd like to keep longer but make sure to leave at room temperature for a couple of hours before serving.
To freeze: This almond flour cake freezes well. Wrap the cooled cake tightly in plastic wrap, and store it in a freezer safe zip lock bag for up to 2 months.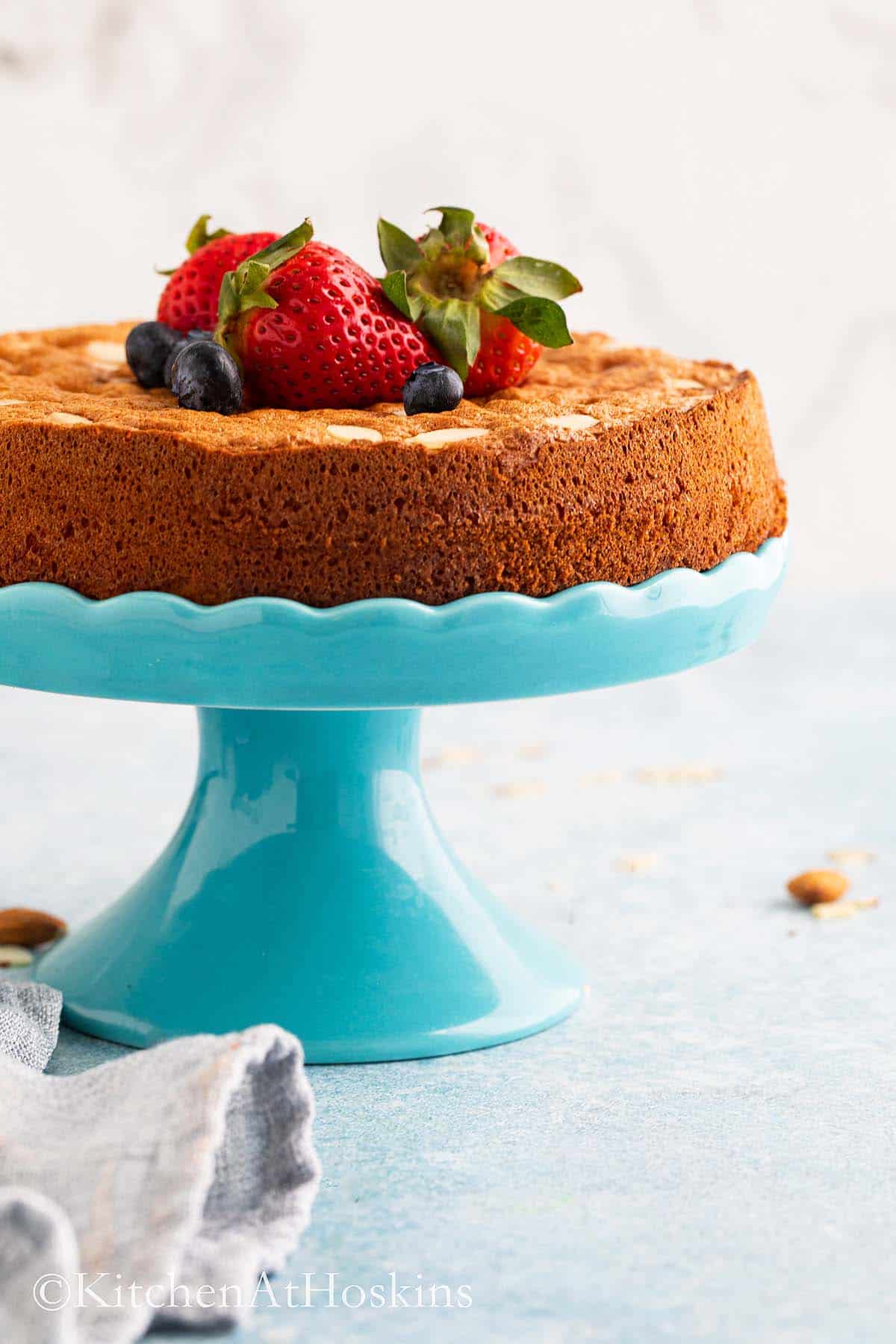 Helpful Tips
Make sure to cool the cake completely before removing from the pan or else you risk the cake falling apart.
Beat the eggs for 4 minutes which provides the necessary aeration and guarantees a light cake.
Don't over-bake this cake.
Lining the pan with parchment paper guarantees seamless removal from the pan especially for a gluten free cake recipe.
Use different size cake pans
9-Inch round or square: The almond flour cake will be thinner and the bake time will be a few minutes shorter than a 8-inch round pan.
9×13 Inch: Double the recipe for a 9×13 inch quarter sheet snack cake.
Cupcakes: You can use a muffin tin and make cupcakes or muffins. If you're making cupcakes, I recommend checking them after 20 minutes.
Bundt Cake: Doubling this recipe would be plenty for a 10-12 cup Bundt pan. Make sure to liberally grease the pan and cool completely before attempting to remove.
Recipe FAQs
Can I use coconut flour instead?
Coconut flour has a tendency to be drier and requires more liquid, therefore will not work in this almond flour cake recipe which does have any liquid.
Does almond flour make a cake moist?
It has a higher fat content when compared to plain flour and hence adds an unbeatable moisture, richness and mild sweetness to the cake.
Will this recipe work with flax eggs?
No. Eggs are essential in gluten free baking to help with binding and rise. Flax eggs can sometimes not offer that much needed structure.
Can I use different size cake pans?
Yes! You can use 9-inch round, square or a springform pan instead of the 8-inch pan, however the cake might be comparatively thinner in height.
How to line your pan with parchment paper?
Place your pan on a large sheet of parchment paper. Trace the bottom of the pan with a pencil or pen and cut on the traced line to make a circle. Grease the bottom and sides of your pan with cooking spray and place the parchment round on the bottom.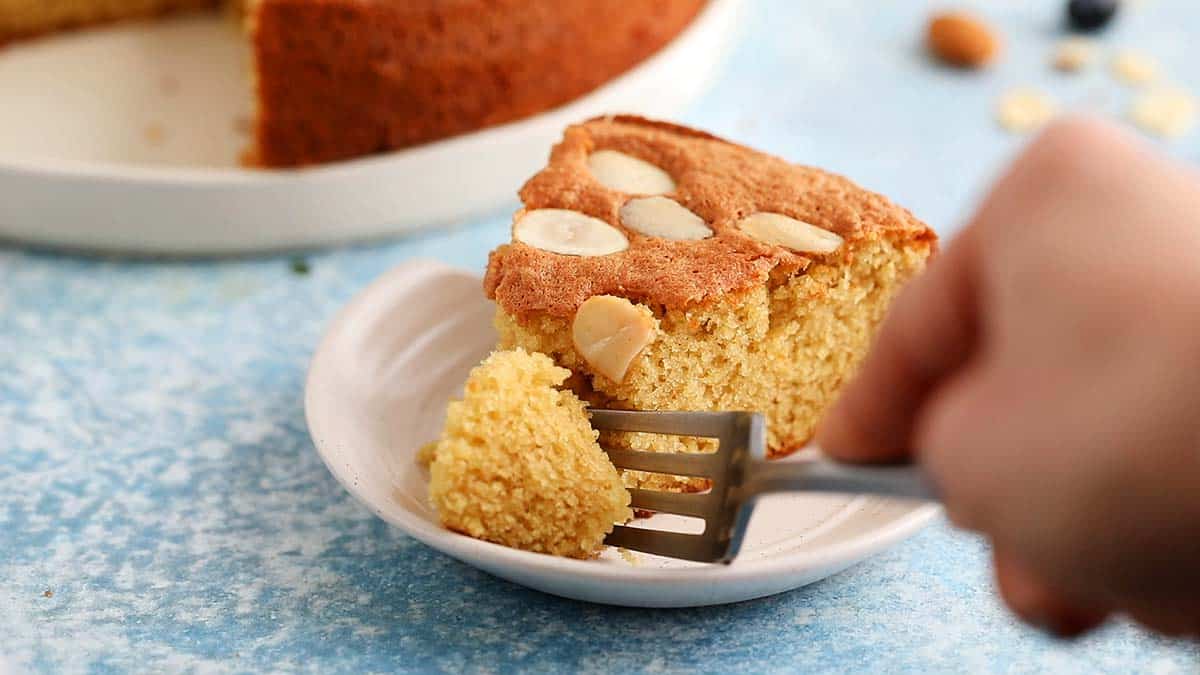 More dessert recipes using almond flour
Hungry for more? Follow me on Instagram, TikTok, Facebook or Pinterest for more delicious recipes
Almond Flour Cake
This almond flour cake is so soft, light and fluffy with a moist crumb. Made with just 4 ingredients, it is mildly sweet and is delicious plain or made into a layer cake.
Print
Pin
Rate
Instructions
Tip - It is important to have room temperature eggs for this recipe. So, leave the eggs at room temperature for several hours or preferably overnight.

Pre heat oven to 350°F. Line the bottom of a 8-inch round baking pan with parchment paper and grease the bottom and sides with non-stick cooking spray and set aside.

Place eggs and brown sugar in a large bowl and beat with a hand held electric beater, on high, for about 4 minutes, until pale in color and thickened.

Add almond flour, vanilla extract, baking powder and salt. Continue beating for an additional one minute ( start on low speed and build to high).

Using a rubber spatula, scrape the sides of the bowl and gently stir couple of times.

Transfer batter to prepared pan, spread evenly and sprinkle sliced almonds on top (if using).

Bake for 30 to 35 minutes, until a tooth pick inserted in the middle comes clean. Place pan on a wire rack to cool completely.
Notes
Almond flour - Use super fine blanched almond flour and not almond meal.
Leave eggs at room temperature – It helps for eggs to be beaten to full volume when compared to cold eggs straight from the refrigerator. So, leave eggs out preferably over night or at least for 3 hours.
Use golden or light brown sugar and not dark brown.
Nutrition
Serving:
1
slice
|
Calories:
162
kcal
|
Carbohydrates:
13
g
|
Protein:
6
g
|
Fat:
11
g
|
Saturated Fat:
1
g
|
Polyunsaturated Fat:
0.3
g
|
Monounsaturated Fat:
1
g
|
Trans Fat:
0.01
g
|
Cholesterol:
55
mg
|
Sodium:
90
mg
|
Potassium:
33
mg
|
Fiber:
2
g
|
Sugar:
10
g
|
Vitamin A:
79
IU
|
Calcium:
65
mg
|
Iron:
1
mg
Nutritional information is based on third party calculations, should be considered estimates and not be construed as a guarantee. Varying factors such as product types, brands purchased, produce, the way ingredients are processed and more change the nutritional information in any recipe.
Did you make this recipe? I'd love your feedback! Please let me know by leaving a comment, a star rating or review below.
All contents and images are my original work, unless and otherwise mentioned. Please do not use my recipes or images without linking back to www.kitchenathoskins.com. If you wish to republish a recipe, please rewrite in your own words and don't forget to include a link back to the original recipe.
Some of the links above are affiliate links, which pay me a small commission for my referral at no extra cost to you! I am a participant in the Amazon Services LLC Associates Program, an affiliate advertising program designed to provide a means for us to earn fees by linking to Amazon.com and affiliated sites. Thank you for supporting kitchenathoskins.com.
All contents and images are my original work, unless and otherwise mentioned. Please do not use my recipes or images without linking back to www.kitchenathoskins.com. If you wish to republish a recipe, please rewrite in your own words and don't forget to include a link back to the original recipe.
Some of the links above are affiliate links, which pay me a small commission for my referral at no extra cost to you! I am a participant in the Amazon Services LLC Associates Program, an affiliate advertising program designed to provide a means for us to earn fees by linking to Amazon.com and affiliated sites. Thank you for supporting kitchenathoskins.com