Buttery, flaky croissants, brushed with honey syrup, filled and topped with a creamy pumpkin almond cream and then showered with sliced almonds. So much yum!
Clearly it's pumpkin season.
Whoop, whoop! 
Friends, there are croissants.
Then, there are almond croissants.
And then, we have these....
They are slightly crunchy on top (from the sliced almonds), with buttery, flaky layers of croissant and then packed with a creamy pumpkin almond cream on the inside. 
These combo of flavors and textures - it's magical. 
Holy cow, these are delicious. 
Make it now now now.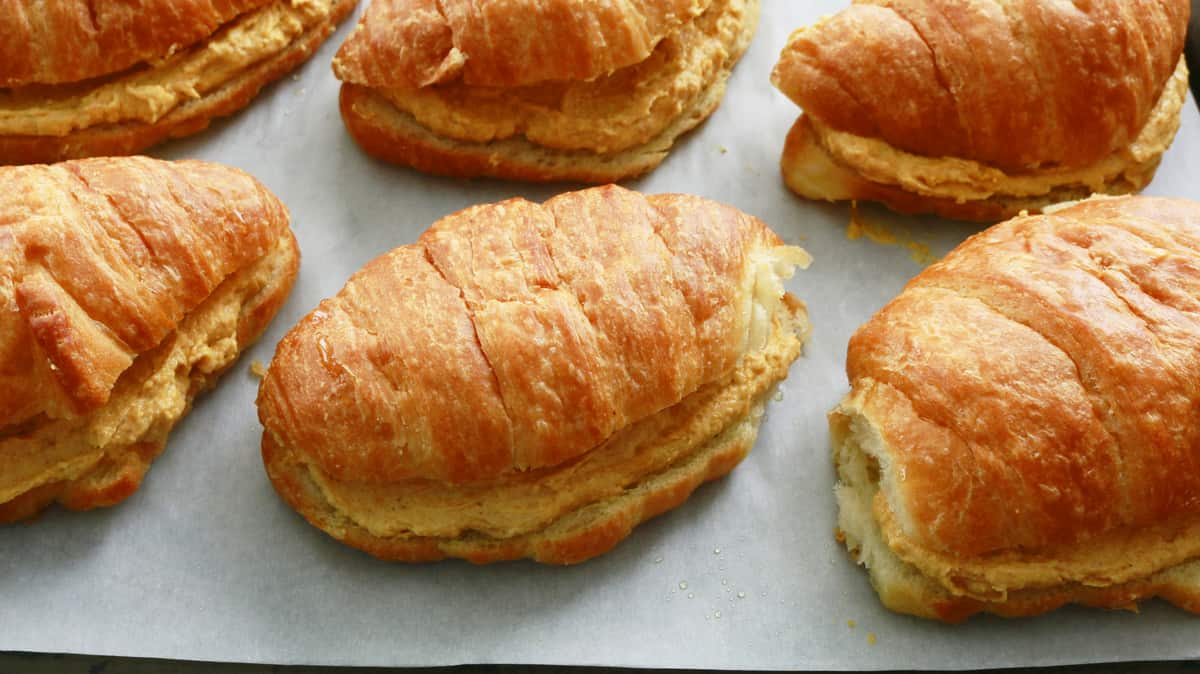 An old recipe revisited for better pictures
---
Skill level - Intermediate
Pumpkin Spice Croissants
Ingredients:
6 small croissants
Honey syrup
1 ½ tablespoons honey
1 ½ tablespoons water
Pumpkin almond cream
½ cup almond flour (super fine) , spooned and leveled
¼ cup all purpose flour, spooned and leveled
½ teaspoon ground cinnamon
⅛ teaspoon freshly grated nutmeg
6 tablespoons unsalted butter, room temperature
½ cup (not packed) golden brown sugar, spooned and leveled
½ cup pumpkin puree (use 100% pure canned pumpkin and not pumpkin pie filling)
1 large egg
Additional ingredients:
¼ cup (heaped) sliced almonds
confectioners sugar, for dusting
Preparation:
1. Pre heat oven to 350 degrees F. Line a sheet pan with parchment paper and set aside.
2. To make honey syrup, place honey and water in a small microwavable bowl, microwave for about 20 seconds until hot. Stir with a spoon to combine. Set aside to cool slightly  and proceed with the pumpkin almond cream.
3. To make pumpkin almond cream, whisk together almond flour, all purpose flour, cinnamon and nutmeg in a small bowl and set aside. Into a medium bowl, add butter and brown sugar, beat with a hand held electric beater, on high speed, until light and fluffy (2 minutes). Beat in pumpkin puree and egg until thoroughly combined (the mixture might look slightly curdled, don't worry). Add the whisked flour mixture and beat, just until mixed well.
4. Slit open each croissant in half horizontally, leaving one edge intact (so, it opens like a book). Brush the insides (both top and bottom) with honey syrup and evenly spread ¼ cup of pumpkin almond cream on the bottom half. Close croissant gently (do not press) and spread 1 tablespoon of cream on top.  Place on the parchment lined sheet pan, and repeat with remaining 5 croissants. Space croissants evenly apart.  Finally, sprinkle sliced almonds on top of the croissants.
5. Place pan in the middle rack of the oven and bake for 20 minutes.
6. Place pan on a wire rack to cool. Dust with confectioners sugar when warm.
Croissants are good warm / room temperature.
Leftover croissants can be stored at room temperature (in a covered container) for 1-2 days.
Makes 6 small croissants
---
Notes:
Leftover, day old croissants are the perfect candidate for these pastries.