Not-so-spooky mice made out of sushi, a great addition for the Halloween gathering!
Aren't these guys adorable? Well, not everything has to be creepy and spooky for Halloween. We can have some fun critters wandering around. Both kids and adults are sure to gather around these cuties:)
I always make sushi for kids with leftover cooked white basmati rice and that is what I've used. Go ahead and use sushi rice if you have on hand. Use cooked and completely cooled white rice. Damp hands is your best friend for shaping these sushi! You may have to dampen them quite often during the process.
I have not given any specific measurements for the veggies, because it is just a thin cut for each mouse. All the veggies are optional, so you can totally go with your families choice.
These mice are delicate, so handle with care. So, they are not portable! I found them more sturdy if we skip all the veggies inside each mouse and shape only the rice and then insert the tail, ears and eyes. But, that wouldn't make them a sushi, would it? Also, try practicing with less filling. More the filling, more challenging to work with!
Silpats are non-stick baking mats that you place on a baking sheet and nothing sticks to it! One genius product! It works wonderful here. If you don't own one, then simply use a piece of parchment or even some plastic wrap placed on a kitchen towel.
Let's get to the process....
Mix rice,rice vinegar, sugar and salt together...
Measure ⅓ cup for each mouse....
Place one measure on a silpat....
Flatten into about 4-inch square....
Place a strip of cucumber, carrot, bell pepper and avocado in the middle..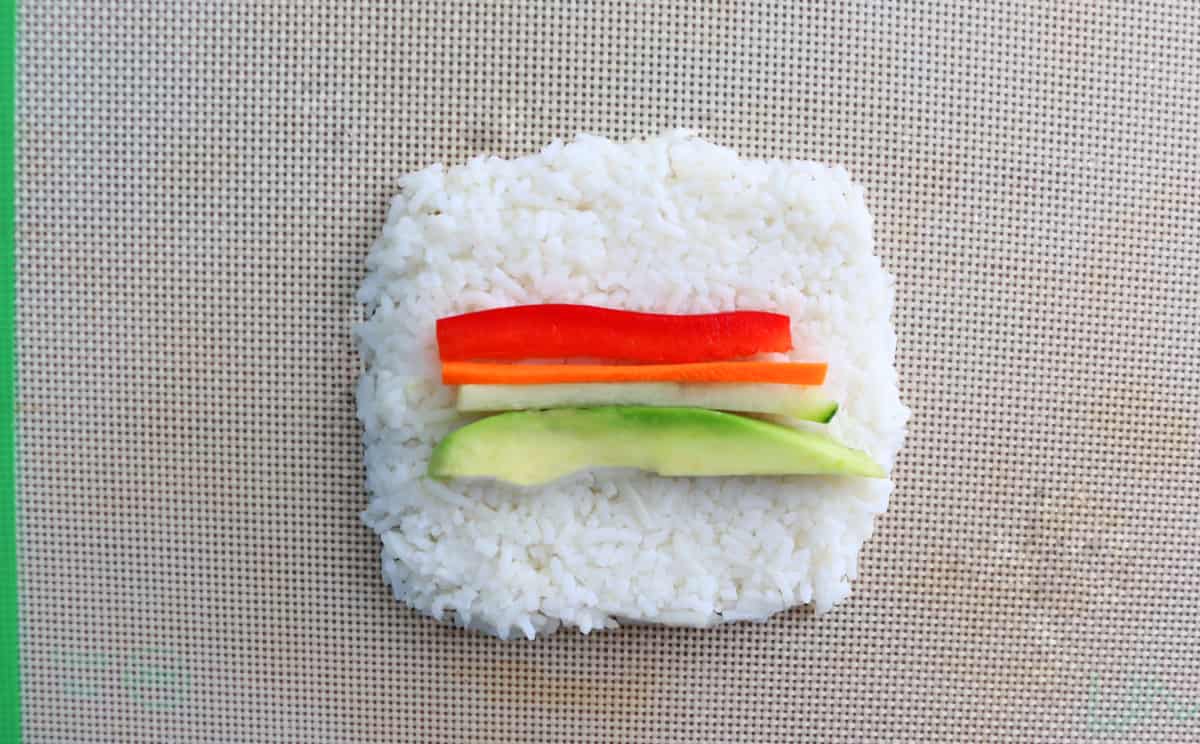 Fold the roll into a firm half with the help of the silpat....
Shape into an firm egg with damp hands....
Shape the body with a pointed end, to make the mouse face...
Insert a scallion green for the tail...
And then insert tiny cucumber triangles for ears and place black sesame seeds for eyes and place on a bed of crushed Nori seaweed....
Sushi Mice
Ingredients:
3 cups cooked cooled white rice
1 tablespoon rice vinegar
1 tablespoon sugar
½ teaspoon salt
julienned carrots
julienned red bell pepper
cucumber, julienned and few thin slices
thinly sliced avocado
scallion greens
black sesame seeds
Nori seaweed sheets, for serving
soy sauce, for serving
Preperation:
Stir together rice, vinegar, sugar and salt in a large bowl, until well mixed.
Place about ⅓ cup measure rice (packed lightly), on a silpat and pat into about a 4-inch square.
Place a strip of cucumber, bell pepper, carrot and avocado in the middle. Fold in half with the help of silpat, pressing firmly.
Using damp hand, shape the roll into an egg shape with a slightly end for the face.
Insert a thin scallion green in the fat end (for tail).
Insert 2 small triangles of cucumber (cut from the slices) for ears and place black sesame seeds for eyes.
Repeat with remaining rice. Serve on a bed of Nori seaweed and soy sauce for dipping.
Makes 7-8 mice