Spicy Ginger Garlic Pita Chips – Crispy, crunchy, spicy and packed with flavor! With fresh ginger, garlic, cilantro, red pepper flakes and turmeric, this homemade garlic pita chips makes a perfect snack anytime.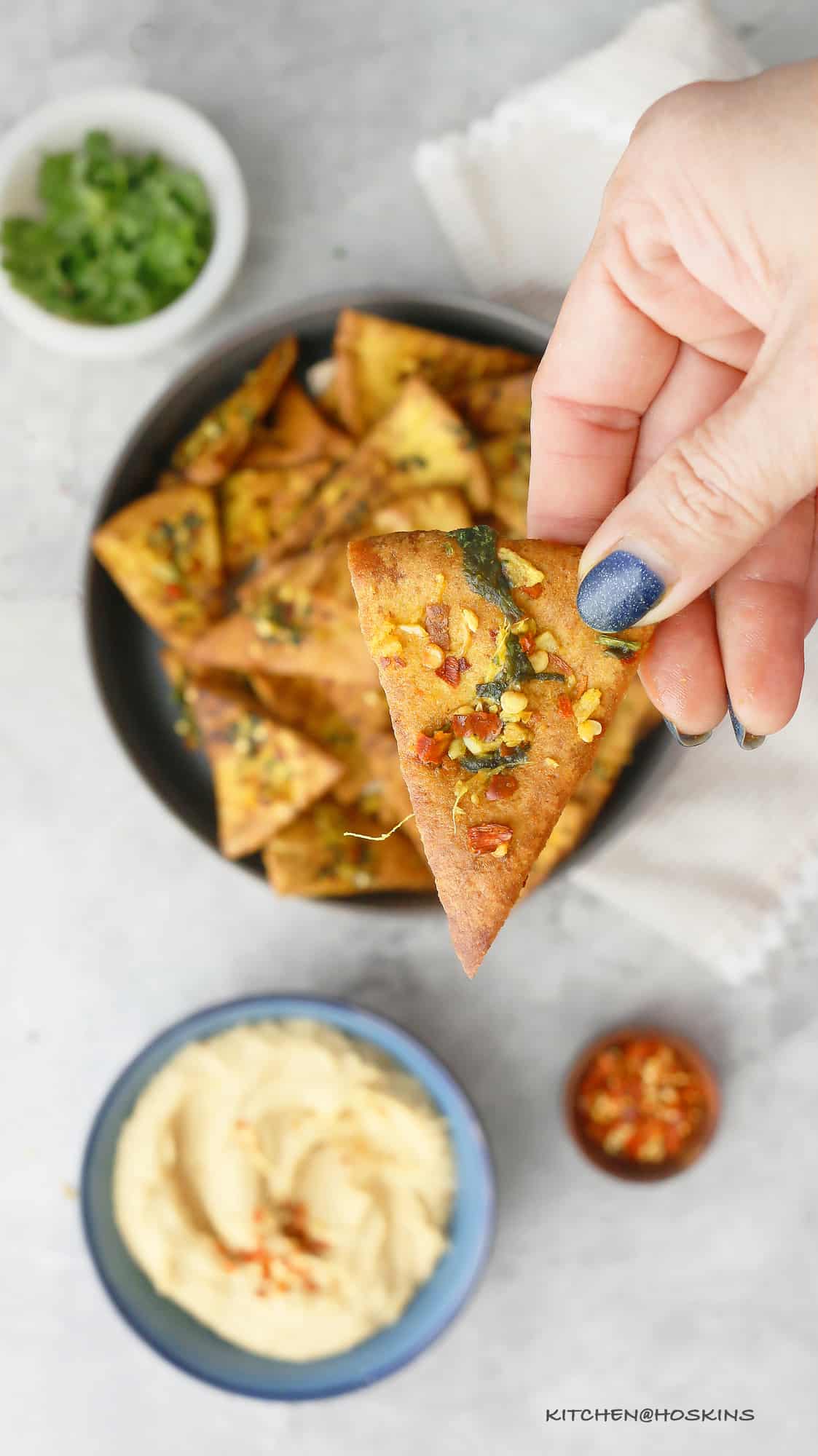 Today, it all about snacking!!!
Crispy, Crunchy, Salty, Spicy Ginger Garlic Pita Chips that is so delicious on its own or with some hummus.
We don't mess around with snacks around here. Bland does not work! Check out some super flavorful snacks:
Spicy Roasted Chickpeas that tastes like Tandoori Chicken
Before we get into the details of this spicy ginger garlic pita chips, I would like to link you to a sweet version of pita chips and hummus ->
4 Ingredient Guilt Free Chocolate Hummus <— A must try
Now that is out of the way, the team players in the homemade spicy pita chips recipe are :
Ginger
Garlic
Red pepper flakes
Cilantro
Turmeric
Salt
So much color and flavor!!!
How to make Spicy ginger garlic pita chips?
Step-1: Mince garlic, ginger and cilantro
Step-2: Stir vegetable oil, red pepper flakes, turmeric, salt and all the minced ingredients.
Step-3: Cut each pita bread into 8 wedges.
Step-4: Place on a baking sheet and brush the spicy oil on both sides, making sure to get all the goodies from the bottom of the bowl.
Step-5: Bake until deep golden and then cool completely.
Done and DONE.
How can you serve these homemade garlic pita chips recipe?
Delicious plain
Served with hummus for your next party / get together
Healthy Snack for play dates
Late night munchie
Snack box – with hummus, baby carrots and grapes
Game day
Just about any time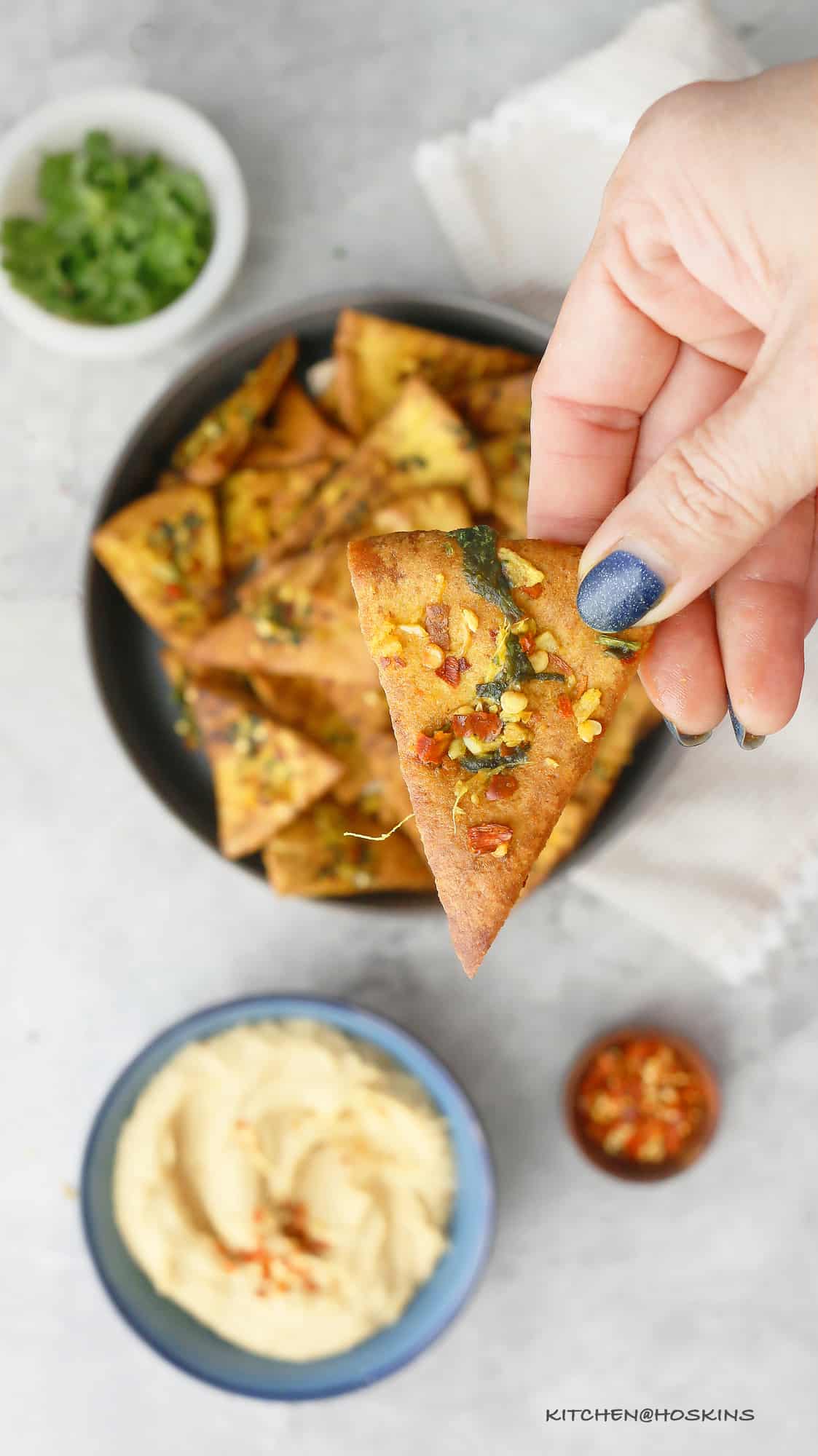 Tips and tricks for making this recipe for garlic pita chips:
Finely chop ginger and garlic – Larger pieces will not adhere to the pita chips when being baked and will fall off.
You do not need to slit open the pita bread. Cut as is.
Place all the ginger-garlic-red pepper mixture on the top side of the pita chips so that they will stick better. Looks good too!
Bake until deep golden. DO NOT BAKE until dark brown -> This might burn the garlic and we all know that burnt garlic is no good.
More spicy recipes like this best spicy pita chips:
Curried Cashew Spinach Soup – This curried cashew spinach soup is light, creamy, spicy and tastes amazing!!
Salt and Pepper Cashews – Crispy roasted cashews coated with salt and coarsely ground black pepper!!! Perfect as a snack anytime, homemade gift during holiday season and school snack box. These salt and pepper cashews are highly addictive.
Spicy Tandoori Chickpeas – Spicy, tangy, crispy, flavor packed and most importantly tastes like Tandoori Chicken!!! Yes, these Indian spicy roasted chickpeas are great as a snack, appetizer, made into wraps or paired with your favorite Indian meal.
Zucchini Medhu Pakoda – Authentic South Indian style pakodas but with a twist!!
Some of the links above are affiliate links, which pay me a small commission for my referral at no extra cost to you! I am a participant in the Amazon Services LLC Associates Program, an affiliate advertising program designed to provide a means for us to earn fees by linking to Amazon.com and affiliated sites. Thank you for supporting kitchenathoskins.com
All contents and images are my original work, unless and otherwise mentioned. Please do not use my recipes or images without linking back to www.kitchenathoskins.com. If you wish to republish a recipe, please rewrite in your own words and don't forget to include a link back to the original recipe.