No Bake Almond Butter Balls are easy to make with wholesome good-for-you ingredients and are irresistible. A healthy protein packed guilt free snack or sweet treat.
If you are looking for ways to use your jar of almond butter, then check out this Almond Butter Pancakes, Chocolate Almond Butter Truffles or Baked Oatmeal.
As an Amazon Associate and member of other affiliate programs we earn a small commission from qualifying purchases through our affiliate link. For more information read our Non-Disclosure Agreement.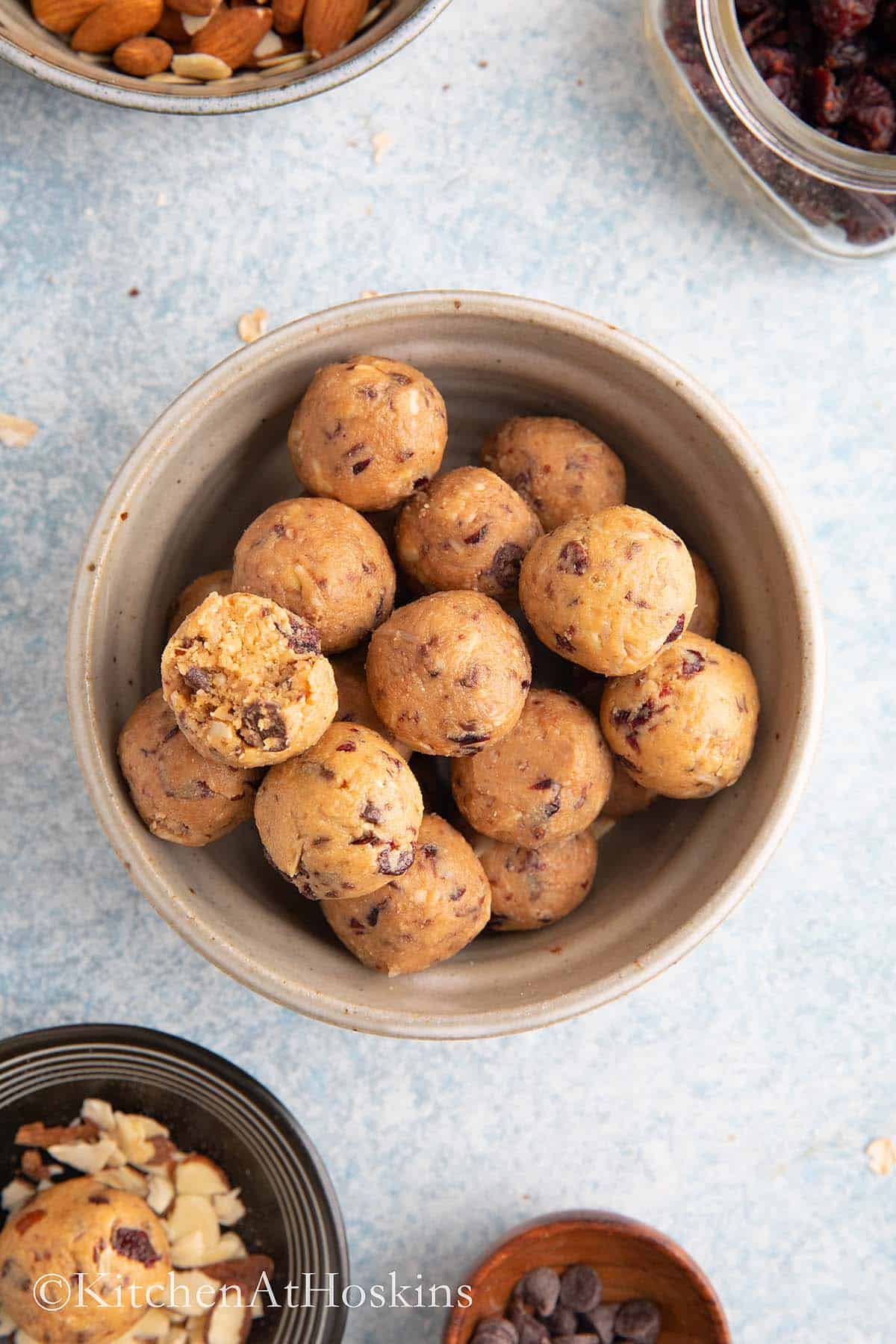 Almond Butter Balls
Ridiculously easy to make, raw, no cook, no bake, soft, fudgy, sweet, crunchy with chewy bits of cranberries, these are irresistibly delicious little bites. They are packed with protein, healthy fats from three types of almonds (flour, butter and sliced) and tasty coconut oil and shredded coconut.
Perfect for snack anytime, healthier dessert, post workout, light breakfast or great for kids as they keep in the fridge throughout the week.
This recipe is perfect for anyone who has a sweet tooth but also like to make healthier choices.
WHY YOU'LL LOVE THESE?
Texture - Soft, fudgy, chewy, crunchy, nutty, chocolatey and so delicious.
Diet Friendly - These are peanut-free, naturally gluten free, grain free and low carb. Use vegan chocolate chips to make them vegan and dairy free.
Healthy - Made with good for you ingredients to keep you full and guilt free.
Meal prep - Store in the refrigerator for a week to 10 days or for up to a month in the freezer for a quick grab-and-go snack.
Guilt Free - Did we mention that they are made with good-for-you ingredients.
ARE THEY HEALTHY?
These energy balls are made with nutritious ingredients like rolled almond flour, almond butter, maple syrup, coconut oil, shredded coconut, chopped almonds and chocolate chips.
Almonds - These pack almond punch in the form of flour, butter and whole. It is one of highly nutritious nut that is rich in healthy fats, fiber, protein, antioxidants, vitamins, minerals and the world's best source of vitamin E.
Coconut - In the form of shredded coconut and oil, it provides healthy fats, fiber, antioxidants and essential minerals such as manganese, copper, iron and selenium.
WHAT TYPE OF ALMOND BUTTER TO BUY?
There are several types and brands to choose from. Our favorite is always Barney's for the no-stir, creamy and smooth consistency (this is not a sponsored post).
If you are using a different brand, then here are a few tips to help you choose the right one for this recipe. Make sure that it is raw, natural with no added ingredients like sugar or sunflower oil.
Should I go for organic? Not necessary! Organic jars tend to cost double the price when compared to the non-organic counterparts. So, go for the best quality natural butter you can find.
If you can't find Barney's, then Costco and Trader Joes have affordable jars that are excellent quality as well.
INGREDIENTS
Almond Butter - We love to Barney's smooth.
Almond flour - Use superfine variety.
Almonds - We used coarsely chopped sliced almonds.
Coconut oil - It adds nutrition and compliments the nutty flavor.
Maple syrup - Makes it refined sugar free.
Shredded coconut - We used sweetened variety.
Chocolate chips - Use semi sweet variety and go for vegan chips to make them vegan and dairy free.
Cranberry - Sweet dried cranberries, coarsely chopped.
Salt - A dash of salt elevates the sweetness.
These protein-packed energy almond butter bites are made with plenty of pantry staples that you might already have on hand. They just so happen to be dairy, gluten & grain free, and paleo! Here's what you'll need to make them:
PRO TIPS FOR SUCCESS
Use creamy almond butter and not crunchy.
If dough feels soft then mix in more flour, chopped cranberries and chopped almonds.
Like it sweet? Increase the quantity of maple syrup.
VARIATIONS
Here are few suggestions to make these bites your own:
Sweetener - Use honey instead of maple syrup.
Use peanut butter, sun flower butter instead of almond butter (check out this sunbutter cups)
Use chopped raisins instead of cranberries.
Toasted pumpkin seeds instead of sliced almonds.
Ghee instead of coconut oil.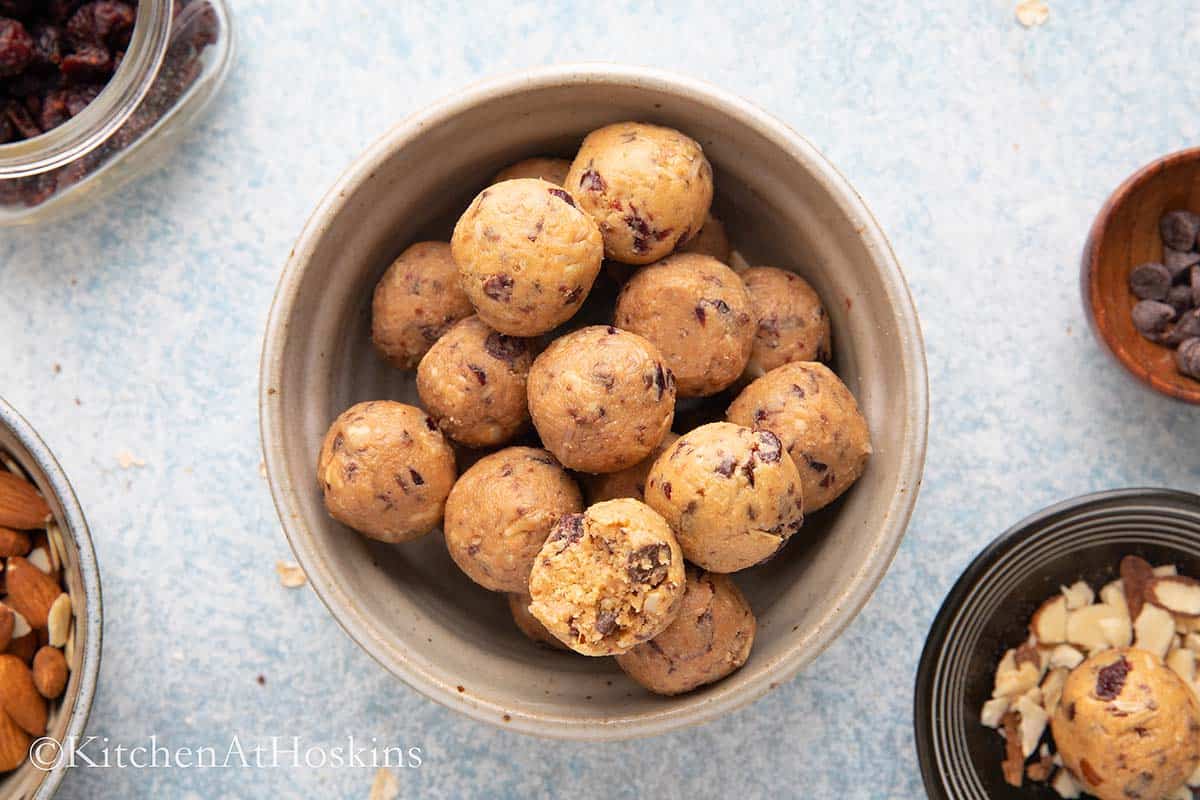 HOW TO MAKE?
These easy energy balls are be made in one bowl for a quick no-bake snack!
Mix the base - Stir almond flour, butter, melted coconut oil, maple syrup and salt to form a loose dough.
Stir all the add-ins - Mix in chopped chocolate chips, sliced almonds, cranberries and sweetened shredded coconut.
Shape and Chill - Roll into balls and refrigerate for a few hours to firm up.
HOW TO STORE?
These balls will last for up to 10 days if stored in a tightly sealed air tight container in the refrigerator.
To freeze: The can be frozen for up to a month. Simply transfer to the refrigerator overnight to thaw or at room temperature for an hour or so.
FREQUENTLY ASKED QUESTIONS
Can you freeze?
Yes! If you'd like to keep these balls for longer than a week, you can store them in a freezer-safe container or zip lock in the freezer.
Simply thaw them for about an hour on the counter before you want to eat.
Can you use other butter?
Sure can! Use peanut or sunflower seed butter instead.
More guilt-free treats: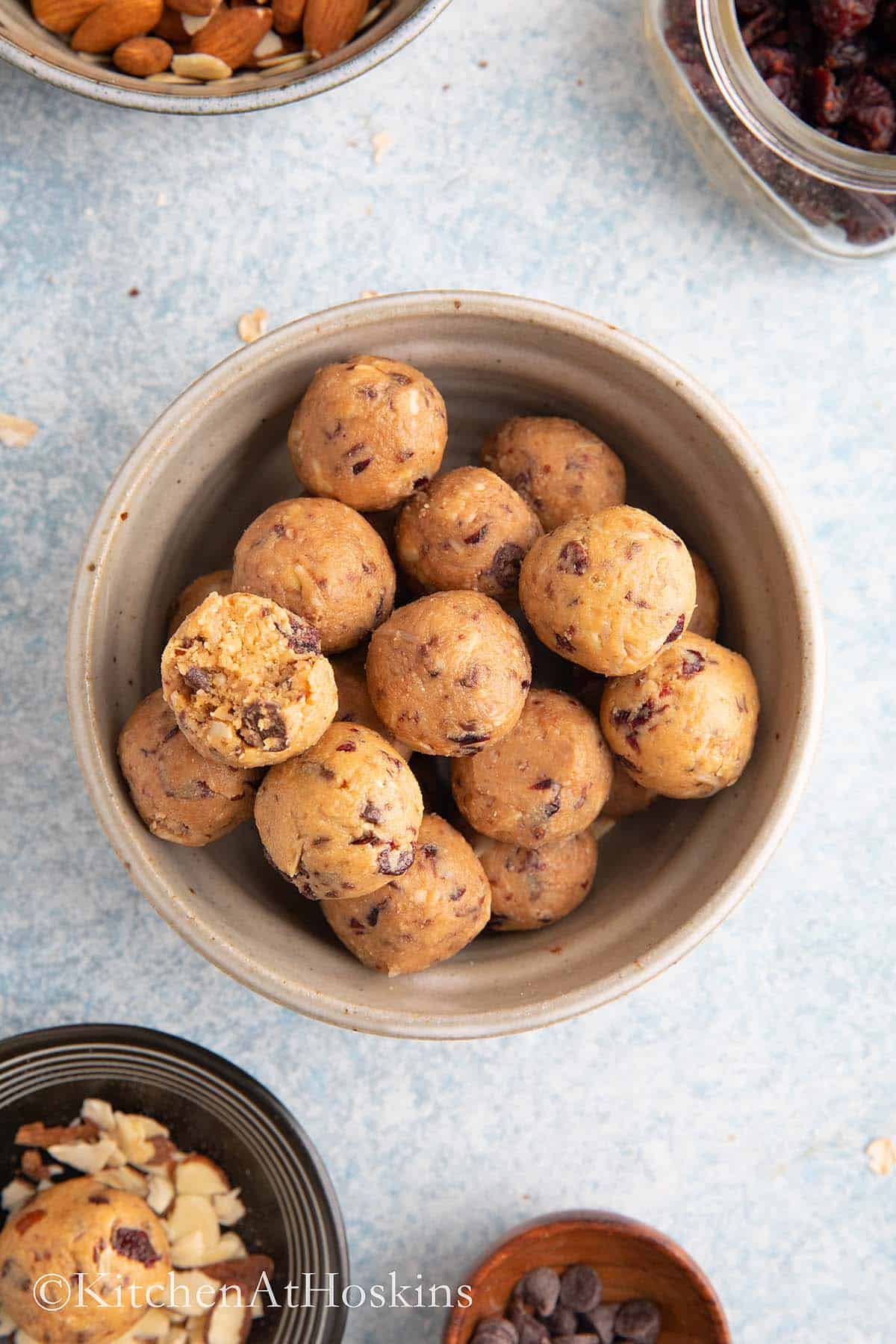 More Recipes using Almond Butter:
Print Recipe
Almond Butter Balls (No Bake)
No Bake Almond Butter Balls are easy to make with wholesome good-for-you ingredients and are irresistible. A healthy protein packed guilt free snack or sweet treat.
Ingredients
1

cup

super fine almond flour

½

cup

almond butter

2

tablespoons

coconut oil, melted but not hot

1

tablespoon

maple syrup

⅛

teaspoon

salt

¼

cup

semi sweet chocolate chips, chopped

¼

cup

dried cranberries, chopped

¼

cup

sliced almonds, coarsely chopped
Instructions
Mix together superfine almond flour, almond butter, coconut oil, maple syrup and salt together, until thoroughly combined.

Stir in chocolate chips, coconut, chopped almonds and cranberries with a wooden spoon, until thoroughly combined (if you find it hard to mix the your hand gently mix into a dough).

The dough should be soft but not sticky. if it feels too sticky, then mix in a bit more almond flour to get the right consistency.

Shape into a heaped tablespoon measure balls and place in the refrigerator for a few hours to firm up.
Notes
This dough is very FORGIVABLE - 
If it too soft to be rolled into balls -let the dough rest at room temperature for about 15-30 minutes. Still soft? Mix in 1 to 2 tablespoons almond flour.
Some of the links above are affiliate links, which pay me a small commission for my referral at no extra cost to you! I am a participant in the Amazon Services LLC Associates Program, an affiliate advertising program designed to provide a means for us to earn fees by linking to Amazon.com and affiliated sites. Thank you for supporting kitchenathoskins.com
All contents and images are my original work, unless and otherwise mentioned. Please do not use my recipes or images without linking back to www.kitchenathoskins.com. If you wish to republish a recipe, please rewrite in your own words and don't forget to include a link back to the original recipe.