Easy Almond Butter Chocolate Cups Recipe are ridiculously easy to make in your microwave with just 4 ingredients!! Made with coconut oil, it is rich, decadent, no bake, dairy free and a perfect guilt free snack!
We are going strong with the Halloween season!!!
Today it is not a decorated Halloween treat. Instead – A Homemade Almond Butter Cup!
What is an Almond butter cup?
Similar to the hugely popular peanut butter cups but made with almond butter instead – Much more easier and healthy bite size treat. Sprinkle with sea salt —> So much YUMMMM
Almond butter is got to be my favorite of all nut butters. High in monounsaturated fat, loaded in protein, it has three times as vitamin E and twice as much as much iron as peanut butter.
I decided to take it a step further in making a much simpler and easier recipe – Just stir all things together, pour and chill!!!! Not a stuffed almond butter cup. These chocolate almond butter cups are just a variation to this Sun butter cups <—- A nut free peanut butter cup
My favorite part of this recipe, it can be made either as standard or mini cups for a bite size snack. If you love chocolate or nut butter, then we highly recommend you giving this recipe a try.
These homemade almond butter cups are :
Easiest recipe
Made in 5 minutes or less
Peanut free
Vegan option
Fudge like
Gluten free
Healthyish
Decadent
Mini cups <—- portion control
More 4-ingredient recipes: Raw Almond Bites, Quick Candied pecans, Chocolate Hummus, Salsa Chickpeas or Nutella Brownies
Just like a peanut butter cup, Almond butter cups are generally layered with chocolate on top and bottom with almond butter filling in the middle. As much as I love the look of contrasting colors, I wanted to make a recipe that is easy enough for young children to make. So, this recipe might not look like others but tastes amazing!
Ingredients:
Almond butter – Creamy almond butter. And, yes peanut butter may be used instead.
Chocolate chips – We used semi sweet chocolate chips, but these dark chocolate chips work just as well. Use vegan chocolate chips to make it vegan.
Coconut oil – Compliments the flavor of almond butter
Vanilla extract
Sea Salt – A sprinkling of coarse sea salt elevates these nut butter cups
How to make almond butter cups ?
This is the easiest recipe ever …..seriously!!! (refer process shots above)
Step-1: Add almond butter, chocolate chips, coconut oil into a microwavable bowl
Step-2: Melt in a microwave, stirring every 30 seconds
Step-3: Mix in salt and vanilla extract
Step-4: Pour into paper lined muffin pan and refrigerate until set
Done and DONE
I told ya, easy peasy.
Expert tips:
Store almond butter cups in the refrigerator.
Use creamy almond butter but crunchy can be used for a texture variation.
Dairy Free – There is butter or milk used in the recipe, but make sure that the chocolate chips are dairy free.
Use vegan chocolate chips for vegan almond butter cups recipe
Tools needed – A standard or mini muffin pan and paper liners.
Can you taste the coconut oil ?
No! But it wonderfully compliment the almond butter and chocolate, making it irresistible.
Can I use other nut butters?
Absolutely! Peanut or cashew butter works well and also sun butter.
Flavor variations
Use dark chocolate chips to make Almond butter dark chocolate cups.
Switch up the butter – Use other nut butters like peanut butter, sun butter or cashew butter instead.
Make it crunchy – Use crunchy almond butter instead of the creamy kind and sprinkle chopped, toasted sliced almonds on top.
How to store these cups?
Refrigerator – Store them in the refrigerator (in an air tight container) for several weeks.
Freezer- Sealed well, these will be good for about two months.
More chocolatey treats: Homemade Mocha Coffee, Christmas Peppermint Bark, Rolled Cookies, Chocolate almond flour cake, Vegan Mug Cake for One, Almond flour brownies, Mocha mug cake, Chocolate Avocado truffles, Condensed Milk truffles or Nutella brownie in a mug.
More healthy treats: No Bake Brownie Bites, Cocoa Smoothie, Almond flour desserts, Almond flour cake, Baked apples, chocolate smoothie, or Almond flour cookies.
FAQs
What is the difference between almond butter and raw almond butter?
Almond butter is made from roasted almonds when compared to raw almonds used in making raw almond butter.
Ingredients in almond butter
Almond butter is made mainly from roasted / raw almonds, a touch of cane sugar for sweetness, palm or coconut oil (for easy spreading) and salt.
What do you do with almond butter?
Almond butter slathered on freshly toasted bread and topped with berry jam is one of the most popular ways to enjoy almond butter. It is also delicious swirled into pancake batters, spread on quick breads, added to brownies, overnight oats or oatmeals.
More recipes with Almond Butter:
Chocolate Almond Butter Truffles
Banana Muffins <— made with almond flour & almond butter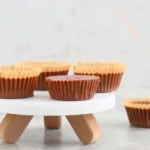 Print Recipe
Homemade Almond Butter Chocolate Cups
Homemade Almond Butter Chocolate Cups Recipe are ridiculously easy to make in your microwave!! Made with coconut oil, it is rich, decadent, no bake, dairy free and a perfect guilt free snack!
Servings:
12
mini cups or 6 regular cups
Instructions
Place chocolate chips, almond butter and coconut oil in a medium microwave safe bowl.

Microwave for 1 1/2 minutes, until fully melted (stir every 30 seconds to combine).

Stir in vanilla extract and salt.

Divide melted mixture evenly into the 12 paper cups, smooth top and place pan in the refrigerator for at least 6 hours to set.

Store homemade almond butter cups in the refrigerator.

Alternatively, the recipe makes 6 standard muffin cups
Notes
Store cups in the refrigerator.
Use creamy almond butter
Use vegan chocolate chips for vegan almond butter cups
Some of the links above are affiliate links, which pay me a small commission for my referral at no extra cost to you! I am a participant in the Amazon Services LLC Associates Program, an affiliate advertising program designed to provide a means for us to earn fees by linking to Amazon.com and affiliated sites. Thank you for supporting kitchenathoskins.com
All contents and images are my original work, unless and otherwise mentioned. Please do not use my recipes or images without linking back to www.kitchenathoskins.com. If you wish to republish a recipe, please rewrite in your own words and don't forget to include a link back to the original recipe.