Easy kulfi recipe that is sure going impress your family and friends! A SUPER CREAMY pistachio kulfi ice cream that is flavored with saffron and cardamom will soon become your go-to kulfi recipe every summer.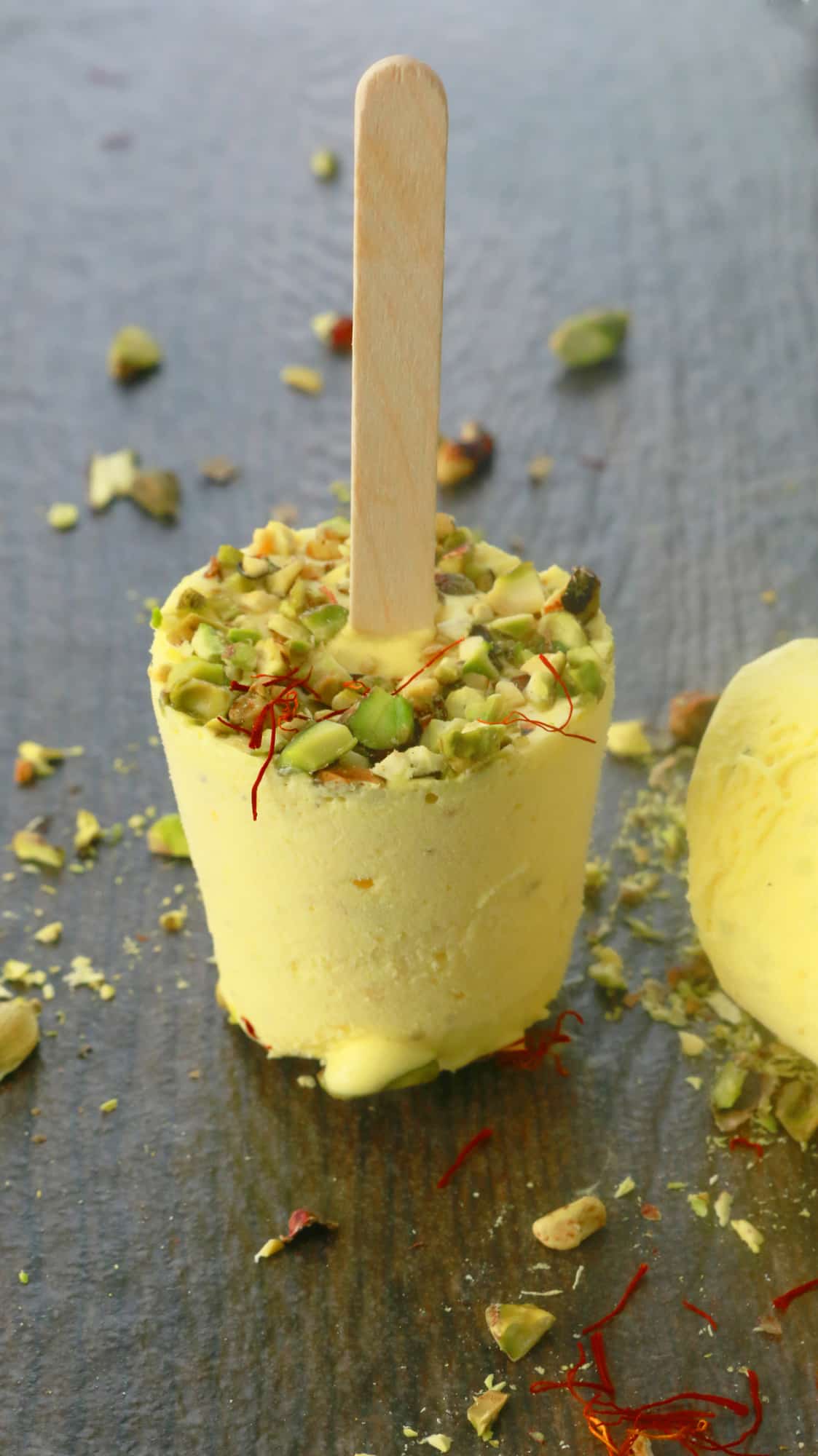 Hot summer needs something cold.
Better yet, something sweet, icy cold, creamy, with bits of crunch and tastes really, REALLY amazing.
Bringing you possibly the best kulfi ice cream that you have ever tasted!!!
What is kulfi?
Kulfi is a traditional Indian ice cream, but more denser. It is usually made be boiling milk over low heat for a long period, until it has reduced considerably in volume and then sweetened, flavored and frozen in small earthen pot molds known an "Matki". But, aluminum / stainless steel / plastic molds are widely used in modern times. It is almost uncommon to find kulfi served in scoops like ice cream.
Some recipes include using thickening agents like cornstarch or bread crumbs to give a more creamier consistency.
Kulfi ice cream comes in various flavors such as cardamon, saffron, mango, rose, pistachio, almond, orange and strawberry.
Let us get to this best kulfi recipe which is NOT remotely close to the traditional method.
Traditional method –
Time consuming
Laborious
Dense
More icy
This kulfi ice cream recipe :
Almost no-cook
Super easy
Amazingly creamy
Light
Yet, IT TASTES SUPER AUTHENTIC!!!
I love this pistachio kulfi recipe so much. It has been a family and friends favorite for decades and reader favorite since it has been posted.
Few reader feedbacks:
"I have tried a lot of kulfi recipes, but this is the best kulfi recipe I have made so far. The texture and flavor is just amazing and very appetizing. My husband and son totally love it! Thank you very much for sharing it with us!"
"This is such a simple but awesome recipe. I have never made kulfi before and when I made this recipe for a family dinner my family absolutely loved it. This has become my go to dessert recipe"
"I made this and oh my god.. so so good! My husband loves kulfi and this came out awesome!!!"
Why are you gonna love this pistachio kulfi recipe?
Easy… super easy
Incredibly creamy
No ice cream maker required
D-E-L-I-C-I-O-U-S
Great make ahead recipe. Perfect for summer parties, get togethers…
Fun to eat
Main ingredients:
This homemade kulfi recipe requires only 2 main ingredients like heavy cream and sweetened condensed milk.
The flavorings include saffron, cardamom powder and pistachios for some crunch.
How to make kulfi?
Step-1: Make saffron cream. Let half the cream come to a boil, stir in saffron and let hang out for a day in the refrigerator (refer picture above)
Step-2: Beat saffron cream and remaining cream, until thick and soft peaks form (refer picture below)
Step-3: Add sweetened condensed milk, pistachios and cardamom powder, beat to combine well (refer pictures above)
Step-4: Pour into your favorite molds and freeze until solid.
Wasn't that easy?
You might also love this collection of Creative Indian Recipes
More cardamom flavored recipes: Cardamom Cookies, Zucchini Cardamom Cupcakes , Mango Clafoutis or Chai Cake in a Mug.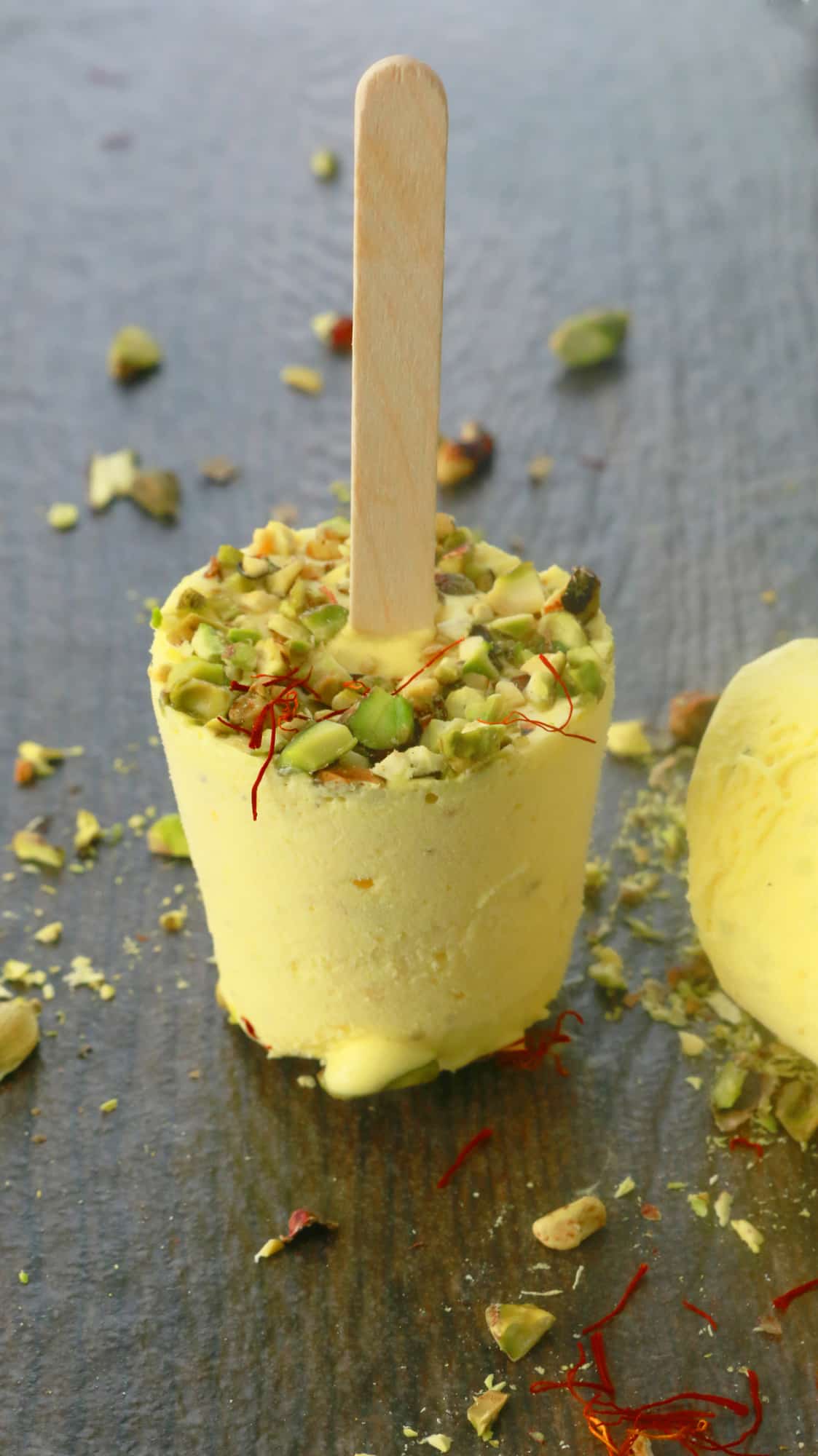 Frequently asked questions:
How many servings is this recipe?
This recipe makes 12 servings. When using Dixie cups, I was able to make about 15-16 cups.
Is it necessary to heat the cream or could it not be whipped right away?
The reason for heating the cream is for saffron to infuse into the cream, which gives the main kulfi flavor.
How long can this be kept frozen?
This homemade kulfi is good frozen for up to a month.
Storage instructions:
This is frozen for up a month.
Kulfi moulds:
As I mentioned earlier, kulfi is traditionally frozen in molds. You could use any popsicle molds that you have on hand.
Don't have any moulds? Transfer kulfi mixture into any freezer safe container and freeze until firm. Scoop kulfi ice cream into serving cups.
I used these Dixie paper cups and Popsicle sticks. You can use any popsicle mould that you have around.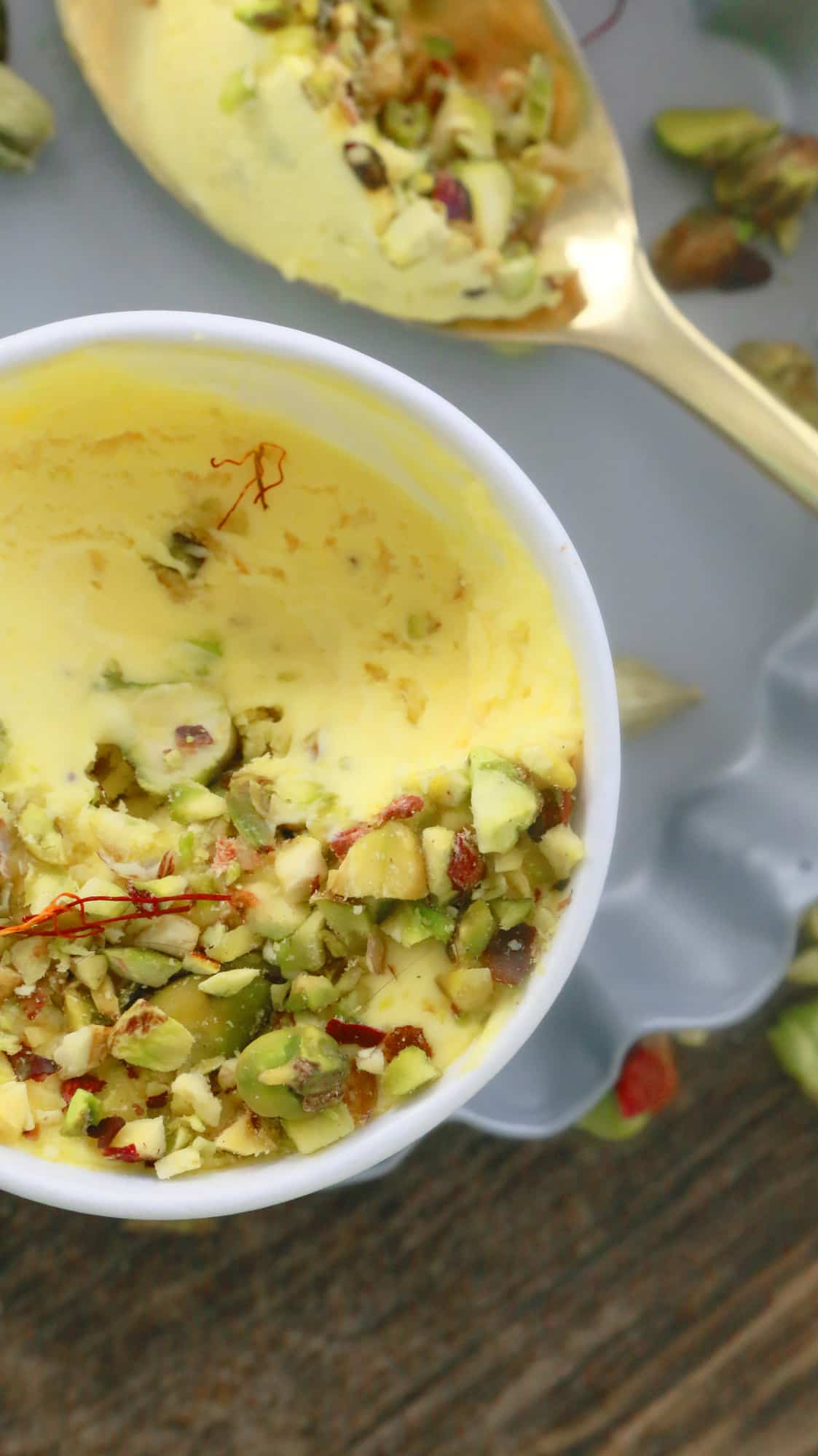 Kulfi, KULFI and more kulfi:
Overnight Oats that tastes just like a kulfi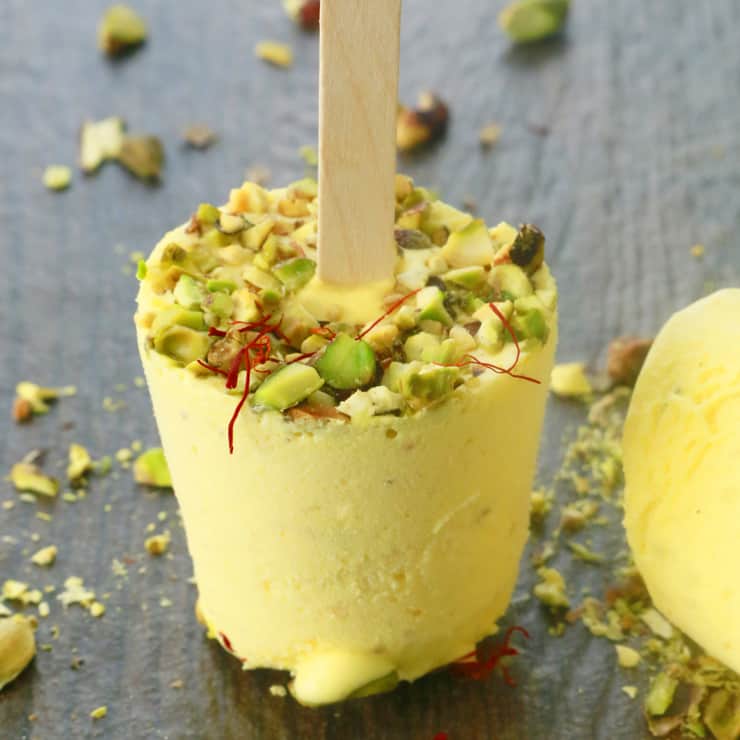 Easy Kulfi Recipe (easiest and creamiest)
Easy kulfi recipe that is sure going impress your family and friends! We are talking super creamy no-churn kulfi ice cream.
Ingredients
2

cups

heavy cream, divided

1/2

teaspoon

saffron threads

1

(14-ounce)

can sweetened condensed milk

1

teaspoon

cardamom powder

1/4 cup + 2 tablespoons

raw pistachios, chopped, divided
Additional ingredients
Instructions
Day-1
Into a small saucepan, add 1 cup heavy cream and saffron. Heat over low-medium heat, until it comes to a gentle boil. Remove from heat and cool to room temperature. Transfer cream into a covered container and refrigerate until completely cold (at least 5 hours or up to a day).
Day-2
Into a large bowl, combine saffron soaked heavy cream and remaining 1 cup heavy cream. Beat with hand held electric beater (on high speed) until thick and softly whipped (when soft peaks begin to form), about 1 1/2 minutes.

Into the whipped saffron cream, add sweetened condensed milk, cardamom powder and 3 tablespoons chopped pistachios. Whip again for about 30 seconds, until mixed completely.
To make easy Kulfi moulds
Transfer mixture into popsicle molds or paper cups. Sprinkle remaining chopped pistachios on top, insert popsicle sticks and place in freezer overnight. ( If using paper cups – when ready to eat, snip off a bit of the cup and peel off pop)
To make easy Kulfi ice cream
Transfer mixture into a freezer safe container, sprinkle remaining chopped pistachios on top. Cover and freeze overnight. To serve, scoop kulfi into serving bowls.
Notes
I used Dixie paper cups and Popsicle sticks. You can use any popsicle mould that you have around.
Don't have any moulds? Transfer kulfi mixture into any freezer safe container and freeze until firm. Scoop ice cream into serving bowls.
Some of the links above are affiliate links, which pay me a small commission for my referral at no extra cost to you! Thank you for supporting kitchenathoskins.com
All contents and images are my original work, unless and otherwise mentioned. Please do not use my recipes or images without linking back to www.kitchenathoskins.com. If you wish to republish a recipe, please rewrite in your own words and don't forget to include a link back to the original recipe.