Easy kulfi recipe that is sure going impress your family and friends! A SUPER CREAMY pistachio kulfi ice cream that is flavored with saffron and cardamom will soon become your go-to kulfi recipe every summer.
We love the magical combination of cardamom and saffron in Indian desserts! Few of our favorite recipes with this combo - Mango milk, Eggless Mango Mug Cake or this hugely popular Rasamalai Tres Leches Cake.
As an Amazon Associate and member of other affiliate programs we earn a small commission from qualifying purchases through our affiliate link. For more information read our Non-Disclosure Agreement.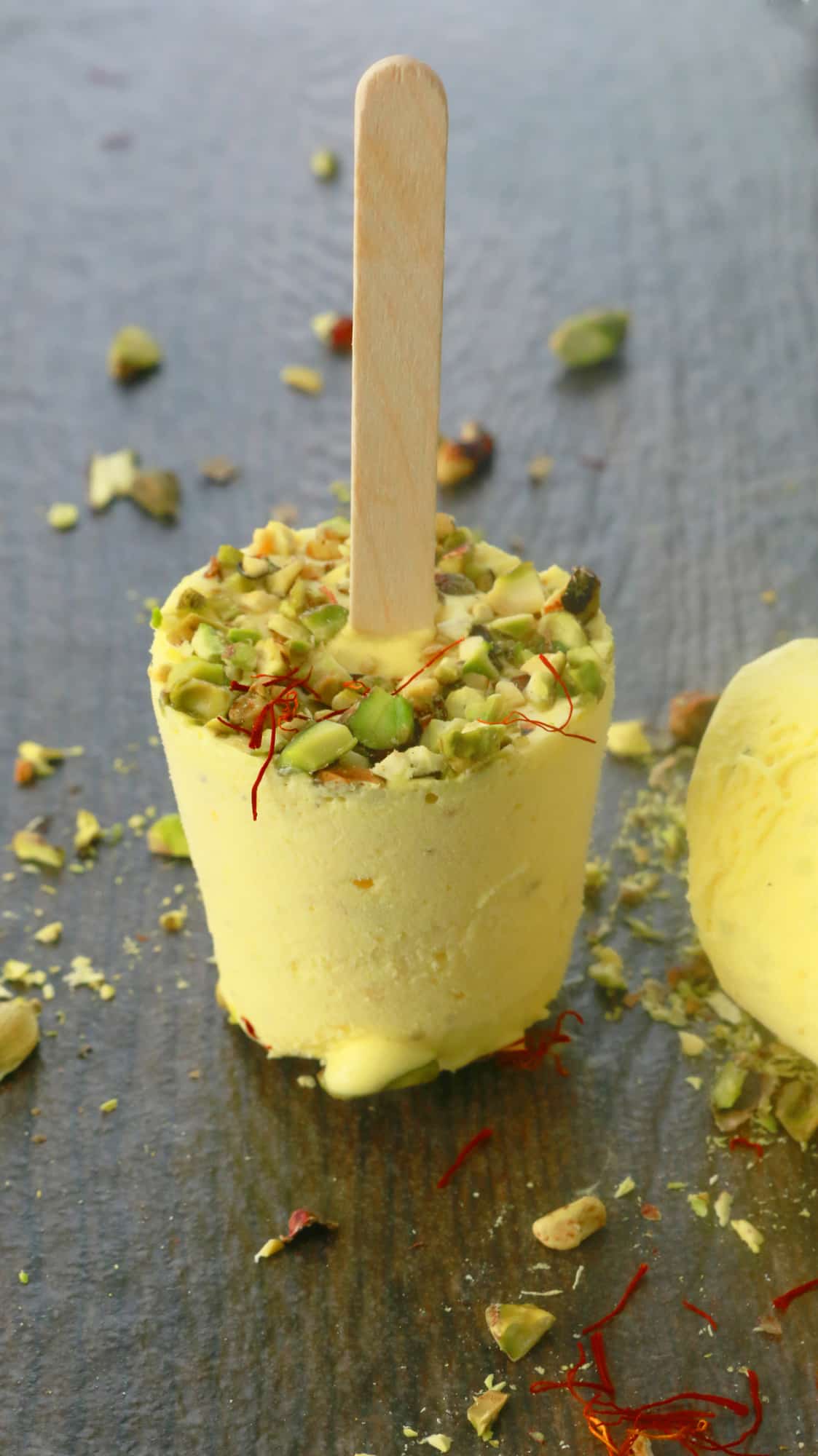 Kulfi Recipe
Bringing you possibly the best kulfi ice cream that you have ever tasted!!! Let me begin by saying that is not a traditional recipe of making homemade kulfi. But, it tastes super authentic and is so much more easier to make. This recipe has been one of our popular recipe every summer since it was published.
Reader feedback
Tasneem Ammar Nurbhai writes "I have tried a lot of kulfi recipes, but this is the best kulfi recipe I have made so far. The texture and flavor is just amazing and very appetizing. My husband and son totally love it! Thank you very much for sharing it with us!"
Sonal writes "This is such a simple but awesome recipe. I have never made kulfi before and when I made this recipe for a family dinner my family absolutely loved it. This has become my go to dessert recipe"
Raj writes "I made this and oh my god.. so so good! My husband loves kulfi and this came out awesome!!! Thank you 😊"
Radhika writes "This is a great recipe. Dad loves kulfi and he has tried and tested so many but this was by far the best and he agreed. Great texture and flavour. Went down a treat when mum and dad were visiting from Spain. Thank you Maria. I can't wait to try your recipes from the air fryer section"
What is kulfi?
Kulfi is a traditional Indian ice cream, but more denser. It is usually made be boiling milk over low heat for a long period, until it has reduced considerably in volume and then sweetened, flavored and frozen in small earthen pot molds known an "Matki".
But, aluminum / stainless steel / plastic molds are widely used in modern times. It is almost uncommon to find kulfi served in scoops like ice cream. Some recipes include using thickening agents like cornstarch or bread crumbs to give a more creamier consistency.
Kulfi ice cream comes in various flavors such as cardamon, saffron, mango, rose, pistachio, almond, orange and strawberry.
This Method vs Traditional Method
Traditional method
Time consuming
Laborious
Dense
More icy
Our method
Almost no-cook
Super easy
Amazingly creamy
Light
Yet, IT TASTES SUPER AUTHENTIC!!!
I love this pistachio kulfi recipe so much. It has been a family and friends favorite for decades and reader favorite since it has been posted.
No ice cream maker required
Making ice cream at home requires an ice cream maker to get a creamy texture without any ice crystals and can be temperamental at worst. This method avoids all of that and still get your licks in. It only takes a hand mixer, a couple of bowls and three main ingredients to make.
Most homemade ice creams start with an egg custard base that is cooked with a watch full eye so you don't end up with scrambled eggs. This recipe uses no eggs, so there is NO ROOM FOR ERROR.
Why are you going to love this?
It is incredibly easy to make by using the no churn method of making ice cream, making it an ALMOST a no-cook recipe. This method also guarantees an ultra creamy texture without an ice cream maker. Most importantly, this is an eggless recipe, making it perfect for vegetarians.
It is perfect for dinner parties, get togethers or just for your family, since this recipe requires to be made ahead and stored in the freezer. It is so much fun to eat as popsicles or in a mold.
Kulfi moulds
As we mentioned earlier, kulfi is traditionally frozen in molds. You could use any popsicle molds that you have on hand. Don't have any moulds? Transfer kulfi mixture into any freezer safe container and freeze until firm. Scoop kulfi ice cream into serving cups.
We used these Dixie paper cups and Popsicle sticks. You can use any popsicle mould that you have around.
Flavorings
Traditional recipes are usually flavored with either cardamom, saffron, rose, mango, or pistachios. We loved the magical combination of pistachio, saffron and cardamom for this recipe to make the most delicious kulfi you have ever tasted.
How to make cardamom powder?
Grind about ¼ cup green cardamoms to a fine powder in a dry grinder and measure as needed for the recipe. I usually grind much more than that and store cardamom powder in a sealed zip lock bag and place in the freezer. This stays fresh for months.
Can I make it without molds?
Sure can! Make ice cream as instructed, transfer to a freezer safe container, seal tight and freeze overnight. To serve - scoop ice cream using an ice cream scoop, into serving bowls.
Key ingredients
This homemade kulfi recipe requires only 2 main ingredients like heavy cream and sweetened condensed milk. The flavorings include saffron, cardamom powder and pistachios for some crunch.
Pro Tips for Success
Get the right ingredients. Because this recipe requires so few ingredients, it's important that you buy exactly what's listed in the recipe card below. Don't try to substitute low fat or lower sugar alternatives otherwise your kulfi won't turn out right.
Use freshly ground cardamom for best flavor.
Do not use low fat condensed milk or half & half instead. This is an indulgent dessert after all!
How to make kulfi?
Steep saffron- Make saffron cream. Let half the cream come to a boil, stir in saffron and let hang out for a day in the refrigerator (refer picture above).
Make ice cream - Beat saffron cream and remaining cream, until thick and soft peaks form (refer picture below). Add sweetened condensed milk, pistachios and cardamom powder, beat to combine well (refer pictures above).
Freeze - Pour into your favorite molds, insert popsicle sticks or into a freezer safe container and freeze until solid.
How long does this last?
This recipe will last for one to two months in the freezer. Keep the container tightly sealed to ward off freezer burn.
More cardamom flavored recipes: Cardamom Cookies, Zucchini Cardamom Cupcakes , Cashew Snowball Cookies, Mango Clafoutis or Chai Cake in a Mug.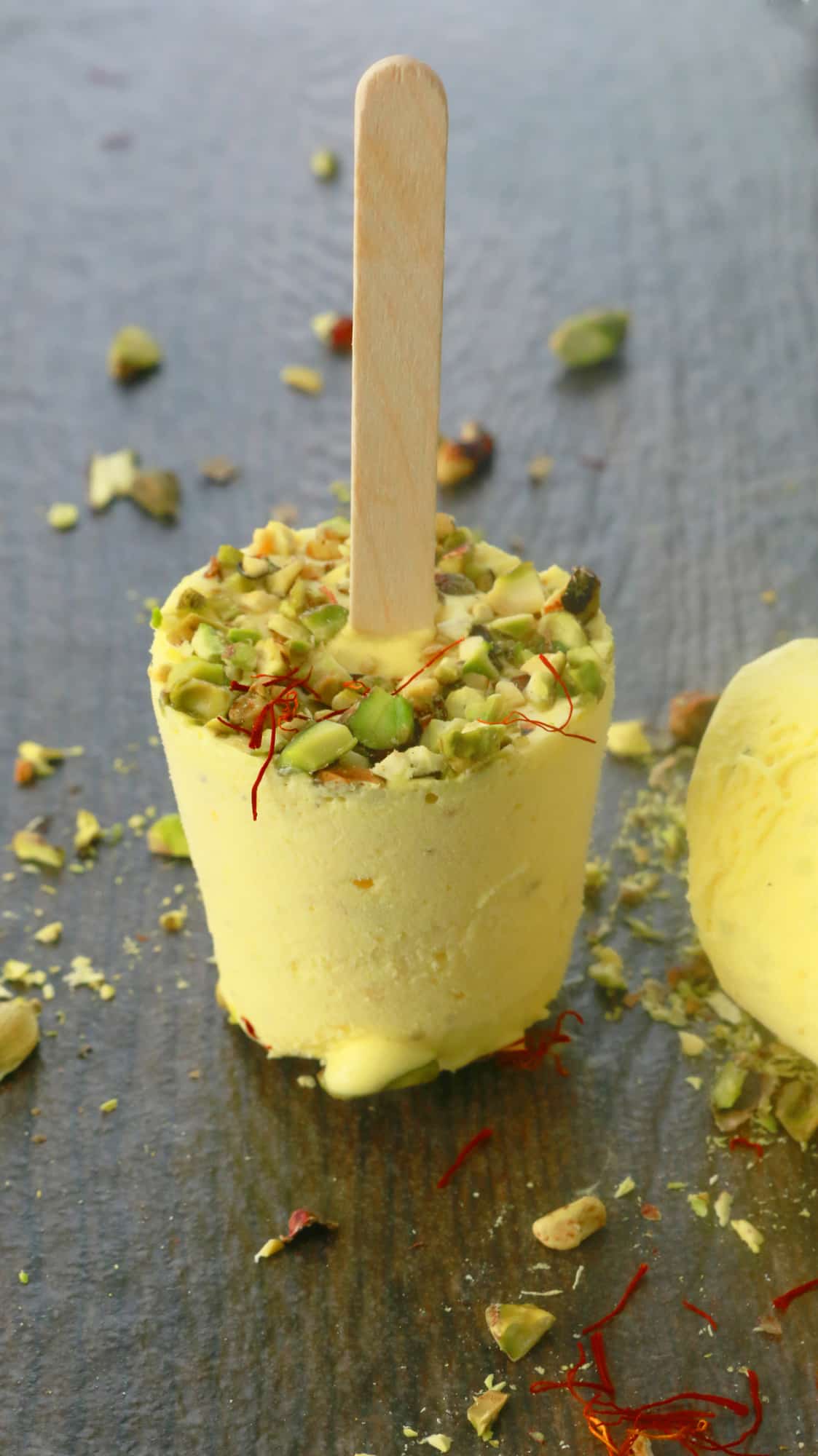 Frequently asked questions:
How many servings is this recipe?
This recipe makes 12 servings. When using Dixie cups, I was able to make about 15-16 cups.
Is it necessary to heat the cream or could it not be whipped right away?
The reason for heating the cream is for saffron to infuse into the cream, which gives the main kulfi flavor. 
How long can this be kept frozen?
This homemade kulfi is good frozen for up to a month.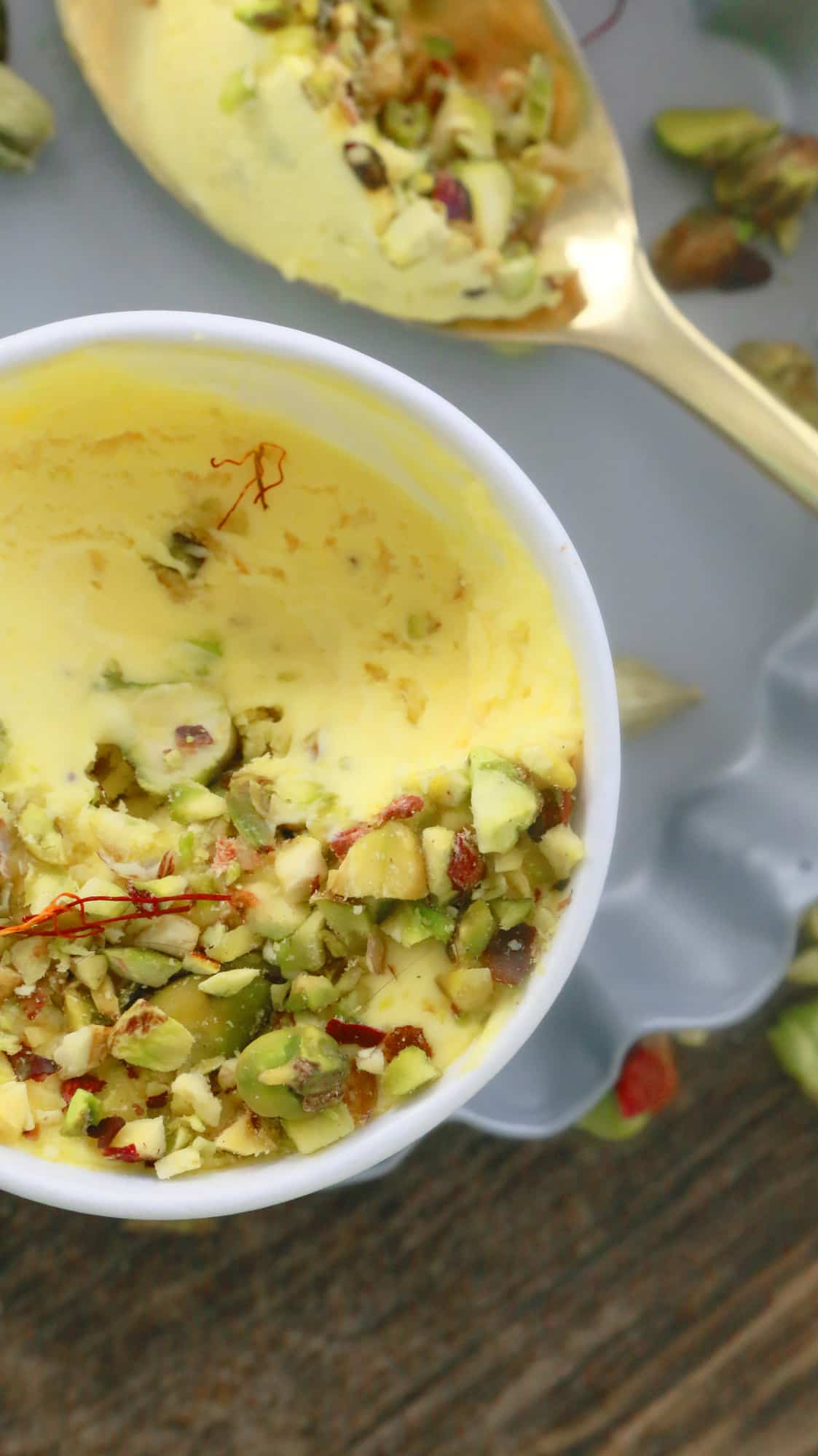 More Kulfi recipes to try -
Follow me on INSTAGRAM, TIK TOK, FACEBOOK or PINTEREST for more delicious recipes.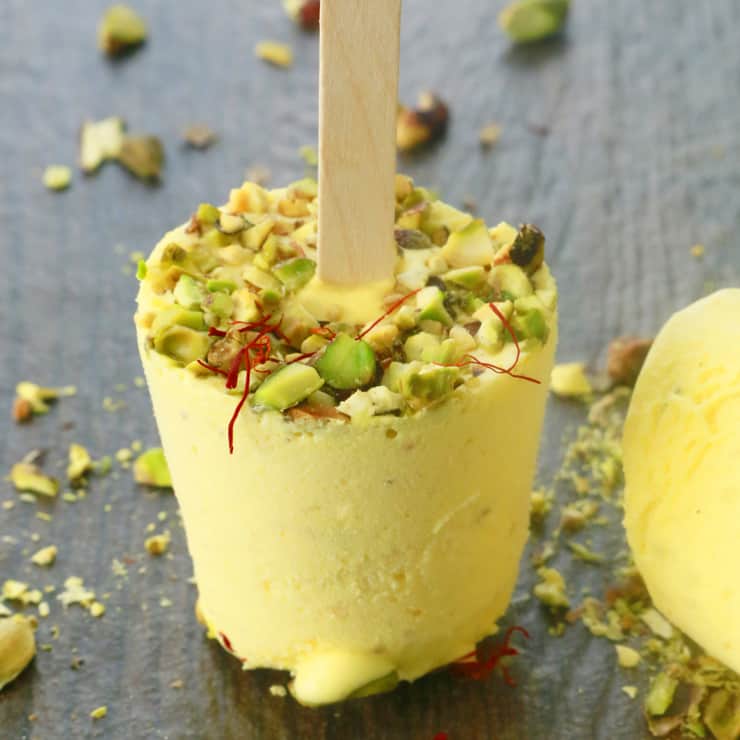 Easy Kulfi Recipe (easiest and creamiest)
Easy kulfi recipe that is sure going impress your family and friends! We are talking super creamy no-churn kulfi ice cream.
Print
Pin
Rate
Ingredients
2

cups

heavy cream, divided

½

teaspoon

saffron threads

1

(14-ounce)

can sweetened condensed milk

1

teaspoon

cardamom powder

¼ cup + 2 tablespoons

raw pistachios, chopped, divided
Additional ingredients
Instructions
Day-1
Into a small saucepan, add 1 cup heavy cream and saffron. Heat over low-medium heat, until it comes to a gentle boil. Remove from heat and cool to room temperature. Transfer cream into a covered container and refrigerate until completely cold (at least 5 hours or up to a day).
Day-2
Into a large bowl, combine saffron soaked heavy cream and remaining 1 cup heavy cream. Beat with hand held electric beater (on high speed) until thick and softly whipped (when soft peaks begin to form), about 1 ½ minutes.

Into the whipped saffron cream, add sweetened condensed milk, cardamom powder and 3 tablespoons chopped pistachios. Whip again for about 30 seconds, until mixed completely.
To make easy Kulfi moulds
Transfer mixture into popsicle molds or paper cups. Sprinkle remaining chopped pistachios on top, insert popsicle sticks and place in freezer overnight. ( If using paper cups – when ready to eat, snip off a bit of the cup and peel off pop)
To make easy Kulfi ice cream
Transfer mixture into a freezer safe container, sprinkle remaining chopped pistachios on top. Cover and freeze overnight. To serve, scoop kulfi into serving bowls.
Notes
I used  Dixie paper cups and Popsicle sticks. You can use any popsicle mould that you have around.
Don't have any moulds? Transfer kulfi mixture into any freezer safe container and freeze until firm. Scoop ice cream into serving bowls. 
Nutrition
Serving:
1
g
|
Calories:
187
kcal
|
Carbohydrates:
1
g
|
Protein:
1
g
|
Fat:
12
g
|
Saturated Fat:
8
g
|
Polyunsaturated Fat:
1
g
|
Monounsaturated Fat:
3
g
|
Cholesterol:
38
mg
|
Sodium:
9
mg
|
Potassium:
34
mg
|
Fiber:
0.04
g
|
Sugar:
1
g
|
Vitamin A:
500
IU
|
Vitamin C:
0.2
mg
|
Calcium:
23
mg
|
Iron:
0.1
mg
Nutritional information is based on third party calculations, should be considered estimates and not be construed as a guarantee. Varying factors such as product types, brands purchased, produce, the way ingredients are processed and more change the nutritional information in any recipe.
Did you make this recipe? I'd love your feedback! Please let me know by leaving a comment or review below or snap a photo and share on Instagram.
All contents and images are my original work, unless and otherwise mentioned. Please do not use my recipes or images without linking back to www.kitchenathoskins.com. If you wish to republish a recipe, please rewrite in your own words and don't forget to include a link back to the original recipe.
Some of the links above are affiliate links, which pay me a small commission for my referral at no extra cost to you! I am a participant in the Amazon Services LLC Associates Program, an affiliate advertising program designed to provide a means for us to earn fees by linking to Amazon.com and affiliated sites. Thank you for supporting kitchenathoskins.com.