This kulfi recipe is incredibly creamy without any ice crystals. Made using only 5 ingredients, it is super easy to make without no ice cream maker. This mega popular recipe will knock your sock off!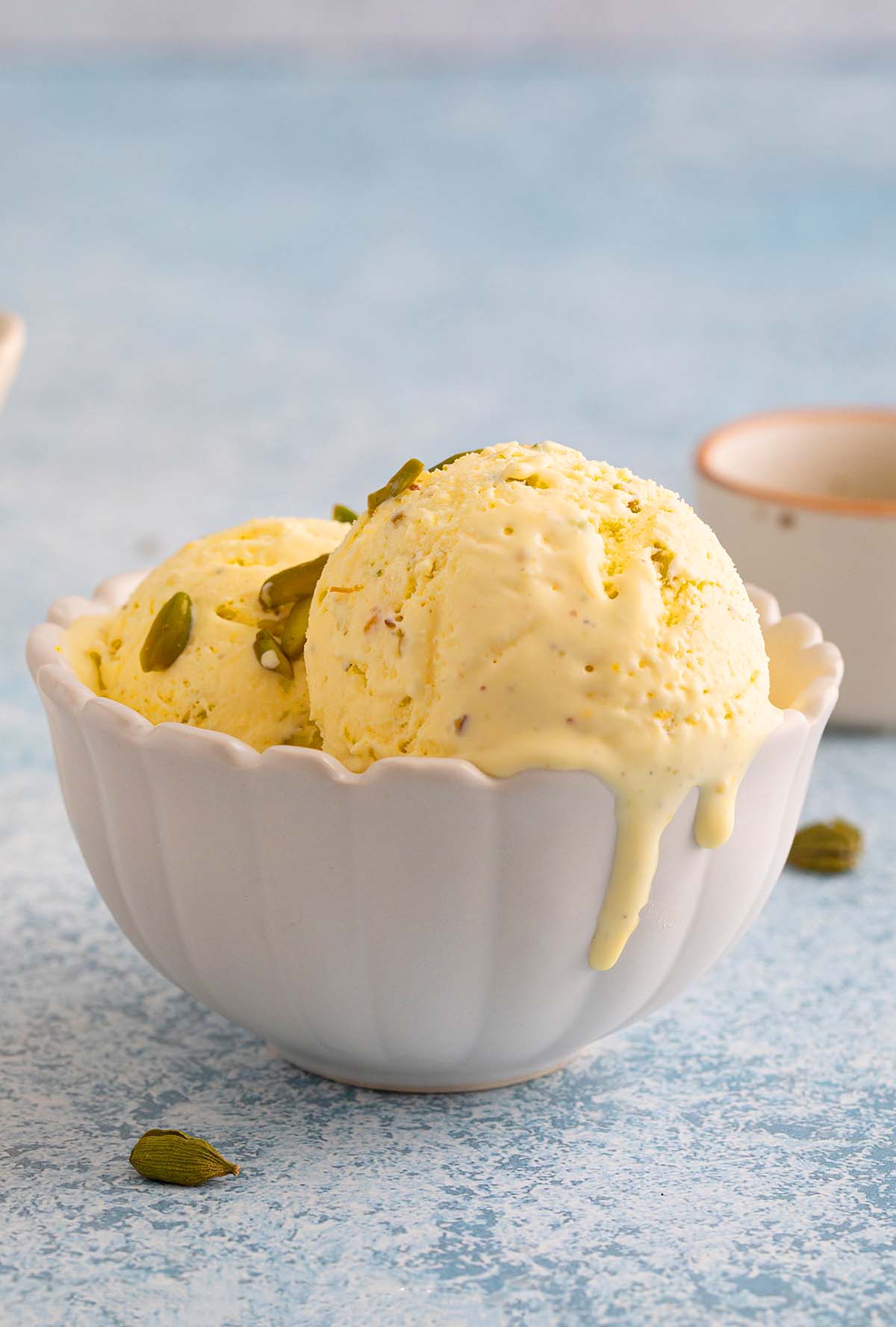 Don't let the simplicity of this kulfi recipe fool you. It is possibly the best homemade kulfi recipe ever, just like this mango kulfi or strawberry kulfi.
Hot Indian summers are never complete without mangoes and kulfi! It evokes memories of my childhood, eagerly anticipating the arrival of the kulfiwhala, in the late evenings.
Kulfi is a frozen dessert, that originated in India during the mughal era, with Delhi believed to be the birthplace of kulfi. The word kulfi comes from the Persian quilfi, which means covered cup. It is the traditional form of Indian ice cream, that is served usually as popsicles by street vendors.
It is made traditionally made by slow cooking full fat milk, along with sugar, for several hours, until it reduces and thickens, with the top layer of malai or cream constantly mixed into the milk, resulting in a caramelized flavor that's unlike any other.
The mixture is then frozen in aluminium molds or small earthen pot molds known an matki. Kulfi ice cream comes in various flavors such as cardamon, saffron, mango, rose, pistachio, almond, orange and strawberry.
We went the traditional route and flavored this kulfi recipe with saffron and cardamom, which is purely magical when combined together. You might love this creative almond kulfi or chocolate kulfi.
How is kulfi different from ice cream? Unlike ice cream, kulfi is not whipped, resulting in a more solid and dense frozen treat. The density of kulfi causes it to melt more slowly than ice cream.
Jump to:
Why this recipe works?
A traditional ice cream begins with a sweetened egg custard mixture, which is then poured into an ice cream machine, that churns, as the ice cream gradually freezes. The churning not only aerates the mixture, making it light and fluffy, but also stops ice crystals from forming, so the ice cream results very creamy.
However, this no churn kulfi recipe adopts a very easy method of whipped cream and condensed milk, which is different from neither the traditional ice cream nor the kulfi methods. The whipped cream aerates the mixture, which replicates the effect of incorporating air of an ice cream maker. The condensed milk keeps the mixture creamy without any ice crystals and adds the sweetness.
Few glowing reviews
Tasneem Ammar Nurbhai "I have tried a lot of kulfi recipes, but this is the best kulfi recipe I have made so far. The texture and flavor is just amazing and very appetizing. My husband and son totally love it! Thank you very much for sharing it with us!"
Raj "I made this and oh my god.. so so good! My husband loves kulfi and this came out awesome!!! Thank you 😊"
Ingredients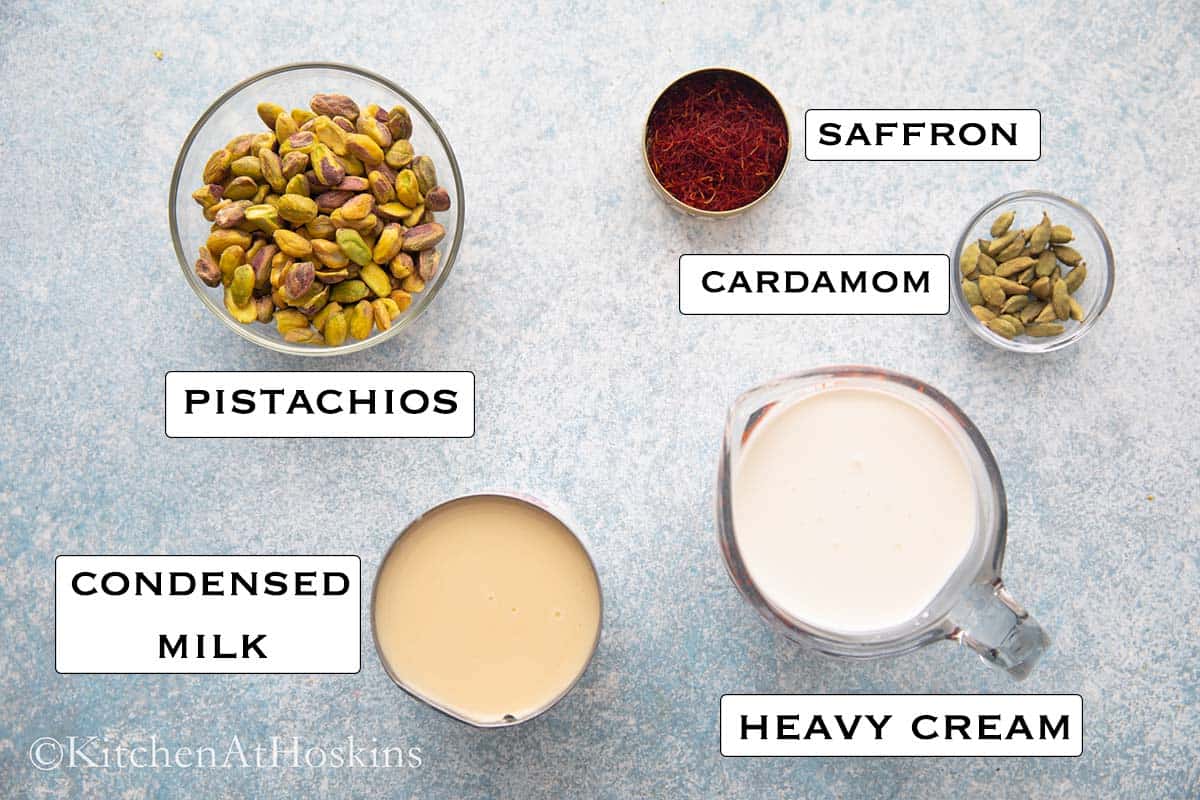 Scroll down to the recipe card below for full information on ingredients and amounts.
Heavy cream - Use heavy whipping cream for an ultra thick and luxurious kulfi recipe. If using low fat cream or just ordinary whipping cream, then we recommend not using in molds. Freeze in an container as shown, scoop and serve.
Condensed milk - Also known as Milkmaid in India, it is sold in cans in the baking isle. It adds sweetness and thickness to the kulfi recipe, and prevents the mixture from forming any ice crystals.
Cardamom - A must for traditional kulfi recipe. Grind cardamom pods into a fine powder at home. Freshly ground cardamom will elevate your kulfi and does not compare to store bought cardamom powder.
Pistachios. Roughly chopped for some added texture. You can skip it to keep it nut-free.
Saffron - The queen of spices! It gives an incredible golden color and flavor and is a must for any kulfi recipe. Saffron can be easily found in all Indian, Pakistani or Middle Eastern grocer stores, or simply on Amazon.
How to make?
You can find full printable recipe below, but here is a quick overview of the procedure along with step-by-step photos.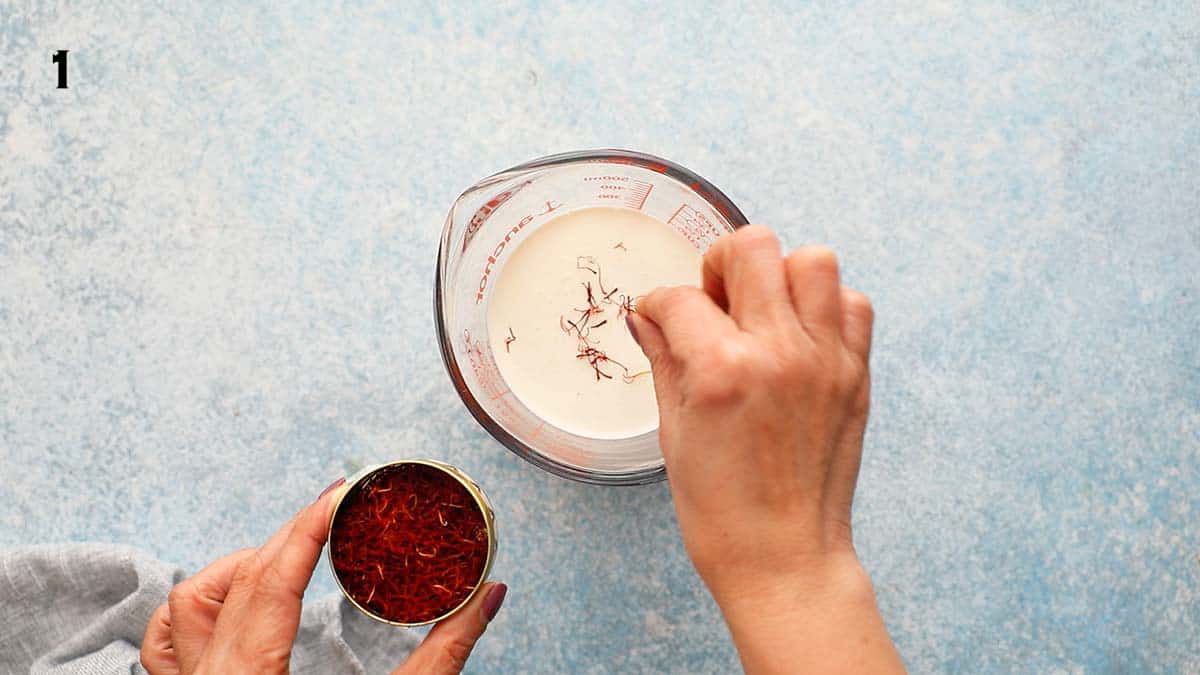 Measure one cup of heavy cream and stir in 2 to 3 pinches of saffron. Cook in microwave or stove top, over gentle heat, until it comes to a gentle boil. Remove from heat, let cool completely at room temperature and then chill in the refrigerator for several hours or up to a day.
Tip: Don't walk away! When heating cream, there might be just a few bubbles around the edge but the next thing you know, there's steamy cream cascading over your stove top or microwave.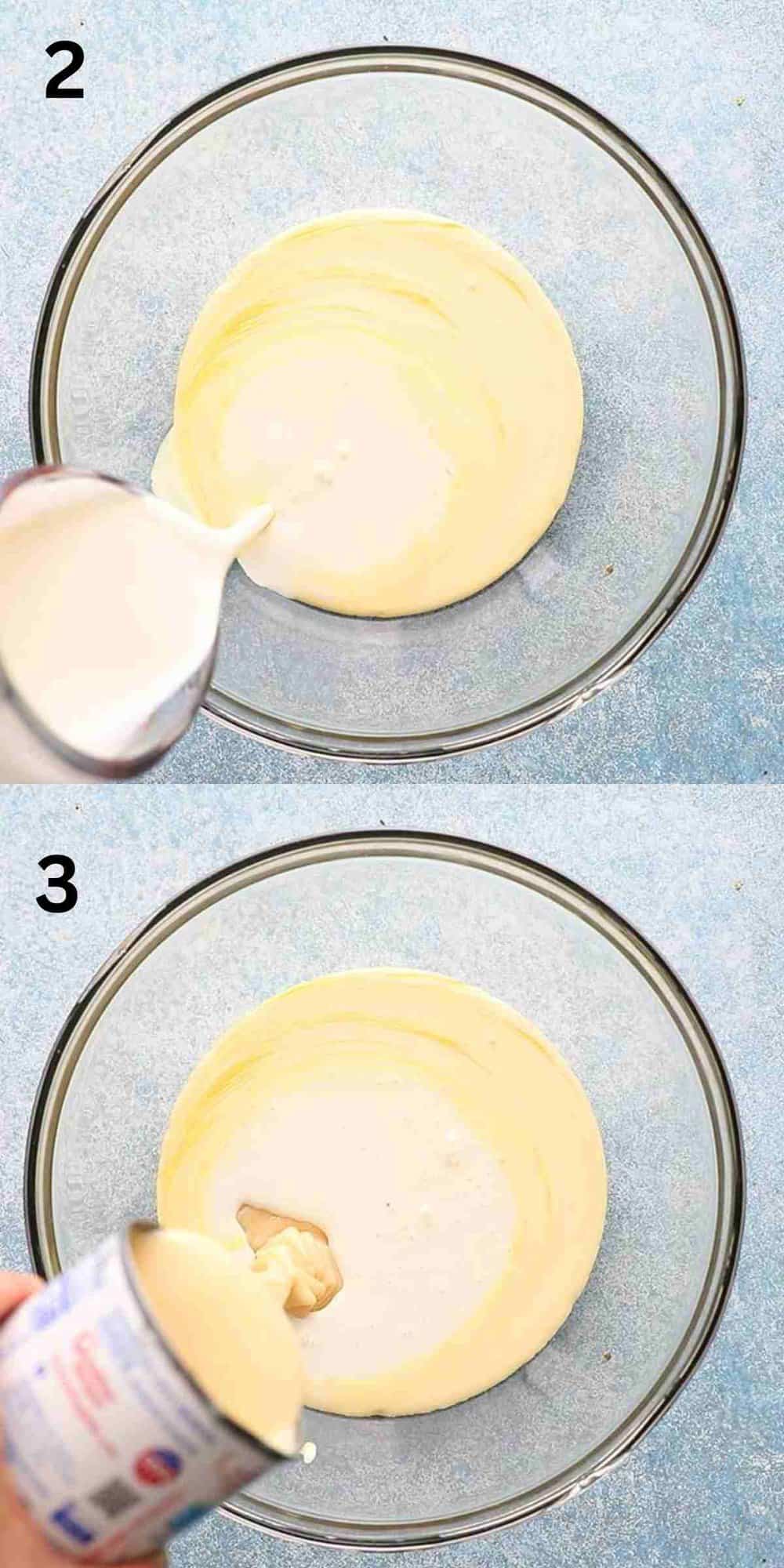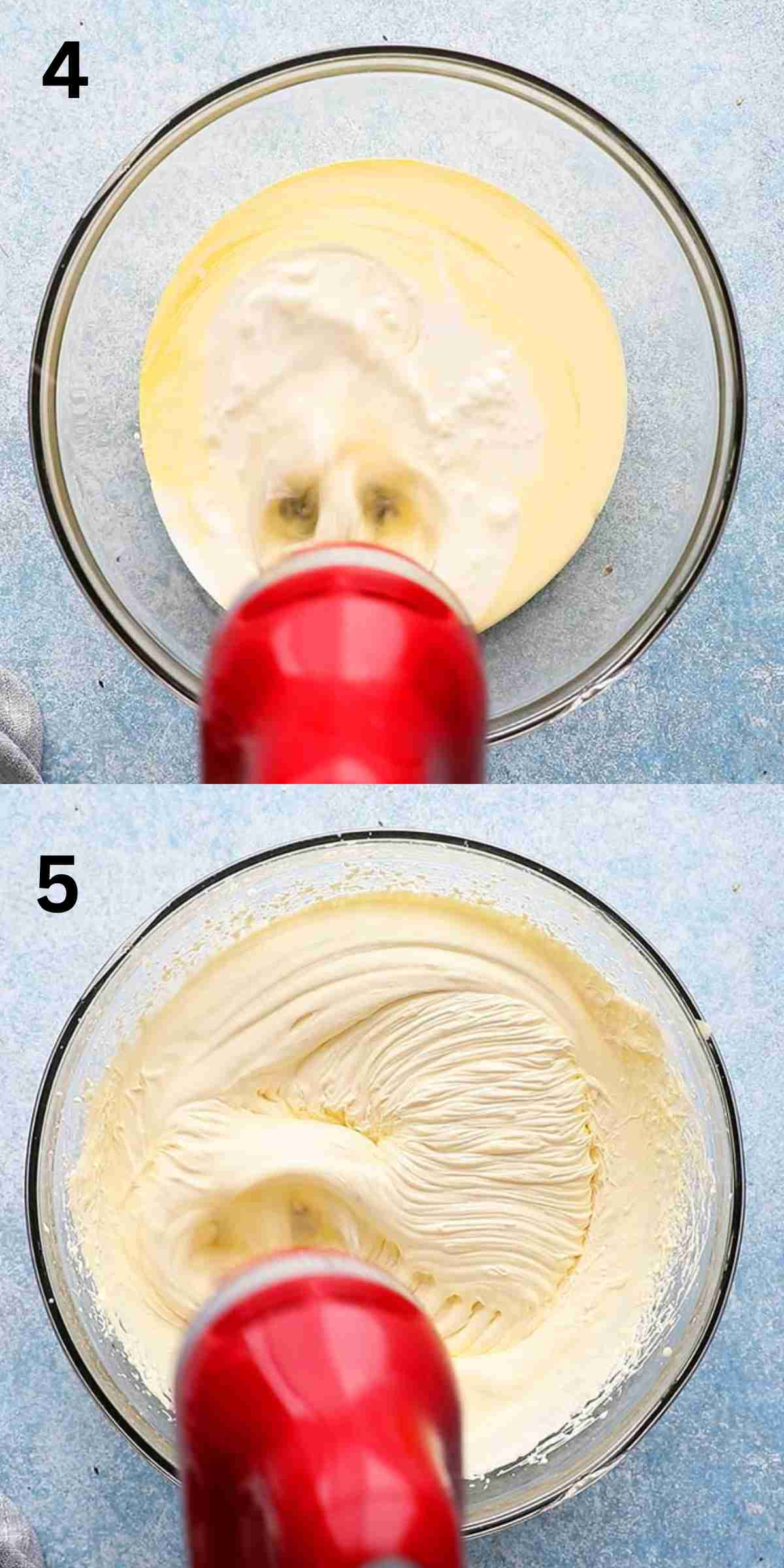 2. Pour chilled saffron infused cream and one cup of plain heavy cream into a large bowl.
3. Add one can of sweetened condensed milk or Milkmaid into the bowl.
Tip: Make sure to scrape every last bit from the can. You don't want to waste the good stuff!
4 & 5. Using a hand held electric beater, beat on high speed until it gets very thick and creamy.
Tip: Whip cream until it is well whipped. It will take about 2 to 3 minutes with a handheld beater. We need good aeration for an unparalleled creaminess!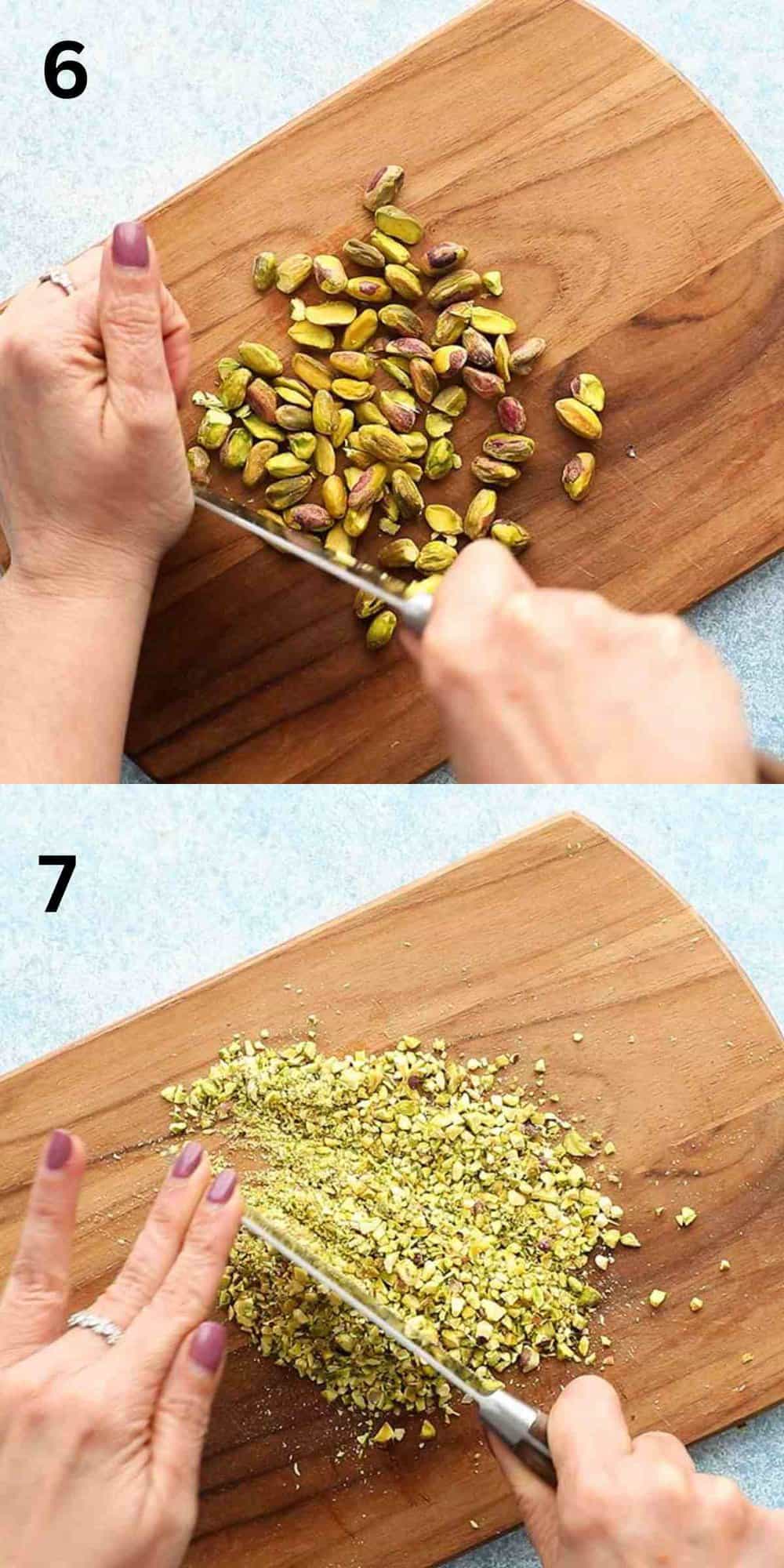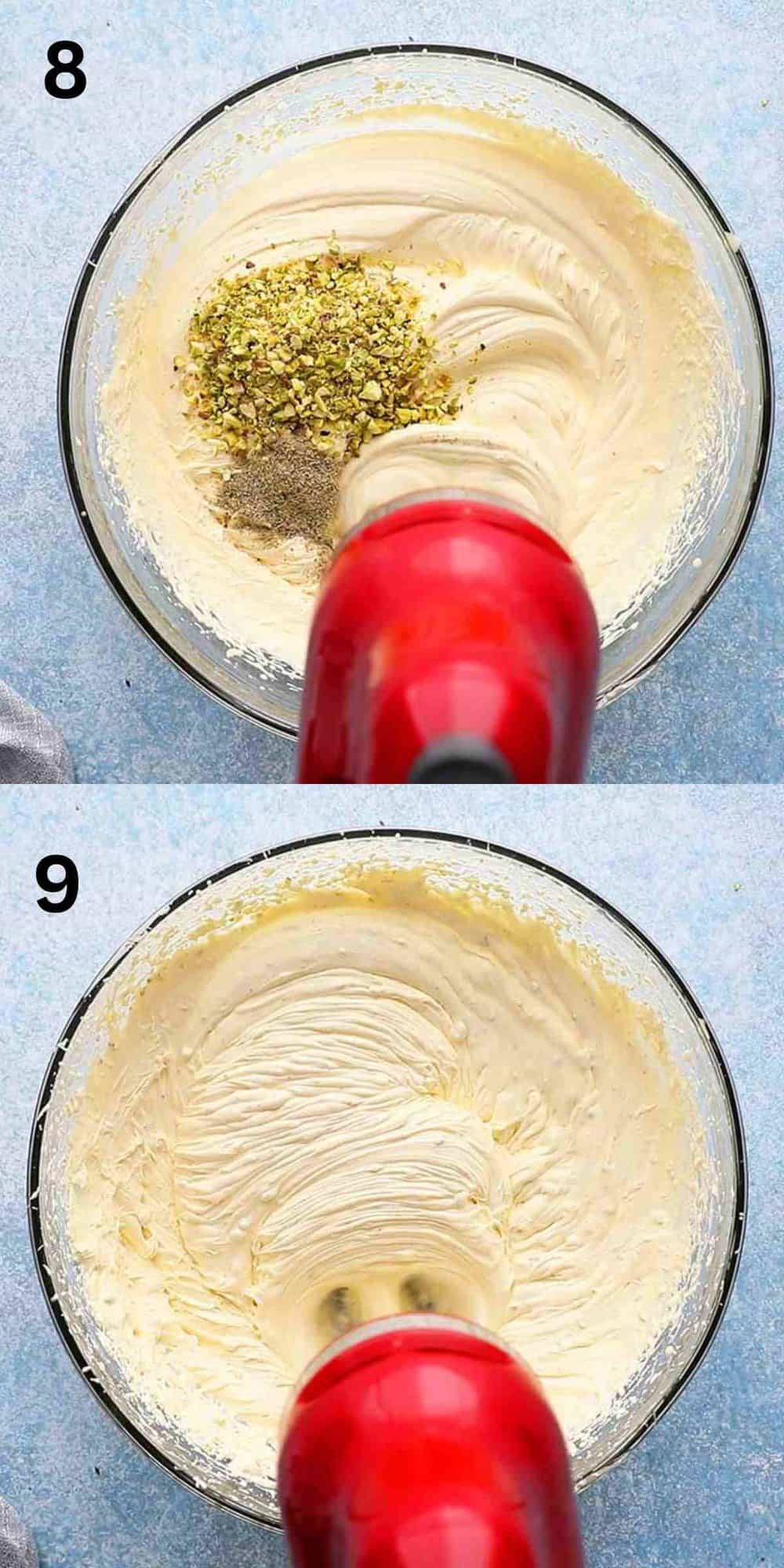 6 & 7. Chop pistachios. Place raw pistachios on a cutting board and run a large knife over it in a rocking motion, until it is very finely chopped.
Tip: Alternatively, add your raw pista into the dry blender, grinder, Nutri bullet or a mixie and give a pulse, stopping every few seconds, until chopped fine. Don't let it grind into a fine powder!
8 & 9. Add about 3 tablespoons of the chopped pista or pistachios into the whipped mixture along with cardamom powder and continue beating for about a minute, until evenly combined.
Tip: Grind your cardamom at home for the best flavor in your kulfi recipe! Add about 2 to 4 tablespoons green cardamoms into a dry grinder or mixie and process until it gets to a very fine texture.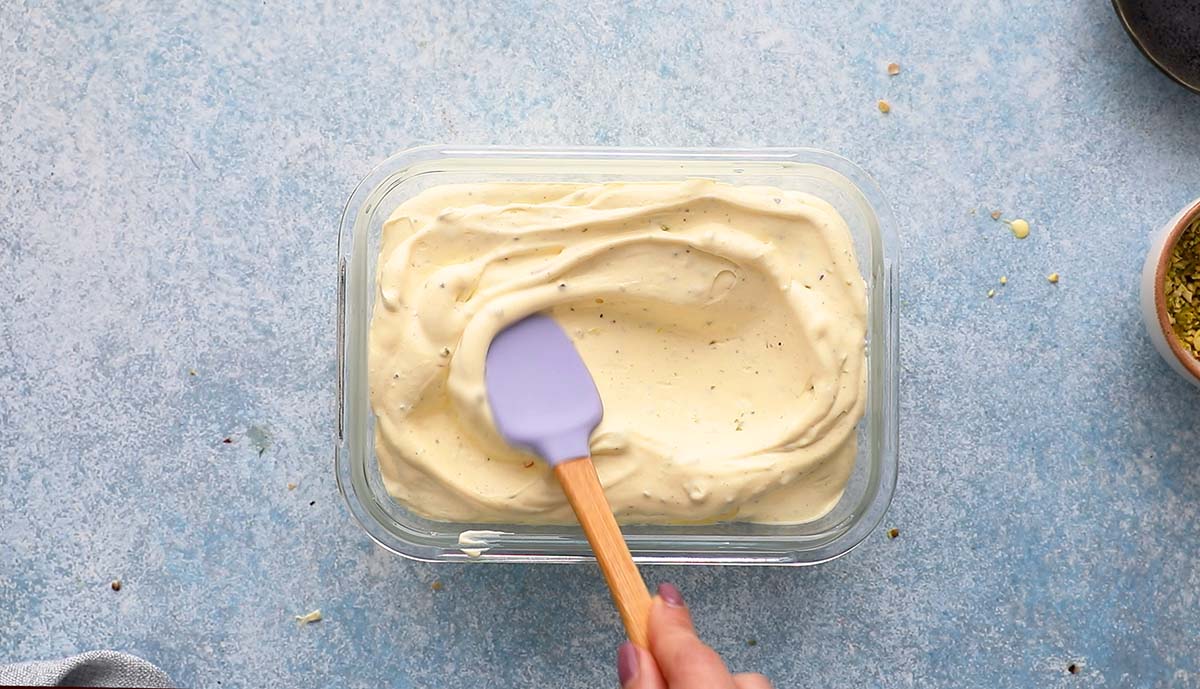 How to freeze?
Although tradionally kulfi is served in popsicle molds or small earthern pots called matki, you can freeze in any freezer safe container, scoop and serve in bowls or freeze in popsicle molds. This kulfi recipe makes an excellent base for kulfi ice cream cake.
To freeze, transfer you kulfi recipe into a freezer safe container or popsicle molds, top with more chopped pistachios and freeze overnight.
How long will this last?
The kulfi recipe will keep in the freezer for months, just like real ice cream. I like to leave it on the kitchen counter for 5 to 10 minutes for easy scooping.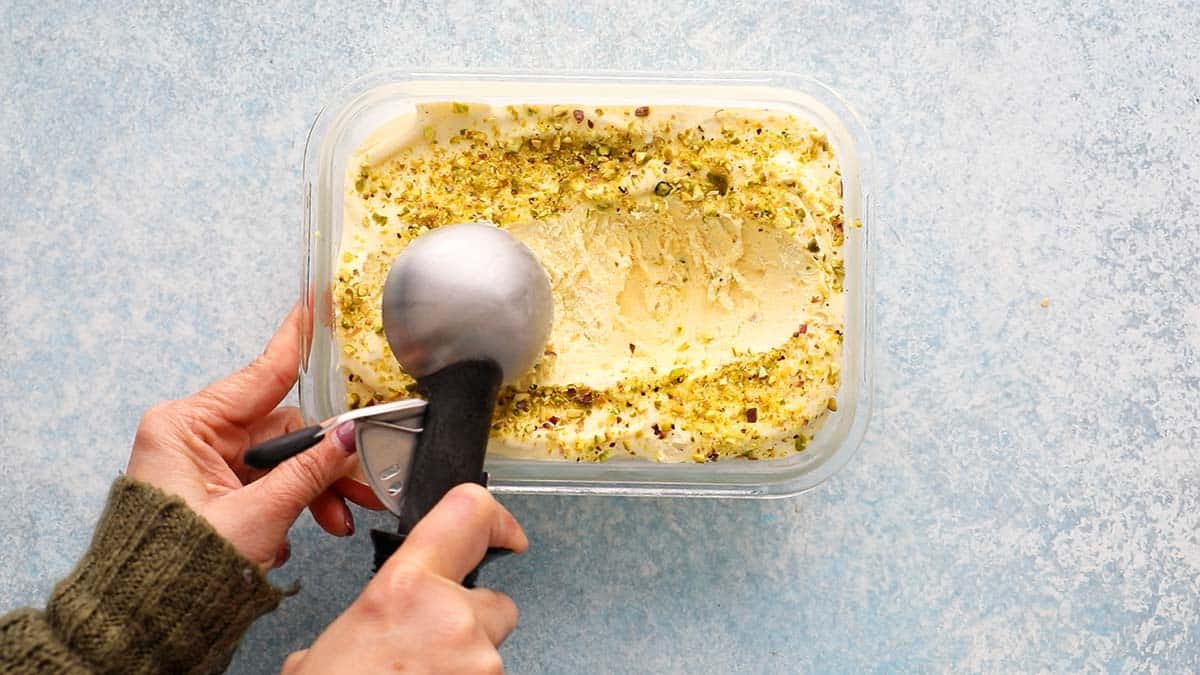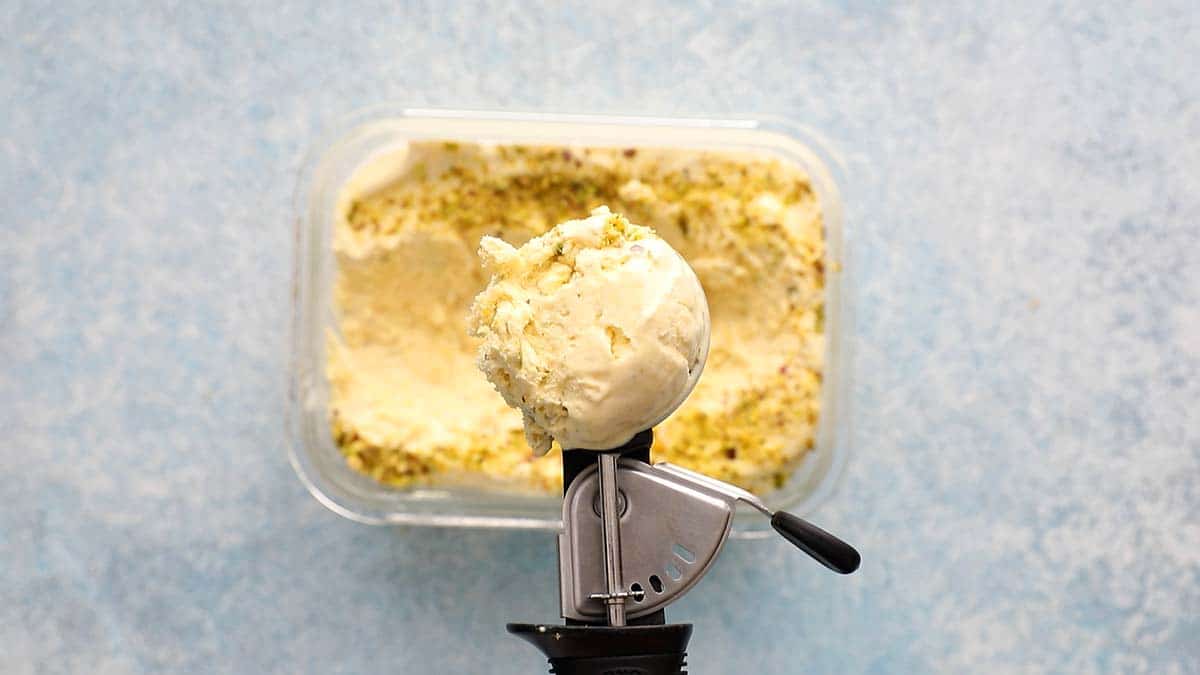 Helpful tips
Allow at least 6 hours for the kulfi to freeze properly.
Get the right ingredients - This recipe requires only a handful of ingredients and it's important that you buy exactly what's listed in the recipe card below. Low fat or lower sugar alternatives might not work here.
Grind your cardamom fresh for the best flavor.
Recipe FAQs
How to make cardamom powder?
Grind 2 to 4 tablespoons green cardamoms into a fine powder, using any dry grinder, Nutri bullet, coffee grinder or mixie. Measure as needed for the kulfi recipe.
Tip: Freeze leftover ground caradmom, in an air tight container or zip lock bag, to maintain freshness for months.
What is kulfi called in English?
The word kulfi originates from the Persian word qulfi, meaning covered cup, because traditionally kulfi is frozen in small terracotta earthen cups called matki. Kulfi is an Indian dessert made by freezing concentrated, sweetened milk. It is usually flavored with cardamom, saffron or rose water.
How is kulfi different from ice cream? 
Although kulfi is an Indian ice cream, it is a little different than your standard creamy ice cream. There are no eggs in a kulfi recipe and it is made by concentrating milk hence results in a more denser treat.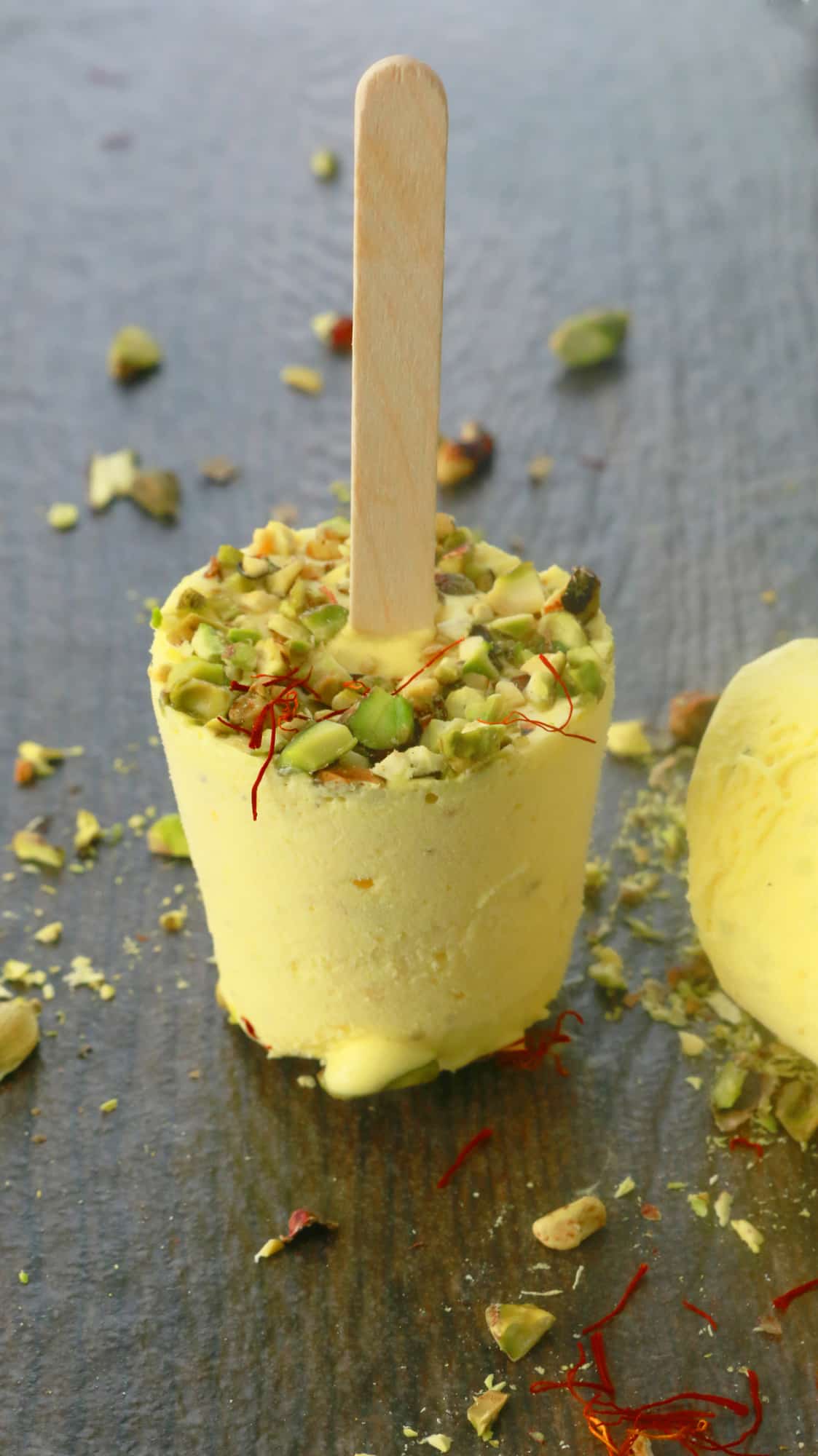 More Indian dessert recipes to try:
Hungry for more? Follow me on Instagram, TikTok, Facebook or Pinterest for more delicious recipe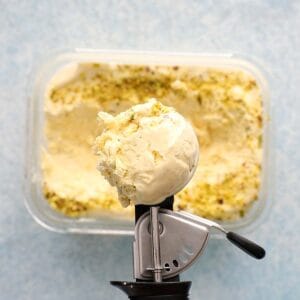 Kulfi Recipe
This kulfi recipe is incredibly creamy without any ice crystals. Made using only 5 ingredients, it is super easy to make without no ice cream maker. This mega popular recipe will knock your sock off!
Print
Pin
Rate
Ingredients
2

cups

heavy cream, divided

½

teaspoon

saffron threads

1

(14-ounce)

can sweetened condensed milk

1

teaspoon

cardamom powder

¼ cup + 2 tablespoons

raw pistachios, chopped, divided
Additional ingredients
Instructions
Day-1
Into a small saucepan, add 1 cup heavy cream and saffron. Heat over low-medium heat, until it comes to a gentle boil. Remove from heat and cool to room temperature. Transfer cream into a covered container and refrigerate until completely cold (at least 5 hours or up to a day).
Day-2
Into a large bowl, combine saffron soaked heavy cream and remaining 1 cup heavy cream. Beat with hand held electric beater (on high speed) until thick and softly whipped (when soft peaks begin to form), about 1 ½ minutes.

Into the whipped saffron cream, add sweetened condensed milk, cardamom powder and 3 tablespoons chopped pistachios. Whip again for about 30 seconds, until mixed completely.

Tip: This method of beating the heavy cream into soft peaks and then beating in the condensed milk will give a firmer textured kulfi that is perfect for popsicles or kulfi molds. If you are freezing in a container (to scoop and serve in bowls), then you can beat both heavy cream and condensed milk together until thick and fluffy (like the step-by-step photos and video).
To make easy Kulfi moulds
Transfer mixture into popsicle molds or paper cups. Sprinkle remaining chopped pistachios on top, insert popsicle sticks and place in freezer overnight. ( If using paper cups – when ready to eat, snip off a bit of the cup and peel off pop)
To make easy Kulfi ice cream
Transfer mixture into a freezer safe container, sprinkle remaining chopped pistachios on top. Cover and freeze overnight. To serve, scoop kulfi into serving bowls.
Notes
Don't have any moulds? Transfer kulfi mixture into any freezer safe container and freeze until firm. Scoop ice cream into serving bowls.  Allow at least 6 hours for the kulfi to freeze properly.  Grind your cardamom at home for the best flavor! Add about 2 to 4 tablespoons green cardamoms into a dry grinder or mixie and process until it gets to a very fine texture.
Nutrition
Serving:
1
Serving
|
Calories:
117
kcal
|
Carbohydrates:
1
g
|
Protein:
1
g
|
Fat:
12
g
|
Saturated Fat:
8
g
|
Polyunsaturated Fat:
1
g
|
Monounsaturated Fat:
3
g
|
Cholesterol:
38
mg
|
Sodium:
9
mg
|
Potassium:
36
mg
|
Fiber:
0.1
g
|
Sugar:
1
g
|
Vitamin A:
501
IU
|
Vitamin C:
0.2
mg
|
Calcium:
23
mg
|
Iron:
0.1
mg
Nutritional information, based on third-party calculations, should be seen as estimates, not guarantees, as various factors like product types, brands, processing methods, and more can alter the nutritional content in recipes.
Did you make this recipe? I'd love your feedback! Please let me know by leaving a comment, a star rating or review below.
All contents and images are my original work, unless and otherwise mentioned. Please do not use my recipes or images without linking back to www.kitchenathoskins.com. If you wish to republish a recipe, please rewrite in your own words and don't forget to include a link back to the original recipe.
Some of the links above are affiliate links, which pay me a small commission for my referral at no extra cost to you! I am a participant in the Amazon Services LLC Associates Program, an affiliate advertising program designed to provide a means for us to earn fees by linking to Amazon.com and affiliated sites. Thank you for supporting kitchenathoskins.com.