Really good naanwich that is made with leftover tandoori chicken and cashew mint chutney.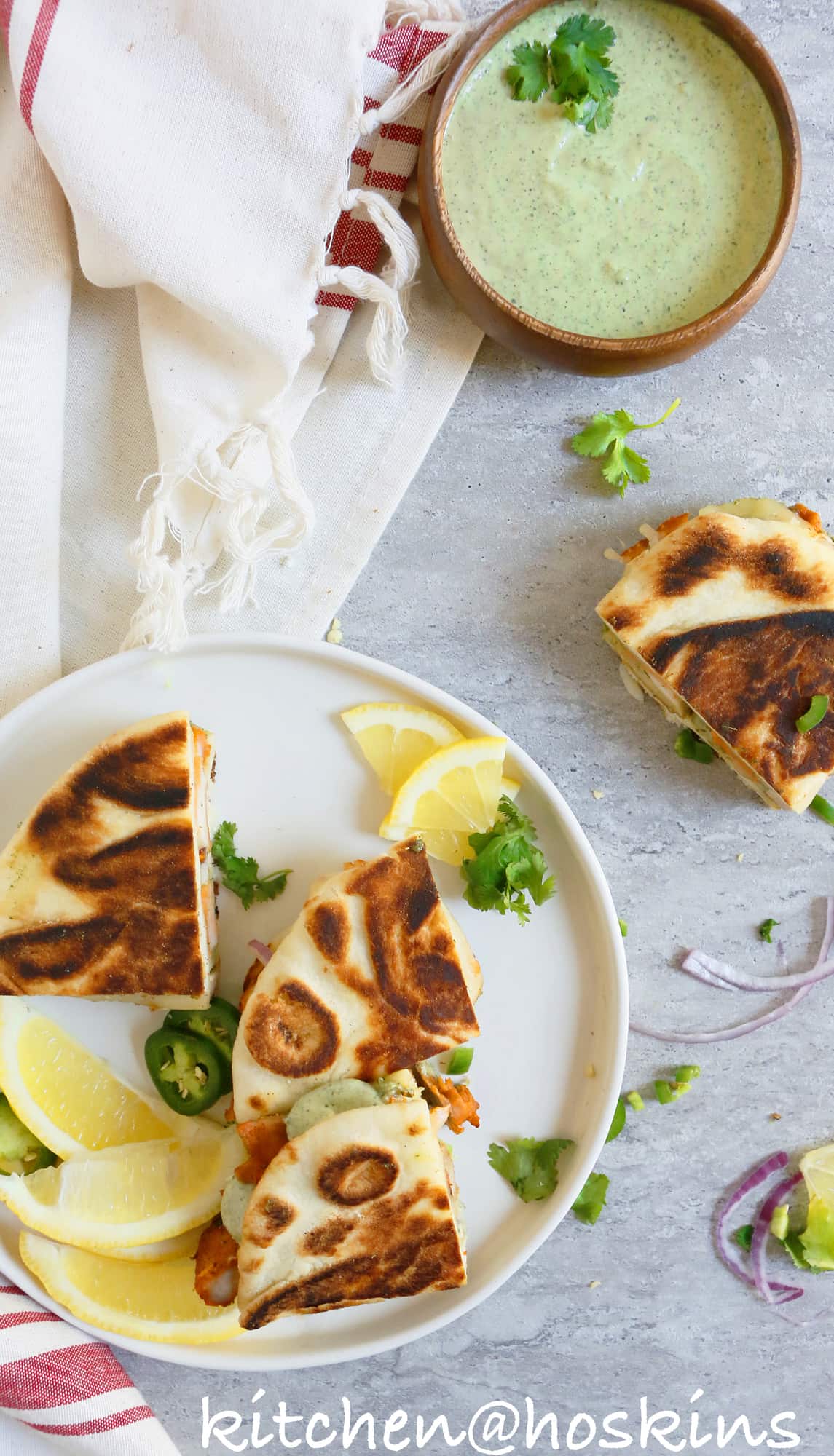 Sandwiching in desi style!!!
A grilled cheese that does not look anything like your everyday grilled cheese.
Naanwich, as I'm calling them start with a naan ( store-bought for convenience), layered with chopped tandoori chicken, cashew-mint-chutney-mayo-thingy, spicy pepper jack (why not?) and creamy mozzarella.
Now, you could use leftover naan, tandoori chicken and mint chutney from your takeout.
OR make a double batch of tandoori chicken <— perfect every time. This is seriously the best recipe ever!!! I've made it thousands of times and it's a huge hit every time. The best part of this recipe is that, it is incredibly easy
stir marinade ingredients together
toss chicken
let it hang out in the fridge
Broil in the oven or grill.
Ain't easy? I told ya!
Now, you have your amazing tandoori chicken, chilling in a tupperware.
Aaand, make a HUGE batch of this Cashew mint chutney (Stores well in the freezer. Spoon leftover chutney into empty ice cube trays, freeze until solid, pop them out and place into a zip lock bag, seal and freeze for up to 3 months. Thaw one or two or more depending on your requirement. Did I tell you that a spoonful of this will wake up your chicken / egg salad).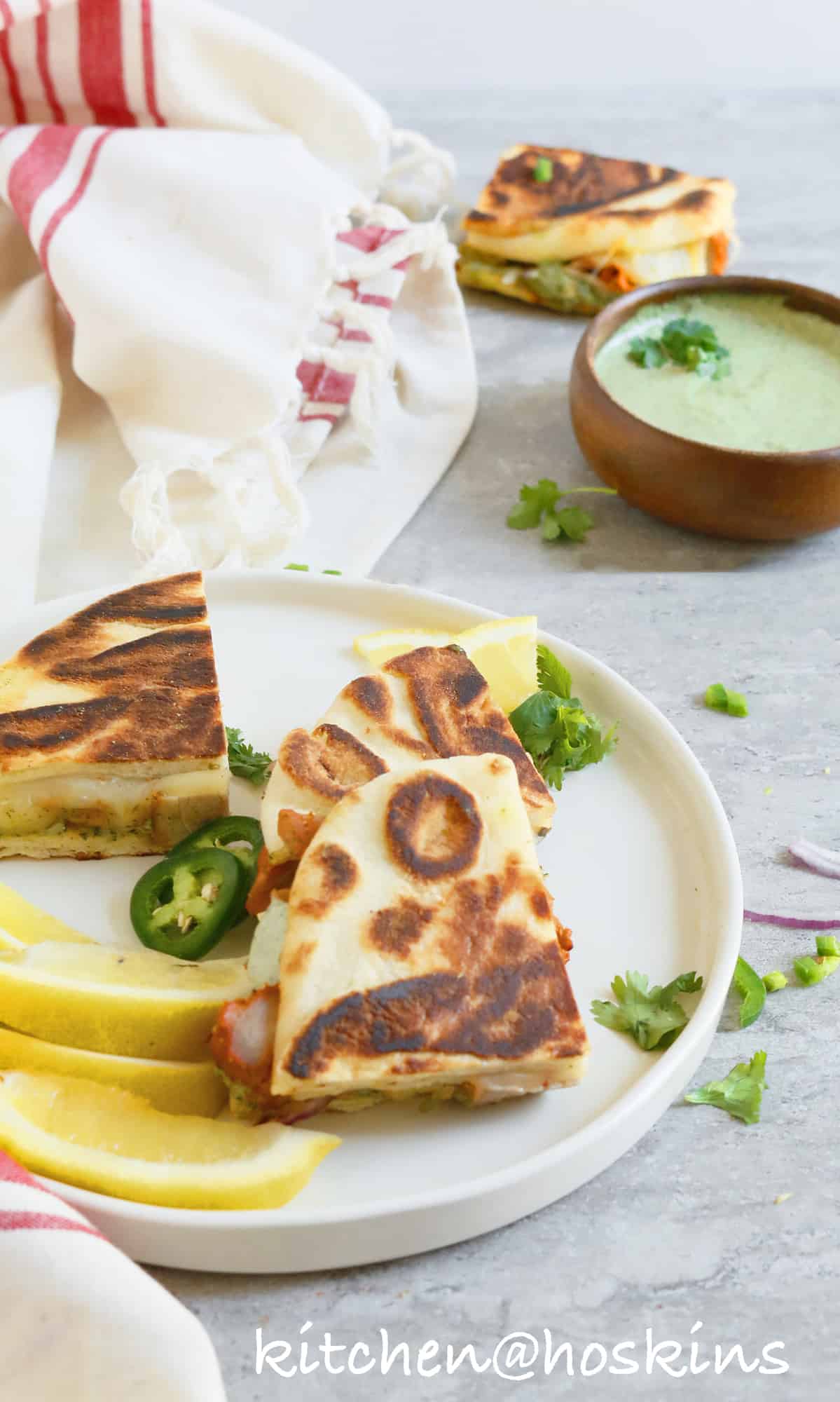 This naan sandwich is as easy as any grilled cheese
spread some cashew-mint-mayo-spread on a naan
top off with chopped tandoori chicken
some red onion slices
grated pepper jack and mozzarella
close with another naan
cook like a grilled cheese on both sides, until cheese melts.
Print Recipe
Tandoori Chicken Naanwich
Really good naanwich that is made with leftover tandoori chicken and cashew mint chutney.
Ingredients
1/3

cup

cashew mint chutney

1/3

cup

mayonnaise

1

recipe

tandoori chicken, chopped, recipe below

1/8

small red onion, thinly sliced

1

cup

grated pepper jack cheese (or monterey jack)

1/2

cup

grated mozzarella cheese

6

mini naans or 4 medium naans
Instructions
Stir cashew mint chutney and mayonnaise together in a bowl and set aside.
If using mini naans,
Place 3 mini naans on the kitchen counter, spread 1/3rd mint-mayo mixture, top with 1/3rd chicken, red onion slivers (if using), 1/3rd pepper jack cheese and 1/3rd mozzarella cheese on each naan. Top with remaining 3 naans.
If using medium naans,
Place 2 medium naans on the kitchen counter, spread half mint-mayo mixture, top with half chicken, red onion slivers (if using), half pepper jack cheese and half mozzarella cheese on each naan.Close naanwich with the remaining 2 naans.
To cook naanwich,
Heat a large skillet (that can fit all naanwiches in a single layer) over low- medium heat. When moderately hot, gently transfer naans to the hot skillet and cook until golden on both sides (at least 5 minutes total, for the cheese to melt). Cut into wedges and serve hot
Notes
You may use a small skillet to cook naanwich one at a time.
Tandoori chicken
Easy yet delicious tandoori chicken recipe that comes out perfect everytime. Perfect in the oven or outdoor grill.
Ingredients
4

boneless, skinless chicken thighs (about 1 1/4 pounds)

1/2

cup

greek yogurt

1

tablespoon

lemon juice

1

tablespoon

vegetable oil

1

tablepsoon

dry fenugreek leaves (optional)

2

garlic cloves, grated

1/4

inch

piece ginger, peeled and grated

2

teaspoons

coriander powder

1 and 1/2

teaspoons

salt

1

teaspoon

cayenne pepper powder

1/8

teaspoon

orange food color
Instructions
Stir all ingredients (except chicken) in a medium bowl. Toss chicken around to coat well with the marinade. Cover bowl with a plastic wrap and let marinade in refrigerator for at least 2 hours or up to overnight.

Place a oven safe wire rack in a baking sheet and set aside. Position a oven rack about 6-inches from the heat element and turn on broil.

Place chicken thighs over the wire rack placed in a baking sheet ( the wire rack well help all the moisture to drip down). Let broil for about 20 minutes, until chicken is cooked and slightly charred. Alternatively, you can grill chicken.
Notes
Kasoori methi
 or dry fenugreek leaves is an authentic ingredient in tandoori chicken. It can found at all Indian grocery stores or 
Amazon
. But, this chicken will be still delicious without it. 
All contents and images are my original work, unless and otherwise mentioned. Please do not use my recipes or images without linking back to www.kitchenathoskins.com. If you wish to republish a recipe, please rewrite in your own words and don't forget to include a link back to the original recipe.