The Italian American classic made easy for an effortless weeknight pasta dinner!!! Creamy, cheesy and comforting meatless Baked Ziti in Instant Pot is made with jarred sauce and comes together in less than 30 minutes from start to finish. No bake ziti for the win!
Baked ziti peeps! But, not baked.
YESSS.
A classic Italian American comfort food that involves quite a few steps. What is baked ziti? A variation of lasagna. It is a baked pasta dish made with cooked ziti pasta and Neapolitan style tomato based ragu, layered with creamy ricotta snd mozzarella and then baked. So comforting for a Sunday dinner or pot lucks.
This meatless baked ziti in instant pot is my twist to the classic baked ziti made for a weeknight dinner.
The differences between this easy instant pot baked ziti recipe and the classic:
One pot ( Instant pot that is) – instead of a pan each for cooking pasta, tomato sauce and baking. The pasta is cooked along with the sauce in the instant pot making it more flavorful.
Store bought sauce – Instead of the traditional homemade meat sauce. Best instant pot baked ziti with jar sauce!
Vegetarian – I omitted the meat, making it great option for vegetarians as well. Just use water instead of chicken stock.
Fast – Under 30 minutes from start to finish when compared to 1 – 2 hours that might take for a traditional baked ziti. Thanks to the instant pot. Check out Instant pot dinner ideas
Let us look at the team players in the meatless baked ziti in instant pot:
Ziti pasta – Similar to penne but wider.
Tomato sauce – I used my favorite Prego (tomato, basil & garlic). Have leftover sauce? Check out another vegetarian instant pot pasta recipe: Instant pot no-cream pasta with tomato cream sauce
Chicken stock – I used 33% low sodium. If you are using no sodium or regular then please adjust the salt accordingly.
Cheeses – The classics – ricotta, mozzarella and parmesan
Flavorings – Salt, pepper, Italian seasoning and fresh basil.
Let us get to the process of making this instant pot baked ziti:
Step-1: Saute chopped onion and garlic in some olive oil.
Step-2 : Stir in pasta, tomato sauce, chicken stock, salt, pepper and Italian seasoning. Cook on manual for 6 minutes.
Step-3: In the meantime, stir together ricotta cheese and heavy cream, until thoroughly combined. Stir in shredded mozzarella. ( Why not stir all three ingredients separately into the cooked pasta? This helps in making a more creamier baked ziti since the ricotta melts along with the cream without giving a gritty feel)
Step-4: Open lid immediately and then stir the ricotta-cream mixture until combined.
Step-5: Sprinkle remaining cheeses and chopped basil on top and close lid for about a minute to melt cheeses.
Done and DONE.
Wasn't that easy?
If you like this meatless baked ziti in instant pot then check out out more Instant Pot pasta recipes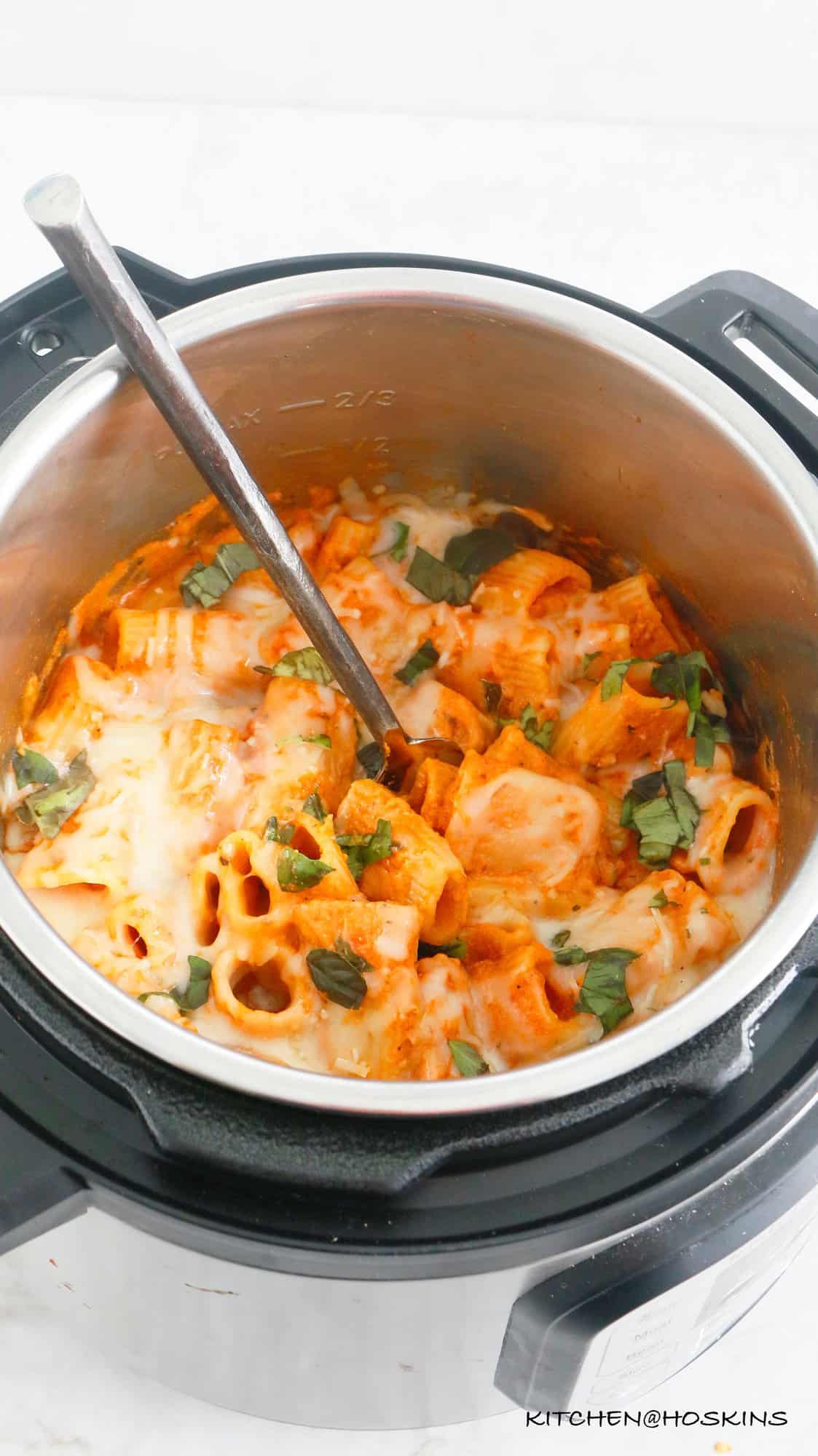 There is something comforting about the combination of pasta and cheese. Right? Check out more such easy pasta dinner recipes :
Instant Pot Chicken Parmesan Sandwich – This Instant Pot chicken parmesan pasta recipe is an easy weeknight dinner recipe. All the flavors of classic chicken parmesan made into a one pot, comforting meal. Easiest clean up!
Instant Pot Shrimp Pasta with Tomato Cream Sauce – Say hello to your new favorite weeknight pasta recipe! This Instant Pot Shrimp Pasta with tomato cream sauce is easy, creamy, ready in under 30 minutes and tastes amazing.
Instant Pot Pasta with Chicken Meat Sauce – Instant pot pasta with meat sauce made with ground chicken instead! Easier and healthier instant pot pasta recipe that is sure to become a family favorite for weeknight dinner or meal prepped for the week. Instant pot pasta with chicken meat sauce for the win!
Creamy Instant Pot Mac and Cheese – Everyone's favorite mac and cheese in Instant Pot! Unbelievably creamy and easy mac and cheese recipe that tastes A-H-M-A-Z-I-N-G and it is made in one pot. Creamy Instant pot mac and cheese is a family favorite!!
My trick in making a creamy baked ziti in instant pot
Mixing ricotta cheese with heavy cream before stirring into the pasta. This gives a creamier saucy coating to the pasta when compared to stirring ricotta directly into the hot pasta.
Heavy cream – A bit of heavy cream is all it takes to give a more luxurious baked ziti
How to make instant pot baked ziti vegetarian?
Just replace chicken stock with water and increase salt, according to taste.
Few notes on making a baked ziti no meat recipe:
Tomato sauce – I used Prego (tomato, basil and garlic). Use your favorite sauce, but adjust salt accordingly.
Chicken stock – I used 33% less sodium chicken stock. If using regular or no sodium stock, then please adjust salt accordingly.
Salt – Salt depends on the type of tomato sauce and chicken stock used.
Love baked ziti? Try this Baked Ziti with chicken recipe
Some of the links above are affiliate links, which pay me a small commission for my referral at no extra cost to you! I am a participant in the Amazon Services LLC Associates Program, an affiliate advertising program designed to provide a means for us to earn fees by linking to Amazon.com and affiliated sites. Thank you for supporting kitchenathoskins.com
All contents and images are my original work, unless and otherwise mentioned. Please do not use my recipes or images without linking back to www.kitchenathoskins.com. If you wish to republish a recipe, please rewrite in your own words and don't forget to include a link back to the original recipe.