BEST Air Fryer Whole Chicken with a secret technique - The meat is amazingly juicy with crispy skin using basic pantry spices. Easiest way to make a flavorful roast chicken in under one hour!
Looking for perfect side dishes to make a complete meal along with this whole roasted bird? Check out this Almond Flour Biscuits, Honey Roasted Carrots and Parsnips, Roasted Butternut Squash, Cheesy Broccoli or Eggplant Parmesan.
As an Amazon Associate and member of other affiliate programs we earn a small commission from qualifying purchases through our affiliate link. For more information read our Non-Disclosure Agreement.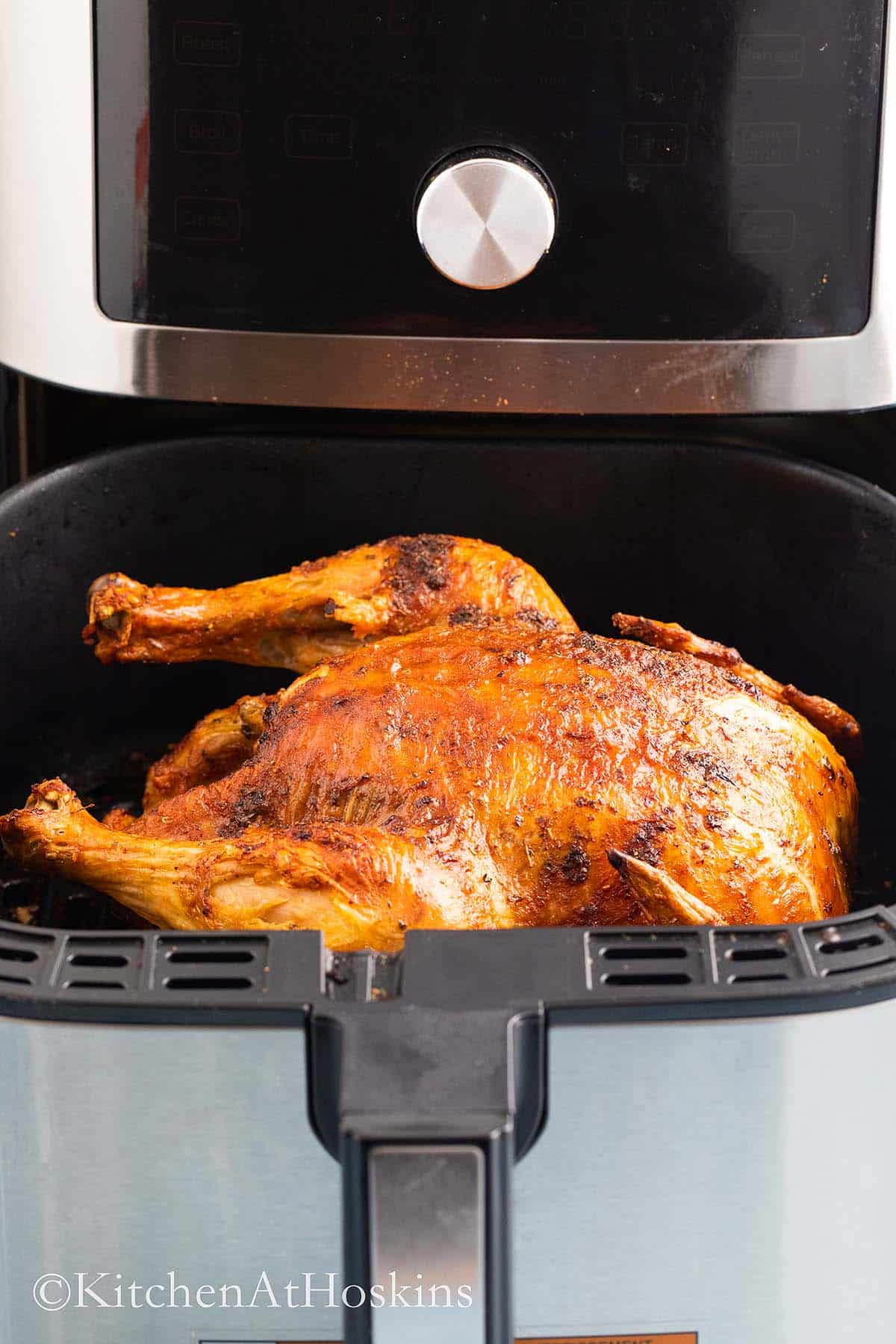 Air Fryer Whole Chicken
Make a succulent, juicy chicken at home using your air fryer for weeknight dinner. This recipe is super easy but I have a few tricks up my sleeves to ensure that the meat stays juicy tender.
Can you put a whole chicken in the air fryer? Absolutely and it is so much easier than oven baking. This is extremely flavorful and cooks in less time. It serves a family favorite and the leftovers make great lunch next day made into sandwiches, soups, quesadillas or stirred with pastas.
If you have never tried a whole bird in an air fryer then you are in for a pleasant surprise.
THE SECRET TECHNIQUE
Add water into the basket! A splash of water added in the basket, tends to create steam and prevents the breast from drying and retain it's moisture. But, don't you worry about the skin. The chicken is flipped and cooked again which makes sure that the skin has enough time to get amazingly crispy.
WHY YOU'LL LOVE THIS RECIPE?
Basic pantry spices - We went with basic seasonings like garlic powder, paprika, pepper, salt and Italian seasoning. There is no chopping or need to run to the store to buy fresh herbs.
Fool proof recipe - Cook a moist, juicy and insanely flavorful bird everytime.
Makes great leftovers - Leftover meat can be used to make various dishes for lunch the next day.
Less time - It takes less time than oven baking.
Serve this with you vegetable side dishes like Roasted broccoli, Sautéed Mushrooms, Baked Sweet Potato or Air Fryer Corn.
Cooking Time
The bird is cooked at a slightly higher 370 degrees for the first 30 minutes with breast side down and then a medium 350 degrees after flipping. A 3 pound bird will need 45 to 50 minutes and a 4 pound one will need closer to 60 minutes.
Cook until the internal temperature reaches 165°F on a meat thermometer. Check it early to ensure it doesn't overcook.
What Size Chicken to Use?
Select a bird that is approximately 3 to 4 pounds. I used my 6-quart air fryer to cook 3 ¾ pound chicken. You want to make sure that the bird does not touch the top of the air fryer when placed inside the basket and closed.
To Truss or Not to Truss?
Trussing means to tie the bird snugly with kitchen twine so that the wings and legs stay close to the body. It makes a prettier presentation and makes it more compact. But, we choose not to for these reasons-
An easy no-fuss recipe that will be comfortable for beginners.
Trussing makes the bird slightly taller in size and you increase the chance of it touching the top of heat coil when air frying.
INGREDIENTS
With just a few ingredients, you can have a amazing roasted bird in no time.
CHICKEN: Choose one that is about 3 to 4 lbs in size and not bigger. It should be able to fit in your air fryer basket without touching the top.
BUTTER - Butter makes everything better, right? It adds flavor and helps with the browning. Use unsalted butter.
SEASONING - We used a basic but super flavorful blend of paprika, garlic powder, pepper and Italian seasoning. There is no mincing or chopping needed.
PRO TIPS FOR A TENDER AND JUICY BIRD
Truly roasting a whole chicken could not be any easier! With just a few tips you can have the best bird ready in about an hour. Consider this instead of turkey this Thanksgiving, especially if you are having an intimate gathering.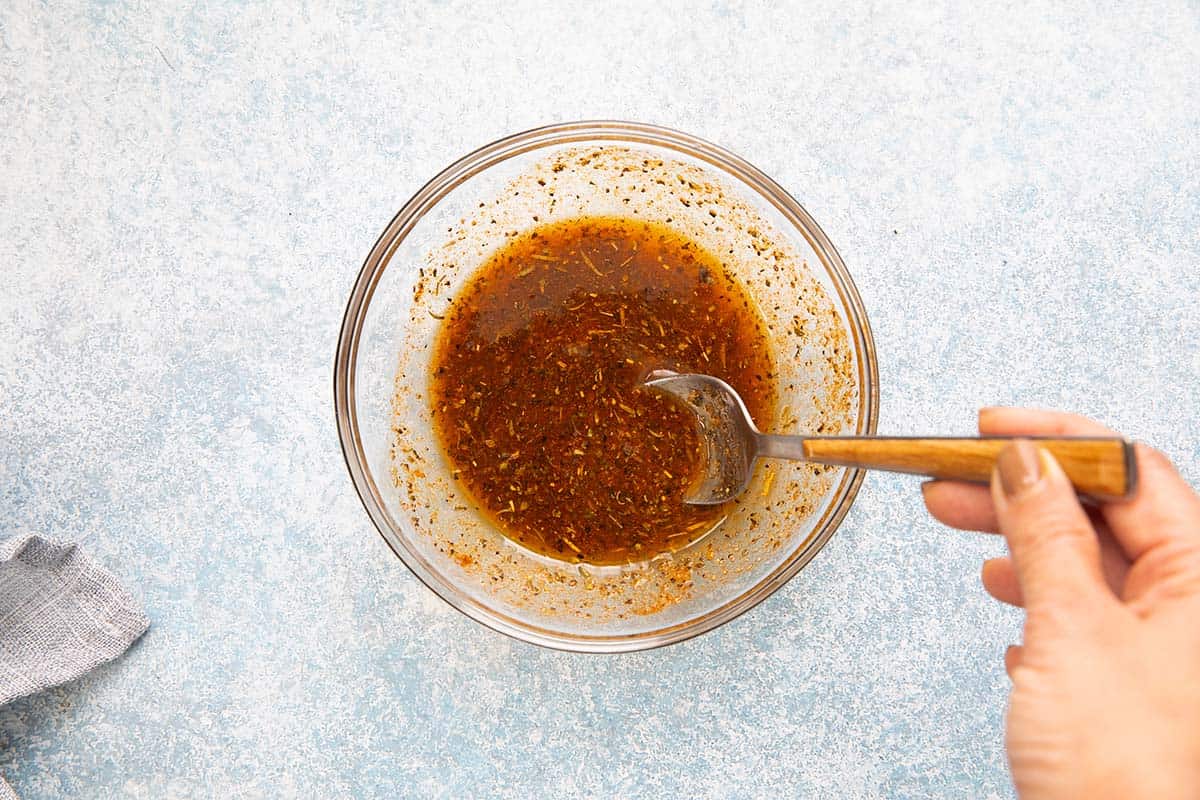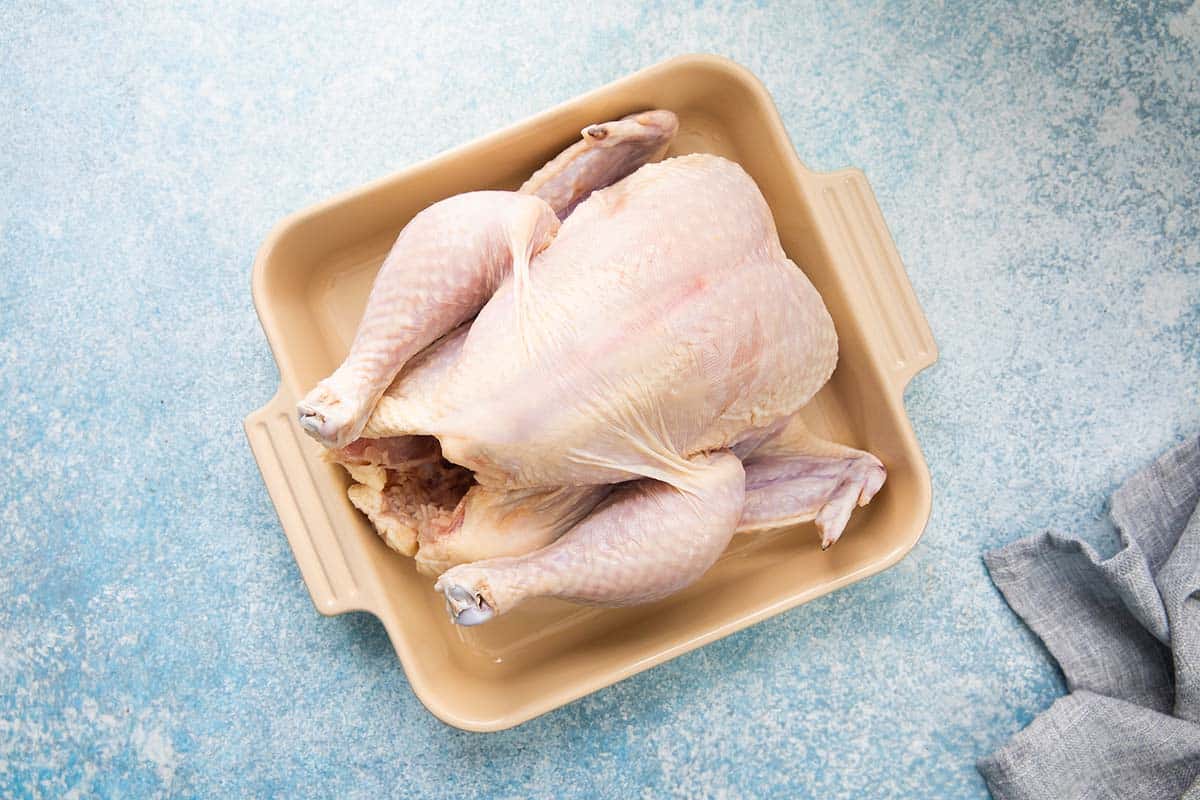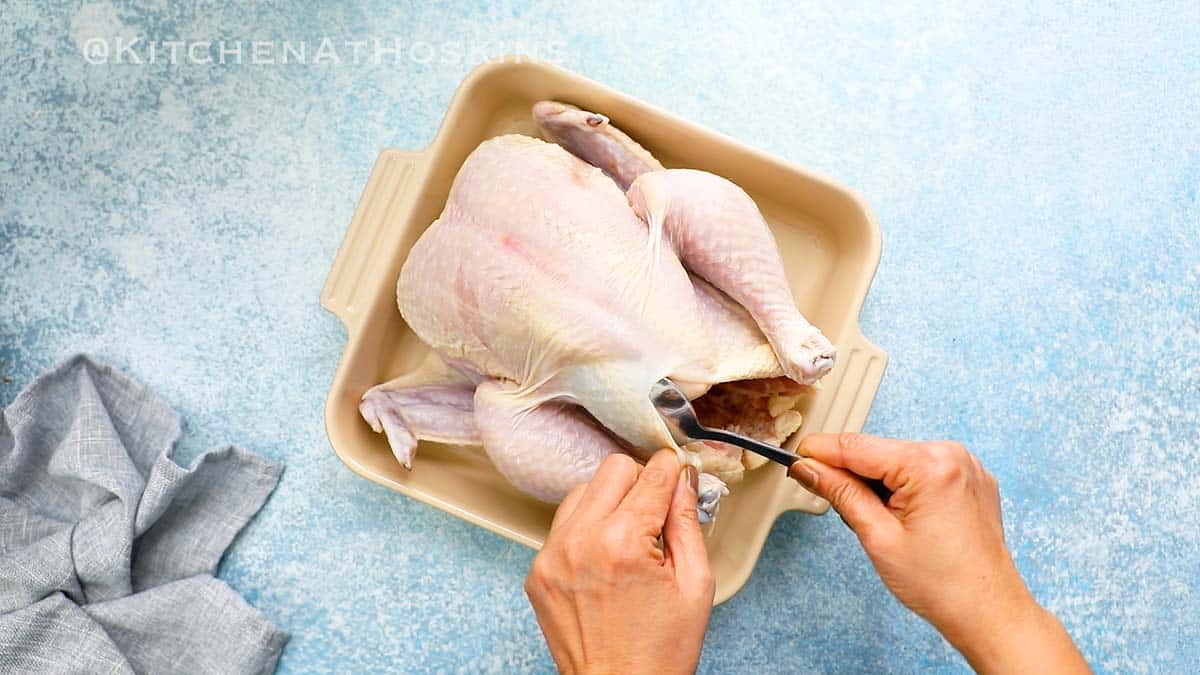 HOW TO MAKE?
The best recipe with garlic herb butter under and on the skin, is stuffed with lemon, roasted until it's crispy, golden on the outside, and juicy on the inside.
Prep - Remove all of the stuff from the cavity and pat dry thoroughly with paper towels on all sides. Next, you're going to loosen skin from the breast meat by running a small flat spoon or your fingers gently underneath the skin.
Season - Mix melted butter along with all spices. Spread under the loosened skin directly on top of the meat and then all over the skin.
Air fry - Add water into the basket. Place breast-side down in the basket and cook at 370 degrees for 30 minutes. After 30 minutes is up, pull out the basket and flip the breast side up. Place it back and cook at 350 degrees for 20 to 30 minutes, or until a meat thermometer reaches 165 degrees. Now you're ready to enjoy some truly delicious bird!
HOW TO SERVE?
This recipe makes a fabulous weeknight dinner or for small Thanksgiving. Serve with any of the following side dishes to make a complete meal -
HOW TO USE LEFTOVERS?
Possibilities are almost endless, besides being delicious on its own, the shredded meat taste scrumptious served in so many ways.
Sandwiches - Toss with bbq sauce to make a pulled barbecue sandwich or make this avocado sandwich.
Salad - Add chopped meat to your favorite salads for added protein or try in this pasta pesto salad.
Soups - Add this to your favorite soup recipes to make it more filling and hearty. Think Spinach Soup, Creamy Rice Soup or Tomato Soup.
Pasta - Make a Pasta Bake or Creamy Pesto Pasta for pasta dinners.
Dip - Try this Buffalo Chicken Dip.
Quesadilla - Make a Spicy Mexican Quesadilla.
Tacos - Make a quick chicken taco with homemade taco seasoning, pico de gallo, shredded lettuce and cilantro sauce.
Fried Rice - Make a quick fried rice with scrambled eggs, scallions, soy sauce, sesame oil, pepper and cooked rice.
How to Store Leftovers?
Remove the meat from the carcass and keep it in an airtight container in the refrigerator for up to 5 days or place it in a freezer bag and freeze for up to 3 months.
To reheat - Warm in the microwave! Refresh the flavors with a little salt and pepper.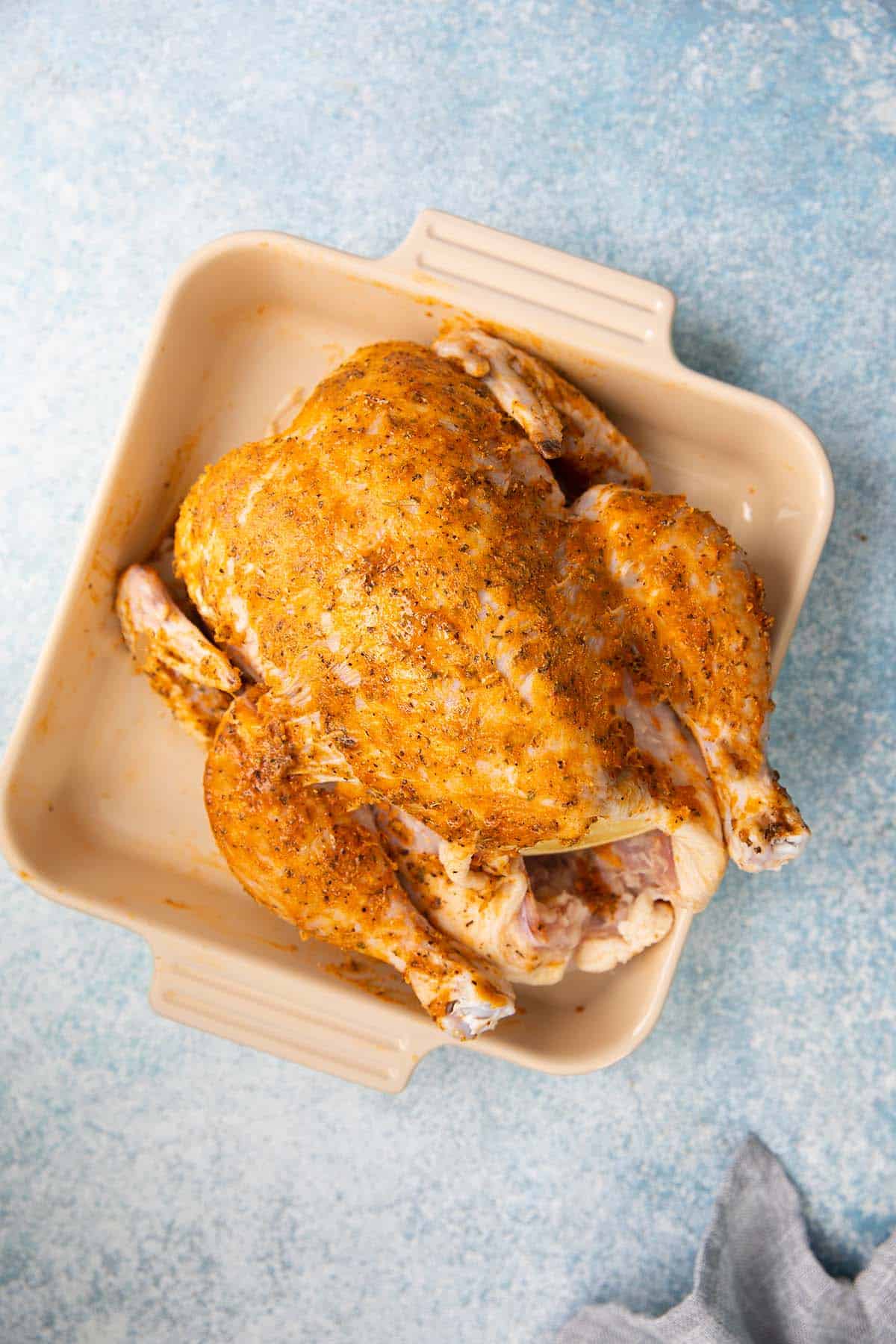 Check out more recipes: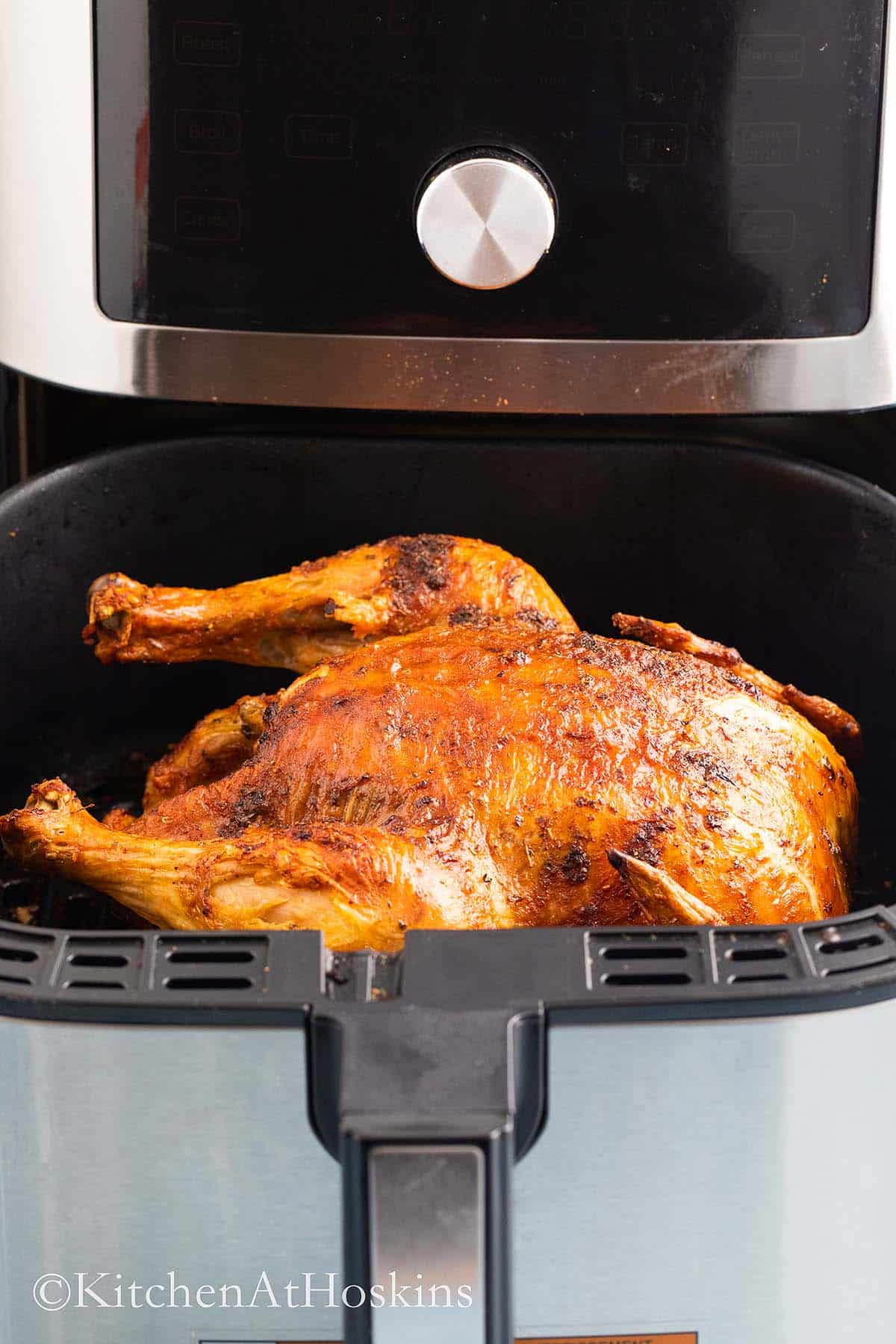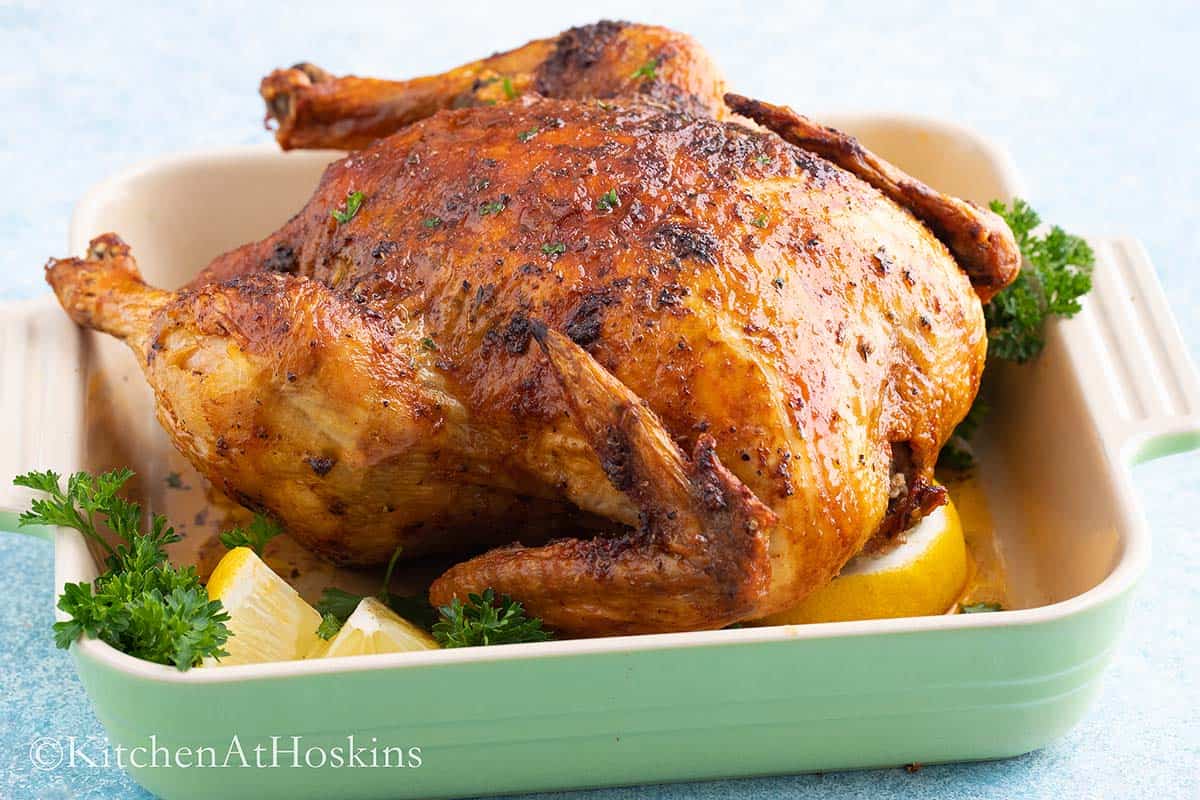 More Air Fryer Chicken Recipes to Try:
Follow me on INSTAGRAM, TIK TOK, FACEBOOK or PINTEREST for more delicious recipes.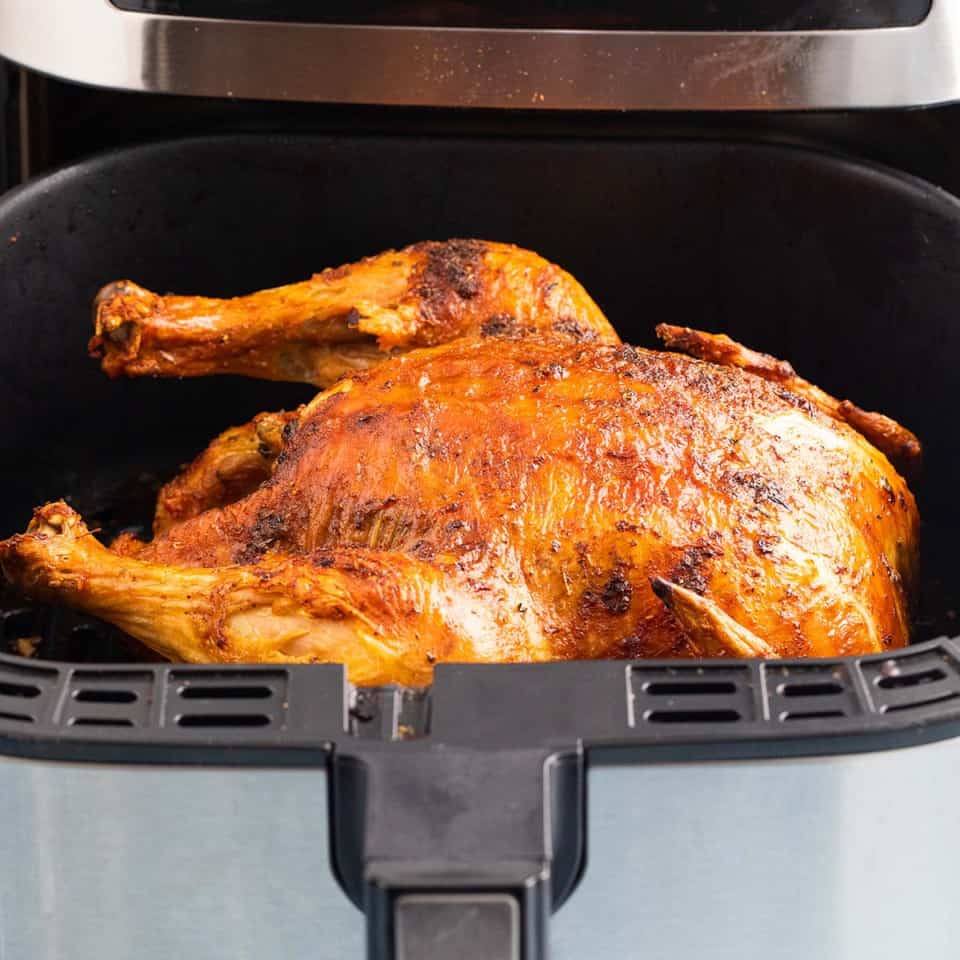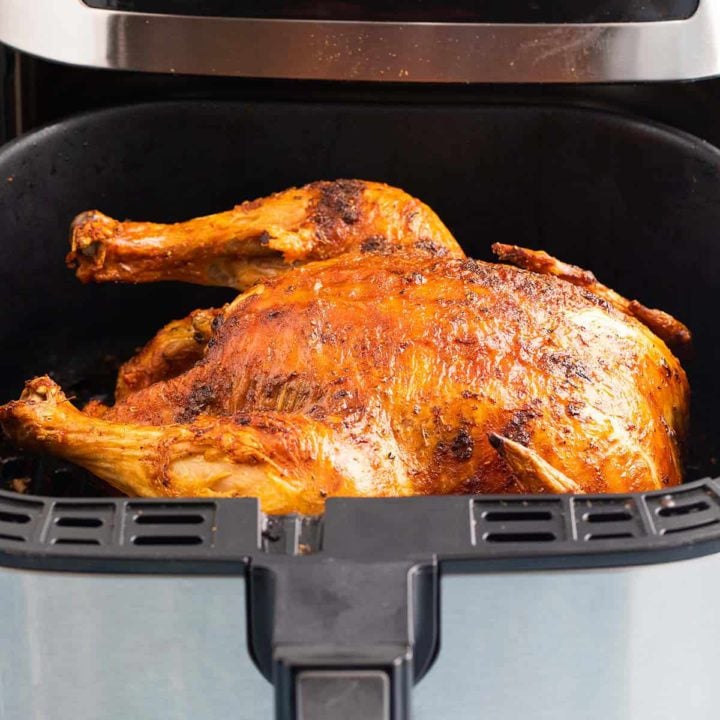 Air Fryer Whole Chicken - Juicy!
BEST Air Fryer Whole Chicken with a secret technique - The meat is amazingly juicy with crispy skin using basic pantry spices. Easiest way to make a flavorful roast chicken in under one hour!
Ingredients
3 ½ pound whole chicken
1 lemon, cut into 4
Spice Butter
4 tablespoons melted unsalted butter
1 to 2 teaspoons salt (we used 2 teaspoons - refer notes)
Air Fryer used
Instructions
(Before starting - Make sure that your chicken will fit in the air fryer basket without touching the top when closed. We used a 6 quart Instant Vortex Air Fryer and was able to fit 3 ¾ lbs chicken)

1. Take the chicken out of the fridge about 20 minutes before (not necessary but recommended).
2. Empty the cavity of the chicken and pat the skin thoroughly dry with paper towels.
3. Using a small, flat spoon loosen the skin from chicken from the top of the breasts. Make sure not to tear the skin while doing so,
4. Mix all spice butter ingredients in a bowl and drizzle some spice butter under the skin and smear remaining all over the surface of the chicken.
5. Stuff cut lemon wedges inside chicken.
6. Preheat air fryer to 370°F. When hot, pour ⅓ cup water into the basket (this creates steam when cooking and keeps the meat super juicy). Place the chicken breast side down and cook for 30 minutes.
7. Gently flip chicken over and cook at 350°F for 20 to 30 minutes or until an instant read thermometer reaches 165°F.
8. Remove from air fryer and rest for 10 minutes before serving.
Notes
Air Fryer - We used a 6-quart Instant Vortex air fryer for this recipe.
Chicken size - Select a chicken that is approximately 3 to 4 pounds. You want to make sure that the bird does not touch the top of the air fryer when placed inside the basket and closed.
Salt -The 2 teaspoons salt made a flavorful chicken and remember that most of it drips away into the basket along with the butter. But, reduce quantity if you wish to.
Stuffing - Use cut garlic and fresh herbs along with lemon wedges.
Nutrition Information:
Yield:

4
Serving Size:

1
Amount Per Serving:
Calories:

580
Total Fat:

34g
Saturated Fat:

10g
Trans Fat:

0g
Unsaturated Fat:

20g
Cholesterol:

207mg
Sodium:

1245mg
Carbohydrates:

3g
Fiber:

1g
Sugar:

1g
Protein:

62g
I am not a certified dietician or nutritionist. The information is a product of online calculator such as Nutrifox.com, although Kitchen at Hoskins attempts to provide accurate nutritional information, these figures should be considered estimates and not be construed as a guarantee. Varying factors such as product types or brands purchased, produce, and the way ingredients are processed change the nutritional information in any recipe. Furthermore, different online calculators provide different results depending on their fact algorithms. Under no circumstances will Kitchen at Hoskins be responsible for any loss or damage resulting for your reliance on the nutritional information. To obtain the most accurate nutritional information in a given recipe, you should calculate the nutritional information with the actual ingredients used in your recipe, using your preferred nutrition calculator. You are solely responsible for all decisions pertaining to your health and ensuring that any nutritional information provided is accurate.
Did you make this recipe? I'd love your feedback! Please let me know by leaving a comment or review below or snap a photo and share on Instagram.
Some of the links above are affiliate links, which pay me a small commission for my referral at no extra cost to you! I am a participant in the Amazon Services LLC Associates Program, an affiliate advertising program designed to provide a means for us to earn fees by linking to Amazon.com and affiliated sites. Thank you for supporting kitchenathoskins.com.
All contents and images are my original work, unless and otherwise mentioned. Please do not use my recipes or images without linking back to www.kitchenathoskins.com. If you wish to republish a recipe, please rewrite in your own words and don't forget to include a link back to the original recipe.