Parmesan Brussels Sprouts in Air Fryer is a quick, easy and flavorful side dish perfect for dinner or Thanksgiving table.
Looking for vegetable dishes for your feast? Check out this Asparagus Fries, Buffalo Cauliflower Wings, Baked Sweet Potato, Carrot Fries or Kale Chips.
As an Amazon Associate and member of other affiliate programs we earn a small commission from qualifying purchases through our affiliate link. For more information read our Non-Disclosure Agreement.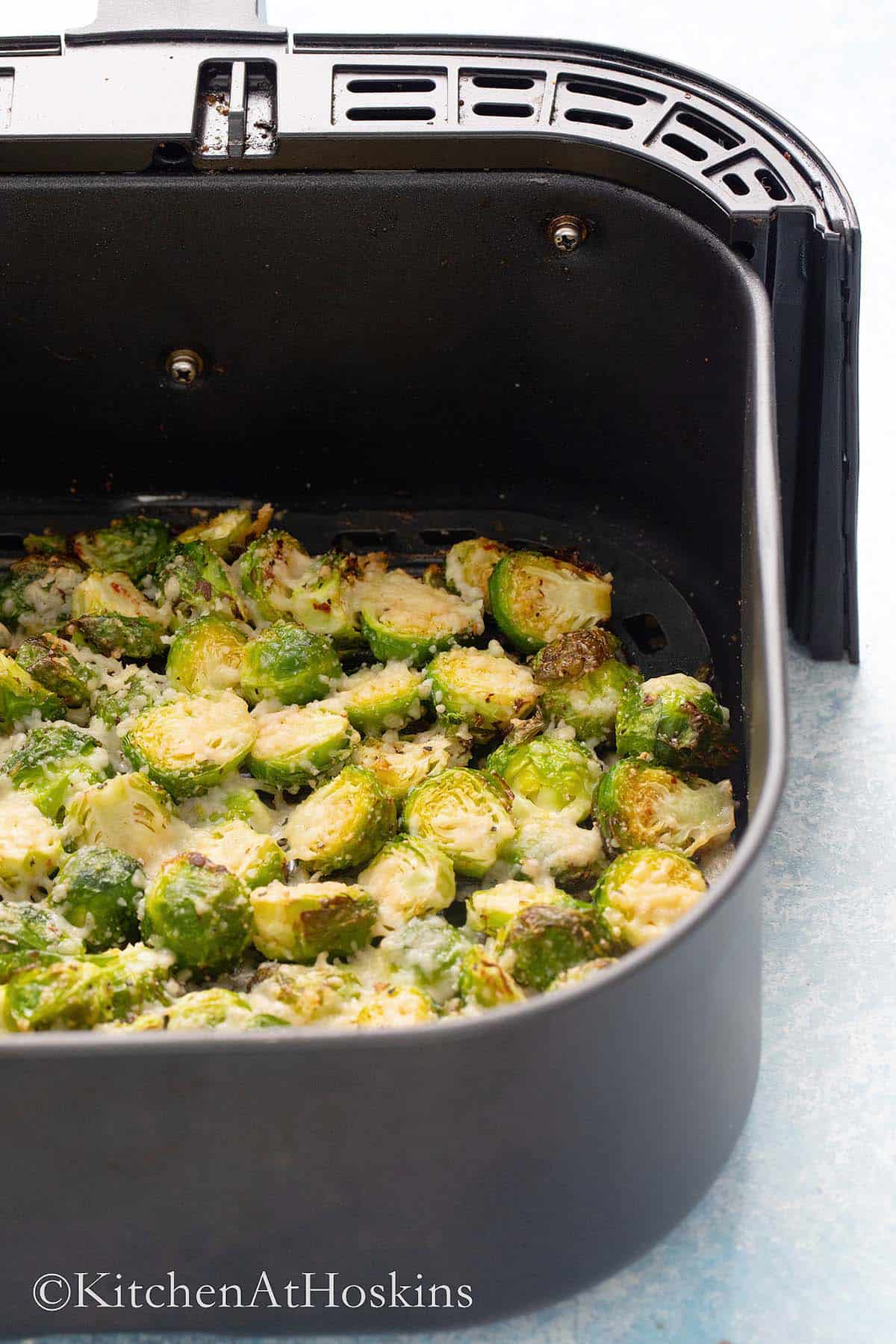 Parmesan Brussels Sprouts in Air Fryer
An amazingly easy and perfect side dish for dinner or Thanksgiving table like this roasted butternut squash. It is crispy with a parmesan crust and tastes fantastic.
Secrets to crispiness - Even in the oven, they can turn out soggy especially if the pan is too crowded or the heat isn't high enough. This recipe avoids both pitfalls and ensures they come out crisp every single time.
One pound was perfect to cook in a 6 quart air fryer without over crowding and at medium high heat of 375 degrees without burning them.
If you like them al dente or tender all the way through, we have a trick up our sleeves to make them softer in the center.
What Makes These So Good?
Minimal ingredients - Brussel Sprouts along with basic pantry ingredients and nothing fancy.
Vegetarian - They are made without bacon, making it perfect for everyone.
Amazing Texture - Perfectly seasoned, crisp on the outside and tender on the inside!
Flavorful - Although they use only basic ingredients, they are still packed with flavor.
How Long To Roast
It depends on the temperature, the size of your sprouts and how tender you want the vegetable. They are ready to eat when they are lightly charred, crisp on the outside, and tender on the inside. We cooked them at 375 degrees for 7 to 9 minutes.
How Do You Prepare For Roasting?
When buying from the store, look for prepackaged bag. They are occasionally available on stalks in season, but are often much more expensive. They are in season from October through March but you can usually find them at your local grocer year-round.
Look for bright heads that are firm, tightly wrapped and heavy for it's size. Avoid ones with yellowing leaves or black spots, which could be a sign of fungus. Smaller heads are usually sweeter and more tender than larger ones.
If you are purchasing them in advance, to keep them fresh, store them unwashed, and untrimmed in a plastic bag in the vegetable crisper drawer of the fridge.
Begin by giving them a good rinse in cold water. Using a sharp knife, cut off the tough brown ends and discard them. Remove any outer yellow, brown or discolored leaves. Cut large ones in half and leave small ones whole, so they are similar in size for even cooking.
Do You Need to Soak Them?
Not for this recipe! Several online recipes call for pre soaking them for about 10 minutes, so they cook more tender inside. The soak time tenderizes the sprouts so the middles are softer.
We have an alternate trick up our sleeves to cook them softer, which is to add some water into the basket before adding the sprouts. As the water gets hot, it creates steam and helps with cooking them all the way through.
Can I Use Frozen Ones?
Sure can! As with most vegetables, fresh is better than frozen. But, if you have is only frozen, then make sure not to defrost or thaw them before cooking. Just use them frozen and prepare as described in the recipe. You will have to increase cooking time by about 5 minutes depending on the size. They tend to be a bit softer, but still taste good.
Ingredients You'll Need (Scroll down to the bottom of the post for full recipe)
Here's a basic list of the ingredients you'll need. As always, you can find the full printable recipe in the box below.
Brussels Sprouts – Fresh ones preferably
Melted Butter - Use unsalted butter or use good quality olive oil instead.
Parmesan Cheese – shredded or grated
Seasonings - Salt, Black pepper, garlic powder and red pepper flakes.
Helpful Tips
There are a few key things to remember when roasting any type of vegetable
Cut into even size pieces - Cut larger ones into halves and leave small ones whole. This makes sure that they all cook evenly at the same time.
Don't overcrowd - Make sure not the over crowd the basket, so they can crisp up.
Move them together for the second half - Make sure to move the sprouts closer together (but still in one layer) before topping with cheese. This will make sure that the most of the cheese stays on top of the vegetable without falling into the basket.
Parmesan - Use freshly grated for best results. They will melt into the sprouts making them so tasty. Pre grated has much less flavor with a dry texture. (unfortunately, we could not find fresh grated when making this recipe and had to opt for pre shredded.
Pat them dry - After washing make sure to pat them completely dry so the butter will coat them better and crisp up.
Give a shake - Shake the basket once in between ensures even cooking.
Wash well - Give them a good rinse then pat them dry with paper towels. If there's any water, then they will steam instead of roasting and not get as crisp.
Spread them out - Make sure to spread them out evenly or cook in batches if using a smaller air fryer.
HOW TO MAKE (Scroll down to the bottom of the post for full recipe)
Trim - Wash and dry them well, cut the stem ends and then cut large ones in half.
Season - Coat them well with melted butter and all seasoning.
Air fry - Cook in a preheated 375 degree fryer for about 4 minutes.
Top with cheese - Shake the basket once, move the sprouts together and sprinkle cheese on top. Cook for another 3 to 4 minutes, until golden and crisp.
How To Serve?
This is a vegetable side that will pair with all types of protein from chicken, beef, fish, shrimp or pasta recipes.
How To Store?
Refrigerator - Refrigerate leftovers in an airtight storage container for up to 4 days.
To reheat - Reheat them in the air fryer at 350 degrees for 3 to 5 minutes.
FREQUENTLY ASKED QUESTIONS
Can you reheat roasted Brussel sprouts?
These are best served as soon as they are cooked, but it you do have leftovers, it's best to reheat them in a preheated 350 degree air fryer, for 3 to 5 minutes.
Can you make them ahead of time?
You can wash, pat dry and cut and toss them with butter and all seasonings the day before and keep them covered in the fridge. When you are ready to roast them, you just need to cook them as instructed.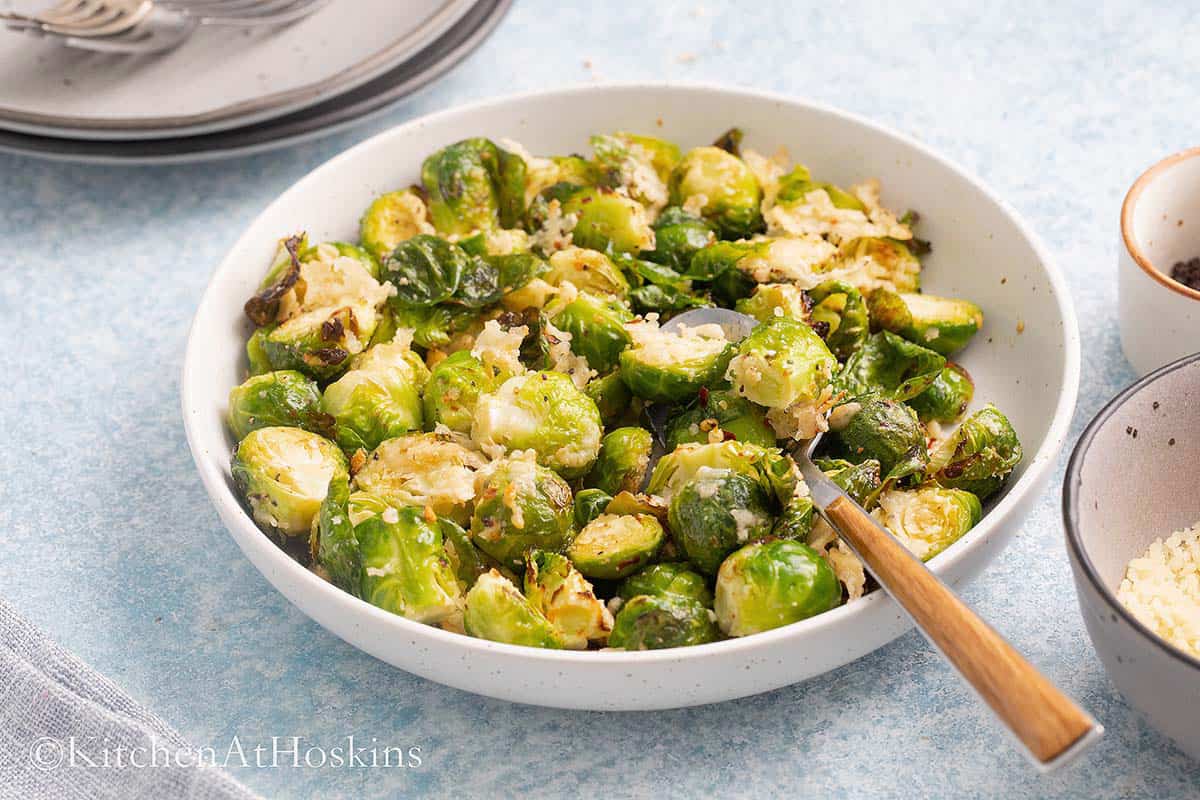 More Air Fryer Vegetable Sides to try:
Follow me on INSTAGRAM, TIK TOK, FACEBOOK or PINTEREST for more delicious recipes.
Parmesan Brussels Sprouts in Air Fryer
This Parmesan Brussels Sprouts in Air Fryer is a quick, easy and flavorful side dish perfect for dinner or Thanksgiving table.
Ingredients
1 pound brussels sprouts
1 + ½ tablespoon unsalted butter, melted
¼ teaspoon salt
⅓ cup finely grated parmesan cheese
Items used
Instructions
1. Trim the ends off the Brussel sprouts and remove any brown outer leaves. Cut large ones in half and leave small ones whole.

2. Toss cut brussels sprouts with all ingredients (except parmesan) in a bowl.

3. Preheat air fryer to 375°F for 9 minutes.

(Refer notes for a tip to get tender cooked brussels sprouts. If you'd like crispy sprouts then proceed to the next step)

4. When hot, add brussels sprouts in a single layer and cook for 5 minutes.

5. Open basket, shake it to toss the Brussels sprouts to promote even cooking. Using a spoon move all the brussels sprouts close together, making sure they are in one layer. (This ensures that most of the parmesan stays on top of the vegetable), evenly sprinkle parmesan cheese on top of the sprouts.

6. Continue cooking for 3 to 5 minutes, until they are deep golden and crisp.
Notes
For more tender cooked brussels sprouts - When air fryer is done pre heating, pour 2 tablespoons water into the bottom of the air fryer basket, place the rack on top and then the brussels sprouts. Proceed with the recipe. (The water will create steam as it cooks, making sure that the sprouts cooks tender inside).
Air Fryer - We use Instant vortex 6 quart air fryer and was able to cook one pound brussels sprouts without over crowding.
Spread them out – Make sure to spread them out evenly or cook in batches if using a smaller air fryer.
Cut into even size pieces – Cut larger ones into halves and leave small ones whole. This makes sure that they all cook evenly at the same time.
Use olive oil instead of butter.
Nutrition Information:
Yield:

4
Serving Size:

1
Amount Per Serving:
Calories:

57
Total Fat:

2g
Saturated Fat:

1g
Trans Fat:

0g
Unsaturated Fat:

1g
Cholesterol:

4mg
Sodium:

164mg
Carbohydrates:

9g
Fiber:

3g
Sugar:

2g
Protein:

3g
I am not a certified dietician or nutritionist. You are ultimately responsible for all decisions pertaining to your health. This information is provided as a courtesy and should not be construed as a guarantee. This information is a product of online calculator such as Nutrifox.com.. Although Kitchen at Hoskins attempts to provide accurate nutritional information, these figures should be considered estimates. Varying factors such as product types or brands purchased, natural fluctuations in fresh produce, and the way ingredients are processed change the nutritional information in any given recipe. Furthermore, different online calculators provide different results depending on their fact sources and algorithms. Under no circumstances will Kitchen at Hoskins be responsible for any loss or damage resulting for your reliance on the nutritional information. To obtain the most accurate representation of the nutritional information in a given recipe, you should calculate the nutritional information with the actual ingredients used in your recipe, using your preferred nutrition calculator. You are solely responsible for ensuring that any nutritional information provided is accurate, complete, and useful.
Did you make this recipe? I'd love your feedback! Please let me know by leaving a comment or review below or snap a photo and share on Instagram.
All contents and images are my original work, unless and otherwise mentioned. Please do not use my recipes or images without linking back to www.kitchenathoskins.com. If you wish to republish a recipe, please rewrite in your own words and don't forget to include a link back to the original recipe.
Some of the links above are affiliate links, which pay me a small commission for my referral at no extra cost to you! I am a participant in the Amazon Services LLC Associates Program, an affiliate advertising program designed to provide a means for us to earn fees by linking to Amazon.com and affiliated sites. Thank you for supporting kitchenathoskins.com