Vegan Chickpea Soup is easy, healthy, satisfying and is the perfect comfort food on a chilly night. Made without any stock, in under 30 minutes using canned chickpeas, coconut milk and warm curry spices, it is flavorful, nourishing and tasty!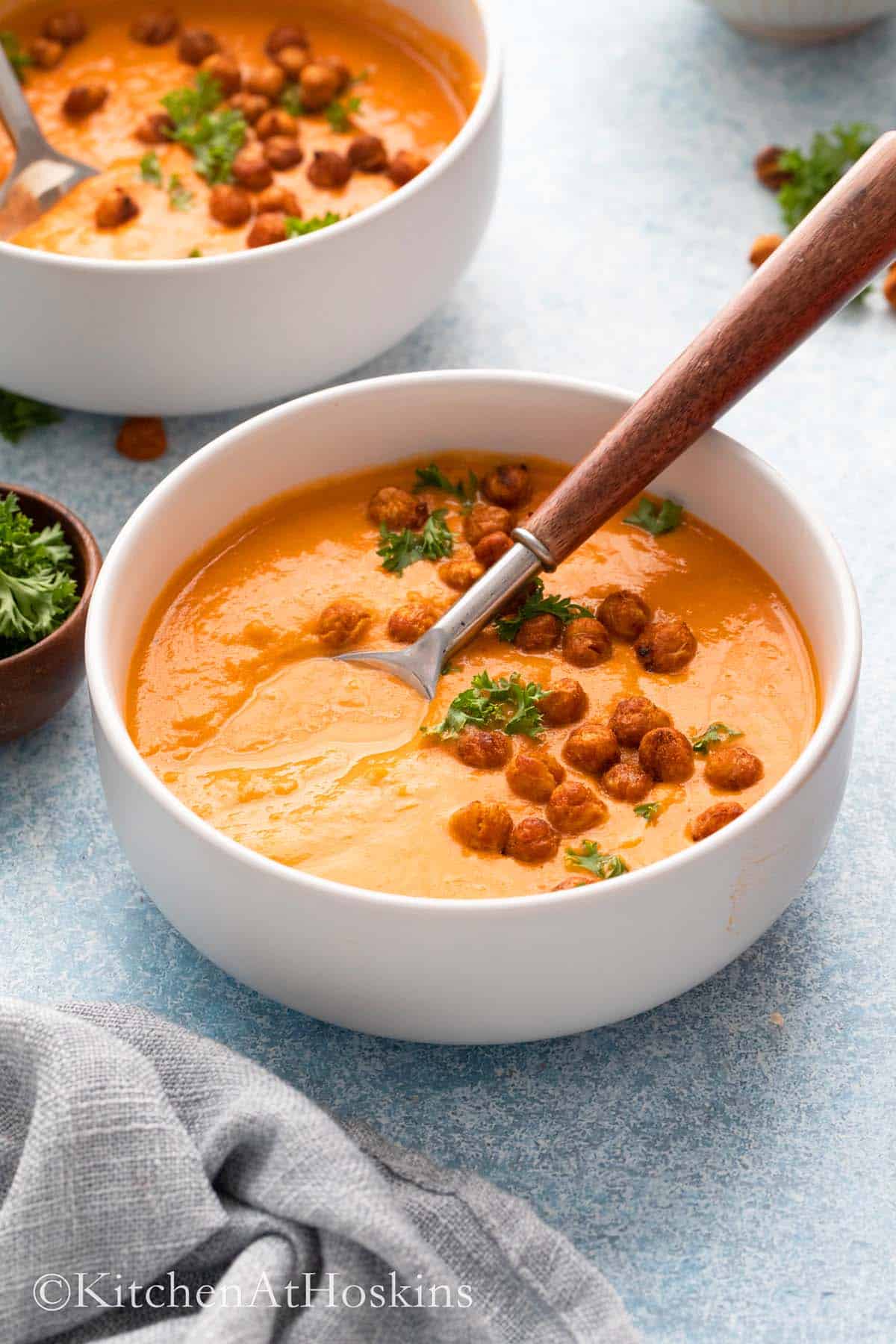 Vegan Chickpea Soup
This Healthy Soup is thick, creamy, hearty, cozy. Is there anything better than a warm bowl on a cold chilly night? it's also incredibly simple to prepare, made with easy to find canned ingredients and budget-friendly! 
Plus, it's made entirely in one pot and only requires 5 minutes of hands on preparation! It's the perfect soup when your craving something comforting or feeling under the weather, but want to keep things easy and healthy!
It features blended garbanzo beans and tomatoes making it so thick and creamy, with subtle Indian spices, yet not over powering and using no broth. It's just downright delicious.
This soup is going to become a major staple in your menu plan. Especially this time of year, paired with a simple sandwich, pasta or rice dishes.
It's the type of nourishing midday meal I crave on a busy weekday, yet it's hearty enough to serve for dinner with a side of crusty bread. More flavorful dishes using these humble beans are Indian Roasted Chickpeas, Lettuce wraps or Beet Curry.
What is chickpea soup?
Using the incredibly versatile garbanzo beans, it is an Indian style soup made of garbanzo beans, canned tomatoes, coconut milk along with spices. This is creamy yet made without any cream and is the perfect vegan or vegetarian recipe.
The chickpea is a legume of the plant family Fabaceae which is grown for its nutritious seeds that are high in protein and fiber. They are found in Mediterranean, Moroccan, Middle eastern, Indian and many more cuisines. Other names include garbanzo beans, Egyptian pea, Ceci in Italian, Channa or Kabuli chana in Hindi.
WHY YOU'LL LOVE THIS RECIPE?
Ready in under 30 minutes - It comes together with just few minutes of prep and cooks in under 20 minutes, making it perfect for a busy day.
Thick and Creamy - Because garbanzo have a natural creaminess to them, they give this dish a rich and hearty texture.
Diet Friendly - Low carb, Vegan, Vegetarian, Dairy Free and naturally Gluten Free.
Meal prep & Freezer-friendly - Delicious as leftovers (sometimes we enjoy it cold straight out of the fridge and it's just as good). Double the recipe and freeze half for later.
Economical + Pantry Ingredients - Made without any meat and using canned beans, tomatoes and coconut milk, this is affordable and pantry staple.
One Pot - No body likes to wash a sink full of dishes.
Flavorful - Amazingly flavorful from garlic, onion, curried spices like coriander, cayenne, black pepper, coconut milk, tomatoes and beans.
Nutritious - It is chock-full of good for you ingredients and nutrients.
IS THIS HEALTHY?
Garbanzo beans are one of my favorite pantry staples that I like to use to whip up last minute recipes. They are nutrient-dense food rich in protein and fiber and complex carbs, folic acid, iron, potassium, several vitamins, low in fat, contain no cholesterol and great go to ingredient on days you want to cook meat free. Since it digests slowly (keeping you fuller longer) and is satisfying without making you feel stuffed.
They are easy to work with, versatile, inexpensive, and nutritious, fill you up and fuel you through your day.
NUTRITIONAL BENEFITS
Made using healthy, whole some ingredients, this recipe is loaded with fiber, protein, antioxidants (like lycopene from tomatoes), minerals like magnesium and potassium, several vitamins and healthy fats from coconut milk and olive oil.
CAN YOU USE DRIED CHICKPEAS?
Sure can, but you need to plan ahead since it cannot be added directly into the soup. You need to soak dried beans overnight in water for at least 8-10 hours until they are softer and then cook them in an instant pot, pressure cooker or stove top.
DO YOU NEED TO REMOVE SKIN?
The skin is peeled for some recipes like hummus to get a silk smooth, velvety texture. However for other preparations like roasting or adding into a curry or soup does not need peeling.
Open a can, drain contents into a strainer and give a good rinse under running water and use them in your favorite recipe.
BEST BLENDERS TO USE
A good quality immersion blender is perfect and keeps clean up easy. Make sure to remove pan from heat and let it cool down for about 5 minutes before blending.
High powdered blender like Vitamix works amazingly well. Take precautions when working with hot liquids in a blender.
INGREDIENTS
This recipe calls for a handful of simple pantry ingredients. Remember to read the recipe card below to get exact measurements!
Olive oil - Any type of cooking oil like olive, avocado or vegetable oil will work.
Onion & Garlic - Chopped onion and fresh garlic.
Chickpeas - This recipe uses canned garbanzo beans to keep things simple. If you want to use dried chickpeas you just need to pre-cook before adding them.
Spices - Basic Indian curry spices like ground coriander, cayenne pepper and black pepper.
Tomatoes - There is no need to chop fresh tomatoes, just open a can of whole peeled tomatoes for an easy recipe.
Coconut milk - Half a cup of canned coconut milk.
VARIATIONS
If you want to customize this recipe you can add a variety of different ingredients to make it your own.
Stir in fresh baby spinach after blending.
Feel free to use different spices like Mexican taco seasoning, Italian seasoning or cajun seasoning.
Use heavy cream instead of coconut milk.
TOPPINGS
Toppings are the perfect way customize for a special touch! Our favorite (as shown in the photos) is topping with crispy roasted air fryer chickpeas for a crunchy addition. A drizzle of additional coconut milk on top and a sprinkling of chopped cilantro, parsley, toasted croutons or sliced jalapeños.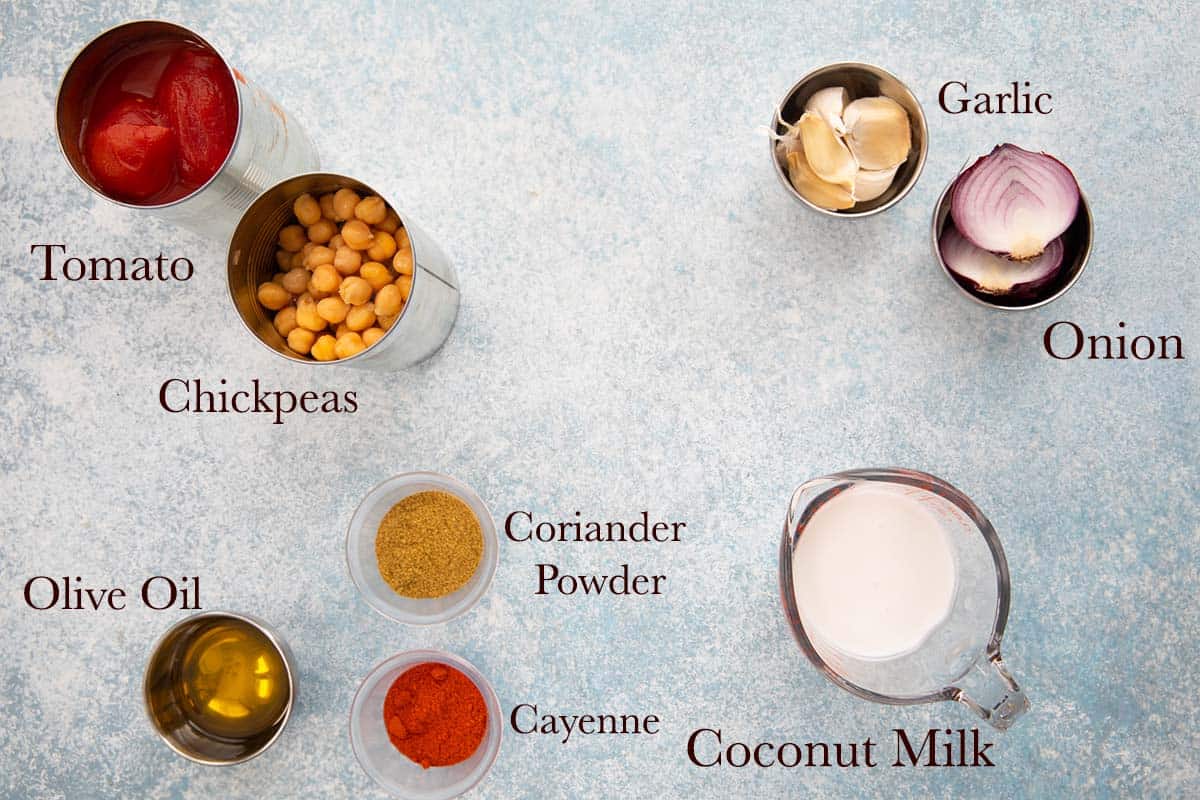 HOW TO MAKE?
This simple recipe is so easy to make at home from scratch! Plus, it takes only 5 minutes of hands-on preparation and it's made in just one pot!
(Don't forget to scroll down for the detailed instructions in the complete printable recipe at the bottom of the page.)
Sauté vegetables and spices: Heat oil until shimmering and add the onion and garlic, cook until translucent. Stir in ground coriander and cayenne powder, cook for few seconds.
Add all remaining ingredients: Add canned tomatoes along with juices, drained or rinsed garbanzo beans, coconut milk, water, salt, pepper and sugar. Cover and cook for about 12 minutes on low heat.
Blend: Remove pan from heat and blend using an immersion blender.
Serve: Ladle into bowls and garnish with crispy chickpeas, chopped cilantro or parsley.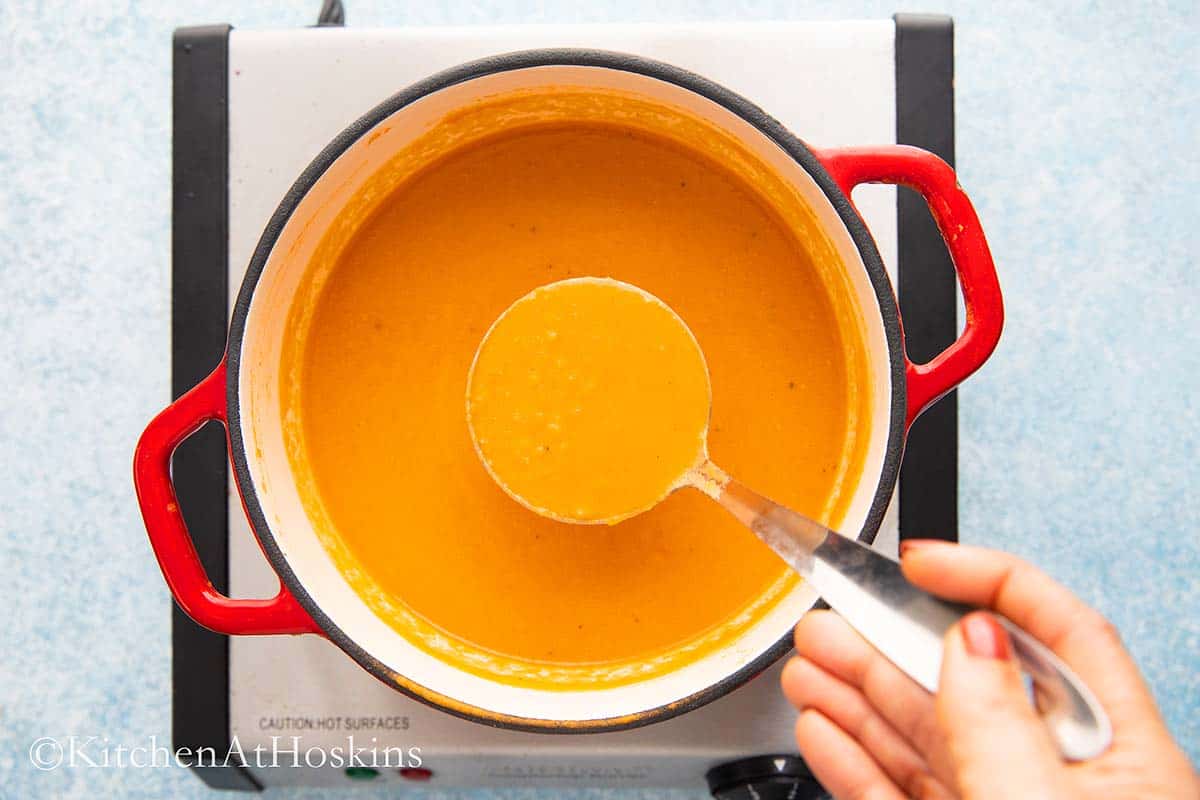 WHAT TO SERVE WITH THIS SOUP?
It is hearty enough to be served as a stand-alone meal along with a grilled cheese sandwich! However, you can also serve pasta dishes, salad, chicken, fish, shrimp or rice dishes.
HOW TO STORE LEFTOVERS?
Fridge: Store leftovers in an airtight container in the fridge for up to 5 days. You can serve this at room temperature or reheat in microwave at a low setting.
Can you Freeze?
Yes! Let it cool down to room temperature, then transfer to an airtight container or freezer safe zip lock bag and freeze for up to 2 months. To defrost, let it thaw on the countertop or refrigerator.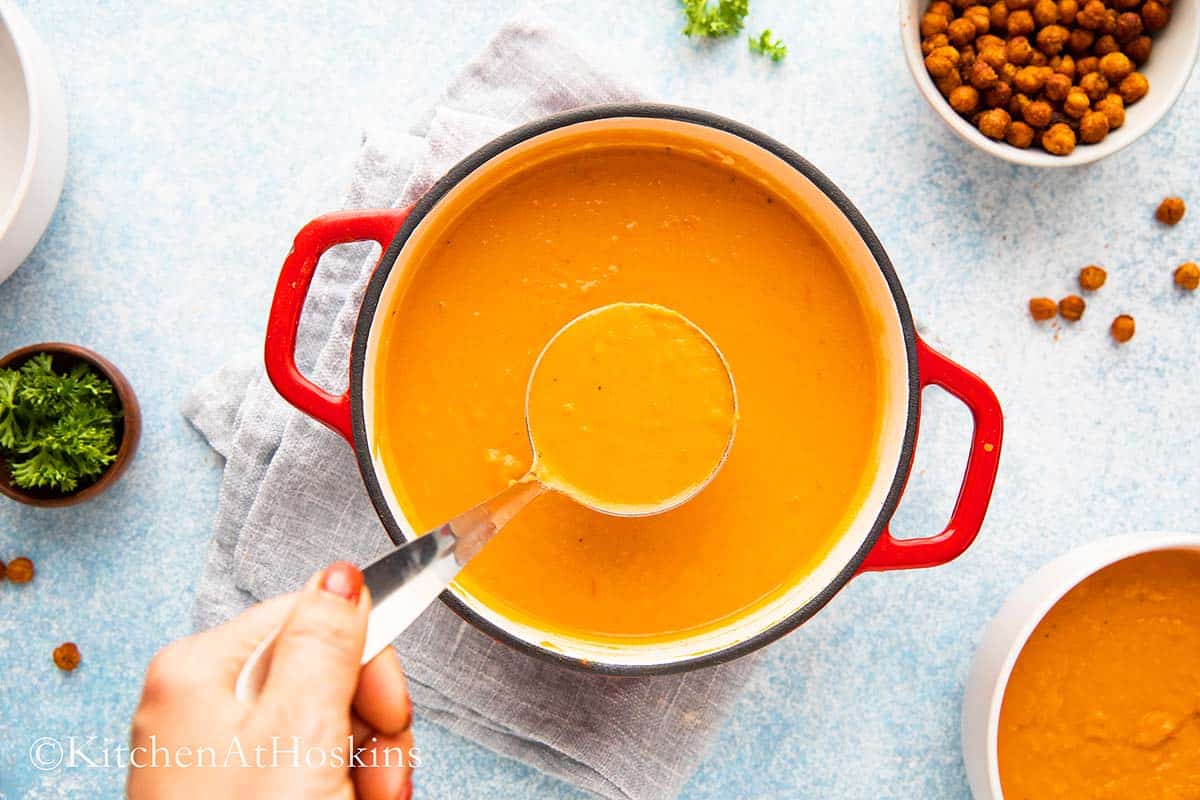 FREQUENTLY ASKED QUESTIONS
Are chickpeas good in soup?
Yes! They have an amazing creamy texture that is delicious when they are left whole or blended. They also add protein and fiber, so you will stay full and satisfied.
How many calories?
The exact number of calories and carbohydrates will depend upon the precise measurements and brands of ingredients used. One serving of this recipe has 347 calories, 11 grams fiber, 12 grams protein and 40 grams of carbs.
Are you supposed to cook canned chickpeas?
No! Canned beans do not need to be cooked before eating! They are cooked and ready to go straight from the can, so can be eaten at room temperature, hot or cold.
More ways to use a Can of Chickpeas?
Follow me on INSTAGRAM, TIK TOK, FACEBOOK or PINTEREST for more delicious recipes.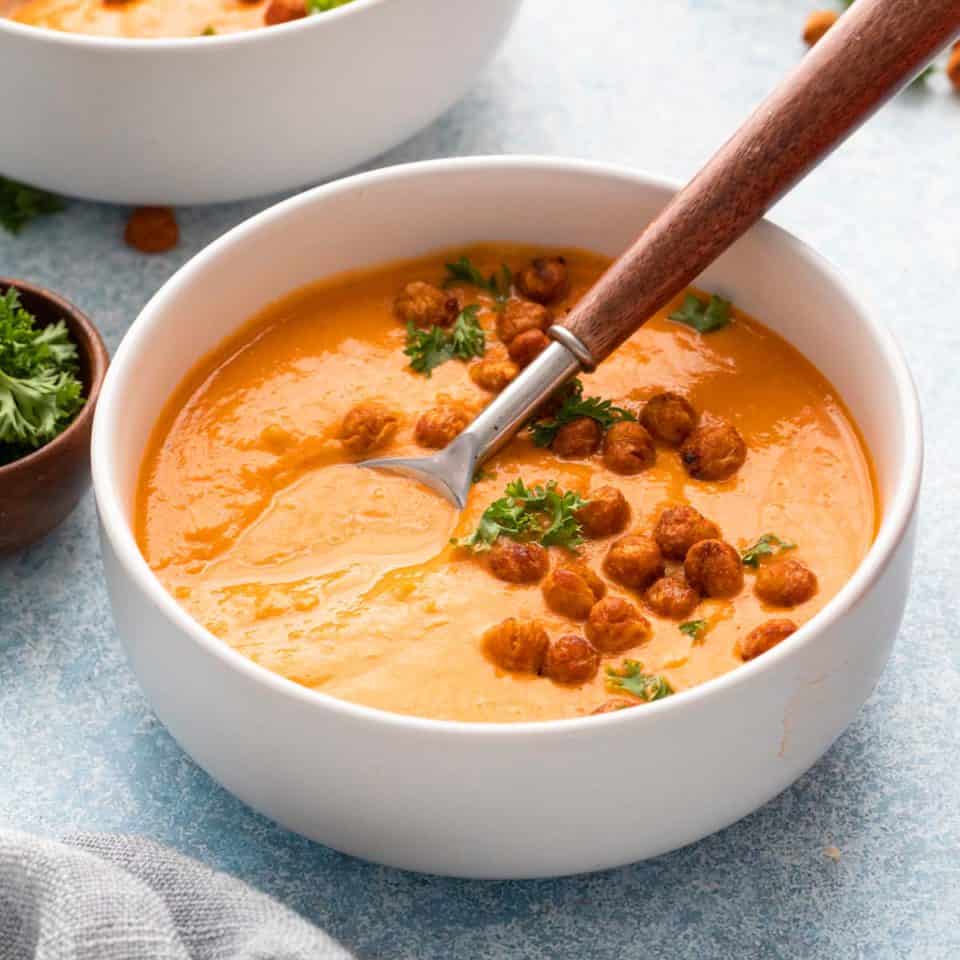 Vegan Chickpea Soup
Vegan Chickpea Soup is easy, healthy, satisfying and is the perfect comfort food on a chilly night. Made without any stock, in under 30 minutes using canned chickpeas, coconut milk and warm curry spices, it is flavorful, nourishing and tasty!
Print
Pin
Rate
Instructions
Heat olive oil in a large sauce pan, over medium heat. Saute chopped onion and garlic for 2-3 minutes or until they begin to get translucent.

Add coriander powder and cayenne pepper powder and stir for about 10 seconds.

Add all remaining ingredients (chickpeas, whole peeled tomatoes along with juices, water, coconut milk, salt, sugar and black pepper).

Bring to a gentle boil, cover with lid, reduce heat to low and cook for about 13 minutes.

Remove pan off heat and blend until a creamy consistency using an immersion blender. (Alternatively, let soup cool for 5 to 10 minutes, transfer contents into a blender and blend until creamy).

Ladle into bowls and enjoy!
Notes
Use heavy cream instead of coconut milk.
Nutrition
Serving:
1
Serving
|
Calories:
347
kcal
|
Carbohydrates:
40
g
|
Protein:
12
g
|
Fat:
17
g
|
Saturated Fat:
8
g
|
Polyunsaturated Fat:
7
g
|
Sodium:
1098
mg
|
Fiber:
11
g
|
Sugar:
8
g
Nutritional information, based on third-party calculations, should be seen as estimates, not guarantees, as various factors like product types, brands, processing methods, and more can alter the nutritional content in recipes.
Did you make this recipe? I'd love your feedback! Please let me know by leaving a comment or review below or snap a photo and share on Instagram.
Some of the links above are affiliate links, which pay me a small commission for my referral at no extra cost to you! I am a participant in the Amazon Services LLC Associates Program, an affiliate advertising program designed to provide a means for us to earn fees by linking to Amazon.com and affiliated sites. Thank you for supporting kitchenathoskins.com
All contents and images are my original work, unless and otherwise mentioned. Please do not use my recipes or images without linking back to www.kitchenathoskins.com. If you wish to republish a recipe, please rewrite in your own words and don't forget to include a link back to the original recipe.