Teriyaki Tofu Recipe is panfried for crispy outside yet soft on the inside and is smothered in a sticky sauce. It is made in about 30 minute since they don't need to be pressed. Better than take out!
Love homemade Take out? Check out this Coconut Curry Shrimp, Shrimp Broccoli Stir Fry, Honey Sriracha Chicken, Thai Chicken Fried Rice or Shrimp Sushi Bowl.
As an Amazon Associate and member of other affiliate programs we earn a small commission from qualifying purchases through our affiliate link. For more information read our Non-Disclosure Agreement.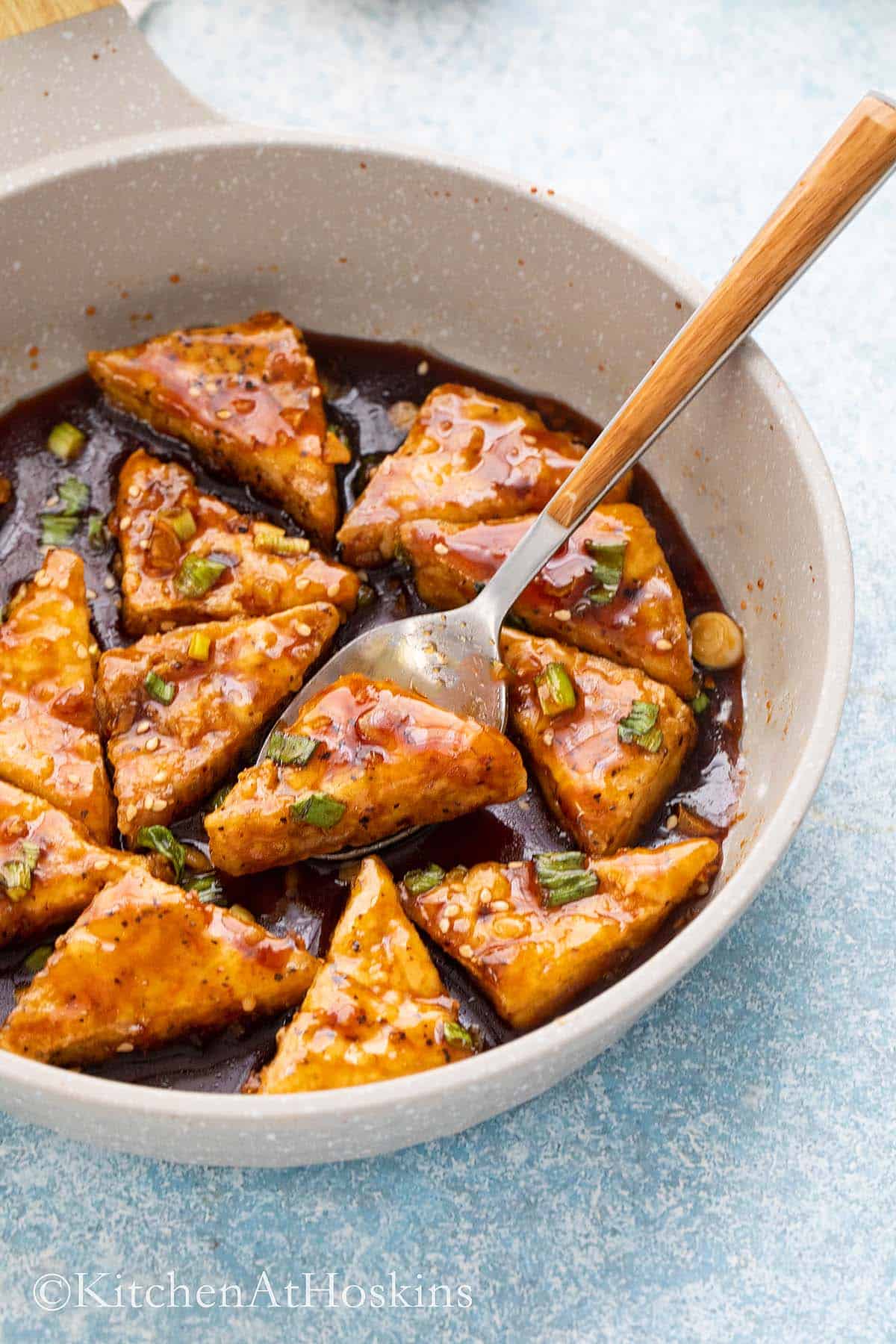 Teriyaki Tofu Recipe
Pan fried tofu until crispy on the outside yet the inside is soft, it is then coated in an easy homemade teriyaki sauce that takes a bland tasting tofu into an a finger licking good bite!
This has become on of our favorite plant based protein for meatless Mondays. There is no need for pressing, which makes it a quick and easy meal. All you have to do is to pat dry the tofu, chop into triangles, dust in seasoned cornstarch, pan fry and toss in sauce. It has an amazing texture and delicious taste.
It is amazing served in a bowl with rice and a vegetable like broccoli on the side. This recipe is simple and easy and tastes like it came straight from a restaurant. Love chicken? Check out this Teriyaki Chicken made in Air Fryer.
WHY YOU'LL LOVE THIS RECIPE?
Quick and easy - Ready in about 30 minutes, so I get my rice cooking so the whole meal is ready in no time.
Protein packed. It contains all nine amino acids to make complete source of protein. Homemade take out recipes are always better and healthier than restaurants.
Flavorful - Tofu tends to take on the flavor of whatever it is cooked with. The sweet and savory sauce with umami flavors is the perfect coating.
What Is Teriyaki?
The word derives from the noun "teri", which refers to a shine given by the sugar content in the tare (which is the sauce), and "yaki" (which refers to the cooking method).
Invented by Japanese chefs in the 1700s, the protein is marinated and brushed several times during cooking. The synonymous bold, tangy and sweet flavor is devoured the world over.
Ingredients in Teriyaki Sauce
Authentic Japanese recipe combines soy sauce, mirin, sugar, and/or sake to create a distinctively sharp taste. Westernized versions may incorporate other ingredients like honey, garlic, and ginger for added flavor. Cornstarch is often added as a thickener.
Store bought simply doesn't compare to something made at home. It just takes 3 ingredients to make from scratch with minimal effort and it's truly worth it because you control the ingredients when compared to the unrecognizable ingredients in a bottled sauce.
The sauce can be used as a marinade, for basting or as a dipping sauce. It's a versatile, elevating chicken and seafood dishes.
Soy sauce – Kikkoman is great for Japanese cooking made at home. It's the most well known Japanese soy brand and an excellent for all Asian dishes. DO NOT use "dark soy sauce" or "sweet soy sauce".
Mirin – It is a Japanese rice based cooking wine with a lower alcohol content than sake. It is usually syrupy and golden colored with a deep flavor.
Sugar - I use white granulated sugar. Some recipes call for using honey or brown sugar.
The three ingredients is simmered for one to two minutes until it changes from watery to syrupy. Remove from heat when it's a thin syrup because it will thicken as it cools. If it's too thick, the flavor might be too strong and overwhelm the dish.
WHAT IS MIRIN?
It is a Japanese rice-based cooking wine that has a lower alcohol content than sake and is usually lightly sweetened. Besides soy sauce and sugar, it is an important ingredient that gives the sauce its deep, rich umami flavor. You can usually find it in the Asian section of your grocery store, at your local Asian supermarket or Amazon.
It is frequently used in Japanese cuisine, giving the sweetness and a sheen when reduced into a glaze.
It features frequently in Japanese food, introducing sweetness to dishes and when reduced gives glazes like teriyaki their sheen. Our favorite to use is "Kikko Manjo Aji Mirin" , other popular brands include Takara and Hinode.
BEST TOFU TO USE
It is widely available and comes in a broad range of textures, from silken, regular, firm and extra-firm. Use types that are labelled "firm" to "extra firm" in this recipe.
Made from soy beans, it is low in calories, low carb and one of the greatest sources of plant based protein.
PRESS OR NOT TO PRESS?
Pressing the tofu compresses it and squeezes out extra moisture, making it firmer and drier which gives a wonderfully crisp exterior when you cook it. The entire block is wrapped in paper towels or muslin cloth, placed on a plate and then weight is added on top and left aside for about 30 minutes. It also helps to get rid of the excess moisture.
I buy firm or extra firm blocks, and don't bother pressing for the recipe. It makes a more softer inside with a light and crunchy exterior. However, it is important to make sure to pat dry the block extremely well on all sides to remove all moisture before cutting.
CAN I BAKE IN OVEN?
Sure can! Pan frying is usually more authentic and quicker than baking, but baking works just as fine with less mess. However it takes more than an hour , since oven method works best if the tofu is pressed and then baked for about 30 minutes.
If baking in oven, then begin by draining the excess water, wrap in paper towels and place on a large plate with a lip. Place another heavy plate (adding a cast iron pan on top adds more weight and helps with the process) on top and leave for 30 minutes.
Cut the pressed block into triangles or 1-inch cubes, toss in 2 tablespoons cornstarch and equal quantity of vegetable oil. Place in a single layer on a parchment lined baking sheet. Bake in a pre heated 400 degree oven for about 30 minutes, turning halfway through baking, until browned and crispy.
Yes! Use firm or extra firm block and press following the instructions above. Cut into 1-inch cubes and dip the cubes in cornstarch, making sure they are evenly coated on all sides.
Spray the air fryer insert with nonstick spray and add the cubes, making sure to not overcrowd the basket. Spray the tops with another coating of cooking spray, cook at 375°F for 15-18 minutes, turning half way through cooking. Allow them to cool for 3-4 minutes before you sauce them to maintain crispness.
WHY I DON'T MARINATE?
Because of the sugar content in the glaze, it is most likely to burn when fried in the pan, before it has a chance to crisp up. Also, the final tossing after they have been pan fried gives them adequate flavor.
INGREDIENTS
Tofu: Use one 16-ounce block of firm or extra firm tofu, patted dry of all excess moisture and chopped into cubes or triangles.
Cornstarch: This is what gives the tofu its crispy texture.
Seasoning: Salt, black pepper and freshly chopped garlic.
Soy Sauce: We used Kikkoman Soy Sauce. Do not use "light" or "dark" variety.
Mirin: You should be able to find a bottle of it in the Asian section of your supermarket or Amazon. Our favorite to use is "Kikko Manjo Aji Mirin".
Sugar: It's essential for the characteristic sweetness.
Oil: Any neutral oil like vegetable or corn oil.
Garlic: Fresh is always best, but if you're in a pinch, you can sub in 1 teaspoon each of garlic powder.
PRO TIPS FOR SUCCESS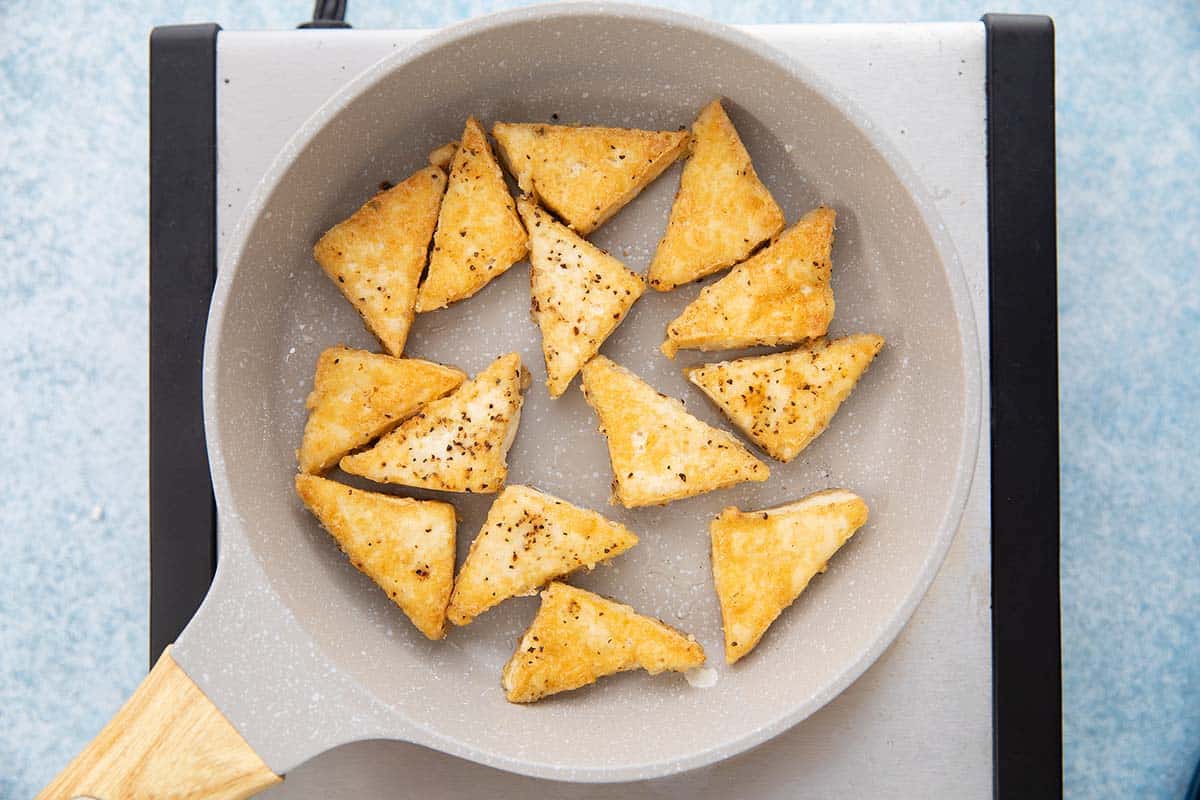 HOW TO MAKE?
Here is a quick summary of the process but look for full instructions and measurements in the recipe card at the bottom of the post.
Pat dry - Drain excess water from the package and pat dry on all sides using paper towels to remove ALL EXCESS MOISTURE.
Prep - Cut the block into triangles and dust with seasoned cornstarch.
Pan Fry - Heat vegetable oil in a non-stick pan and cook the triangles until deep golden on both sides. Remove to a plate and wipe most of the oil using paper towels.
Make the sauce - Saute minced garlic in the remaining oil and then add mirin, soy sauce and sugar. Cook until it reduces to a thin glaze.
Finish - Remove pan from heat and gently stir in browned tofu, chopped scallions and toasted sesame seeds.
HOW TO SERVE?
What goes with this dish? It is simple flavorful on it's own and is perfect with a bowl cooked white rice. That said, I do have a few toppings or side dish suggestions:
Here are a few recipe suggestions for a well rounded meal:
How to Store and Reheat Leftovers
This is best eaten the day you make it, because that's when it's the crispiest. Refrigerating will soften them and loose it's crispiness. If you have leftovers, refrigerate in an air tight continaer for up to 4 days.
How to reheat?
Stovetop: Add to a small pan with a splash of water. Heat on medium-low heat for 5 minutes or until warmed through.
Microwave: Add to a microwave-safe bowl and heat for 1-2 minutes or until warmed through.
Can I Freeze This?
If you'd like to freeze, then freeze the pan fried pieces withour tossing in the sauce. Thaw overnight in the fridge and then toss in freshly cooked glaze for a quick meal.
How long does it last? Leftovers will stay fresh in the fridge for upto days.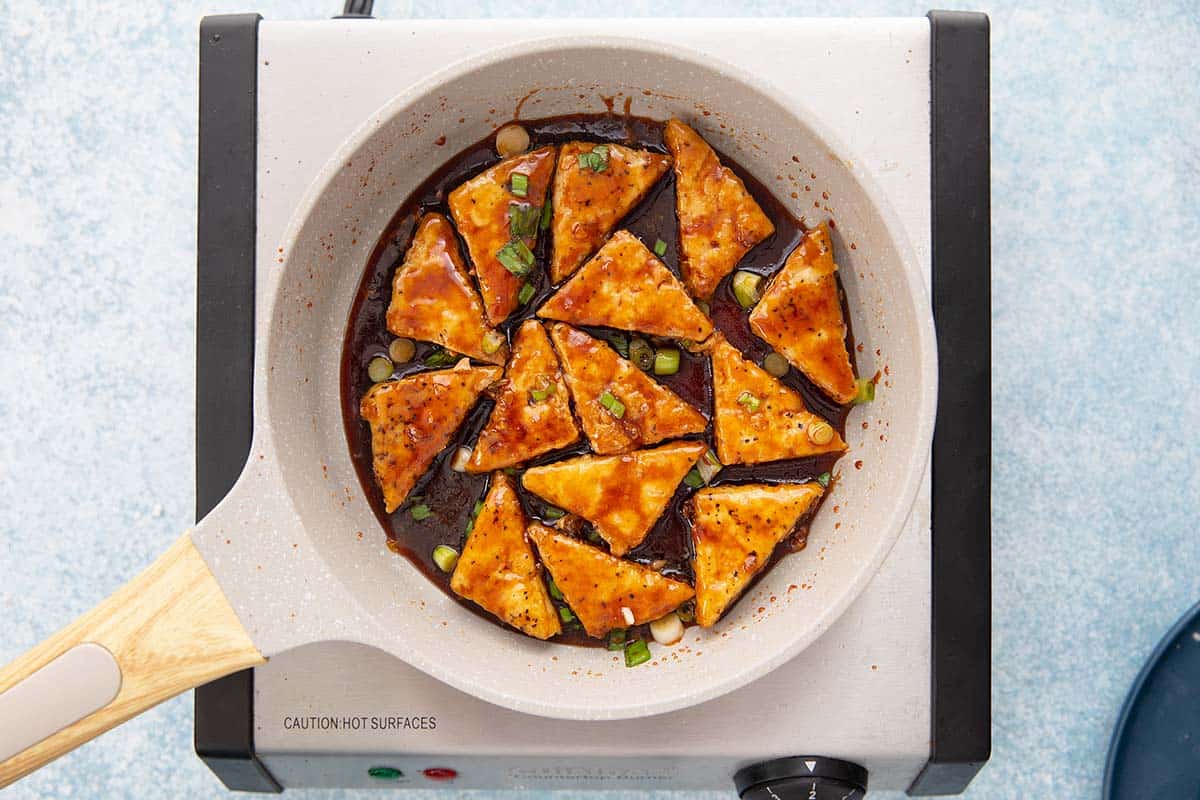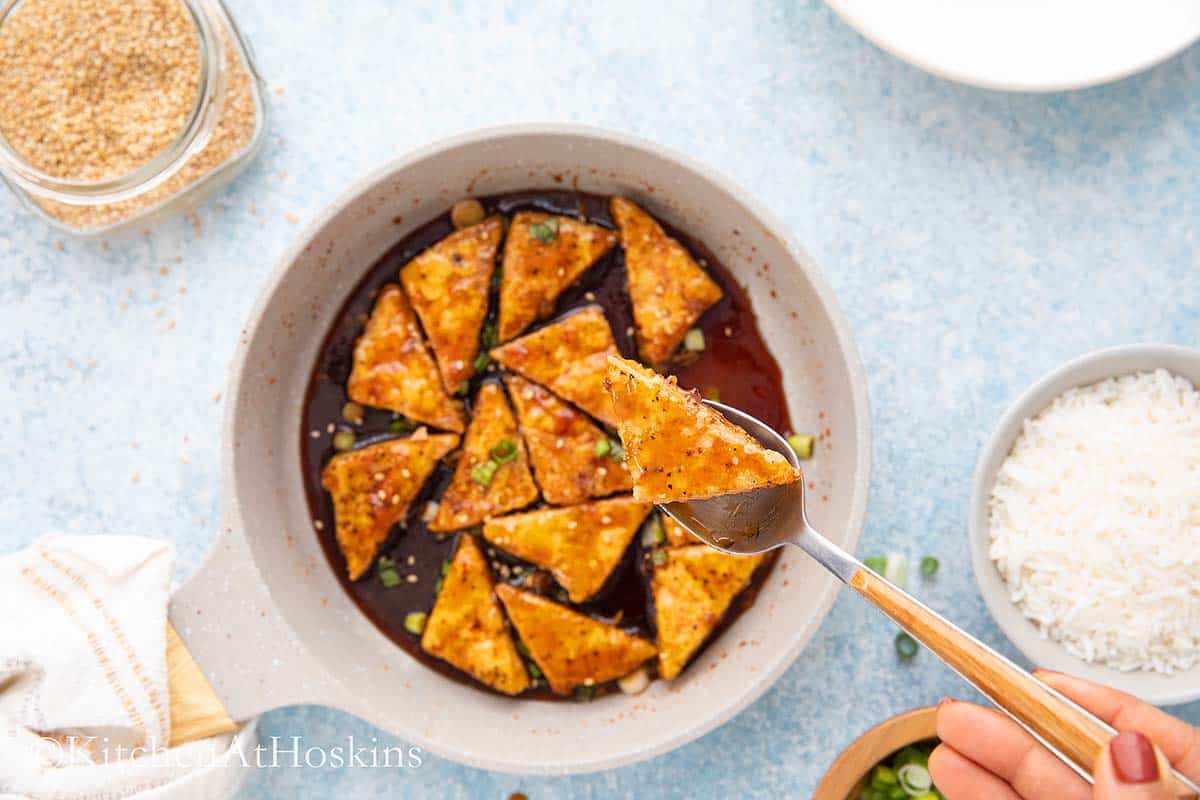 FREQUENTLY ASKED QUESTIONS
What Flavor is teriyaki sauce?
Made using just three ingredients like soy, mirin and sugar, it is a sweet, savory and sticky Japanese sauce with bold umami flavors.
What is the difference between teriyaki and soy?
Soy is made with soy beans, wheat, salt, and a fermenting agent. It has a more salty flavor and is one of the main ingredient in the teriyaki sauce.
More Vegetarian Take Out Recipes to try:
Follow me on INSTAGRAM, TIK TOK, FACEBOOK or PINTEREST for more delicious recipes.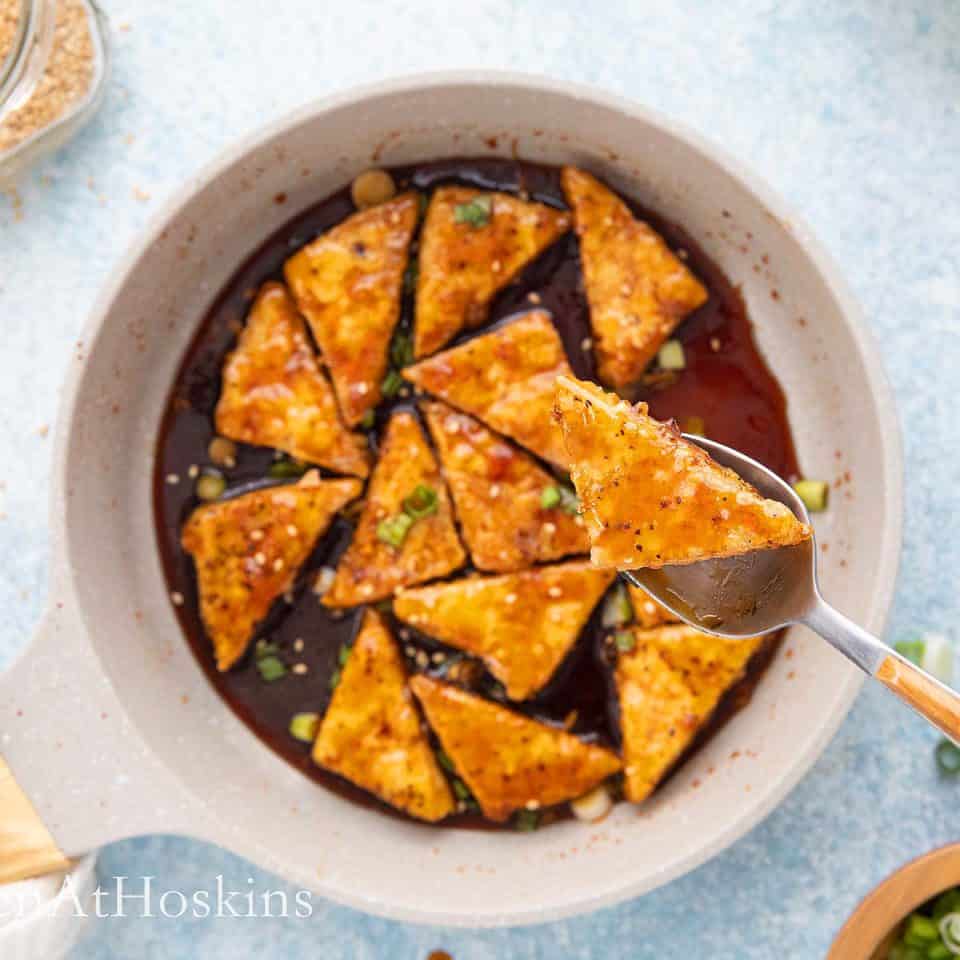 Teriyaki Tofu Recipe
Teriyaki Tofu recipe is panfried for crispy outside yet soft on the inside and is smothered in a sticky sauce. It is made in about 30 minutes since they don't need to be pressed. Better than take out!
Ingredients
1 (14-ounce) package firm tofu, drained and patted dry
⅛ teaspoon Salt
½ teaspoon ground black pepper
3 tablespoons vegetable oil
3 garlic cloves, minced
¼ cup + 2 tablespoons sugar (white)
Chopped scallions, to garnish (optional)
Instructions
1. Dry the tofu very well with paper towel on all sides. Cut into triangles.
2. Stir cornstarch, salt and pepper in a plate. Working with one piece at a time, gently toss to coat all sides with the cornstarch.
3. Heat vegetable oil in a large non-stick pan. When hot, place tofu in a single layer and cook on medium-high heat, until golden brown on the bottom. Gently turn over and cook until the other side is golden brown. Transfer to a plate.
4. Using paper towels, wipe out most of the oil. Place pan over medium heat, add chopped garlic and cook until it begins to turn golden.
5. Add soy sauce, sugar and mirin, stir occasionally and reduces to a thick sauce. Take pan off heat, gently toss in tofu. Sprinkle chopped scallions and sesame seeds. Serve with white rice.
Notes
Use non-stick pan - It is essential, so that the triangles don't stick to the pan.
Use Firm or Extra-Firm Tofu.
If your sauce reduces very thick, then simply heat with a splash of water to loosen it up.
Nutrition Information:
Yield:

4
Serving Size:

1
Amount Per Serving:
Calories:

234
Total Fat:

15g
Saturated Fat:

1g
Trans Fat:

0g
Unsaturated Fat:

13g
Cholesterol:

0mg
Sodium:

505mg
Carbohydrates:

20g
Fiber:

2g
Sugar:

13g
Protein:

4g
I am not a certified dietician or nutritionist. The information is a product of online calculator such as Nutrifox.com, although Kitchen at Hoskins attempts to provide accurate nutritional information, these figures should be considered estimates and not be construed as a guarantee. Varying factors such as product types or brands purchased, produce, and the way ingredients are processed change the nutritional information in any recipe. Furthermore, different online calculators provide different results depending on their fact algorithms. Under no circumstances will Kitchen at Hoskins be responsible for any loss or damage resulting for your reliance on the nutritional information. To obtain the most accurate nutritional information in a given recipe, you should calculate the nutritional information with the actual ingredients used in your recipe, using your preferred nutrition calculator. You are solely responsible for all decisions pertaining to your health and ensuring that any nutritional information provided is accurate.
Did you make this recipe? I'd love your feedback! Please let me know by leaving a comment or review below or snap a photo and share on Instagram.
Some of the links above are affiliate links, which pay me a small commission for my referral at no extra cost to you! I am a participant in the Amazon Services LLC Associates Program, an affiliate advertising program designed to provide a means for us to earn fees by linking to Amazon.com and affiliated sites. Thank you for supporting kitchenathoskins.com
All contents and images are my original work, unless and otherwise mentioned. Please do not use my recipes or images without linking back to www.kitchenathoskins.com. If you wish to republish a recipe, please rewrite in your own words and don't forget to include a link back to the original recipe.