Meatless Dinner Ideas for Lent Season are flavorful, satisfying and will please everyone around the table. They are mega delicious and will help your family observe the 40 days from Ash Wednesday to Easter without giving up flavor.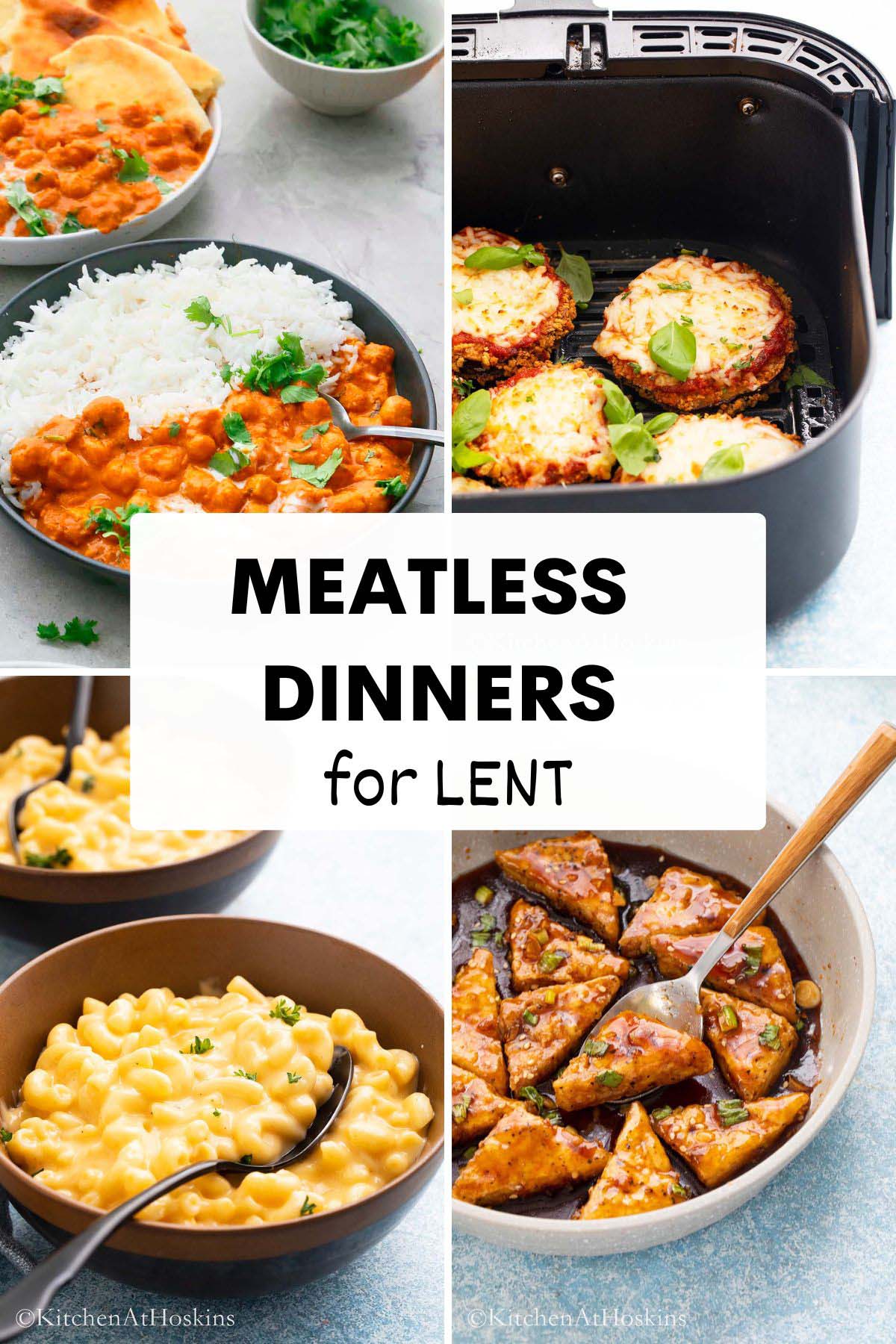 Jump to:
What is Lent?
Lent season is the 40 days (not including Sundays) beginning on Ash Wednesday until its conclusion on Easter Sunday.
It is one of the most significant times of the year for many Christians around the world, to prepare the minds and hearts for glorifying Jesus' life, death and resurrection.
It is regarded as a period of fasting, repentance, reflection and abstinence. During Lent, Christians seek the Lord in prayer by reading the Bible, giving alms and practice self-control through fasting.
What are rules of lent?
Lent is observed in a number of ways, typically involving three traditions - prayer, fasting and charity or almsgiving. Catholics believe that makes Jesus' sacrifice on Good Friday and His resurrection on Easter even more meaningful and offer them forgiveness.
Prayer focuses on repenting on one's sins, asking for God's forgiveness and receiving His mercy and love.
Fasting is the idea of doing with less. It is giving up something that's a regular part of life and practicing self control as a reminder of Jesus' sacrifice. It can be staying away from eating sweets, social media or abstain from luxuries. That time can also be replaced to connect with God in prayer.
Giving alms is doing something good for others or giving charity to respond to God's generosity and love. Some people choose to spend time volunteering or donating money they would normally use to buy something of luxury.
Why make these?
Roman Catholics choose not to eat meat on Fridays during Lent, because Jesus died on a Friday, and abstaining from meat reminds them of that sacrifice.
Those looking to give something up for Lent may choose meat as their luxury, either on Fridays or throughout all 40 days. There are several clever ways to skip meat and still end up with an amazing dish.
If you're going meatless this year or abstaining on Fridays and in need of some good vegetarian meals and seafood dishes, then these meatless recipes will keep even the biggest meat lovers feeling full, satisfied, will ensure that you aren't missing your steak or chicken and satisfy your cravings.
Our meat free dishes like chickpea lettuce wraps or potato sandwich are simple, affordable, mouthwatering and guaranteed to become part of your dinner rotation all through the year.
Meatless main course
Whether you're giving up meat on lenten Fridays or a lifelong vegetarian and want to mix up your usual rotation of vegetarian dinner recipes, we're betting that you'll find these recipes exciting!
It's always a great idea to have a few meat free dishes on stand-by anytime you're craving for something flavorful and satisfying.
Pasta dishes
Pasta dishes are always satisfying with or without meat. They are incredibly versatile, budget friendly and the possibilities are endless.
Whether you're looking for something quick and easy or a filling dish for the family on Lenten Friday night, these mouthwatering vegetarian pasta recipes are full of bold flavors!
Vegetarian curries
Meatless meals don't have to be bland and leave you unfulfilled. These Indian vegetarian curries are deeply nourishing, authentic and incredibly delicious.
Piping hot curry with a bowl of steamed rice or pillowy soft naan is always close to my heart. Whether you are looking for something to be made in a jiffy or healthy and satisfying, you are sure to find something that is going to be a family favorite.

Air fryer
You'll love these air fryer dinner ideas to try during this holy season. If you're using the Air Fryer like us, then you are always looking for something new and easy to make for dinner.
Rice dishes
Rice is endlessly versatile and is the perfect vehicle for soaking saucy curries or stir fries. Quick to prepare and easy to make rice dishes can be filling and satisfying.
Whether in the form of quick air fryer fried rice or instant pot cilantro lime rice, rice dishes are nourishing and delicious.
Hope you found a meatless dinner recipe to try this Lent season. If you are looking for more ideas then please check out weeknight dinner recipes, vegetarian dinner ideas or vegetarian taco recipes for inspiration.
Hungry for more? Follow me on Instagram, TikTok, Facebook or Pinterest for more delicious recipe