Amazing Spicy Shrimp Tacos are made with spicy tender shrimp, most delicious cilantro lime sauce, sweet and tangy slaw with all the taco fix-ins. So GOOD!
If your family loves this delicious take out for dinner, then you might like Fish tacos with Frozen Fish Sticks, Baked Bang Bang Cauliflower Tacos or Baked Tilapia Tacos.
As an Amazon Associate and member of other affiliate programs we earn a small commission from qualifying purchases through our affiliate link. For more information read our Non-Disclosure Agreement.
SPICY SHRIMP TACOS
The perfect way to celebrate Taco Tuesday or any other day in our house, is with a loaded spicy goodness with an amazing slaw and finished off with best sauce that is lip smacking good!!! Try this easy air fryer shrimp tacos recipe.
Other favorites include Spicy Chicken Tacos or Chicken Mince Tacos. These taste amazing and are definitely better than anything you'd get in a restaurant. It's a crowd-pleasing meal that's quick, easy, and packed with flavor!
What makes this one of the BEST ? Balance of flavors and textures! There is spicy, tangy, sweet, crunchy, creamy ----> makes for one tasty bite.
Shrimp recipes are one of my go-to when I'm looking a quick weeknight dinner idea like this air fryer shrimp. It is always stocked in the freezer, thaws quick and cooks in minutes.
Looking for more ideas? Check out Garlic Chili Lime Shrimp, Firecracker Shrimp Recipe or Prawn Makhani. Honestly, this prawn is good enough to stand on its own — the seasoning mix is so delicious, easy to make with just a few ingredients.
WHY YOU'LL LOVE THIS RECIPE?
Quick and Easy - It cooks in a matter of minutes, making it ideal for fast weeknight dinners.
Make ahead - The filling, slaw and sauce can be made ahead a stored in the refrigerator for 2 to 3 days.
Packed with flavor - These are nothing short of flavor. You family will enjoy this dish that is spicy, zesty, tangy, creamy, crunchy with a hint of sweetness.
Flexible toppings - Feel free to use your favorite Mexican toppings.
How to thaw frozen shrimp?
Place them in a large bowl and fill the bowl with cold or room temperature water. Let it sit for about 10 minutes or until thawed (the time will depend on the quantity used) and then drain and pat dry with paper towels.
How to cook shrimp?
Raw prawn is greyish in color and it turns pale pink when cooked. It can be pan fried, baked, grilled, pressure cooked, air fried, deep fried or stir fried. It cooks in just 2 to 3 minutes per side and curls up into a "C" when cooked. Remove immediately, since overcooking seafood will make it rubbery.
Shrimp size
We're using "31/40" count or "medium" size that makes a pound. The seafood industry defines the size by how many it takes to make a pound. It's the perfect bite size that comfortably fills into the tortillas.
Feel free to use any size that you have on hand. If using large size, then we like to chop them coarsely after it's cooked, which makes it easier to eat.
A few tips for cooking perfect shrimp:
Raw prawn has greyish colored flesh. The protein turns to an opaque whitish pink color and curls up unto a loose "C" shape when cooked.
Avoid overcooking - They cook very quickly, around 2 minutes per side. So, make sure that you remove them before they curl up into a tight "C". Have you tried this Shrimp Alfredo pasta, Shrimp and Avocado Rice Bowl, Breaded Shrimp in the Air Fryer or Tuscan Shrimp and Spinach Soup.
Seasoning
Our seasoning is so, so simple. Although we love to use our favorite homemade seasoning for several Mexican dishes, this recipe uses very few spices like ground cumin, chili powder, cayenne and fresh garlic, which is readily stocked in most pantries.
The Best Tortillas to Use
Yellow or white corn tortillas are an authentic choice and works amazing with the roasted corn flavor that compliments the spicy filling. Flour tortillas will work if that's what you have on hand.
HOW TO WARM TORTILLAS
Warming them will help to fold and hold ingredients without breaking. It will also make them more flavorful and the overall dish tastier. Here are ways to warm:
Char over open flame - Place the tortilla on a gas flame on the stovetop over medium flame, for 10 to 15 seconds, until few black spots appear, flip and roast on the other side.
Dry skillet - Cook in a hot, dry cast iron/stainless steel skillet on both sides.
Microwave - Wrap stack of 5-6 tortillas in a damp paper towel and microwave for about 15 seconds.
What Goes in Shrimp Tacos?
This easy recipe is simple to make and totally versatile. Add your favorite toppings to personalize however you'd like. Here's what I like to use:
Spicy Shrimp - A quick, well seasoned, skillet cooked filling.
Slaw - Crisp, crunchy, tangy, sweet slaw made with shredded cabbage, carrot, red onion, cilantro and jalapeños.
Cilantro lime sauce - A multi purpose sauce that we like to use on everything possible. Creamy, spicy and tangy Mexican taco sauce made easily in the food processor. Not only is it easy to make, but you can also prep this ahead of time (up to a day in advance).
PRO TIPS FOR SUCCESS
TOPPINGS
After years of taste testing (both in restaurants and homemade), I found that Cabbage (red or green), carrot, cilantro, jalapeños and chopped tomato make delicious topping. Other ideas include:
Our Go-To Sauce:
Tacos are only as good as the sauce that smothers them and we think that this is the best. The soothing creaminess from mayonnaise and sour cream paired with coarsely ground cilantro and spicy jalapeños with tangy lime makes the flavor shine. It also makes a tasty dip with fresh veggies or dressing for salads.
Are They Better With Slaw?
Sure is! Cabbage slaw adds freshness, texture, taste and deliciousness. So easy and YUM!
Variations:
Gluten-fee - Use gluten-free corn tortillas and please make sure that all other ingredients used are gluten free as well.
More Heat - You can turn up the heat by making following adjustments : Increase cayenne in the spicy shrimp / Add more jalapeños in the sauce recipe / Add more chopped jalapeños in the slaw / Top with as much sliced jalapeños as desired.
Less Spicy- You can reduce the heat by making following adjustments : Decrease or skip cayenne in the spicy shrimp / Use less jalapeños in the sauce recipe / Skip jalapeños in the slaw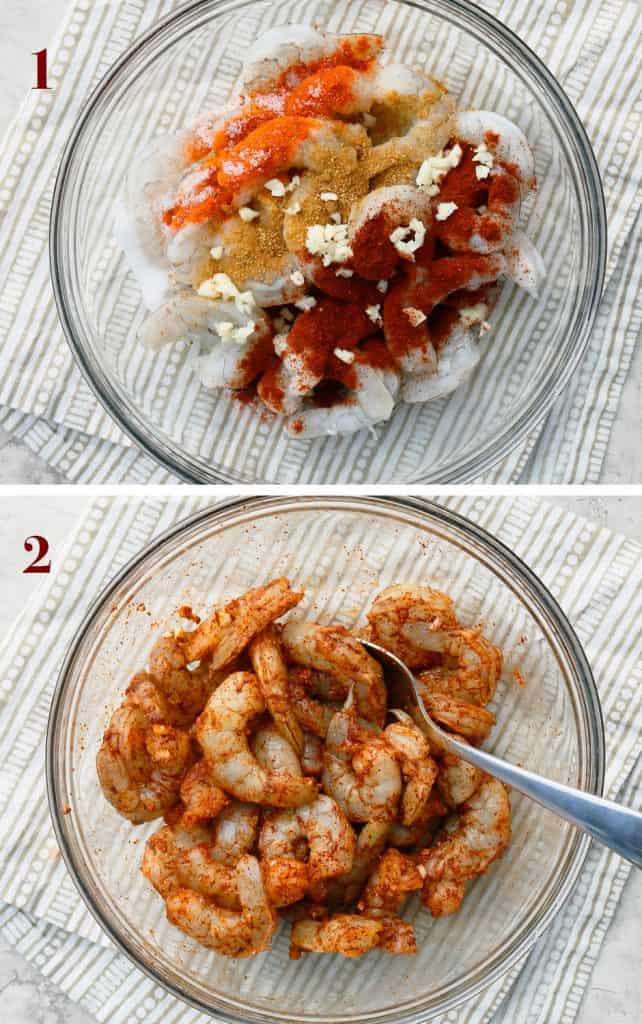 HOW TO MAKE?
Here's a quick overview of how to make these! Full instructions included in the recipe below…
Cook - Season the prawns with seasoning, salt and chopped garlic. Then sauté in oil in a non-stick pan until they are cooked through.
Prep the slaw and crema: Prep the cabbage slaw and the creamy cilantro sauce.
Assemble: Load those warmed tortillas up with a generous serving of the slaw, a few shrimp, a drizzle of cilantro jalapeno crema and sprinkle of your favorite toppings.
Enjoy. Serve while they're nice and warm and ENJOY!
HOW TO STORE?
CAN I REHEAT?
This dish reheats beautifully. You can reheat the prawns in the microwave for approximately until warmed through or in a skillet.
What goes well with this?
Make it a feast! Here are some of our favorite recipes to make alongside this delicious goodness.
Mexican rice dishes like cilantro lime rice or Spicy Mexican rice with black beans and corn, air fried chili lime corn on the cob, Refried beans, corn bread and ice cold margarita.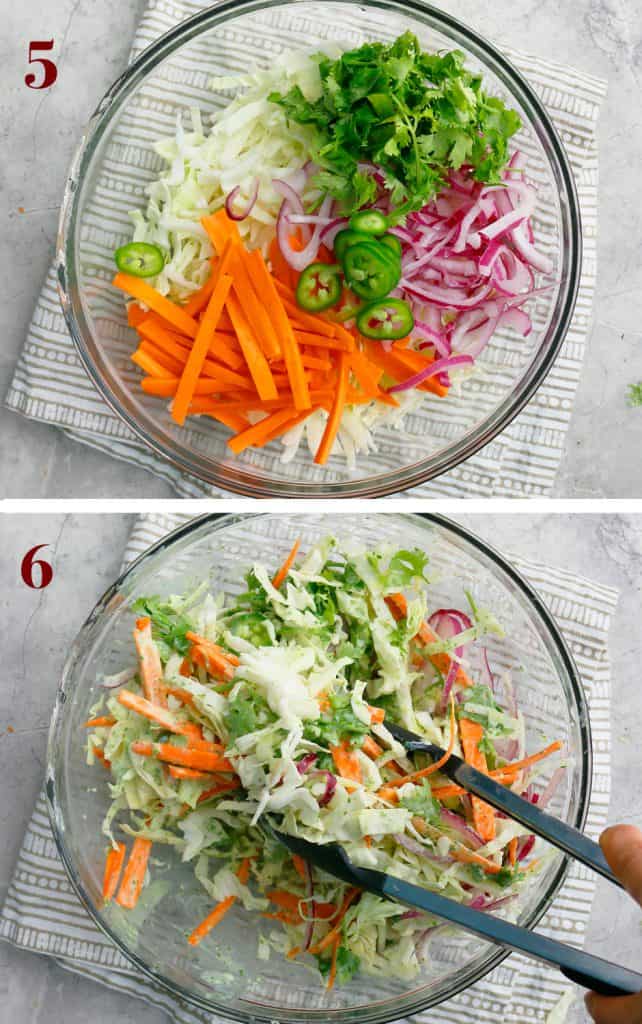 FREQUENTLY ASKED QUESTIONS
How many calories does one taco have?
Each Shrimp taco is approximately 285 calories.
What ingredients do you need?
Main ingredients are shrimp, spices, garlic, corn tortilla, slaw, sauce, avocado and cilantro.
What are the spices you need?
The most commonly used spices are chili, chipotle, cumin, garlic and cayenne.
MORE SPICY TACO RECIPES TO TRY:
Follow me on INSTAGRAM, TIK TOK, FACEBOOK or PINTEREST for more delicious recipes.
Spicy Shrimp Tacos
Amazing Spicy Shrimp Tacos are made with tender spicy shrimp, most delicious cilantro lime sauce and all the taco fix-ins. One of the BEST shrimp tacos recipe! 
Ingredients
Spicy Shrimp
1 pound shrimp, peeled, deveined, tails removed and patted dry
2 garlic cloves, minced
1 teaspoon chili powder
½ teaspoon cumin powder
½ teaspoon salt
¼ teaspoon cayenne pepper powder (more if desired)
2 tablespoons vegetable oil 
Slaw for Shrimp tacos
4 cups shredded green cabbage
1 medium carrot, julienned
½ cup thinly sliced red onion
½ cup chopped cilantro
few sliced jalapeños (optional)
2 teaspoons honey
Additional ingredients
8 corn tortillas
2 tomatoes, chopped
chopped cilantro
sliced jalapeno 
lime wedges
Instructions
Make Spicy Shrimp

1. In a medium bowl, toss shrimp along with all spices (except vegetable oil), until well coated. Refrigerate for at least 15 minutes or up to 2 hours. (If pressed for time, then go ahead with cooking shrimp right away).
2. Heat vegetable oil in a medium skillet, until moderately hot. Add half the shrimp in a single layer, cook for about 2-3 minute, turn over and cook for another minute or two or until cooked through. Remove onto a plate and repeat process with remaining shrimp.
Make Slaw for Shrimp Tacos

In a large bowl, toss all slaw ingredients along with ¼ cup cilantro lime sauce.
Warm tortillas

Turn your gas burner to medium-low and using tongs, place tortilla, one at a time, directly over the flame. As soon as it starts to brown, give a quick flip to color the other side and then take off heat. Alternatively, you can cook tortillas in a cast iron skillet - Place tortilla in a hot cast iron skillet, for about 15 to 30 seconds on each side. You want to look few browned or darkened spots on both sides. Keep them warm wrapped in a clean kitchen towel.
Assemble Spicy Shrimp Tacos
Top a tortilla with slaw, spicy shrimp, a generous drizzle of cilantro lime sauce, chopped tomatoes, cilantro and jalapeños slices.
Notes
Make it gluten-free – Use gluten-free corn tortillas and please make sure that all other ingredients used are gluten free as well.
Make it SPICIER – You can turn up the heat by making following adjustments : Increase cayenne in the spicy shrimp / Add more jalapeños in the sauce recipe / Add more chopped jalapeños in the slaw / Top with as much sliced jalapeños as desired.
Make it less SPICY– You can reduce the heat by making following adjustments : Decrease or skip cayenne in the spicy shrimp / Use less jalapeños in the sauce recipe / Skip jalapeños in the slaw
Let shrimp marinade at least for 15 minutes ( or up to 2 hours in the fridge)
Don't overcook shrimp. Cook just until shrimp is curled into a C.
Toss slaw with sauce just before serving. If left longer, slaw tends to loose its crunchiness.
Use only corn tortillas and not flour tortillas.
Nutrition Information:
Yield:

8
Serving Size:

1
Amount Per Serving:
Calories:

210
Total Fat:

7g
Saturated Fat:

2g
Trans Fat:

0g
Unsaturated Fat:

5g
Cholesterol:

125mg
Sodium:

752mg
Carbohydrates:

22g
Fiber:

4g
Sugar:

6g
Protein:

16g
I am not a certified dietician or nutritionist. You are ultimately responsible for all decisions pertaining to your health. This information is provided as a courtesy and should not be construed as a guarantee. This information is a product of online calculator such as Nutrifox.com.. Although Kitchen at Hoskins attempts to provide accurate nutritional information, these figures should be considered estimates. Varying factors such as product types or brands purchased, natural fluctuations in fresh produce, and the way ingredients are processed change the nutritional information in any given recipe. Furthermore, different online calculators provide different results depending on their fact sources and algorithms. Under no circumstances will Kitchen at Hoskins be responsible for any loss or damage resulting for your reliance on the nutritional information. To obtain the most accurate representation of the nutritional information in a given recipe, you should calculate the nutritional information with the actual ingredients used in your recipe, using your preferred nutrition calculator. You are solely responsible for ensuring that any nutritional information provided is accurate, complete, and useful.
Did you make this recipe? I'd love your feedback! Please let me know by leaving a comment or review below or snap a photo and share on Instagram.
All contents and images are my original work, unless and otherwise mentioned. Please do not use my recipes or images without linking back to www.kitchenathoskins.com. If you wish to republish a recipe, please rewrite in your own words and don't forget to include a link back to the original recipe.
Some of the links above are affiliate links, which pay me a small commission for my referral at no extra cost to you! I am a participant in the Amazon Services LLC Associates Program, an affiliate advertising program designed to provide a means for us to earn fees by linking to Amazon.com and affiliated sites. Thank you for supporting kitchenathoskins.com.