Crispy Air Fryer Breaded Tilapia recipe has a crunchy Panko crumb with perfectly cooked juicy fish fillets! It is healthy, easy and absolutely delicious with a quick homemade tartar sauce for dipping, made into easy fish tacos or sandwich for dinner.
Love Breaded recipes? Check out Buffalo Cauliflower Bites, Baked Chicken Cutlets, Air Fryer Asparagus with Parmesan, Healthy Eggplant Parmesan, Breaded Shrimp, Air Fried Chicken Parmigiana, Crispy Mushrooms or Chicken Nuggets.
As an Amazon Associate and member of other affiliate programs we earn a small commission from qualifying purchases through our affiliate link. For more information read our Non-Disclosure Agreement.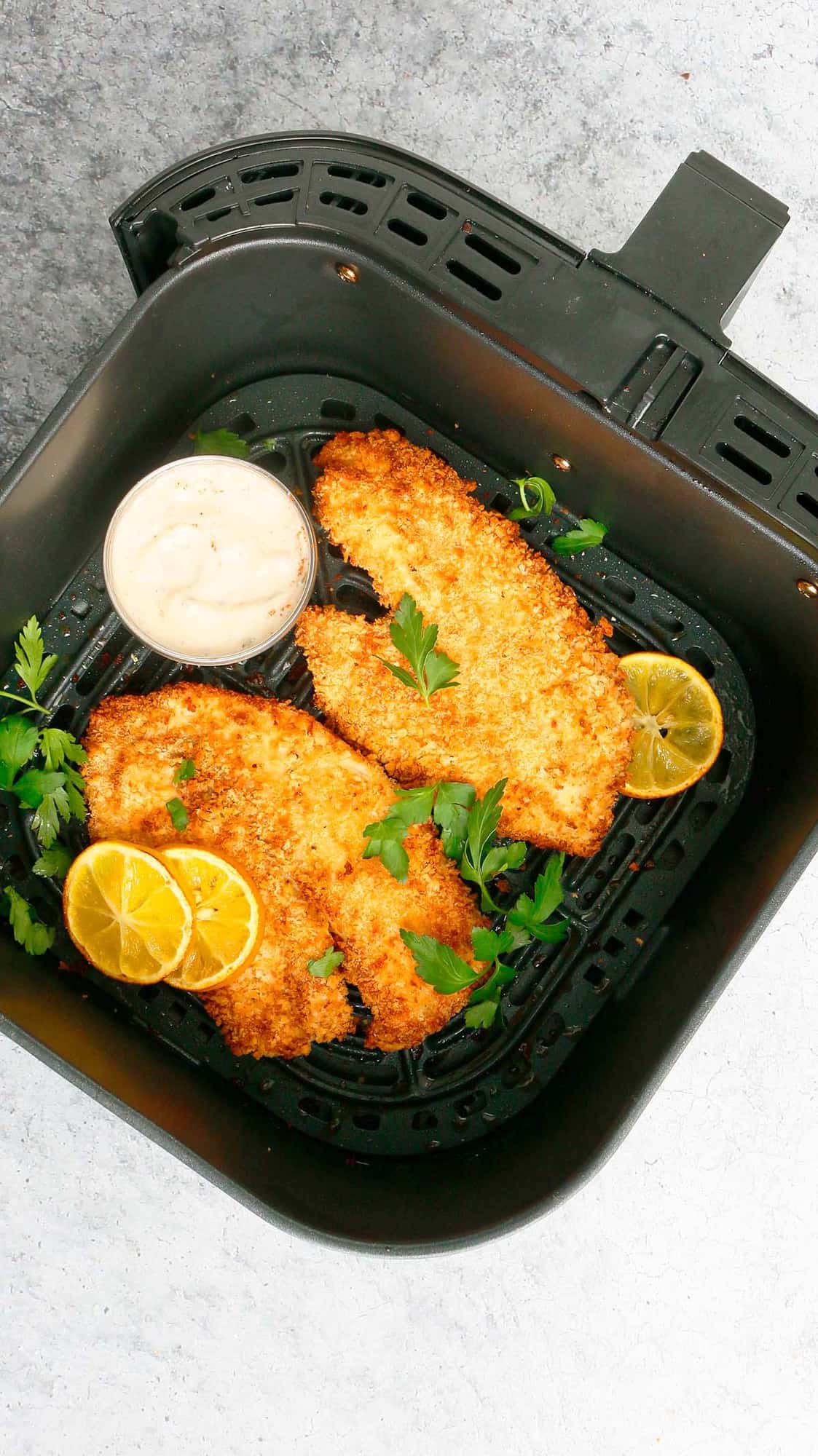 Air fryer Breaded Tilapia Recipe
Mildly seasoned tender juicy fish, with a crispy Panko crumb coating - It is Quick, easy, healthy and freezer friendly. Serve it for dinner with tarter dipping sauce and roasted broccoli or make into tacos ----> What's not to love?
The SECRET
Instead of adopting a regular breading method of flour-egg mixture-bread crumb, we've come up with a much easier one which involves tossing it in a batter and then coating them with breadcrumbs. The crumbs stay intact and forms a lovely crust on the outside.
I have been loving my air fryer so much, that I have started to make an entire dinners without having to turn on the oven or stove. It is a game changer for sure! You might also love this popular Chicken nuggets or chocolate chip cookies for a kid friendly meal.
We love chicken, shrimp, pasta, rice, tacos, vegetarian dishes for dinner, but today we are making an easy baked fish recipe that is delicious as is with a dip or made into tacos / sandwiches. Love salmon? Check out this salmon with skin made in air fryer. Ain't the usual panko breading process! You know we love to come up clever techniques around here.
What is Tilapia?
The name tilapia refers to several species of mostly freshwater fish that belong to the cichlid family. It is the fourth most commonly consumed fish in the US due to the affordable price, mild taste and ease of preparation. It is good source of protein and vitamins like niacin, B12, phosphorus, selenium and potassium.
Can you use frozen fish?
We recommend not it, since it might cook unevenly. If you have frozen fillets then thaw until completely defrosted.
Do you need to flip over in the air fryer?
We recommend cooking it only one side, which results well browned and crispier top crust with a slightly softer bottom crust.
How much fish to buy per person?
The American heart association recommends 3.5 ounces of cooked fish per serving. In general, 4 to 6 ounces per person is suggested depending on the serving size.
What other types of fishes to use?
Cod, Mahi Mahi are all great options. Increase the cooking time slightly if the fillet is thicker.
How long to cook tilapia in air fryer?
It depends on several factors like the cooking temperature, thickness of the fish and the amount being cooked. I used Instant Vortex 6 quart air fryer and it took about 11 minutes for 2 large fish fillets. If you are using a different variety of fish that is thicker, then it might take longer.
How to defrost tilapia?
Place the frozen fish (do not remove packaging or the plastic bag) in a large bowl and cover with room temperature water (or slightly cooler), until thawed. Warm or hot water will mess with the fish's texture (more detailed article here).
Expert tips
Pat dry with paper towels on both sides! Any moisture on the fillets might not allow the batter adhere well.
Other recommended fish - .
How many portions of tilapia can be cooked at once? It depends on the size of the air fryer. We used Instant Vortex 6-quart air fryer and was able to cook 2 large tilapia fillets at the same time. If using a smaller air fryer, then one to two portions can be cooked at once.
Temperature - Cooking fish at 400 degrees for 10 to 12 minutes results in a crispy crusted fillet.
How do you know when tilapia is done cooking?
Go by sight ---> flesh turns white in color
Check for doneness ---> Insert the tip of a knife on the thickest part of the fillet, if you feel resistance then it is done cooking.
Ingredients
Tilapia- Any fresh white fish cutlets can be used instead.
Eggs - Cold or room temperature
Seasoning - Black pepper, cayenne pepper and salt
Bread crumbs - Plain panko bread crumbs
Flour - a little all purpose flour as a binding agent.
How to make?
Make wet batter - Whisk eggs, flour and all seasonings together until smooth.
Prepare fish - Toss fillets in the wet batter, remove fish allowing excess batter to drip off. Coat fish in panko bread crumbs on both sides, packing them well with fingers.
Air fry - Cook fish at 350 degrees for about 11 to 12 minutes
Love crispy and crunchy foods? Bang bang cauliflower, Spicy pita chips, Roasted cashews, Baked shrimp rolls, Parmesan cheese crackers, Popcorn chicken or crispy cauliflower tacos.
What do you serve with tilapia?
Serve air fried tilapia with homemade tartar sauce / cilantro lime sauce / avocado crema
Make them into tacos or into these easier tacos.
Healthier fish and chips. Serve with baked or air fried fries from sweetcsdesigns.com.
Make sandwiches ---> Spread tartar sauce in between toasted buns, place a breaded cutlet (cut to the size of bun), lettuce leaves and tomato slice.
How to store?
To store - Leftovers can be stored either in the freezer or the refrigerator. We prefer freezing since it maintaining the crispiness to a large extent when reheated from frozen.
How to reheat?
From refrigerator - Microwave until heated through (the crust looses it crispiness) or air fry at 400 degrees for about 3 to 4 minutes or until heated through.
From freezer - Place the frozen fish (do not thaw) in the pre heated air fryer at 400 degrees for about 6 minutes, flip over and cook for additional 2 to 4 minutes or until heated through.
FAQs
Can I use regular bread crumbs instead of panko?
Absolutely! Panko will result in much more crispier and lighter crumb when compared to the regular bread crumbs.
Can you cook fish in the air fryer?
Air fryer is perfect for cooking fish recipes since air fryer cooks fish by circulating hot air around it, creating a convection effect, which helps in crisping and browning the fish exterior yet keeping it tender and moist inside.
How many calories in this recipe?
It has 294 calories, 37 grams protein and 19 grams of carbohydrates and per serving.
More easy baked dinner recipes: Garlic Parmesan Wings, Lemon Pepper Wings made in Air Fryer, Air Fryer Mushrooms, Baked Chicken Burger Patties, Baked Fish Tacos, Tandoori Chicken or Bang Bang Cauliflower Tacos.
More air fryer recipes - Air Fryer Roasted Zucchini, Bread Pudding, Glazed Apple Fritters, Egg Omelette Air Fryer, Baked Apples in air fryer, Chocolate Chip Cookies in air fryer, French toast in air fryer, Air Fryer Chickpeas, Air Frier Fried Rice without Vegetables or Teriyaki Chicken Thighs in Air Fryer.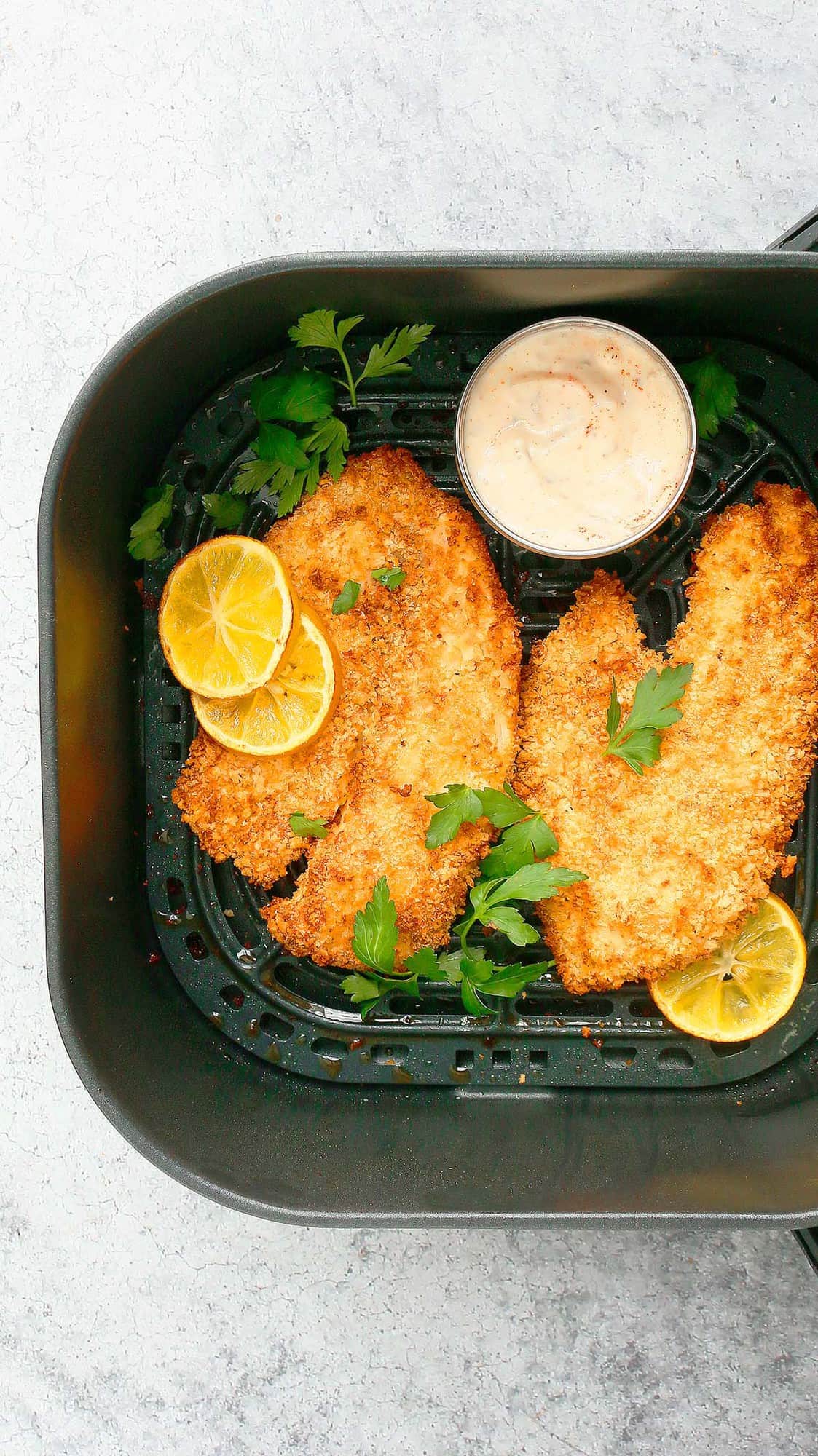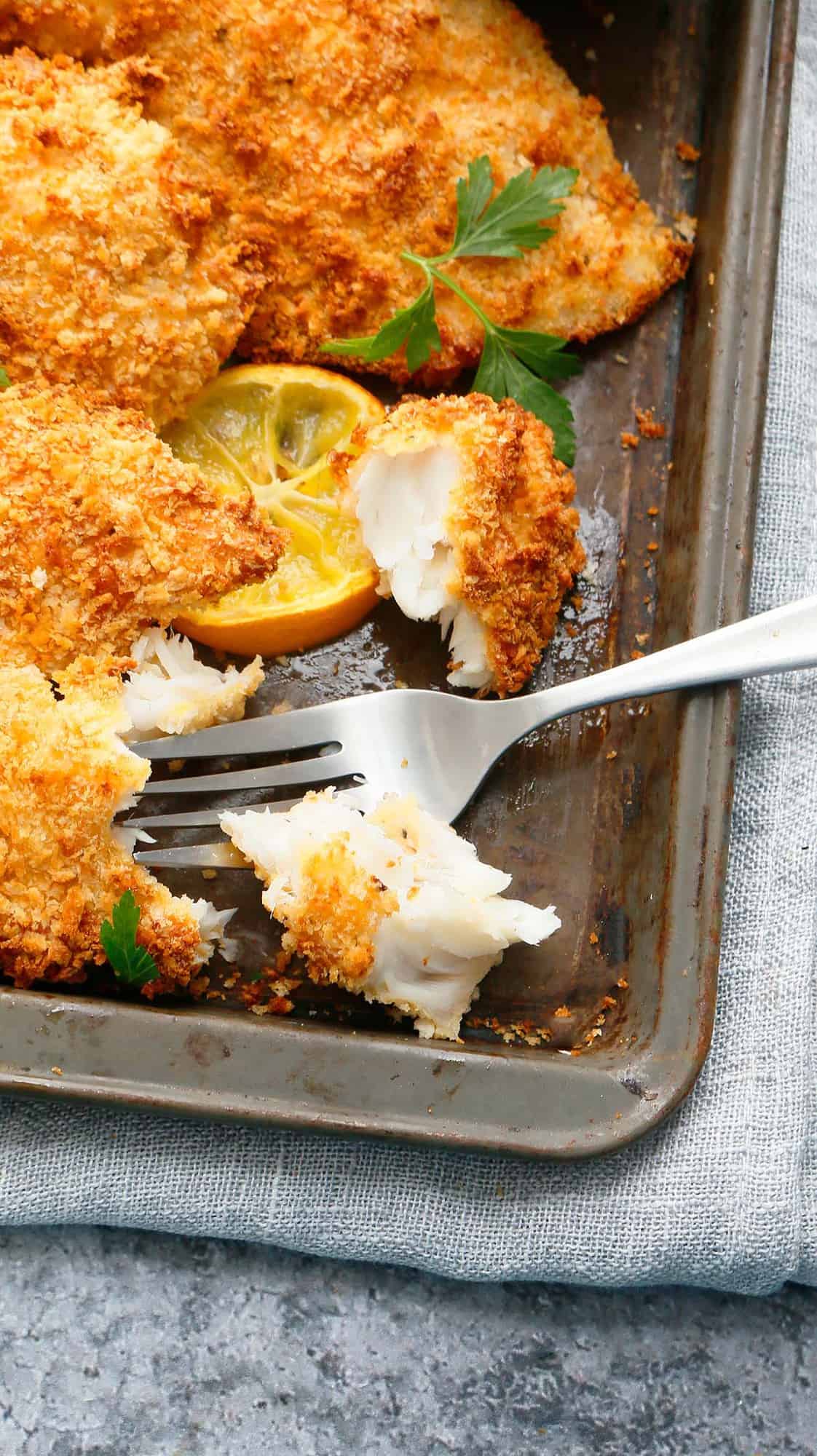 More Air Fryer Dinner Recipes to try:
Follow me on INSTAGRAM, TIK TOK, FACEBOOK or PINTEREST for more delicious recipes.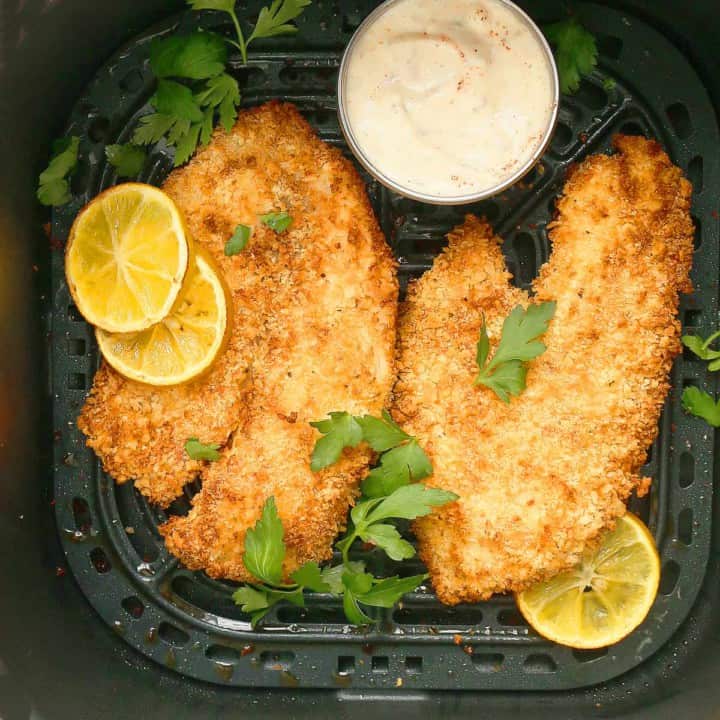 Crispy Air Fryer Breaded Tilapia
Crispy Air Fryer Breaded Tilapia recipe has a crunchy Panko crumb with perfectly cooked juicy fish fillets! It is healthy, easy and absolutely delicious with a quick homemade tartar sauce for dipping, made into easy fish tacos or sandwich for dinner.
Ingredients
Wet batter
2 large eggs
3 tablespoons all purpose flour
½ teaspoon salt
½ teaspoon ground black pepper
¼ teaspoon cayenne pepper powder
Additional ingredients
2 large tilapia fillets, patted dry
Equipment used
Instructions
Prepare fish
1. Add all wet ingredients into a shallow bowl, whisk until smooth and well combined.
2. Place panko breadcrumbs in another shallow bowl.
3. Place tilapia in wet batter, turning over couple of times to make sure that it is coated thoroughly. Lift tilapia with hands or tongs, allowing excess batter to drip off and then place over the bread crumbs.
4. Pack bread crumbs on both sides of the fish (pressing with fingers to adhere).
5. Place on a plate and repeat process with remaining fish.
Air Fry

1. Pre heat air fryer to 400°F for 12 minutes. When ready, place tilapia, spacing evenly and spray the top with non-stick cooking spray.
2. Cook for 10 to 12 minutes, spraying a coating of non-stick cooking spray again once in between (this is optional, but it helps in achieving more golden crust), or until it is cooked to your liking.
Serve with homemade tartar sauce or make into fish tacos or sandwich.
(Refer notes for quick tartar sauce recipe)
Notes
Tartar sauce
½ cup mayonnaise
2 tablespoon pickle relish
1 tablespoon water
1 to 2 teaspoons lemon juice
¼ teaspoon each salt, ground black pepper and sugar
⅛ teaspoon cayenne pepper powder
Stir all ingredients together.
Other recommended fish – Cod, Mahi Mahi are all great options. Increase the cooking time slightly if the fish is thicker.
Pat fish dry with paper towels on both sides! Any moisture on the fish might not allow the batter adhere well.
Nutrition Information:
Yield:

3
Serving Size:

1
Amount Per Serving:
Calories:

294
Total Fat:

7g
Saturated Fat:

2g
Trans Fat:

0g
Unsaturated Fat:

4g
Cholesterol:

189mg
Sodium:

595mg
Carbohydrates:

19g
Fiber:

1g
Sugar:

1g
Protein:

37g
I am not a certified dietician or nutritionist. You are ultimately responsible for all decisions pertaining to your health. This information is provided as a courtesy and should not be construed as a guarantee. This information is a product of online calculator such as Nutrifox.com.. Although Kitchen at Hoskins attempts to provide accurate nutritional information, these figures should be considered estimates. Varying factors such as product types or brands purchased, natural fluctuations in fresh produce, and the way ingredients are processed change the nutritional information in any given recipe. Furthermore, different online calculators provide different results depending on their fact sources and algorithms. Under no circumstances will Kitchen at Hoskins be responsible for any loss or damage resulting for your reliance on the nutritional information. To obtain the most accurate representation of the nutritional information in a given recipe, you should calculate the nutritional information with the actual ingredients used in your recipe, using your preferred nutrition calculator. You are solely responsible for ensuring that any nutritional information provided is accurate, complete, and useful.
Did you make this recipe? I'd love your feedback! Please let me know by leaving a comment or review below or snap a photo and share on Instagram.
All contents and images are my original work, unless and otherwise mentioned. Please do not use my recipes or images without linking back to www.kitchenathoskins.com. If you wish to republish a recipe, please rewrite in your own words and don't forget to include a link back to the original recipe.
Some of the links above are affiliate links, which pay me a small commission for my referral at no extra cost to you! I am a participant in the Amazon Services LLC Associates Program, an affiliate advertising program designed to provide a means for us to earn fees by linking to Amazon.com and affiliated sites. Thank you for supporting kitchenathoskins.com