Honey butter toasted baguette topped with tangy goat cheese, sweet persimmons and candied sticky walnuts. An absolute crowd-pleaser!!!!
If you're in need of an easy appetizer for all your holiday parties, look no further.
It is just the ULTIMATE crostini.
Toasted baguette slices with salted honey butter (YES!!!!) and has crispy edges with a chewy middle.
Salty and tangy goat cheese.
Sweet, ripe persimmons.
Walnuts that tastes like caramel coated. But, not overly sweet. BEST EVER!!!!!
You've got to try this.
We had this for breakfast too and no one was complaining.
Add baguette, persimmon and goat cheese to your shopping list.
And, all you need are a few pantry basics.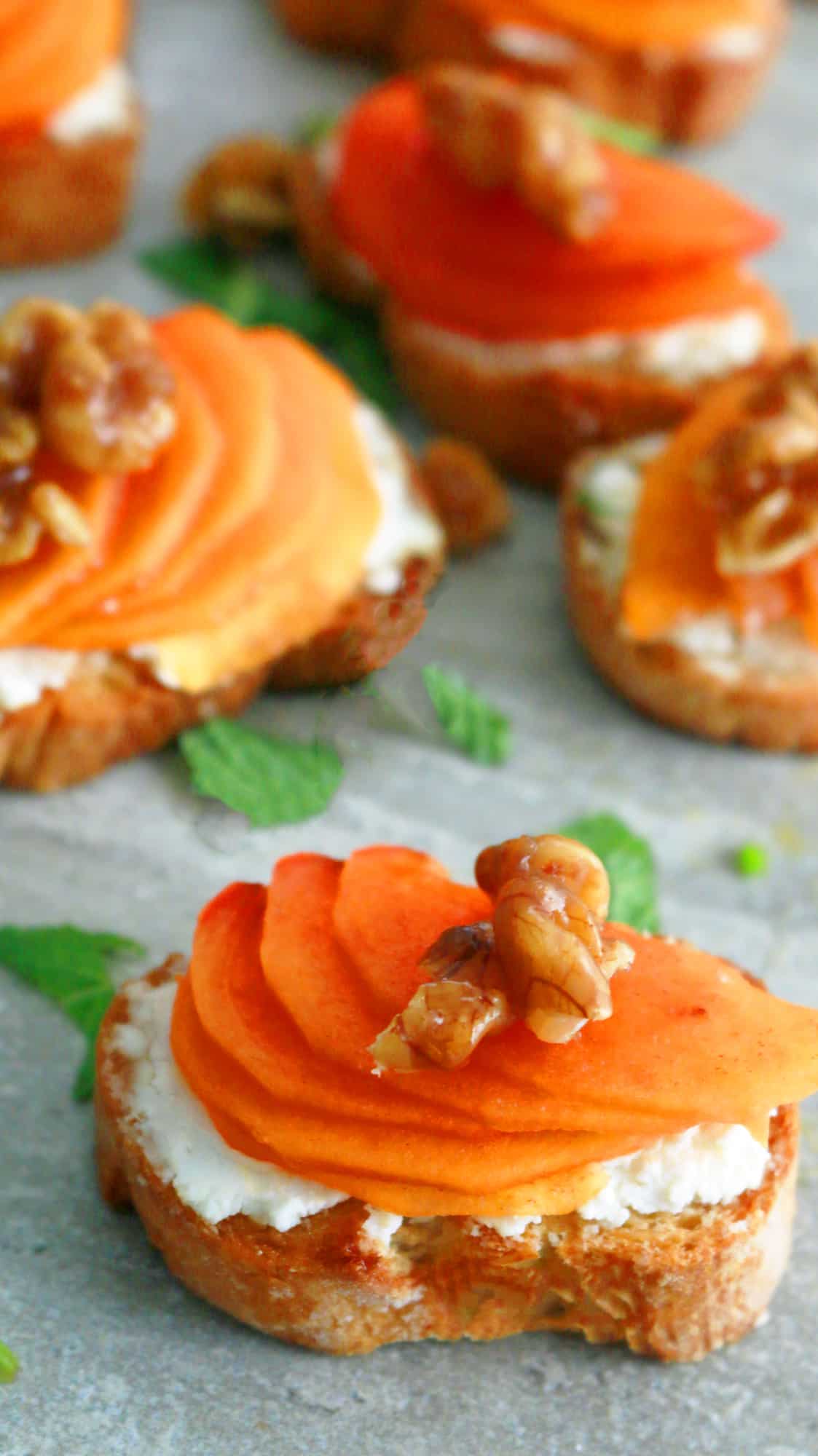 ---
Skill level – Easy
Persimmon, Goat Cheese and Walnut Crostini
Ingredients:
Candied walnuts
1 cup walnuts
1/4 cup packed golden brown sugar
1/4 cup water
1 tablespoon salted butter, room temperature (add 1 pinch of salt, if using unsalted butter)
Honey toasted baguette
1/4 cup + 1 tablepsoon honey
1/4 cup + 1 tablespoon salted butter, room temperature (add 1/8 teaspoon salt if using unsalted butter)
1 baguette, cut into 1/2-inch slices
Other ingredients
1 to 2 large persimmons, refer notes
5 ounces goat cheese (plain), softened to room temperature,
Preparation:
To make candied walnuts,
1. Place a piece of parchment (approximately the size of the plate) on a dinner plate or any other heat proof plate. Set aside.
2. Place all ingredients in a medium non-stick skillet.
3. Place skillet over high heat and cook (stirring occasionally) for about 5 minutes (stirring constantly in the last minute), until all moisture evaporates and the nuts get darker and shiny.
4. Immediately transfer the nuts on the prepared parchment. Spread the nuts, so that they are in a single layer. Let cool to room temperature. Chop or break into pieces to top crostini.
Nuts can be made up to a day ahead and stored in an airtight container.
To make honey toasted baguette,
1. Preheat oven to 425 degrees F with the oven rack positioned in the middle. Have a baking sheet lined with parchment paper.
2. Stir together honey and butter in a medium bowl, until evenly combined.
3. Spread a thin coating of honey-butter on one side of each baguette slice and place (buttered side up) on the prepared baking sheet (in a single layer).
4. Place baking sheet in the oven and bake for 8-10 minutes, until toasted (golden in the middle and darker around the edges).
5. Place baking sheet on a wire rack to cool completely.
Toasted baguette can be made several hours ahead and stored in an air tight container.
To assemble crostini,
Just before serving,
1. Wash, cut the stem end of persimmons and peel skin off. Slice in half and cut into thin slices.
2. Spread a thin layer of goat cheese over the top of each baguette slice. Top with a few slices of persimmon and candied walnuts.
Serve immediatley.
Serves 10-12
---
Notes:
Select ripe, slightly soft Fuyu persimmons for the recipe.