Air Fryer Chicken Tenders - Simple and Flavorful Garlic Parmesan Chicken Tenders are easy to make and perfect for an easy weeknight dinner. Made with no breading, flour or egg, this low carb recipe is delicious with marinara sauce.
Our kids love chicken dishes for weeknight dinner or just for a snack. Some of their favorites include Whole Chicken, Crispy Chicken Nuggets, Chicken Meatballs, Garlic Parm Wings or Lemon Pepper Wings.
As an Amazon Associate and member of other affiliate programs we earn a small commission from qualifying purchases through our affiliate link. For more information read our Non-Disclosure Agreement.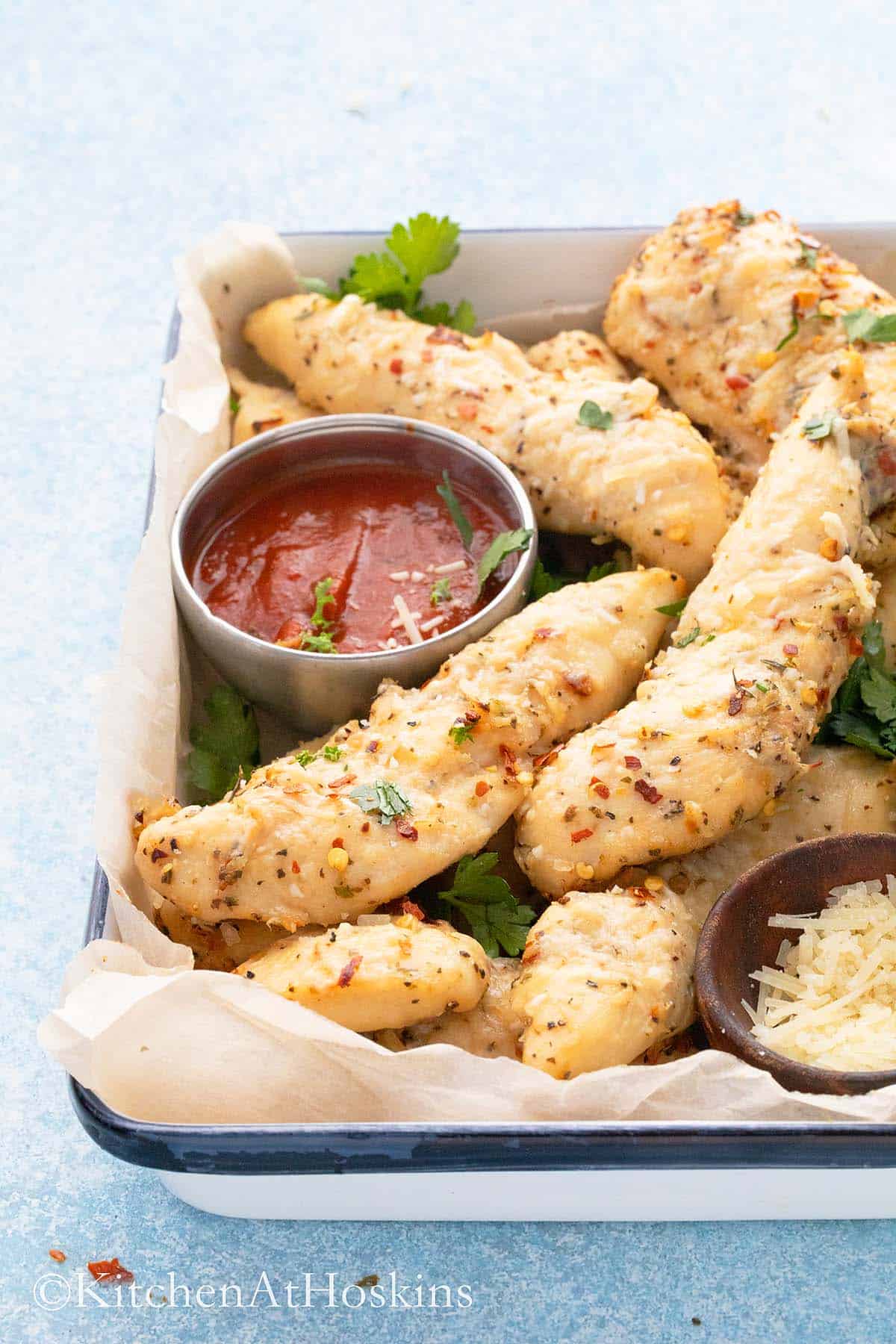 Air Fryer Chicken Tenders No Breading
My kids love these chicken strips for dinner along with these Eggplant Parmesan, parmesan zucchini chips and instant pot spaghetti. I like making homemade chicken strips because they are so much healthier than deep fried versions. It is simpler recipe without breading yet with tons of flavor and delicious paired with Roasted Carrots and Parsnips, Corn on the Cob or Baked Sweet Potato for a complete meal that your kids will love.
All you need are a few simple ingredients, and you can make these naked tenders from scratch in under 30 minutes! This recipe is also really easy for anyone at any cooking skill level to make.
A quick seasoning blend using spices you probably already have at home gives these unbreaded chicken tenders so much amazing flavor, they don't need any breading!
WHY YOU'LL LOVE THESE TENDERS?
Quick and Easy - It is made with simple pantry ingredients and the no breading recipe makes the process less complicated.
Kid and Adult friendly - A great recipe that is delicious paired with any Italian dishes for dinner. Kids love them since they are perfect to hold in their little hands and with simple kid friendly flavors.
Meal Prep - It is good for meal prepping, since the leftovers are great diced over salads, made into sandwiches or served with pasta.
No breading - These are naked which means that they are not battered or breaded so you don't need to worry about that extra step.
Low carb and Gluten free - Because there are no breadcrumbs, flour or eggs in this recipe, these unbreaded tenderloins are low carb and gluten free.
Can I use Chicken breasts for this recipe?
If your grocery store doesn't sell tenders, you can make your own from boneless, skinless breasts. Slice a breast lengthwise into ½-inch thick strips.
WHAT ARE CHICKEN TENDERS?
They are strips of meat that are tenuously attached to the underside of each breast. comes from the tenderloin, so each bird has two tenderloins. This cut is similar in location to beef and pork tenderloins.
It is white meat, taste exactly the same as breast meat, tender and moist when cooked right.
SHOULD I REMOVE THE TENDON FROM THE TENDERS?
The tendon is perfectly edible and not dangerous to consume. It is sometimes removed because tendons are tough and rubbery when cooked. That being said, the tendon can be hard to remove, so we find it easier to cook with them still on.
However, if you want to remove the tendon, take a knife and carefully separate the end from the meat. Then hold the tendon with a paper towel, and use a fork to push the meat away from you.
HOW LONG TO AIR FRY?
The time will depend upon your model. We used Instant vortex 6-quart and it took 10 to 11 minutes at 400 degrees for one pound. Use a meat thermometer to make sure the internal temperature reaches 165º degrees F. If not, cook for additional minutes until ready.
CAN YOU COOK FROZEN UNBREADED TENDERS?
Sure can! I find that it takes at least 3 additional minutes for the meat to cook through if I start with frozen ones. Make sure to check the temperature for doneness with an instant read thermometer. It is done when the reading is at least 165°F.
CAN I BAKE THEM INSTEAD?
Yes, these can also be simply baked in an oven. Prepare the strips as instructed and place in a baking pan in a single layer. Bake at 365 degrees for 10 minutes, top with parmesan cheese and continue cooking for additional 3 to 4 minutes or until cooked through.
INGREDIENTS NEEDED
Tenderloins - Start with raw tenderloins. They can be almost always find at the grocery store, but if you can't, just buy regular boneless, skinless breasts and cut them into ½-inch strips.
Butter - It makes it delicious and helps with the browning. Use olive oil instead.
Garlic - Freshly grated garlic is delicious with butter.
Parmesan cheese - Use finely grated cheese if possible (refer notes if using pre shredded cheese).
PRO TIPS FOR SUCCESS
Adjust the Seasonings - Get creative. Use garlic powder, paprika or oregano along with the seasoning blend.
Use a Meat Thermometer - For safety, poultry needs to be cooked to at least 160°F - 165°F or 74°C. Using an instant read thermometer is the easiest way to check the temperature of your meat.
Parmesan - Use freshly grated cheese. If using pre shredded variety, then process them in a mini food processor or small blender until ground.
Melted butter - Make sure that the butter is cooled to lukewarm when mixed with the meat.
HOW TO MAKE FROM SCRATCH?
Pat the tenders dry with a paper towel. Then, add them to a bowl, add melted butter, grated garlic, salt, pepper, Italian seasoning and red pepper flakes. Mix well to combine.
Place the tenders in the pre heated air fryer in a single layer. Cook as directed in the recipe card below. Sprinkle parmesan on top and continue cooking, until cheese is melted and cooked through.
HOW TO SERVE?
They are super versatile and delicious with just about any Italian dishes. Some of our favorite ways to serve them is:
BEST SAUCE FOR DIPPING
These fingers are delicious served with marinara sauce or creamy tomato sauce.
Storage Tips
To Store. Refrigerate leftovers in an airtight storage container for up to 3 days.
To Reheat. Rewarm leftovers in the oven at 350 degrees F or in the air fryer.
To Freeze. Freeze in a freezer safe zip lock bag for up to 2 months. Reheat directly from frozen.
If you love the combination of garlic and butter, here are a few more recipe ideas to try:
More Air Fryer Chicken Recipes you'll love:
Follow me on INSTAGRAM, TIK TOK, FACEBOOK or PINTEREST for more delicious recipes.
Air Fryer Chicken Tenders - No Breading
Air Fryer Chicken Tenders - Simple and Flavorful Garlic Parmesan Chicken Tenders are easy to make and perfect for an easy weeknight dinner. Made with no breading, flour or egg, this low carb recipe is delicious with pasta or salad.
Ingredients
1 pound chicken tenders
2 tablespoons melted unsalted butter or olive oil
2 large garlic, grated
½ teaspoon salt
¼ cup shredded parmesan cheese
To serve
Items used
Instructions
Pat chicken tenders dry with paper towels and then place in a large mixing bowl. Add all other ingredients (except parmesan) and toss to throughly combine.
Pre heat air fryer to 400°F for 12 minutes.
When hot, place tenders in a single layer and cook for 6 to 7 minutes.
Open air fryer, using a spoon move tenders closer to each other and then sprinkle parmesan cheese evenly on top. Continue cooking for an additional 3 to 4 minutes, until chicken is cooked through (internal temperature registers 165°F).
Serve with marinara sauce for dipping.
Notes
Adjust the Seasonings – Get creative. Use garlic powder, paprika or oregano along with the seasoning blend.
Parmesan – Use freshly grated cheese. If using pre shredded variety, then process them in a mini food processor or small blender until ground.
Nutrition Information:
Yield:

3
Serving Size:

1
Amount Per Serving:
Calories:

620
Total Fat:

40g
Saturated Fat:

11g
Trans Fat:

0g
Unsaturated Fat:

25g
Cholesterol:

96mg
Sodium:

1869mg
Carbohydrates:

34g
Fiber:

2g
Sugar:

3g
Protein:

32g
I am not a certified dietician or nutritionist. The information is a product of online calculator such as Nutrifox.com, although Kitchen at Hoskins attempts to provide accurate nutritional information, these figures should be considered estimates and not be construed as a guarantee. Varying factors such as product types or brands purchased, produce, and the way ingredients are processed change the nutritional information in any recipe. Furthermore, different online calculators provide different results depending on their fact algorithms. Under no circumstances will Kitchen at Hoskins be responsible for any loss or damage resulting for your reliance on the nutritional information. To obtain the most accurate nutritional information in a given recipe, you should calculate the nutritional information with the actual ingredients used in your recipe, using your preferred nutrition calculator. You are solely responsible for all decisions pertaining to your health and ensuring that any nutritional information provided is accurate.
Did you make this recipe? I'd love your feedback! Please let me know by leaving a comment or review below or snap a photo and share on Instagram.
All contents and images are my original work, unless and otherwise mentioned. Please do not use my recipes or images without linking back to www.kitchenathoskins.com. If you wish to republish a recipe, please rewrite in your own words and don't forget to include a link back to the original recipe.
Some of the links above are affiliate links, which pay me a small commission for my referral at no extra cost to you! I am a participant in the Amazon Services LLC Associates Program, an affiliate advertising program designed to provide a means for us to earn fees by linking to Amazon.com and affiliated sites. Thank you for supporting kitchenathoskins.com.