Stovetop Candied Pecans Recipe is chewy, crisp, salty, not-too-sweet, made in 6 minutes and highly addictive!! They are perfect as snack or on salads, ice cream, yogurt, pancakes and as a homemade gift.
Stovetop Candied Pecans Recipe
Continuing our Holiday vibes with a candied pecans made in stovetop which is a variation to our Caramel Walnuts recipe! This is so easy and delicious used in so many ways.
I love making quick and easy sugared pecans during holiday months. They are great for topping on salads, as a snack, breakfast and desserts. My favorite part is that it is ready in under 6 minutes, made with brown sugar (check out more brown sugar desserts), without cinnamon and uses no eggs, making it great for vegetarians.
This is a basic recipe, so feel free to play around with your favorite spices like cinnamon, nutmeg or ginger to really make them your own. I love making them sweet and salty.
They are also incredibly easy to make with just 4 simple ingredients (water and salt not counted), naturally gluten-free and once you start snacking on these, it's going to be hard to stop like this Chocolate Peanut Clusters.
Why You'll Love These?
Quick and Easy - Just a one skillet and a few pantry ingredients and cooks in under 6 minutes.
No Eggs - These are made without eggs making it perfect for vegetarians.
Stove top - This is much faster than the traditional oven baking.
Diet friendly - These are eggless and gluten free. Make it vegan or dairy free by replacing butter with coconut oil.
Delicious - Makes an addictive snack or a crunchy sweet topping for your pancakes, waffles, yogurt or ice cream.
TIP - The caramel gets very hot, so please make sure to not have children or pets around the stove top when making these nuts.
Why Are My Pecans Sticky?
These are sticky when hot and harden as they cool. If you find them sticky after cooling completely, then it means that the sugar mixture never reached a high enough temperature on the stove.
How Long Do They Last?
Store them in an airtight container at room temperature for up to one week.
INGREDIENTS
Pecans - While toasted pecans are essential in making the best pecan pie without corn syrup, raw pecan halves is used in this recipe.
Sugar - This recipe uses both golden brown sugar for lovely caramel flavor and white sugar at the end for a sweet crunch.
Butter - Unsalted butter (reduce salt if using salted butter) or use coconut oil to make it vegan / dairy free.
PRO TIPS
Non-stick skillet is a must.
Double the recipe - Simply double the ingredients and cook in a larger non-stick skillet.
Heat should be high for the first 4 minutes and medium-high for the remaining time.
White sugar - This helps the nuts stay separate and gives a lovely sweet taste.
Make it vegan / Dairy Free - Use 1 tablespoon coconut oil instead of butter.
Use raw pecans and not toasted pecans.
Try using a different nut like walnuts or almonds.
Variations
Toss ground cinnamon along with white sugar
Give a spicy kick --> Add a pinch of cayenne pepper to the white sugar
Make it spicy ---> Mix your favorite spices like pumpkin pie spice, cinnamon, nutmeg, clove or ginger.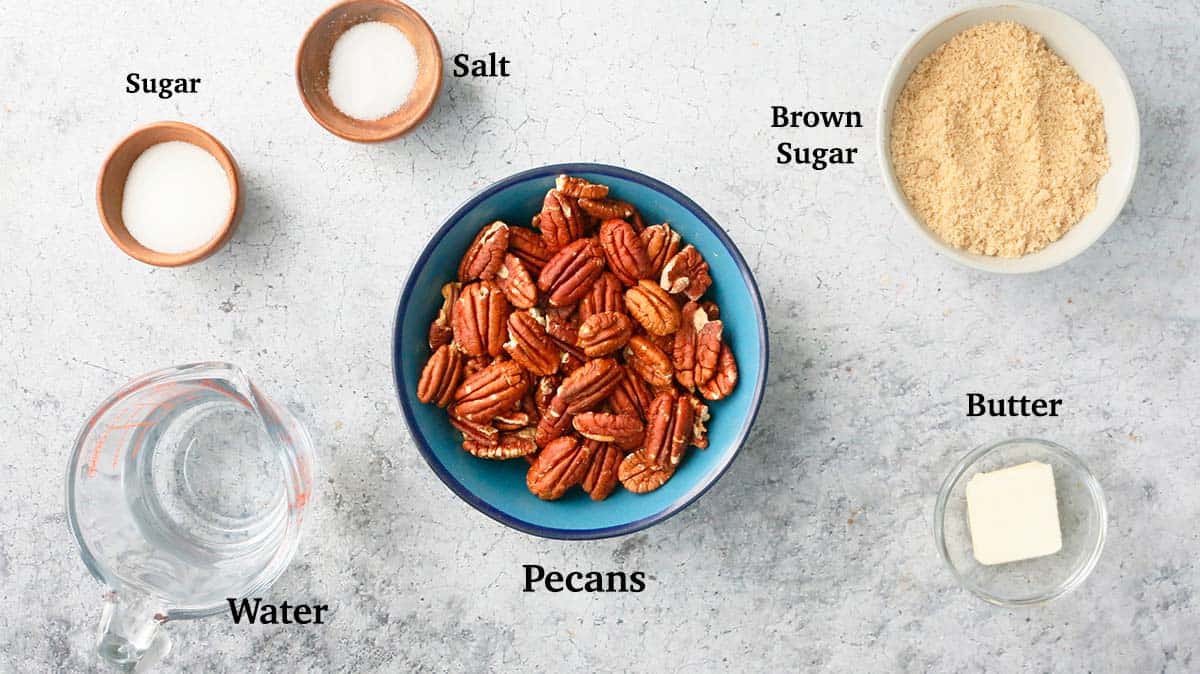 HOW TO MAKE?
This is a simple recipe and is made in just a few minutes
Cook in a skillet - Add pecans, brown sugar, water, butter and salt into a medium non-stick skillet, cook on high heat, stirring occasionally for about 4 minutes.
When most of moisture evaporates, continue cooking on medium high heat, stirring constantly, until all moisture evaporates and then the nuts turn darker and glossy.
Cool - Transfer nuts to a parchment paper and spread around to seperate the nuts. Sprinkle more salt on top. Cool completely to harden.
Toss in sugar - Seperate the nuts and toss them in white sugar. Store in a sealed container.
Ways to Use
Looking for ways to put these to use? Here are some of our favorite ways you could enjoy them:
As a snack - These are delicious on their own and makes an addictive snack.
On cheese boards - These are a great addition on your cheese board.
For breakfast - Top pancakes or waffles, like these healthy pumpkin pancakes or Pumpkin waffles.
As a topping - Sprinkle them on your yogurt, ice cream or Oatmeal.
For Salads - If using for salads, then skip the final step of tossing in white sugar. Toss into you favorite fall salad for a sweet crunch.
As a gift - Package them in small mason jars or clear cellophane bags for a homade gift during the Holidays.
How to Store?
Store brown sugar glazed pecans in a sealed container for up to a week.
Can You Freeze?
Sure can! These nuts freeze well. Arrange them in a single layer on a baking sheet, then place it in the freezer for at least a few hours or up to overnight. When they're completely frozen, transfer them to zip-top freezer bags and freeze for up to a month.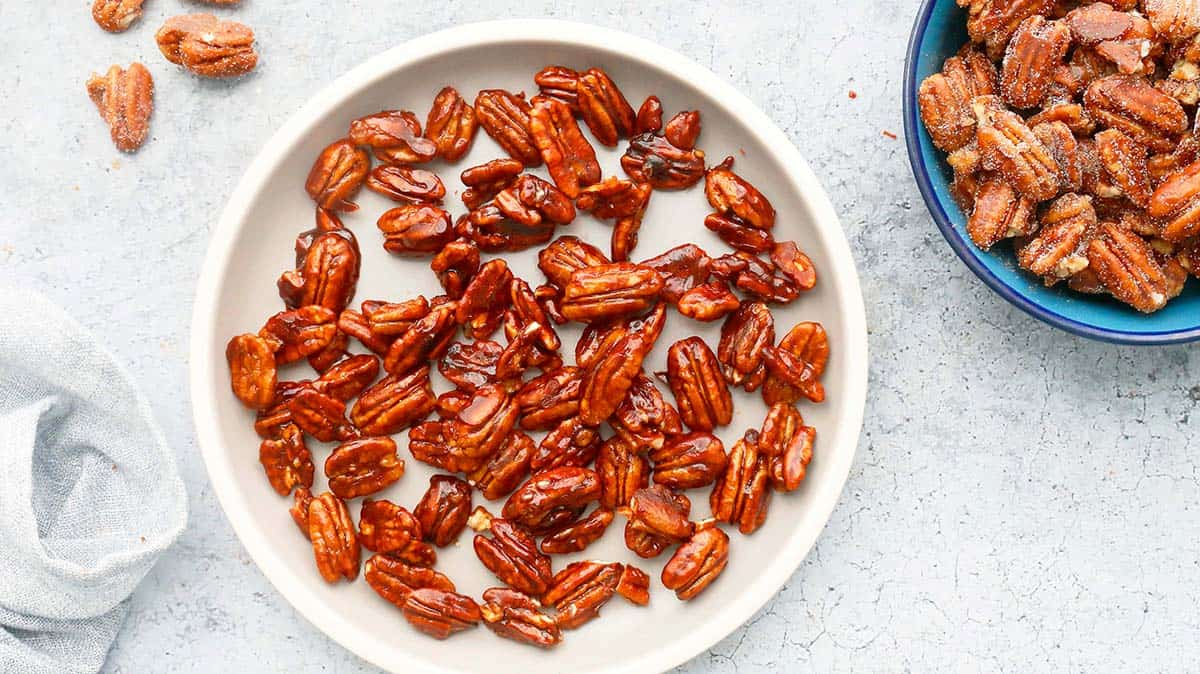 Frequently asked questions
How long are they good for?
Candied pecans are good for a week, when stored in an airtight container at room temperature and in the freezer for a month.
Why are they soft and sticking to each other after cooling?
When you remove nuts right after the moisture evaporates then they tend to not get as crispy and stays soft even after cooling to room temperature. So, make sure to cook them until they turn darker and glossy.
Can I use different nuts in the recipe?
This recipe works well with walnuts.
How to package for a gift?
Wrap skillet candied pecans in a clear cellophane and then tie with a pretty ribbon <---- Great for teachers / friends / family.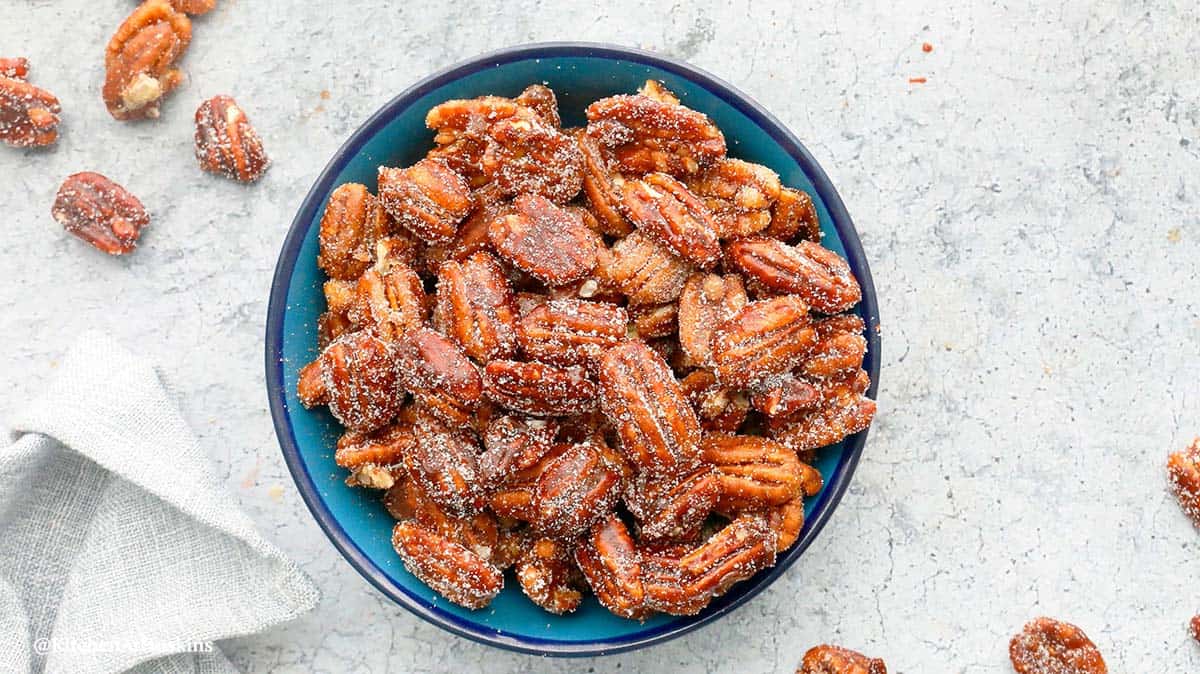 More Holiday recipes to try: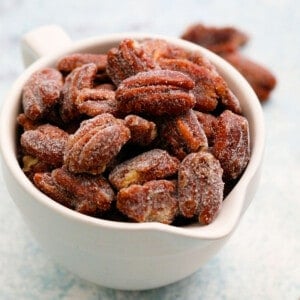 Stovetop Candied Pecans
These Stovetop Candied Pecans are chewy, crisp, salty, not-too-sweet, and highly addictive! A quick and easy recipe that is ready in 6 minutes on the stovetop and make a excellent Christmas or hostess gift - Perfect for sprinkling on everything from salads to popcorn, yogurt, ice cream and more!
Print
Pin
Rate
Instructions
Place a piece of parchment on a dinner plate (approximately the size of the plate) or any other heat proof plate. Set aside.

Place pecans, brown sugar, water, butter and ⅛ teaspoon salt in a medium (9 to 10 inches) non-stick skillet.

Place skillet over medium or medium-high heat and cook, stirring occasionally for 3 to 4 minutes (most of the water will have evaporated by this time).

Continue cooking, stirring constantly for additional 1 to 2 minutes, until all moisture has evaporated, pecans gets darker, glossy and begin clumping together.

Immediately transfer nuts (scraping any remaining caramel from the pan) on the prepared parchment. Spread the nuts, so that they are in a single layer and separate them as much as possible. Sprinkle remaining 2 pinches of salt on top. Cool to room temperature.

Break the nuts apart with your fingers. Sprinkle white granulated sugar on top and toss them to coat.

Tip - Skip the final step of coating in white sugar if using for salads.

Store nuts in a container for several days <– if it lasts that long.
Notes
Non-stick skillet is a must.
Salted butter - Reduce salt if using salted butter
Heat should be high for the first 4 minutes and medium-high for the remaining time.
The caramel gets very hot, so please make sure to not have children or pets around the stove top when making these nuts.
White sugar – This helps the nuts stay separate and give a lovely sweet crunch.
Use raw pecans and not toasted nuts.
Mix ground cinnamon along with white sugar to make cinnamon candied pecans
Nutrition
Serving:
1
Serving
|
Calories:
218
kcal
|
Carbohydrates:
7
g
|
Protein:
2
g
|
Fat:
22
g
|
Saturated Fat:
3
g
|
Polyunsaturated Fat:
17
g
|
Cholesterol:
8
mg
|
Sodium:
65
mg
|
Fiber:
3
g
|
Sugar:
4
g
Nutritional information, based on third-party calculations, should be seen as estimates, not guarantees, as various factors like product types, brands, processing methods, and more can alter the nutritional content in recipes.
Did you make this recipe? I'd love your feedback! Please let me know by leaving a comment or review below or snap a photo and share on Instagram.
Some of the links above are affiliate links, which pay me a small commission for my referral at no extra cost to you! I am a participant in the Amazon Services LLC Associates Program, an affiliate advertising program designed to provide a means for us to earn fees by linking to Amazon.com and affiliated sites. Thank you for supporting kitchenathoskins.com
All contents and images are my original work, unless and otherwise mentioned. Please do not use my recipes or images without linking back to www.kitchenathoskins.com. If you wish to republish a recipe, please rewrite in your own words and don't forget to include a link back to the original recipe.