No Bake Oatmeal Balls are made with avocado! They are chocolatey, sweet, chewy and decadent! These are a healthier take on avocado truffles with the addition of rolled oats, dried cranberries and coconut.
No Bake Oatmeal Balls
Raw Bites takes minutes to whip together, packed with nutrients, healthy fats from avocado, fiber and are super satisfying. They have always been a favorite go-to snack around here.
It's easy for the kids to grab out of the fridge, made with simple pantry ingredients, great to curb the afternoon munchies and the dreaded mid afternoon energy slump. It could easily pass as dessert like these Date Balls or Almond Butter Balls.
These go by variety of names like energy bites, protein balls, power balls, guilt free truffles, protein bites, raw bites or energy balls.
Made with chocolate chips, avocado, oats, coconut and dried cranberries, these are mostly healthy, simple, no cook, no bake and easy enough for young kids to make, because everything gets combined in a bowl without having to use the oven.
They are loaded with protein, fiber and healthy fats to keep you full and gives you energy throughout the day. It takes just 5 minutes to prepare (just mix and roll, then allow to chill), there is no added sugar yet they are mildly sweet from dark chocolate chips, shredded coconut and dried cranberries.
WHY YOU'LL LIKE THESE BITES?
Quick & easy: Takes only a few minutes to prepare, chill or rest and roll. That's it (like this Chocolate nests).
Mostly good for you ingredients - Avocado, rolled oats, coconut and cranberries add a health boost paired with decadence.
Irresistible texture - Soft, fudgy, chewy , chocolatey and decadent.
Diet-Friendly - They are have no nuts making them peanut free and nut free. Also, can be made vegan, gluten-free or dairy-free using plant based chocolate.
Kids can help make them: This is a great recipe for kids to get involved since there is no baking or cooking involved. All you need is microwave to melt chocolate chips and then stir in all remaining ingredients together.
Family-friendly: These bites offer a sweet little treat that the whole family love will love - perfect for late night craving or if you have a big sweet tooth.
Meal prep – Store in the refrigerator for a week to 10 days or for up to a month in the freezer for a quick grab-and-go snack.
WHAT OATS TO USE?
We have used old fashioned oats (also known as rolled oats), giving them more texture and a chewier consistency. Quick oats will also work, but with a less chewier and softer texture.

The only type of that won't work in this recipe are steel cut oats since they are too hard, crunchy and can not not be eaten raw.
IS IT OK TO EAT RAW OATS?
Yes, it's perfectly safe to consume raw oats. They soften a bit in the melted chocolate and mashed avocado, lending a nice chewy texture to the bites.
ARE THEY GLUTEN-FREE?
Not necessarily! Pure oats are gluten-free and safe for most people, however super market oats run the risk of being cross-contaminated with gluten, a real concern for those diagnosed with celiac.
So, we recommend looking for a brand that is labeled certified gluten free.
INGREDIENTS
These little bites have a good bit of fiber, carbs and heart-healthy omega-3 fatty acids, so they are a great way to satisfy a sweet tooth while giving your body a healthy boost of energy as well.
Chocolate chips - Use good quality semi sweet chocolate such as Ghiradelli or Guittard.
Oats - Old fashioned oats or rolled oats. Quick cooking may be used.
Avocado - Select ripe avocado, free of dark spots and mash smooth before mixing into chocolate.
Coconut - Use sweetened shredded coconut. Unsweetened coconut will compromise the sweetness, so I recommend that you use ONLY sweetened variety.
Dried cranberries - It gives a sweet, tart and chewy texture. Raisins may be used instead.
Flavorings - Sea salt and vanilla extract.
PRO TIPS FOR SUCCESS
The refrigeration time is necessary and important to help the dough to not be sticky so you can easily roll into balls. It's only about 30 to 45 minutes of refrigeration time.
If the mixture is too soft to roll: Place the bowl in the refrigerator for 15 to 20 minutes and then try again.
When rolling the balls: It may help to roll in oats or cocoa powder and then roll between the palm of your hands to help not stick.
Customize This Recipe
Looking to switch up ingredients? Here are some suggestions:
Vegan option - to make these vegan, simply use vegan chocolate.
Gluten-free option - as long as you make sure that the oats you're using are certified gluten-free, these are naturally gluten-free.
Dried Fruits - Use golden or black raisins, chopped dates or dried apricots instead of cranberries.
Seeds - Add a teaspoon of chia seeds, flax seeds, pumpkin seeds, hemp hearts or sunflower seeds.
Nuts - Chopped toasted sliced almonds, walnuts, cashews or pecans may be used.
TOPPING IDEAS
These can be rolled in oats, shredded coconut, cocoa powder, chopped nuts or freeze dried strawberries.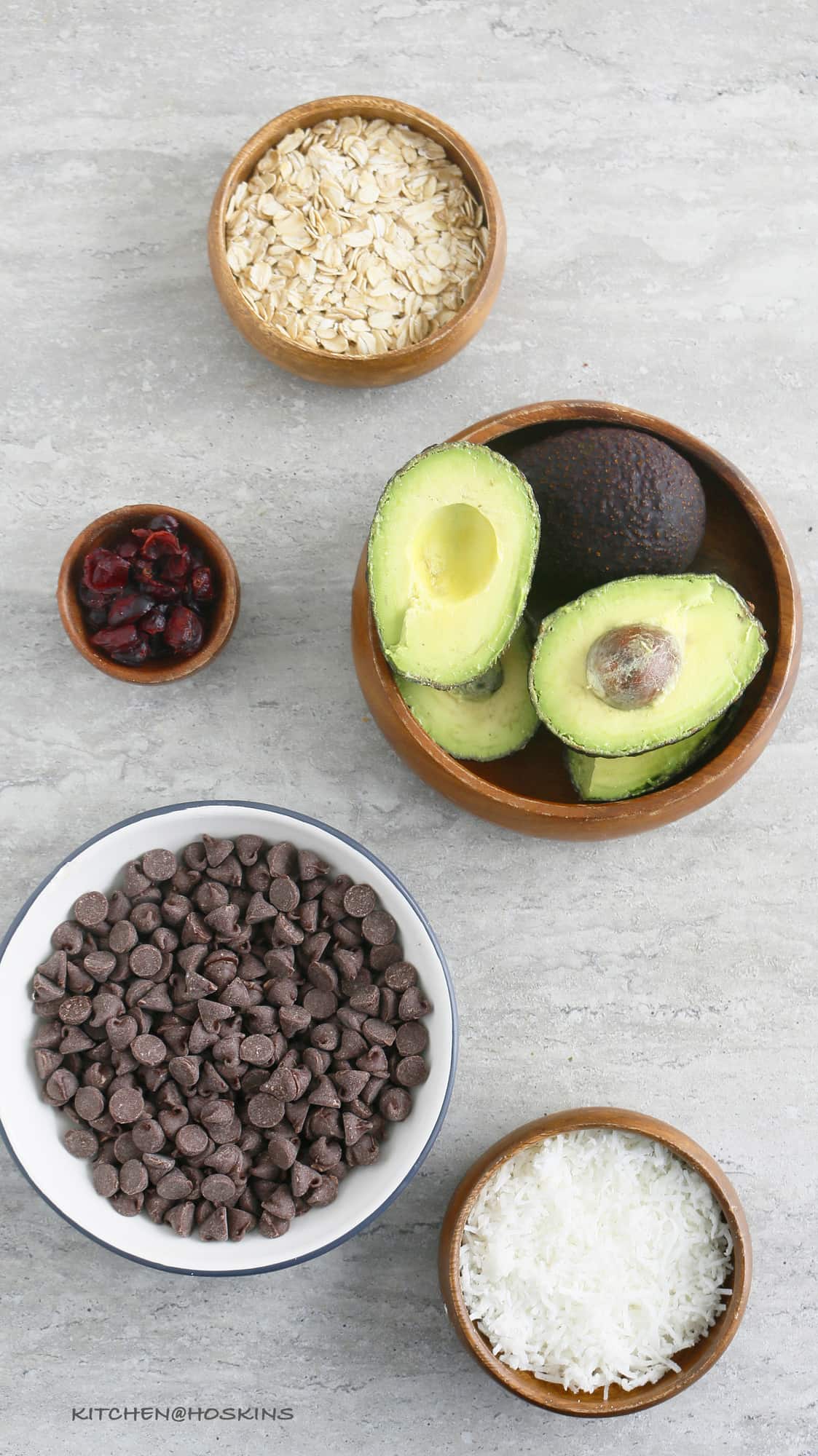 HOW TO MAKE?
These are seriously the easiest! The best part is you don't need to turn on the oven or stove top or any appliance such as a food processor.
Here's the simple process, but for full, printable instructions, reference the recipe card at the bottom of the post.
Step-1: Melt chocolate chips in microwave until fully melted and smooth (refer picture above, left).
Step-2: Mix mashed avocado, salt and vanilla extract (refer picture above, middle) until smooth (refer picture above, right).
Step-3: Stir in old fashion oats, sweetened shredded coconut and dried cranberries (refer pictures below). Let mixture cool to thicken, until you are able to roll them into balls. This could take 1-3 hours depending on the temperature in your kitchen. Refrigerate for about 30-60 minutes to speed up the process.
Step-4: Make even sized balls. I made 12 ---> perfect bite size. Now, you could choose to leave the balls as is or make it look better and finished (refer picture below)
Step-5 : (optional) Roll the nut free oatmeal balls in your favorite toppings
How to Store Energy Bites
In the fridge: No-bake oatmeal energy bites are great stored in an airtight container in the refrigerator for up to 3 weeks.
In the freezer: You can also store these oatmeal energy balls in the freezer for up to 3 months. If they get too hard, let them sit at room temperature for 5-10 minutes before eating
These 3-Ingredient Peanut Butter Oatmeal Balls can be stored for one week in the fridge in an airtight container.
It's also possible to freeze them if you made a very large batch and keep them frozen for up to 3 months.
ALLERGY SWAPS
You can use this recipe and adapt it to any food allergy you have. Below I listed some options for you to try:
Gluten-Free – pick certified gluten-free oats or use quinoa flakes or puffed quinoa instead of oats.
Sugar-Free – a sugar-free liquid sweetener works well like Monk fruit syrup.
Nut-Free – use seed butter instead of peanut butter like sun butter, tahini or pumpkin seed butter.
Low-Carb – swap the oats for a mix of almond flour, sliced almonds, and shredded coconut. Use a sugar-free sweetener or try my cookie dough balls recipe.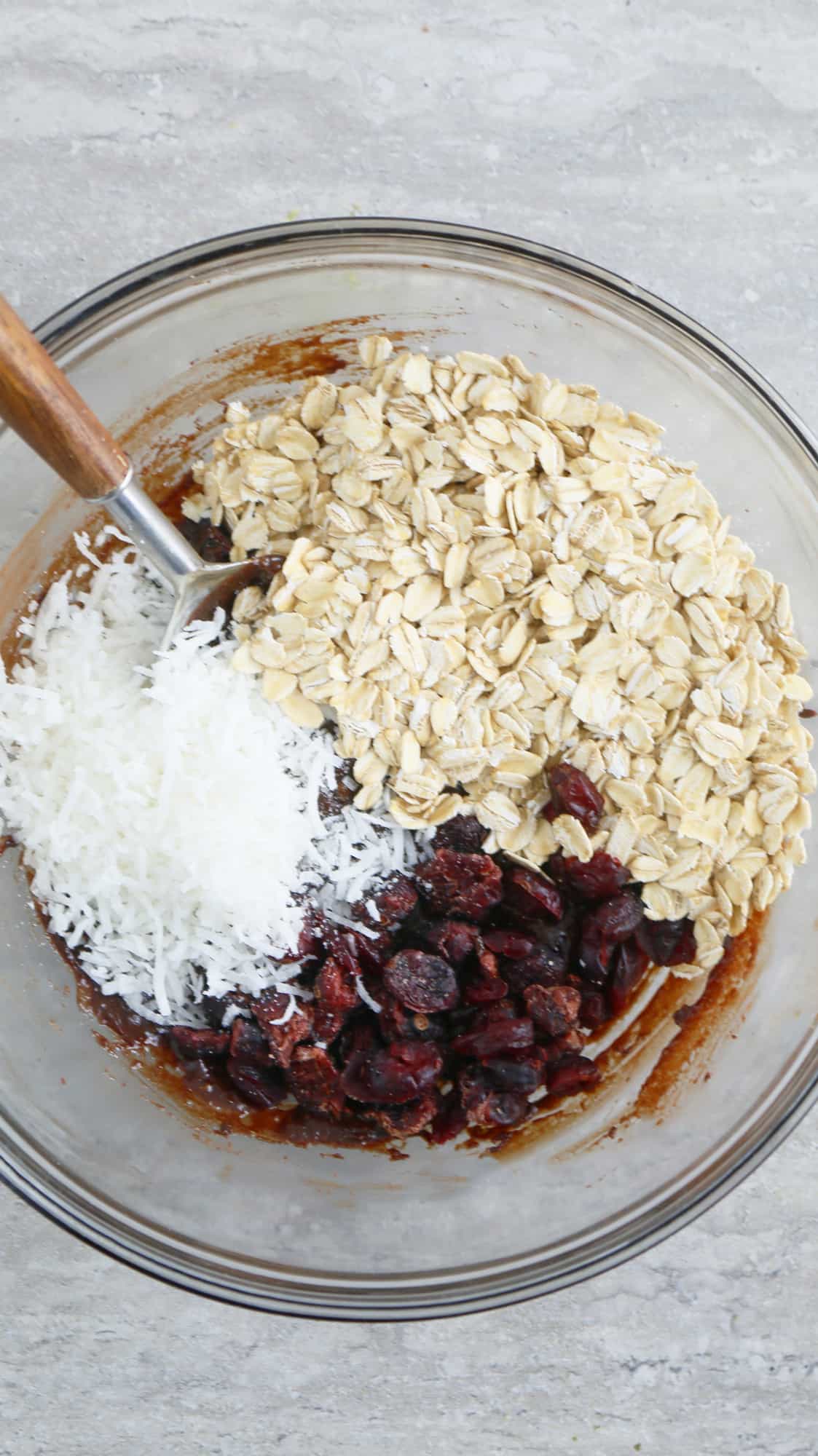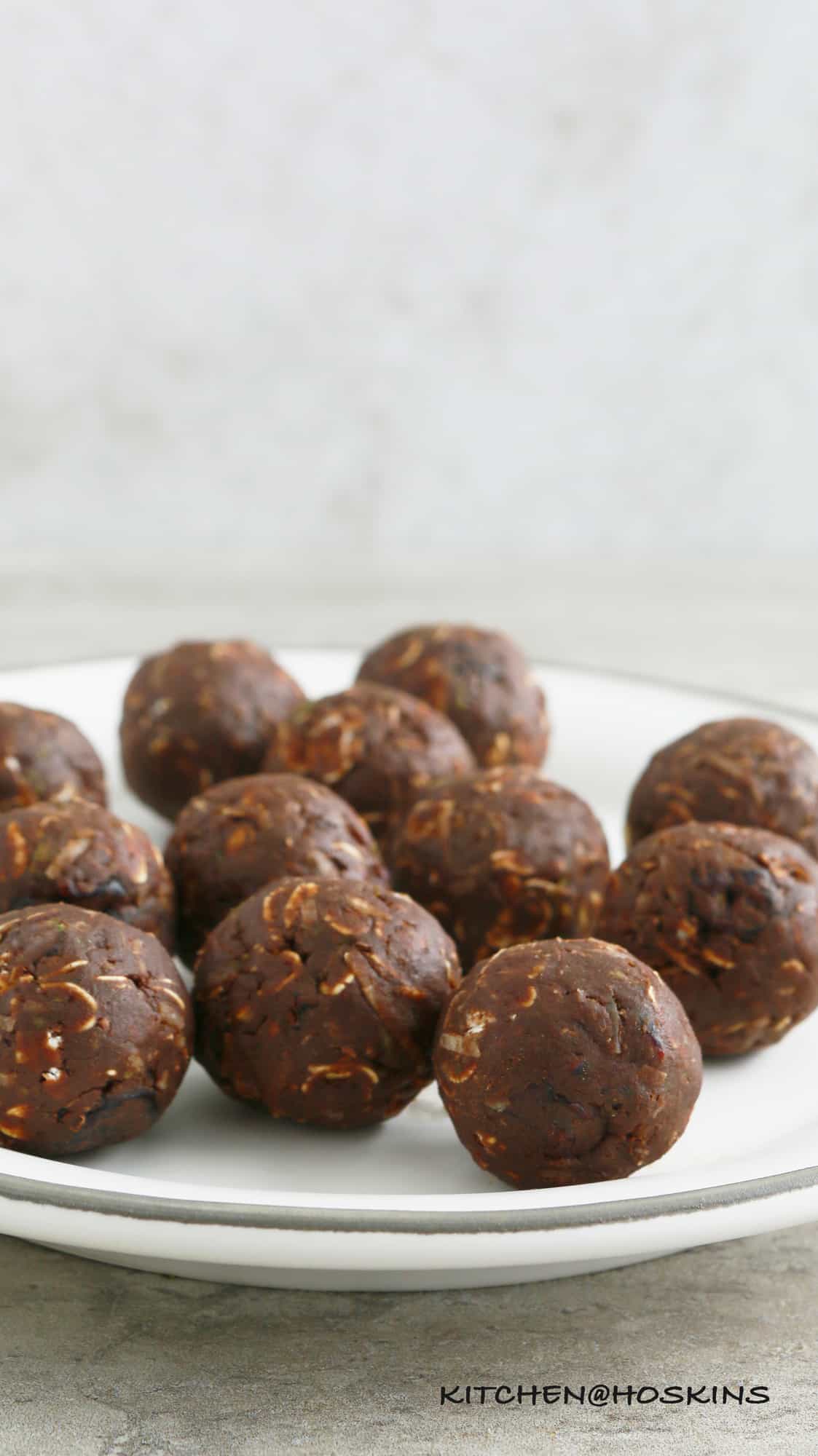 FREQUENTLY ASKED QUESTIONS
Can I use quick cooking oats?
Sure can! I love quick oats for these energy balls because they have a finer, smaller texture which is more appealing to kids. Yes you can use whole, old-fashioned oats but I find that the balls tend to not hold together as well when you use the old fashioned oats. So for best results, stick with the quick oats. 
How long do they last?
These oatmeal protein energy balls will last in the fridge for up to two weeks. Alternatively you can store them in the freezer for up to 3 months and pull as many as you want out roughly 30 minutes before.
Can I make it vegan?
Yes! To make these protein balls vegan you can replace your whey protein powder with plant-based protein and the honey with brown rice syrup. DO NOT use maple syrup. It is not sticky enough to help the protein balls keep their shape.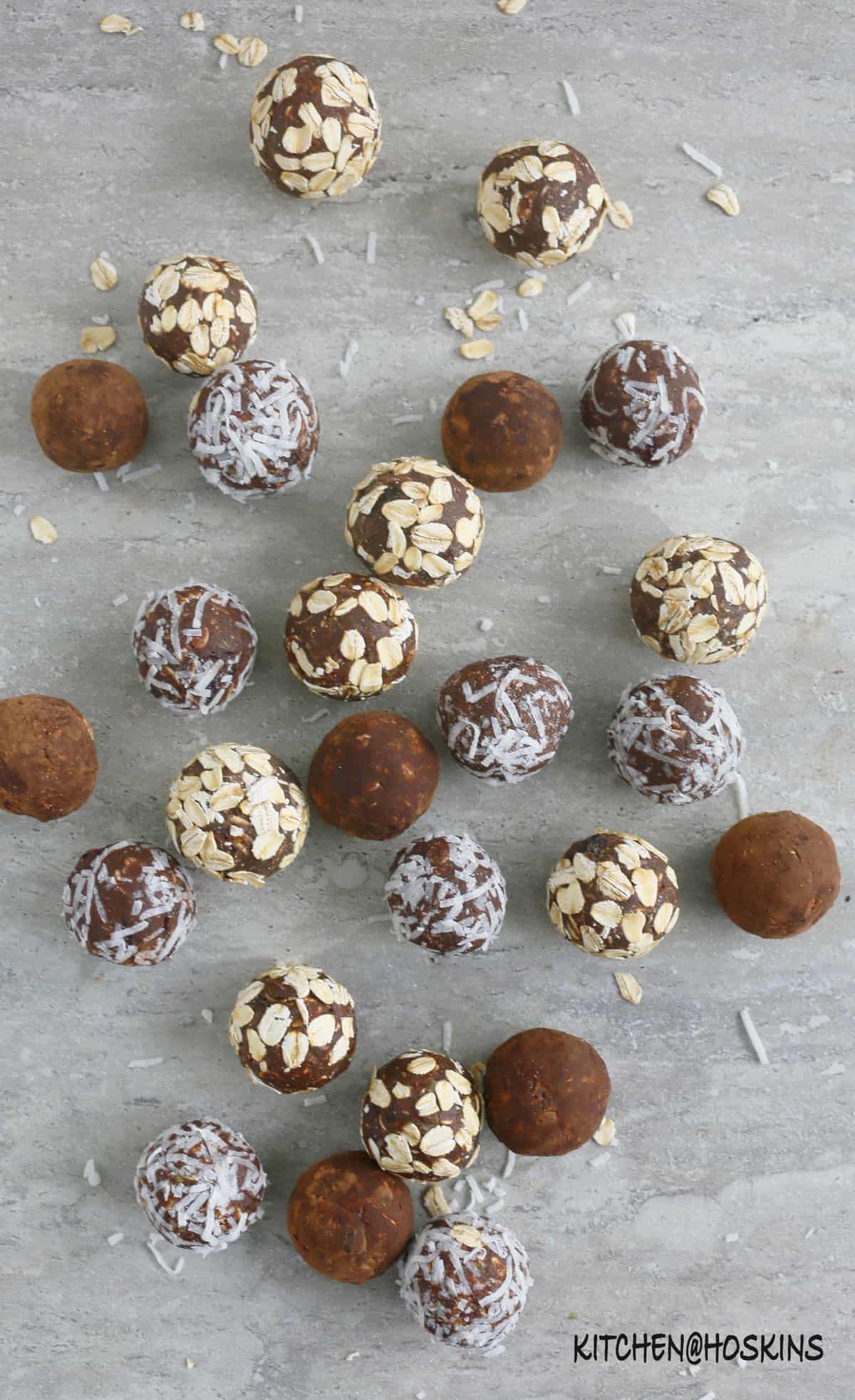 More Irresistible Healthy Raw Snacks:
Follow me on INSTAGRAM, TIK TOK, FACEBOOK or PINTEREST for more delicious recipes.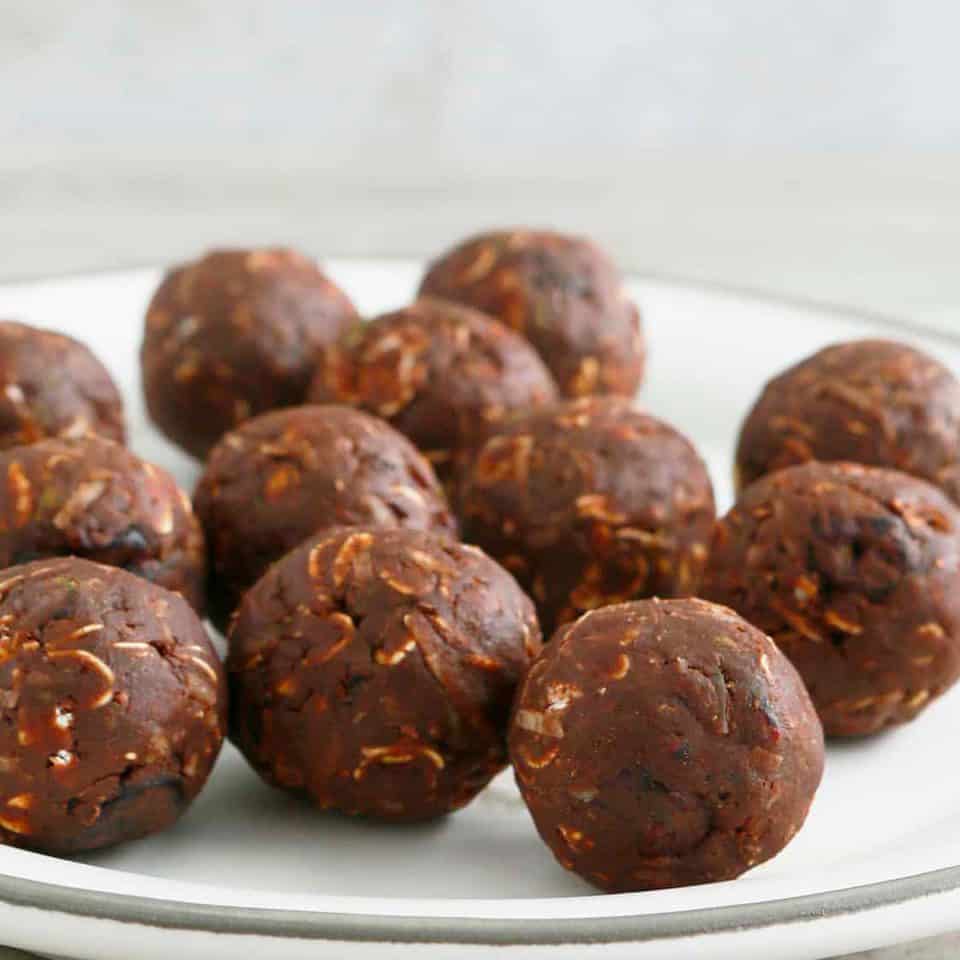 No Bake Oatmeal Balls
No Bake Oatmeal Balls are made with avocado! They are chocolatey, sweet, chewy and decadent! These are a healthier take on avocado truffles with the addition of rolled oats, dried cranberries and coconut.
Print
Pin
Rate
Ingredients
Addional ingredients, for decorating (optional)
Instructions
Place chocolate chips in a medium sized microwave safe bowl. Microwave for about 90 seconds, until fully melted (stir every 30 seconds).

Mix in mashed avoacdo, salt and vanilla extract until thoroghly combined.

Stir oats, cranberries and coconut.

Let cool to room temperature until fairly thick to be rolled into balls (You could refrigerate for 30 - 60 minutes to speed up the process). You need a thick, not sticky mixture.

Make 12 balls.

Optional step - Roll balls into oats, coconut or cocoa powder, as desired.

Balls can be stored at room temperature in a covered container for 2 to 3 days.
Notes
Sweetened shredded coconut - As you might have seen in the ingredient list that there is no added sugar. So, These no bake chocolate avocado oatmeal balls depends on chocolate chips, sweet coconut and dried cranberries. Hence, do not use unsweetened shredded coconut. 
Vegan - Use vegan chocolate chips
Gluten free - Use gluten free oats
Nutrition
Serving:
1
ball
|
Calories:
113
kcal
|
Carbohydrates:
11
g
|
Protein:
1
g
|
Fat:
6
g
|
Saturated Fat:
3
g
|
Polyunsaturated Fat:
0.3
g
|
Monounsaturated Fat:
2
g
|
Trans Fat:
0.01
g
|
Cholesterol:
1
mg
|
Sodium:
31
mg
|
Potassium:
99
mg
|
Fiber:
2
g
|
Sugar:
7
g
|
Vitamin A:
10
IU
|
Vitamin C:
0.3
mg
|
Calcium:
10
mg
|
Iron:
1
mg
Nutritional information, based on third-party calculations, should be seen as estimates, not guarantees, as various factors like product types, brands, processing methods, and more can alter the nutritional content in recipes.
Did you make this recipe? I'd love your feedback! Please let me know by leaving a comment or review below or snap a photo and share on Instagram.
Some of the links above are affiliate links, which pay me a small commission for my referral at no extra cost to you! I am a participant in the Amazon Services LLC Associates Program, an affiliate advertising program designed to provide a means for us to earn fees by linking to Amazon.com and affiliated sites. Thank you for supporting kitchenathoskins.com.
All contents and images are my original work, unless and otherwise mentioned. Please do not use my recipes or images without linking back to www.kitchenathoskins.com. If you wish to republish a recipe, please rewrite in your own words and don't forget to include a link back to the original recipe.