This grilled cheese with hot dogs, caramelized onions, cheddar, barbecue sauce, mustard is what a back-to-school lunch box needs!!!
'Tis the last day of winter break <--- Back to packing school lunch boxes.
Hot dog + Grilled cheese!!! 💡💡
Real kid pleaser, duh.
(Quick true story : My son shared a bite of this sandwich with a friend at school. That kid after one bite " you've got to ask your mom to share this recipe on her blog" )
It's that good y'all!!!
It's real simple, let me explain,
------Caramelize sliced onions (can be made ahead and stored in the refrigerator for up to a week ....morning convenience)
------Spread mayo on both outer sides of the 2 bread slices
On the inside - spread barbecue sauce and mustard --> caramelized onions --> cheddar --> hot dogs --> cook on both sides until golden perfection!!!
I love cooking grilled cheese sandwiches in a waffle iron. click here for another kid favorite.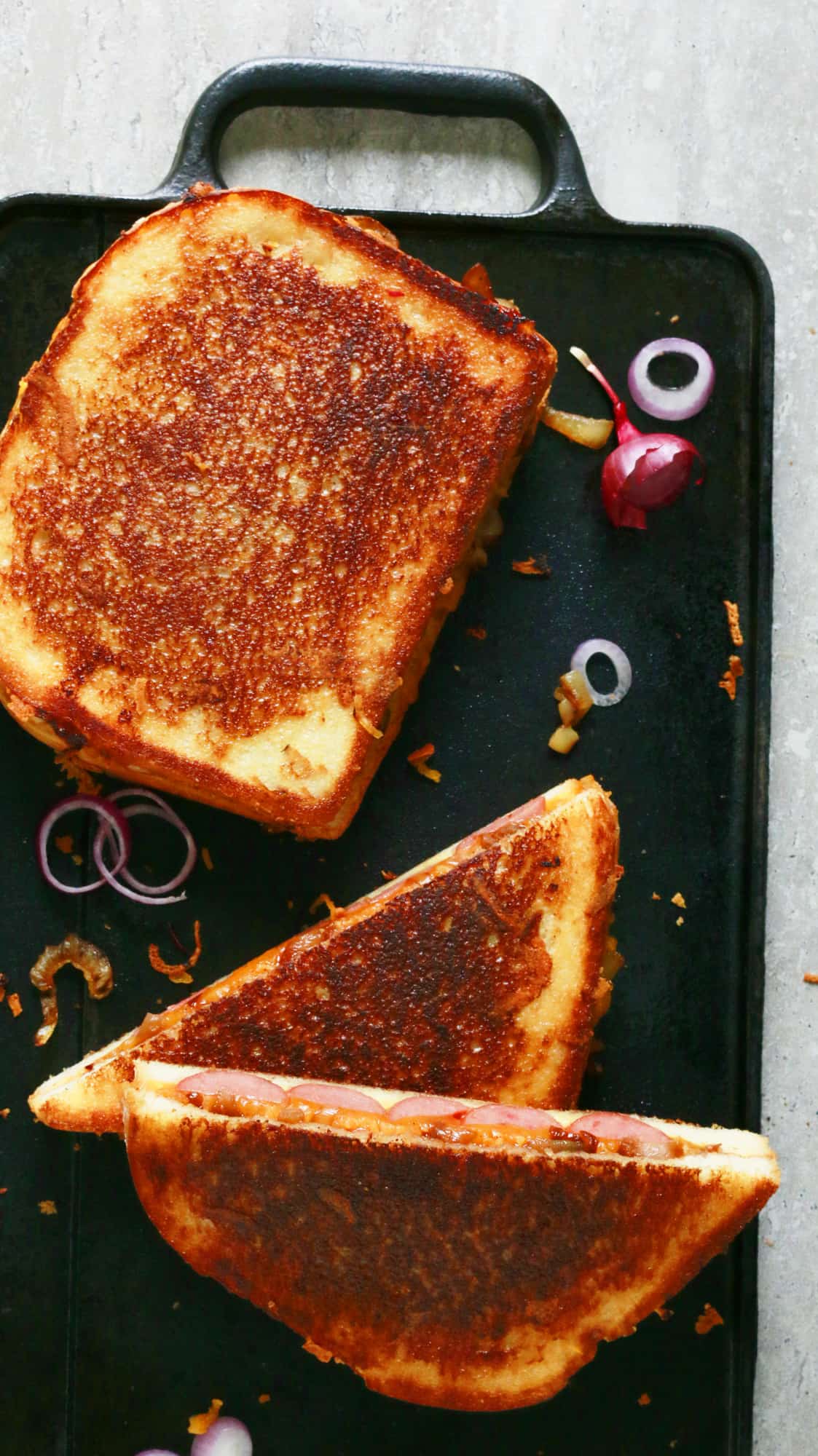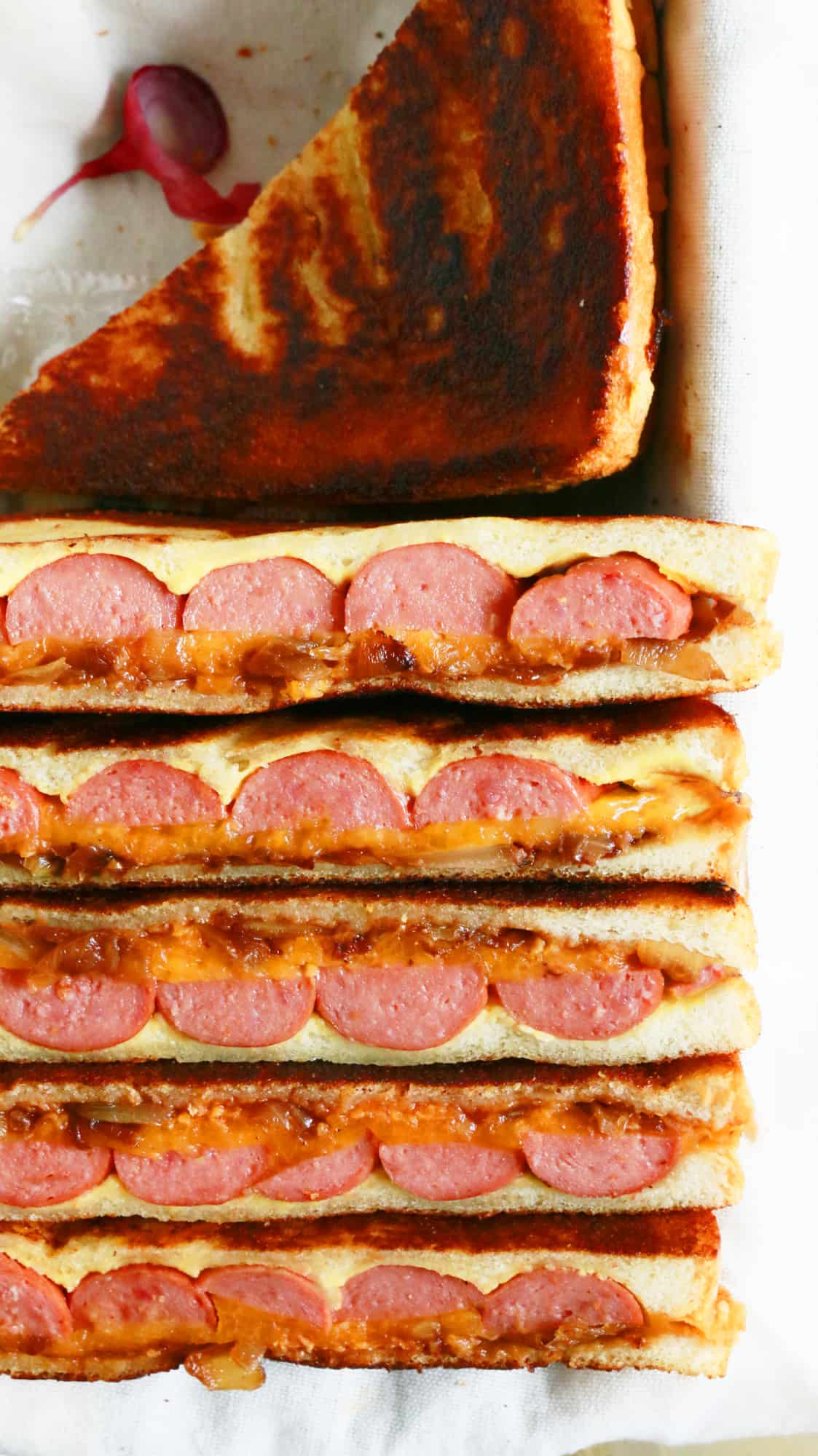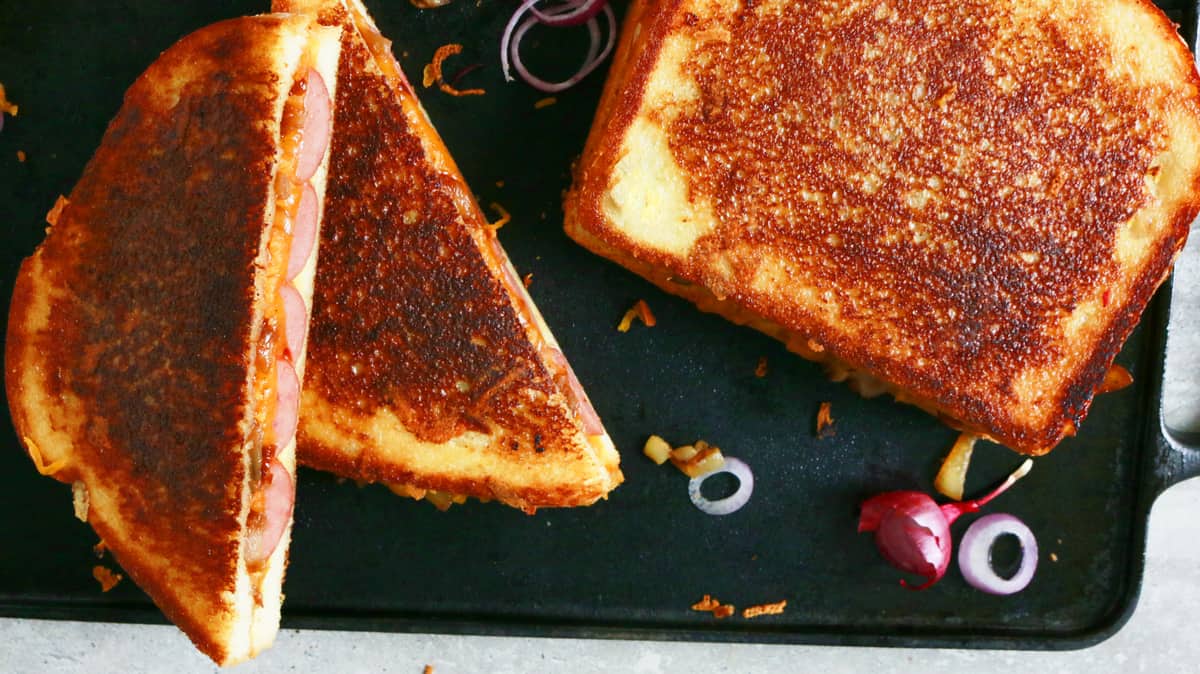 ---
Skill level - Intermediate
Hot Dog Grilled Cheese Sandwiches
Ingredients:
1 tablespoon olive or vegetable oil
1 large onion, thinly sliced
4 hot dogs
3 tablespoons barbecue sauce
3 teaspoons dijon mustard
6 slices buttermilk bread or any other firm white bread
¼ cup mayonnaise
1 ½ cups grated cheddar cheese
Preparation:
Make caramelized onions:
Heat oil in small non-stick skillet over low heat. Add sliced onions and stir occasionally until golden (will take about 15 -20 minutes). Take off heat and proceed with sandwiches or let cool and store in the refrigerator for up to a weak.
Proceed to sandwiches:
1. Cut each half dog in half and then slit each half into two, vertically <--- you will get 4 pieces per hot dog and a total of 16 pieces (refer pictures). This size makes them perfect for sandwich bread.
2. Stir together barbecue sauce and dijon mustard in a small bowl, until smooth.
Working with one sandwich at a time,
1. Take 2 slices of bread, spread some mayonnaise on one side of each slice and place mayo side down on a plate.
2. Spread one-third of barbecue sauce-mustard mixture on one slice (non-mayo side). Followed by one-third caramelized onions, then ½ cup of cheddar and then arrange 5 pieces of cut hot dogs in a single layer.
4. Top with other bread slice (mayo side up).
5. Place a cast-iron or non-stick pan over medium heat. Once hot, carefully transfer sandwiches (holding them on both sides). Cook until deep golden on both sides (occasionally press sandwich with a wide spatula while cooking to help them adhere well and crisp up).
6. Remove sandwich on to a plate and proceed with remaining two sandwiches.
(If you are packing for lunch box, then place hot sandwiches on a wire rack to cool and then pack 'em)
Makes 3 sandwiches.
(Recipe adapted from a similar combination of flavors that I found online several years ago. Unfortunately, I couldn't find it anymore, hence I came up with my creation)
(hotdog)