Today we are elevating the crepe game! Brown butter - honey cooked mangoes, creamy and tangy cream cheese-greek yogurt rolled into a crepe.
Hello Summer.
I'm having a mango problem. It's getting ridiculous.
I eat it plain, for breakfast, for snack and even for dinner, many week nights.
And then I try to come with recipes - like
Mango Mug Cake, Mango Milk, Baked Mango Cups with Honeyed Coconut Streusel , Raspberry, mango and Cardamom Clafoutis and Coconut Glazed Mango Ginger Pop-Tarts. 
It all begins with a basic crepe recipe. Nothing fancy here.
Then, mango slices are cooked in a nutty brown butter and honey sauce.
And then, cream cheese and greek yogurt are whipped together like soft whipped cream.
Stuff crepes and EAT.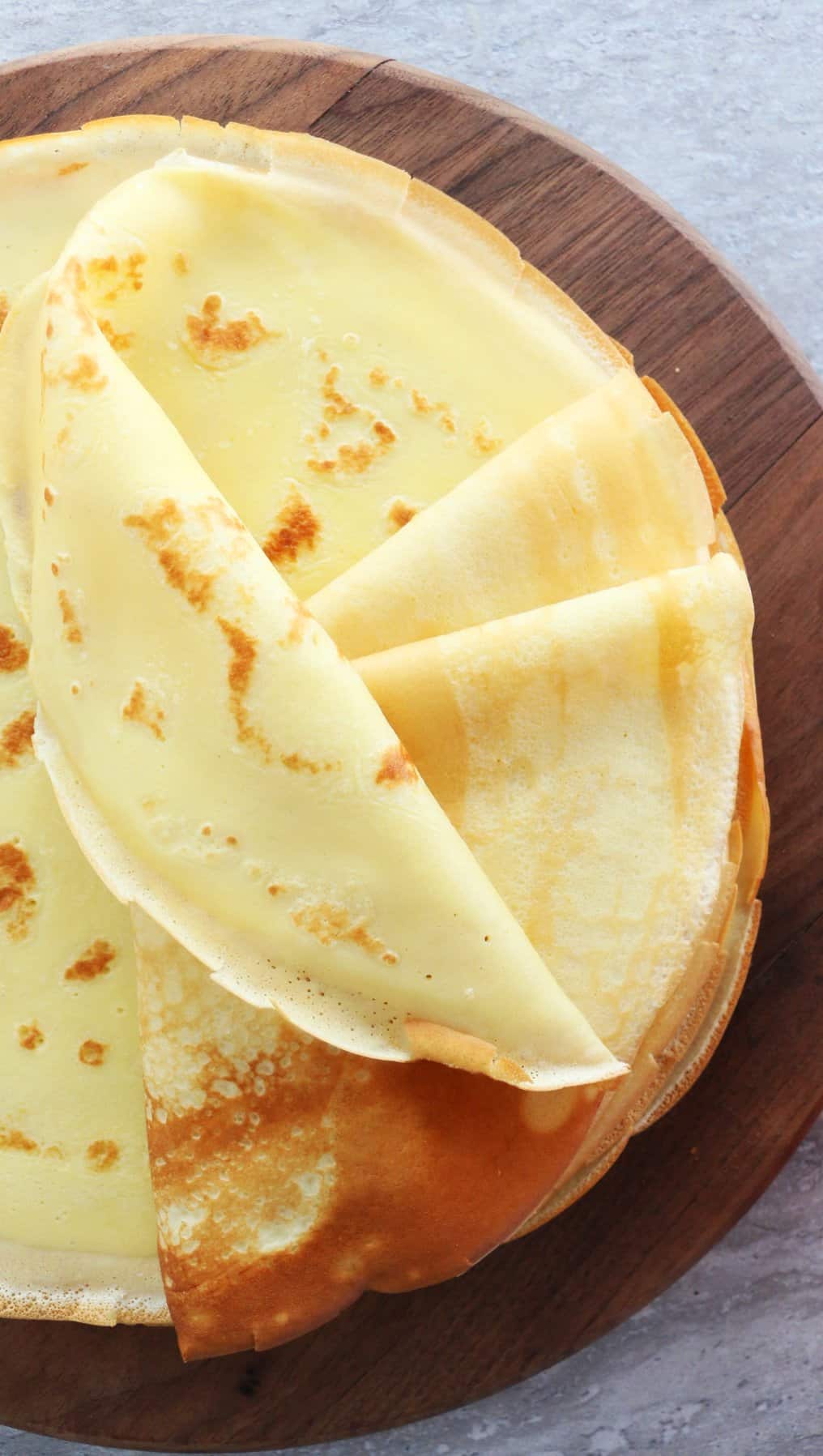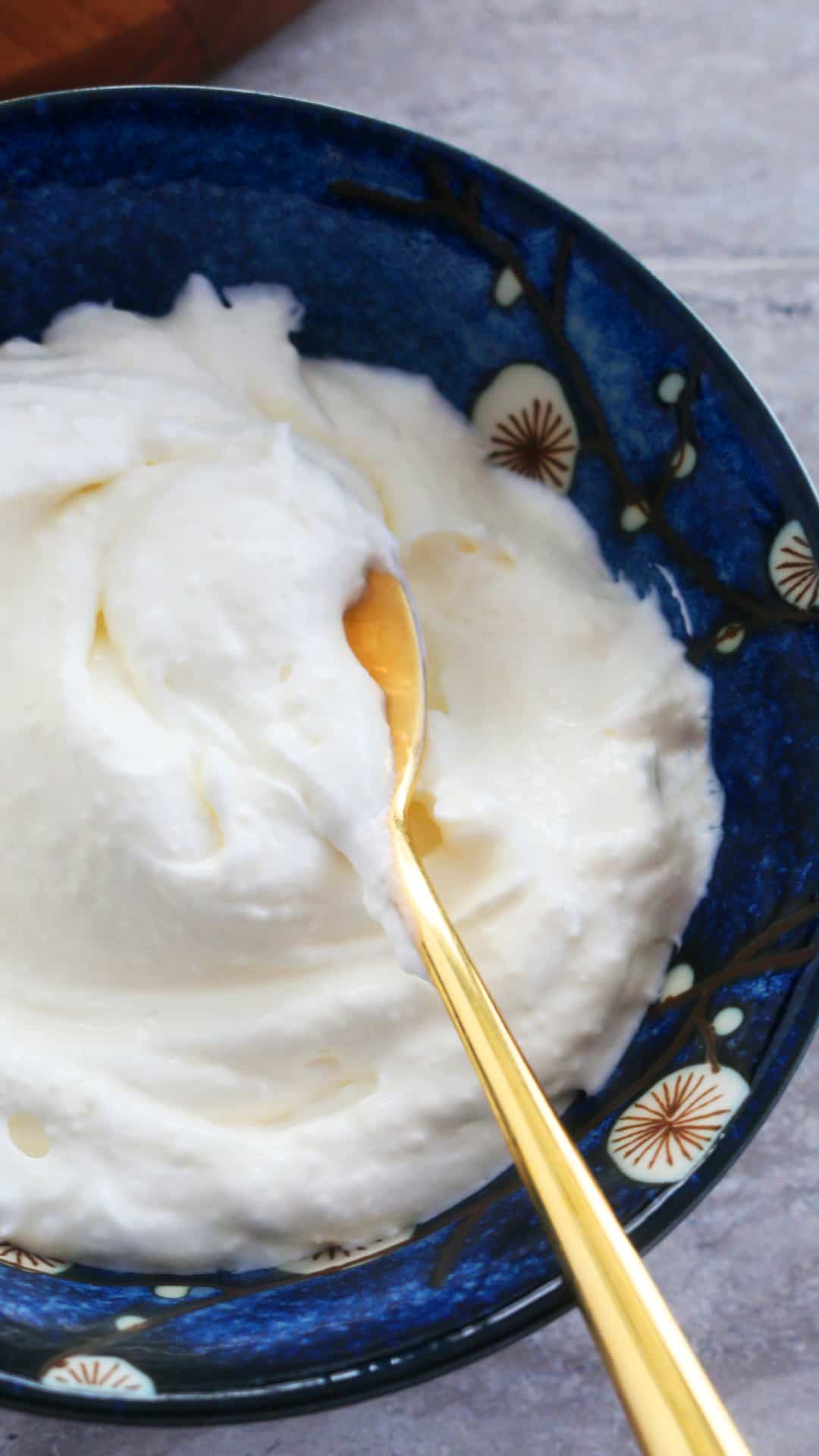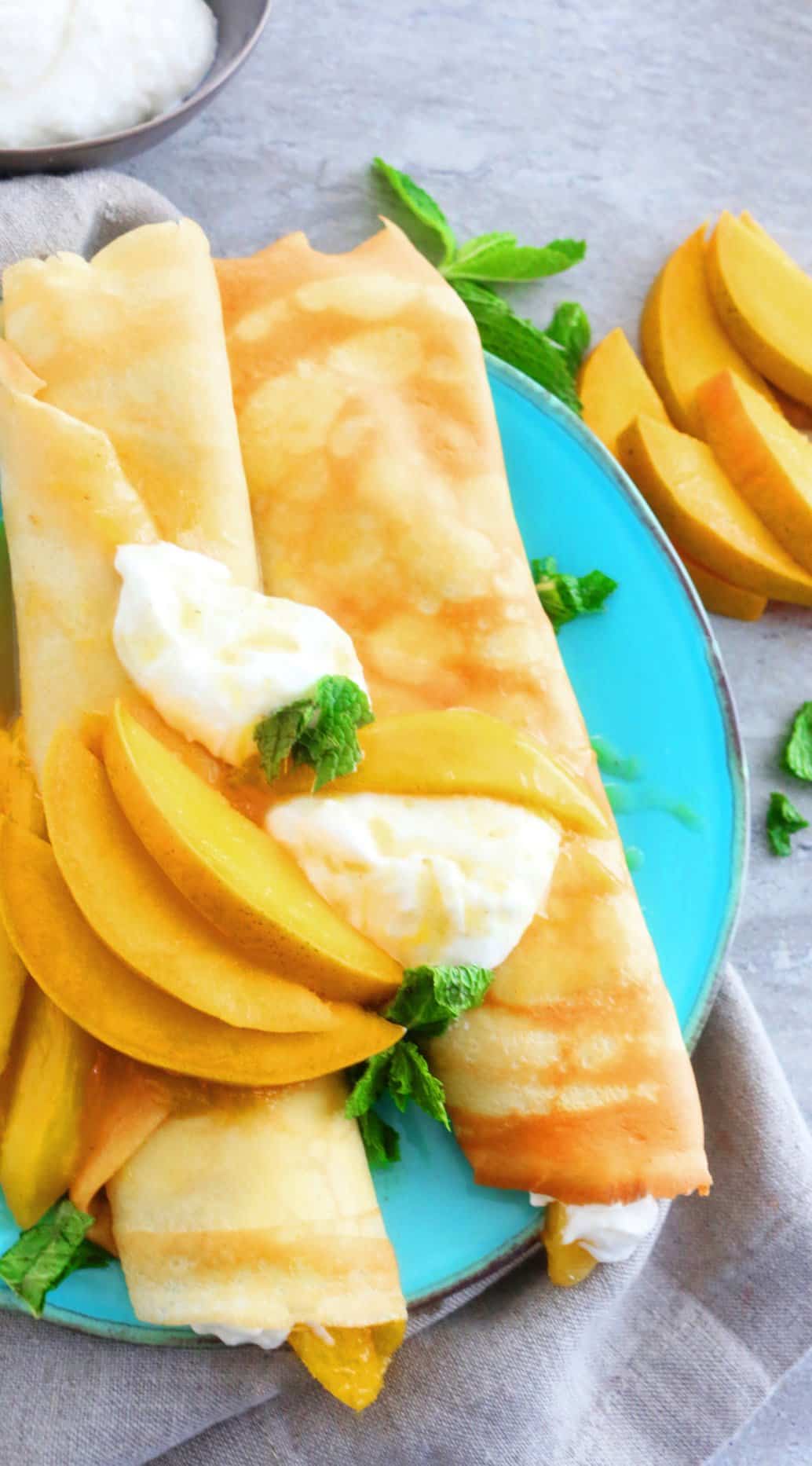 ---
Skill level - Intermediate
Mango Lassi Crepes
Ingredients:
Crepes
4 large eggs
1 cup milk
1 cup all purpose flour
1 tablespoon honey
2 tablespoons unsalted butter, melted
½ teaspoon salt
additional butter for making crepes, room temperature
Honeyed Mango
3 tablespoons unsalted butter
3 tablespoons sugar
3 tablespoons honey
1 ½ large ripe (but firm) mangoes, peeled and sliced into ¼-inch thick slices
Creamy greek yogurt
4 ounces cream cheese, room temperature
½ cup greek yogurt, preferably whole milk/low fat yogurt
½ cup confectioners sugar
¼ teaspoon salt
Preparation:
To make crepes,
1. Add all crepe ingredients (except additional butter) into a blender, blend for 1 minute, until smooth. Let batter sit at room temperature for about 30 minutes ( proceed if pressed for time).
2. Heat a 9-inch (any medium size) non-stick skillet over medium-high heat. When moderately hot, lightly coat the pan with butter and wipe off the excess with paper towel.
3. Pour about ⅓ cup batter, swirl pan to completely cover bottom of skillet. Cook until the underside is golden brown (about 30 seconds). Loosen edges with a rubber spatula, and gently turn over, cook for additional 15 seconds until golden on other side. Slide crepe on to a plate. Proceed with remaining batter (lightly coating with butter each time).
To make honeyed mango,
Into the same skillet over high heat, melt butter and cook until golden brown (takes few seconds after the butter has melted. Keep a close eye, since the pan in dark in color). When you see the edges of butter starts to get brown, it's time for sugar and honey) . Add sugar and honey, stir for 20 seconds until honey and sugar is melted. Add sliced mangoes, continue to cook on high heat for 45 seconds, until sauce has thickened slightly. Immediately, transfer into a bowl (along with every bit of sauce).
To make creamy greek yogurt,
Into a medium bowl, add cream cheese, yogurt, confectioners sugar and salt, beat with a hand held electric beater on high (start low and build to high) for about 1 minute, until smooth and thick.
To serve mango lassi crepes,
Spread about 3 tablespoons of creamy greek yogurt on each crepe, spoon some mangoes (along with sauce), roll or fold and enjoy.
Makes 7 (9-inch crepes)
(crepe)