Slightly creepy, fun, crispy, crunchy breadsticks, with a hint of spice!!!
Hey, I baked up some snakes.
Sorry, I had too…
Husband went "I know that Halloween is in the air, when there are critters baking"
He's so true!!!
I get carried away every Halloween season ( season, is it??? Well in our home, it is!)
Halloween is probably my most favorite of all holidays.
So spooky and so FUN.
So, let's begin the Halloween season at k@h with some crawling snake breadsticks.
These are soooo much fun to make for both young and young at heart.
They would be perfect for your cheese board at your Halloween party.
Or wrap in cellophane bags (these stay crisp for many days) and offer them to the trick-or-treaters at your door – A change from the usual sugary goodies.
Or eat them plain or with marinara.
A twist (literally) to my Crunchy sesame breadsticks.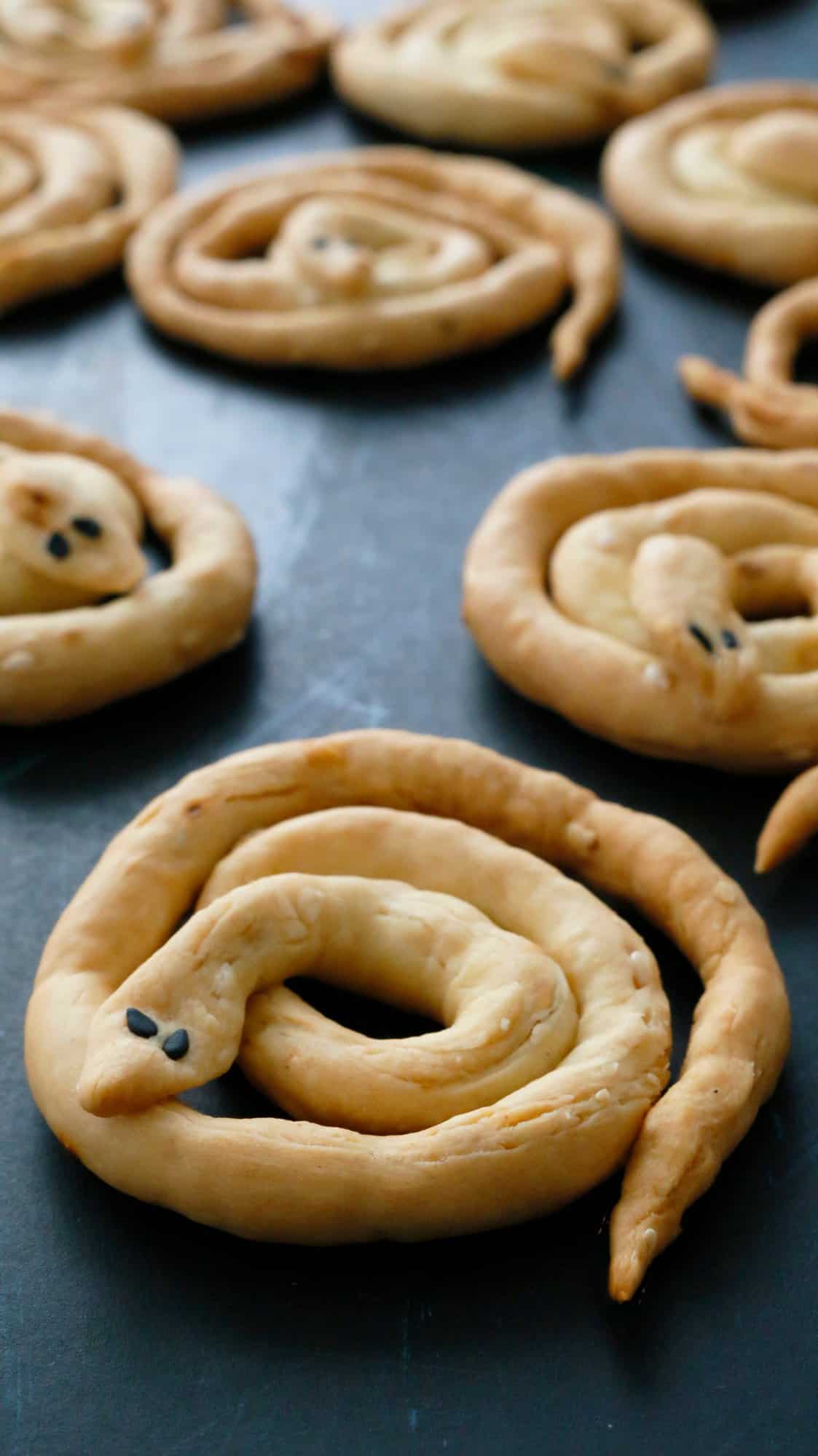 (move cursor over photos for captions)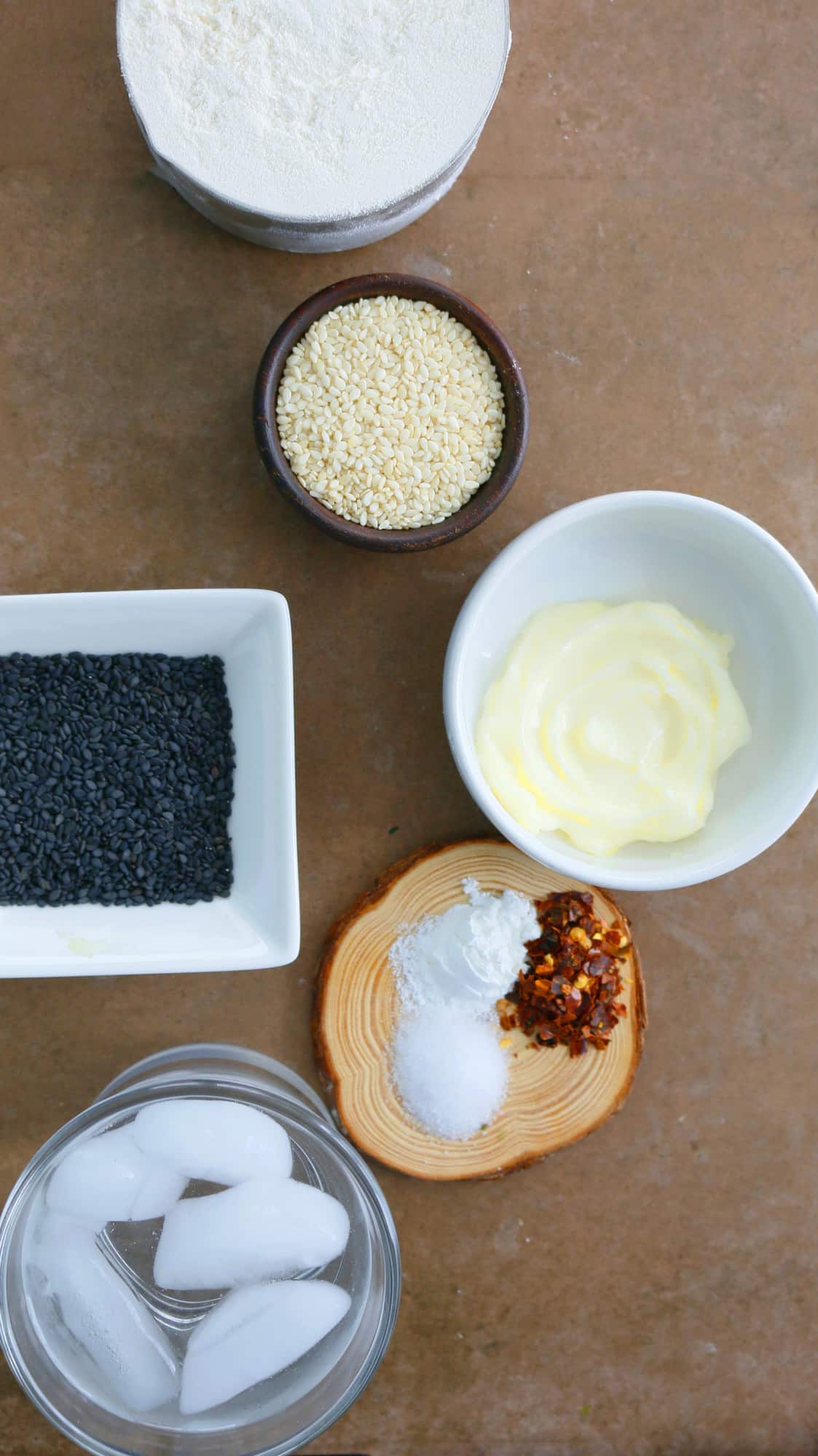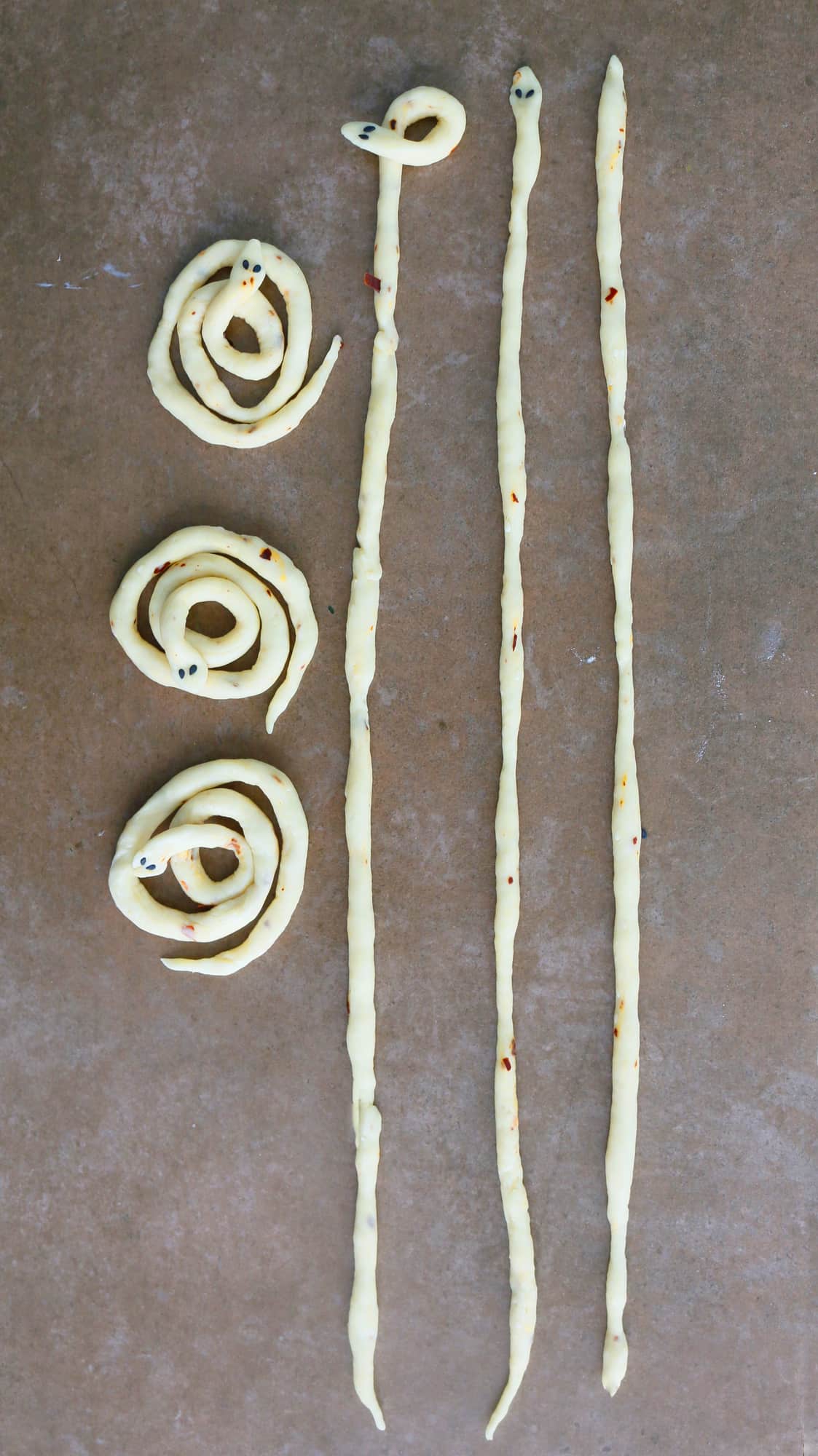 ---
Skill level – Easy
Spicy, Sesame Snakes Breadsticks
Ingredients:
1 cup all purpose flour, spooned and leveled
2 tablespoons white sesame seeds
1/2 teaspoon baking powder
1/2 teaspoon red pepper flakes
1/4 + 1/8 teaspoon salt
2 tablespoons unsalted butter, room temperature
1/4 cup + 1 tablespoon ice cold water
about 32 black sesame seeds, for eyes
Preparation:
1. Preheat oven to 350 degrees F. Have a sheet pan lined with parchment paper.
2. Whisk together first 5 ingredients (flour through salt) in a medium bowl. Add butter and mix with your fingertips until evenly mixed and looks like sand. Add ice cold water and mix with your hands to get a slightly smooth dough (add 1/2-1 teaspoon additional water if required). The dough should be firm, yet smooth.
3. Divide dough into 16 equal pieces. Roll each piece with the palm of hands on the kitchen counter to get a 16-inch (approximately) long rope of even thickness. Don't bother if it breaks, just pinch it back together and proceed.
4. Gently press one end of the rope flat, with a fingertip to get the shape of a snake's head. Now, press two black sesame seeds into the face, to resemble eyes. (make sure, it sticks to the dough well). Roll the other end thin, to resemble a tail.
5. Roll the snake into a loose coil (refer pictures). Rolling the coil LOOSE ensures, the snake crisps up evenly while baking. (Don't bother making perfect circles. Remember, snakes do not coil in perfect circles)
6. Gently transfer the snake with both hands, on to the prepared baking pan. Fix the coil again, if needed.
7. Space them evenly apart. They do not expand while baking.
8. Place pan in the middle rack of the oven and bake for 35-40 minutes until golden brown in color (rotate pan halfway through baking).
9. Place pan on a wire rack to cool completely. Serve snakes with a dipping sauce like marinara or sun dried tomato hummus or Sriracha ranch.
Breadsticks can be stored at room temperature, in a covered container, for several days.
Makes 16 snakes
Some of the links above are affiliate links, which pay me a small commission for my referral at no extra cost to you! Thank you for supporting kitchenathoskins.