Classic banana nut pancakes baked to perfection in a muffin pan. Soft, fluffy, simple and easy.  
My new favorite way to make pancakes. 
These cups are the best thing ever. Especially if eaten warm. Split open, slather with some butter (totally optional) and then drizzled with maple syrup. Pancake heaven!!!!
Bonus, no standing behind the stove flipping pancakes. 
Especially during the holidays. I'd rather snuggle up on the couch with my "bored" children playing on their phone:) 
Simple. Easy. So GOOD. 
This recipe is a slight variation to my Pumpkin Streusel Pancakes (Best ever!)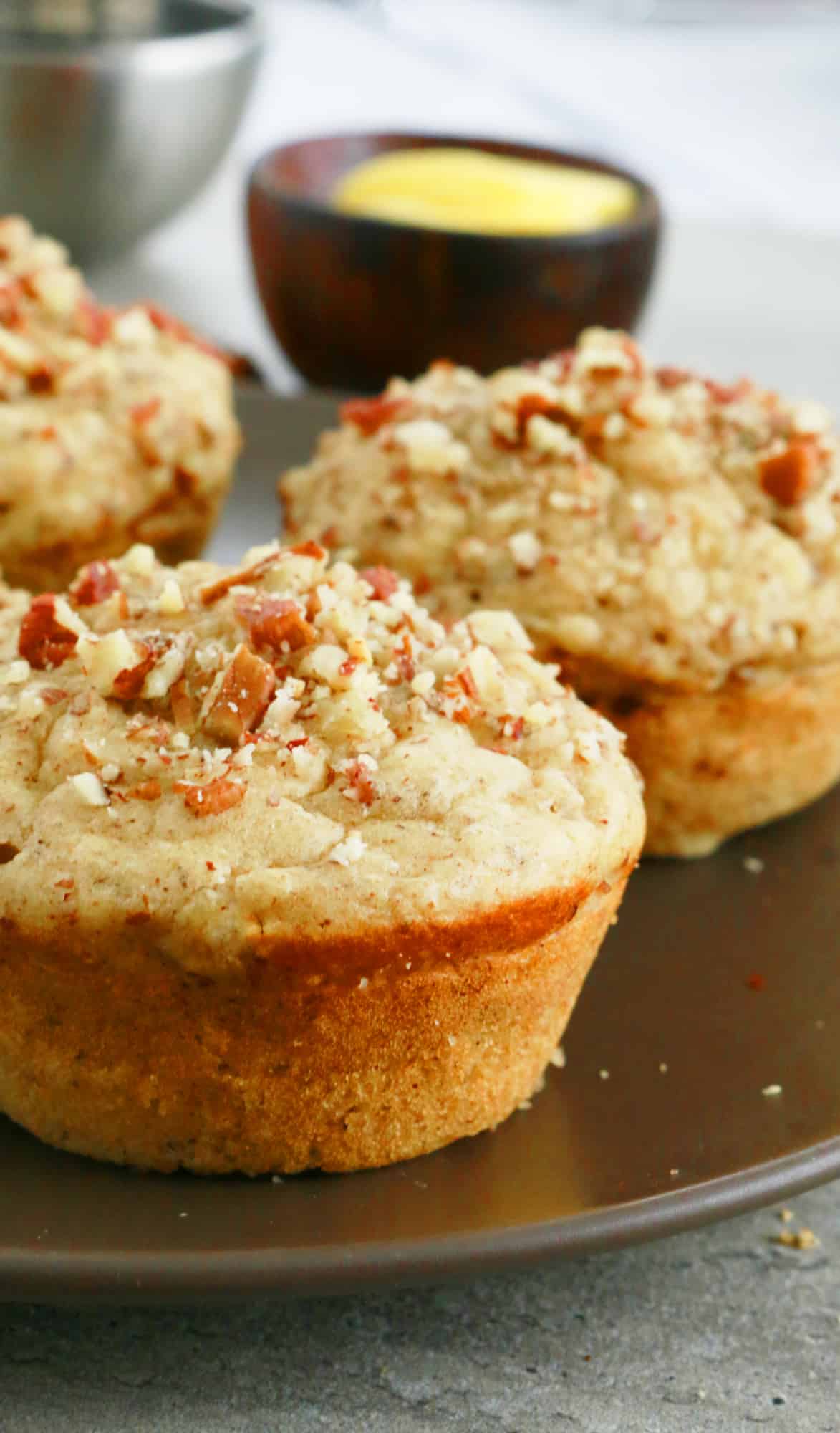 ---
Skill level – Easy
Banana Nut Pancake Cups
Ingredients:
1 1/4 cups all-purpose flour, scooped and leveled
2 tablespoons packed brown sugar (light/golden/ dark)
1 teaspoon ground cinnamon
1 teaspoon baking powder
1/2 teaspoon baking soda
1/4 teaspoon salt
3 tablespoons unsalted butter, room temperature
1 large egg
1/2 cup mashed banana (about 1 large), very ripe
1 cup buttermilk
1/2 cup toasted pecans, chopped 
maple syrup, for serving
Preparation:
1. Preheat oven to 350 degrees F with oven rack placed in the middle of the oven. Grease a 12-cup standard muffin pan with non-stick cooking spray. Set aside.
2. Whisk together flour, brown sugar, cinnamon, baking powder, baking soda and salt in a medium bowl. Add butter and mix with your fingertips, until evenly distributed and it looks like wet sand. Set aside. 
3. In another medium bowl, whisk together egg, mashed banana and buttermilk until smooth. Add into the flour mixture along with half of the chopped pecans and stir with a spatula until just mixed (do not over mix). 
4. Evenly divide batter into the muffin pan (all 12 cups) and sprinkle remaining pecans on top.
5. Place pan in oven and bake for 17-18 minutes, until a tooth pick inserted in the middle comes clean. Do not over bake. 
6. Place pan on a wire rack.
7. Serve pancake cups hot/warm with maple syrup and/0r butter. 
Makes 12 pancake cups 
(banana)