Air Fryer Corn on the cob is easy and hands free. Enjoy this delicious roasted corn with Garlic Parmesan, Chili Lime or Garlic Herb Butter!
We love using our air fryer to make quick snacks. More easy healthier snack recipes include Baked Sweet Potatoes in Air Fryer, Buffalo Cauliflower, Air Fried Carrot, Apple Crisp for Two, Nachos or Peanut Butter Toast.
As an Amazon Associate and member of other affiliate programs we earn a small commission from qualifying purchases through our affiliate link. For more information read our Non-Disclosure Agreement.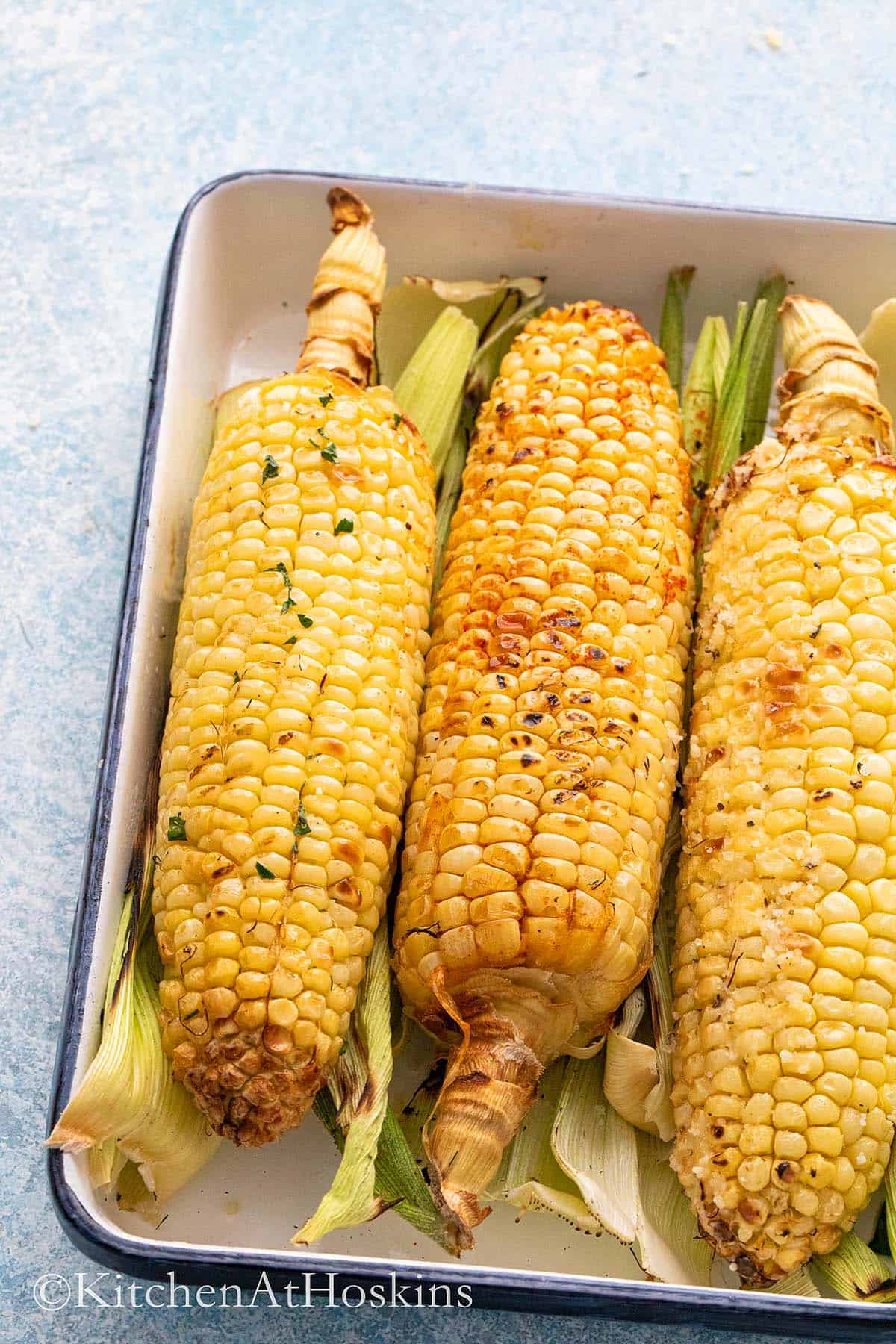 Air Fryer Corn on the Cob
Cooking corn in the air fryer is easy, quick and oh so delicious, especially when slathered on with garlic parmesan butter, chili lime butter or garlic herb butter! It is a great option when you are craving grilled cob but don't want to heat up the grill for just a couple of cobs.
The hot circulating air from the fryer roasts the corn, giving a fire grilled effect. No more boiling a pot of water and heat up the kitchen in the process. It is a great side dish or just a healthy snack in summer.
Why you'll love this recipe?
Quick and Easy - No boiling a pot of water or firing up the grill. Simply throw a few cobs into a hot air fryer and cook. No fuss recipe that cooks in less than 15 minutes.
Customizable - With 3 tasty butter options, this recipe is absolutely delicious based your mood!
Hands free - Grilling or cooking on the stove top will need baby sitting! This is a simple throw and forget it recipe (almost).
Can you use frozen corn?
Absolutely! This method works for both fresh and frozen ears. When using frozen ones, cook for 3 to 4 minutes at 400 degrees (for it to thaw), baste with melted butter or oil and continue cooking for additional 10 to 12 minutes, until done.
How to Pick the Perfect Corn?
Pulling the husks back to check a few kernels before buying is a great way to check for the perfect ear. However, this method makes them dry out faster and then becomes unsellable. So, here are a few tips to pick the perfect ear:
Husks - You want the husks to be bright green, free from brown spots and damp. They should be clinging fairly tightly and damp husk is a sign that the cob is fresh. Don't choose husks that are starting to turn yellow or feels dry. You'll also want to avoid husks with small brown holes.
Silks - Look for silks that are brown and tacky instead of dark brown or black. The darker color means that it is too old and should be passed by.
Touch - Gently squeeze the cob all over to feel the kernels. It should be firm with individual kernels feeling plump and consistent all the way to the top.
Is White or Yellow better?
The only difference between white and yellow is the naturally occurring pigment that makes the kernels yellow. The beta carotene in yellow cob gives them a bit of a nutritional edge over white variety and there is NO difference in flavor. If you are buying in the peak of summer, then most likely you are going to get a sweet and delicious ear, irrespective of the color.
How to prep?
This recipe calls for the cobs to be fully shucked. You can find both pre shucked or with husks in the grocery store. If you buy with husks then follow these directions to shuck them easily at home.
Remove the husks layer by layer and pull them off at the stem end.
Remove all the silk by gently pulling them away from the cob.
Use a knife or your hands to cut any stem end to fit.
How do you know when it is cooked?
Use a sharp knife to poke on one of the kernels. it is done when it feels tender. If it feels tough, then continue cooking for a few more minutes, until done.
Ingredients needed
All you need is corn, butter or oil, salt and pepper for a simple roasted cob. The flavored butters are optional but HIGHLY RECOMMENDED. For detailed measurements, see the recipe card below.
Corn: Pick ears that are similar in size and sweet, that your family loves to eat. I like to go to farmers markets for the best selection. If it feels too long to fit in your air fryer, then break them in half.
Butter or Oil - A slight coating of melted butter or oil (olive, avocado or vegetable oil), helps with the roasting process.
Salt and pepper - Add to taste.
Flavored Butters - Use any or all of the recommended butter recipes to make a delicious air fried cob.
Pro Tips for Success
Use fresh corn - The results are better when the ear is fresh!
Cut the corn ends to fit your air fryer basket - Or cut them in half for smaller appliance.
Cooking time - This will depend on the power and size of the air fryer used. After you cook your first batch, you will know what works best for the best roasted cob.
Turn once - Flip the cobs once halfway through cooking to cook them evenly.
Don't overcrowd- Make sure there is room between the cobs for the air to circulate and do not over crowd them.
How to make?
Remove the husk and silk and cut them if half (if needed), if using a smaller air fryer.
Grease - Brush a thin coating of melted butter, olive or vegetable oil.
Cook - Cook at 400 degrees for 10 to 12 minutes.
Finish - When done, slather on any of the delicious butters on top and enjoy!
How to serve?
It is delicious as a quick snack or a side for dinner. Try any of these dinner ideas that pair well:
With Chicken recipes like whole roast chicken, chicken burger, chicken nuggets, baked cutlets, chicken meatballs or buffalo wings.
Perfect with pasta dishes like Garlic Butter Shrimp Pasta, Creamy Chicken Mushroom Pasta, Lemon Chicken Pasta, Penne Alla Vodka or Chicken Baked Ziti.
Make an entire air fryer dinner like Air Fryer Naan Pizza, Spicy Salmon with Skin, Chicken Tacos, Fried Rice, Lemon Pepper Wings, Garlic Bread, Garlic Parmesan Wings, Chicken Parmesan or Breaded Tilapia.
How to reheat?
If you are planning to serve the cobs later, then we recommend not using any butters after cooking. Reheat and, slather on the butter and serve immediately.
To re heat - Cook in pre heated 370 degrees appliance for 3 to 4 minutes or until heated through.
How to Store?
Store leftovers in the refrigerator in an airtight container for up to 4 days.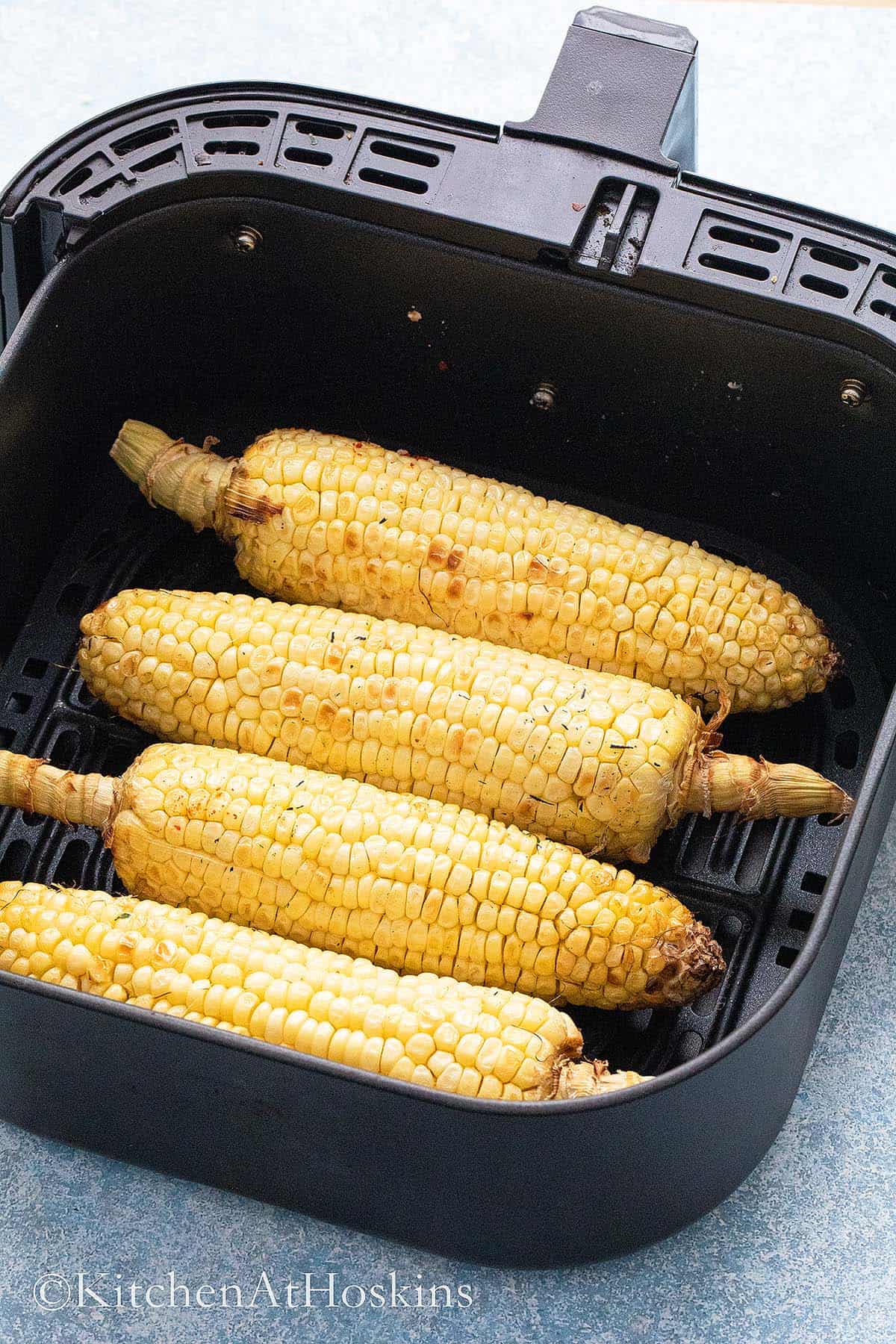 Frequently asked questions
Can it turn into popcorn while cooking?
No! Popping corn is different than fresh sweet corn.
Can I cook them with foil?
Absolutely! You can wrap cobs in foil and then cook them for a steamed cob. However, our goal was to make a "roasted corn" and cooking them without foil gives that char cooked cob.
Do you keep them whole or cut in half?
It depends on your air fryer used. We used instant vortex 6 quart and was able to fit 4 whole cobs without having to cut them. If you are using a smaller machine, then cut in half to fit.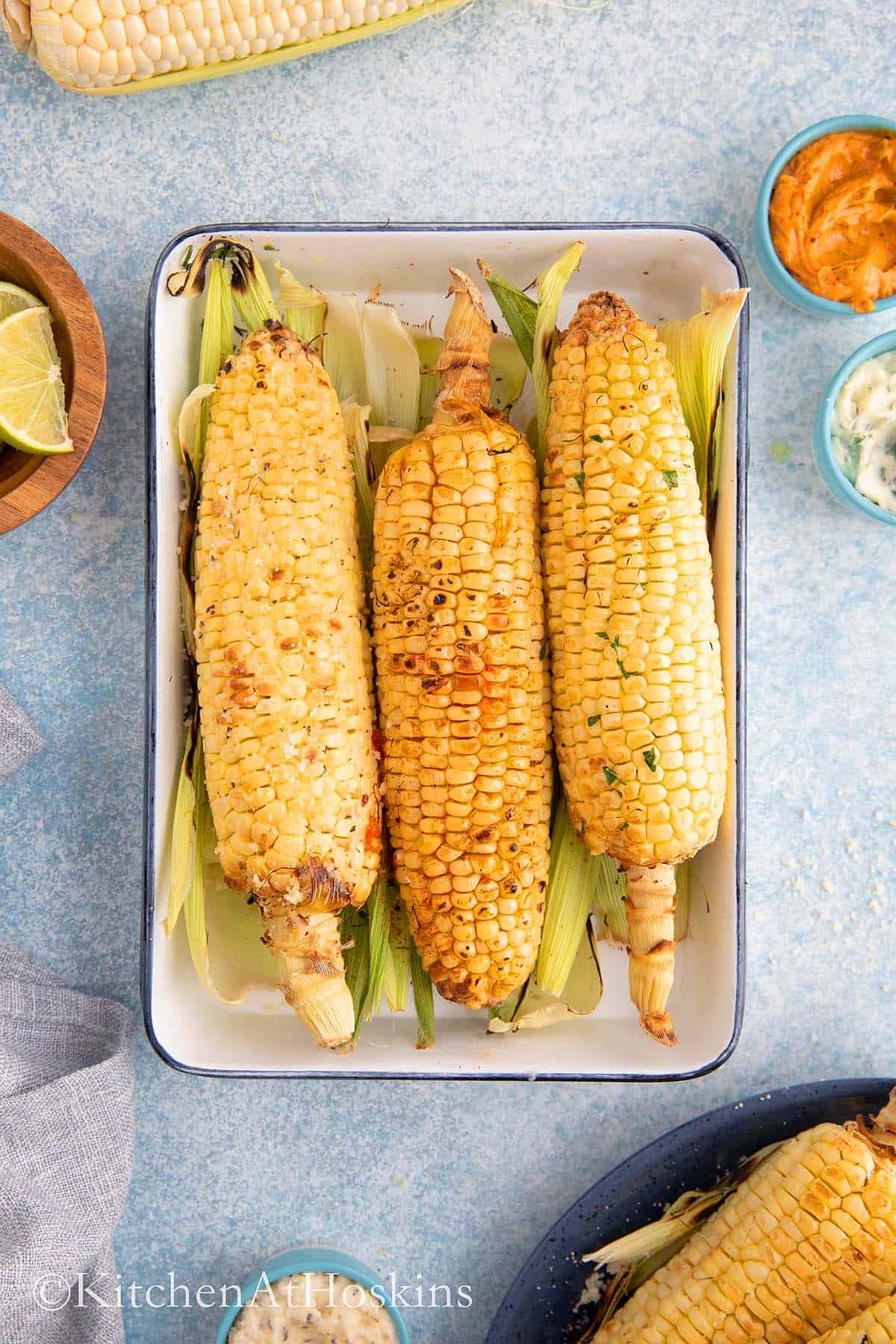 More Air Fryer Veggies to try:
Follow me on INSTAGRAM, TIK TOK, FACEBOOK or PINTEREST for more delicious recipes.
Air Fryer Corn on the Cob ( with 3 Flavored Butters)
Air Fryer Corn on the cob is easy and hands free. Enjoy this delicious roasted corn with Garlic Parmesan, Chili Lime or Garlic Herb Butter!
Ingredients
4 corn on the cob
Melted unsalted butter (or use olive/vegetable oil)
Salt and Pepper (optional)
Flavored butters (details below)
Items used
Instructions
1. Brush corn evenly with melted butter or oil. Sprinkle salt and pepper, if not using any of the butters.
2. Pre heat air fryer to 400°F for 12 minutes. When hot, place corn and cook for 10 to 12 minutes (turning once half way through), or until cooked through and you see a few golden spots on the corn.
3. Remove from air fryer and liberally brush any of the following butters. Serve hot!
(To cook 2 corn - Cook at 390°F for 9 to 11 minutes)
Notes
Garlic Parmesan Butter
4 tablespoons unsalted butter, room temperature
2 garlic cloves, grated fine using a microplane
¼ cup finely grated parmesan cheese
¼ teaspoon Italian seasoning
¼ teaspoon salt (or to taste)
2 pinched red pepper flakes
Stir all ingredients together in a bowl.
Chili Lime Butter

4 tablespoons unsalted butter, room temperature
1 tablespoon minced cilantro
1 teaspoon lime juice
¾ teaspoon chili powder
½ teaspoon lime zest
¼ teaspoon cayenne powder
¼ teaspoon salt
Stir all ingredients together in a bowl.
Garlic Herb Butter
4 tablespoons unsalted butter, room temperature
2 garlic cloves, grated fine using a microplane
1 tablespoon minced parsley
¼ teaspoon salt
Stir all ingredients together in a bowl.
Additional Notes
Cut the corn ends to fit your air fryer basket – Or cut them in half for smaller air fryer.
Nutrition Information:
Yield:

4
Serving Size:

1
Amount Per Serving:
Calories:

155
Total Fat:

8g
Saturated Fat:

2g
Trans Fat:

0g
Unsaturated Fat:

5g
Cholesterol:

8mg
Sodium:

335mg
Carbohydrates:

22g
Fiber:

2g
Sugar:

5g
Protein:

4g
I am not a certified dietician or nutritionist. The information is a product of online calculator such as Nutrifox.com, although Kitchen at Hoskins attempts to provide accurate nutritional information, these figures should be considered estimates and not be construed as a guarantee. Varying factors such as product types or brands purchased, produce, and the way ingredients are processed change the nutritional information in any recipe. Furthermore, different online calculators provide different results depending on their fact algorithms. Under no circumstances will Kitchen at Hoskins be responsible for any loss or damage resulting for your reliance on the nutritional information. To obtain the most accurate nutritional information in a given recipe, you should calculate the nutritional information with the actual ingredients used in your recipe, using your preferred nutrition calculator. You are solely responsible for all decisions pertaining to your health and ensuring that any nutritional information provided is accurate.
Did you make this recipe? I'd love your feedback! Please let me know by leaving a comment or review below or snap a photo and share on Instagram.
All contents and images are my original work, unless and otherwise mentioned. Please do not use my recipes or images without linking back to www.kitchenathoskins.com. If you wish to republish a recipe, please rewrite in your own words and don't forget to include a link back to the original recipe.
Some of the links above are affiliate links, which pay me a small commission for my referral at no extra cost to you! I am a participant in the Amazon Services LLC Associates Program, an affiliate advertising program designed to provide a means for us to earn fees by linking to Amazon.com and affiliated sites. Thank you for supporting kitchenathoskins.com.