These Air fryer Zucchini Parmesan Rounds are made with just 3 main ingredients, easy to make without breading, ready in under 15 minutes and is a perfect side dish or appetizer. A tasty way to enjoy garden fresh zucchini!
If you are looking for ways to use this summer squash, then you check out this Lemon Zucchini Muffins or Zucchini Cupcakes.
As an Amazon Associate and member of other affiliate programs we earn a small commission from qualifying purchases through our affiliate link. For more information read our Non-Disclosure Agreement.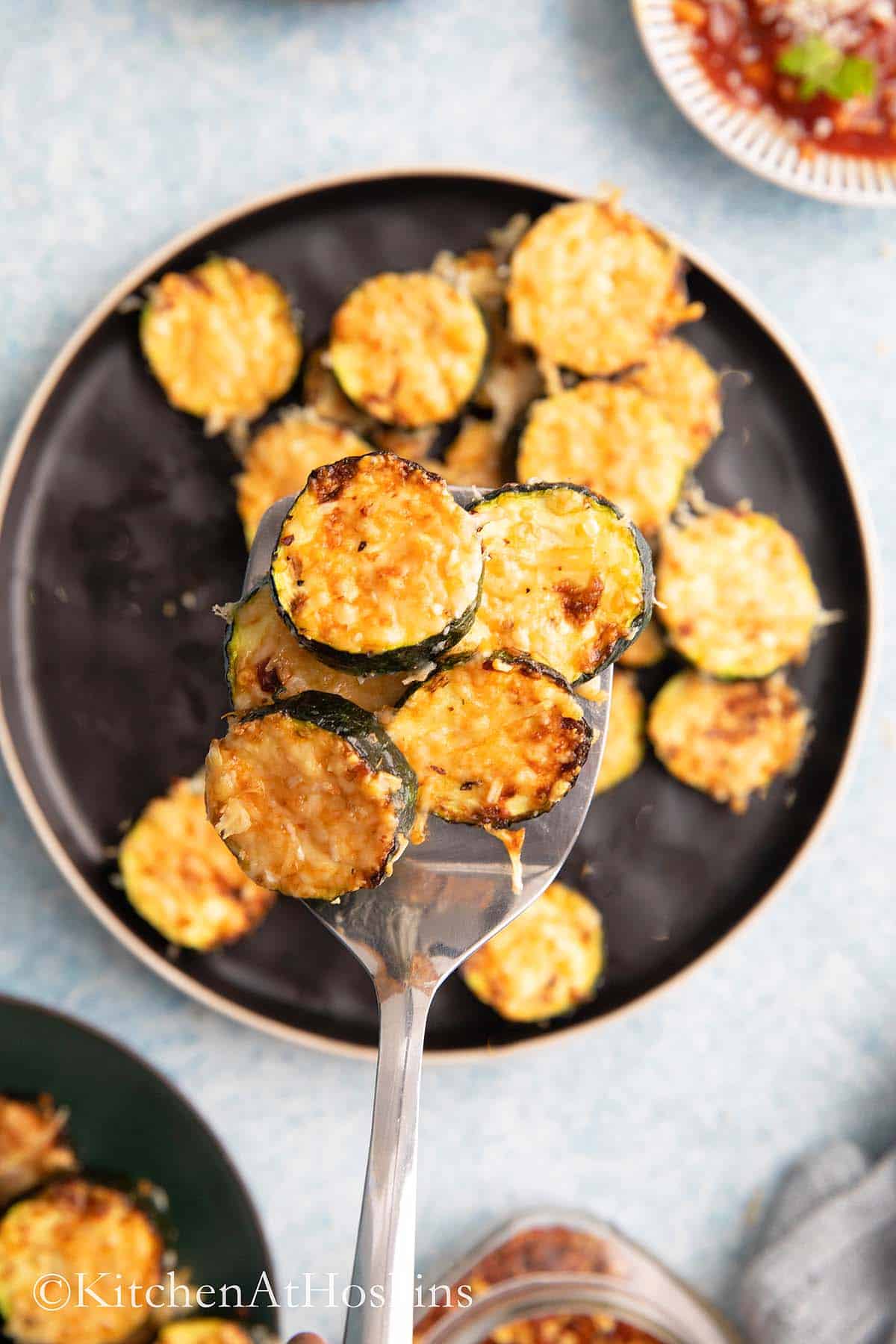 Air Fryer Zucchini Parmesan
Eating vegetable never tasted so good! A healthy vegetable side dish for weeknight dinner, appetizer or snack! These are so good that my kids end up finishing them before even it reaches the dinner table. It goes so well with almost any meal like this whole chicken and it takes almost no prep time.
It is a great low carb alternative since there's no breading and also a great recipe for folks new to air fryer cooking. Zucchini is high in vitamin A and anti oxidants, promotes digestion, may help with better vision and heart health. So, we look for ways to incorporate this humble squash into our diet all summer long when they grow in abundance.
Why is this a must try recipe?
Ready in under 15 minutes from start to finish.
Only 3 main ingredients along with basic seasonings like salt, pepper and red pepper flakes.
Healthy, nutritious and low carb.
Kid friendly - The crisp, cheesy topping is delicious and my kids don't have any problem in eating their full serving of veggies.
Great side dish with almost any meal or kid friendly snack.
What is Zucchini?
Also known as courgette or baby marrow, it is a summer squash and technically a fruit. Ordinary fruits are any shade of green, though the golden variety is a deep yellow or orange.
Do you need to peel?
There's no need to remove the skin to make this recipe. The skin not only adds flavor, color, antioxidants and fiber, but also helps keeping the vegetable in tact if over cooked.
How long to cook?
This recipe calls for about 9 to 11 minutes at 400 degrees. Lesser time will yield al dente and more time will make them softer and deep brown in color.
TIPS TO AVOID SOGGY ROASTED ZUCCHINI
Don't cut them too thin (we like ½-inch rounds or slices).
Avoid over crowding - Cook in batches if needed.
Don't cook for too long - Cooking them longer will soften them more than you'd like.
CAN YOU MAKE THESE IN THE OVEN?
Sure can! Prepare as instructed, spread them into a single layer in a baking sheet, top with parmesan and bake in a pre heated 450 degree oven for about 10 minutes. Switch to broiler for an additional 2 to 3 minutes to get a nice color.
More slicing options
If you don't like them to be cut in chips, then you cut them into thick fries or long slices instead.
Ingredients
A straightforward recipe with only 3 main pantry ingredients. The ingredient list is very short making this recipe quick and easy.
Zucchini - I use medium to large sized squashes that are crisp and firm. You can use larger ones as long as they aren't too thick. Avoid using very large zucchini, over grown ones, since they'll be too seedy and watery when cooked.
Oil - Use a good quality extra virgin olive oil if possible. It adds richness and more flavor.
Parmesan cheese - Use freshly grated parmesan if possible instead of the pre shredded variety. But, Pre-grated is OK.
Seasoning - Salt, black pepper and red pepper flakes.
Pro Tips for Success
Thickness - Cut washed zucchini into ½-inch thick slices for a bit sturdier yet well cooked vegetable. ¼ inch slices tend to get over cooked by the time parmesan topping gets golden brown.
Don't over crowd - Make sure to place the rounds in a single layer in the basket, leaving a little space around each one. Depending on the size of your air fryer, you may need to work in batches.
Parmesan: Use freshly grated parmesan rather than pre shredded, if possible. Fresh will have a better flavor and a less gritty texture.
Make sure to sprinkle parmesan on top of slices rather than the basket.
Variations
Feel free to mix and match your preferred seasonings like Italian seasoning, minced garlic, garlic powder, paprika or minced fresh or dried herbs.
Make it spicy - Add cayenne or paprika and increase red pepper flakes.
Garlicky - Toss in finely minced garlic and garlic powder.
Ranch - Try using ranch seasoning mix instead.
Add some Italian seasoning along with the seasoning mix.
Squeeze from lemon juice as soon as it is done cooking.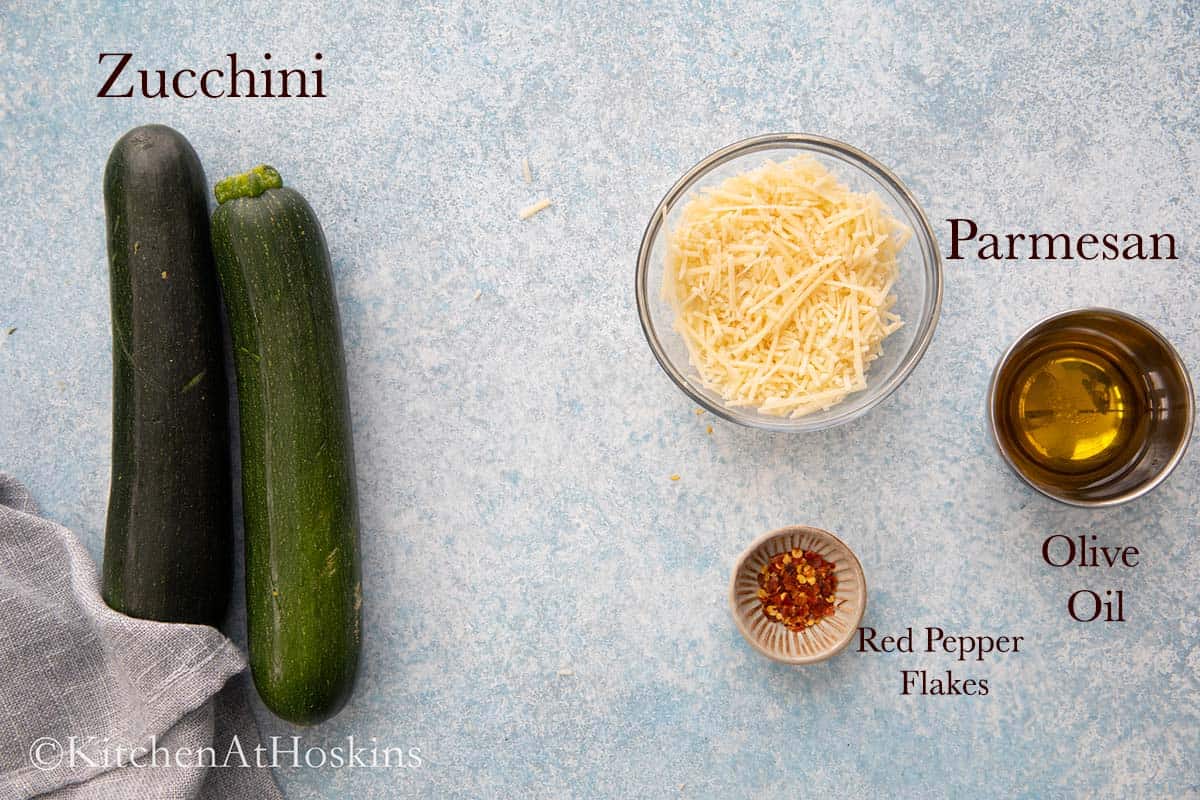 How to make?
Slice and season - Wash zucchini and pat dry. Cut into ½-inch thick slices toss along with olive oil, salt, black pepper and red pepper flakes.
Cook - Place them in a single layer in preheated 400 degree air fryer, sprinkle parmesan on top and cook for about 10 minutes, until golden brown. Serve immediately!
Buying tip - Buy squash that's firm, dark green, and has no bruises or soft spots.
How to serve?
These air fried crisps are best when they're freshly made. They are juicy with a slight crisp top but soften if they sit around. It's perfect as a side with burgers (we like to serve with our chicken burger).
Honestly, they are also a great way to sneak some veggies in at any time for kids like this Chicken Meatballs, Spicy Air Fryer Wings, Chicken Nuggets or Lemon Pepper Wings. Done in under 30 minutes, they make the perfect snack, too.
It is delicious as a side dish for pasta dinner recipes like -
We love making meals in air fryer. Some of our favorites include
How to store and reheat leftovers?
It is best when it is freshly made. Should you have leftovers, keep them stored in a sealed container in the refrigerator for up to 3 days. To reheat, return to the air fryer and cook at 350 degrees Fahrenheit for 3 to 5 minutes cook time, until they are warmed.
These chips are so quick to make in the air fryer and a much healthier option than deep frying in oil. This is one snack you can feel good about!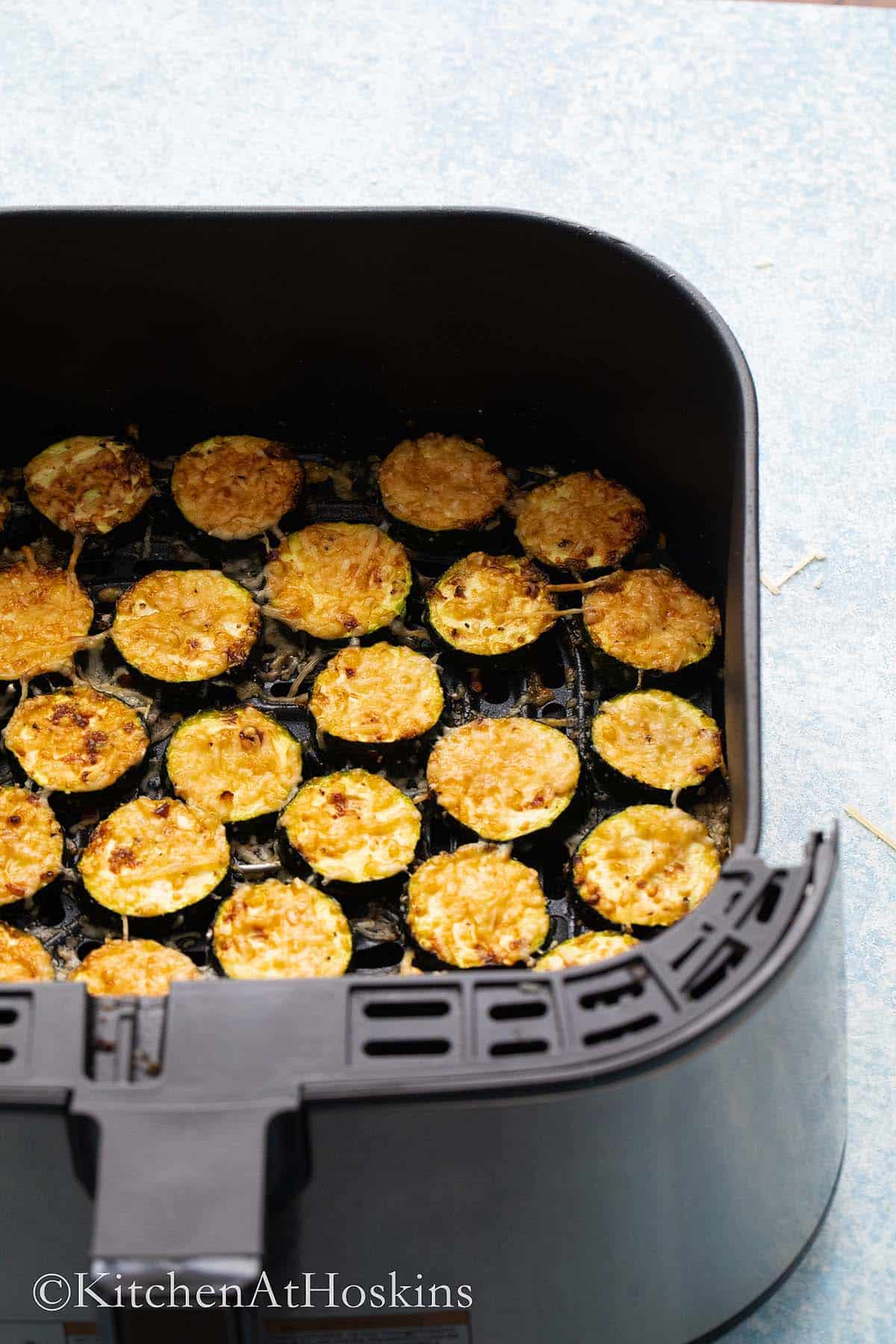 FREQUENTLY ASKED QUESTIONS
Are air frying vegetables healthy?
Absolutely! It is a great to roast vegetables with much lesser oil when compared to stovetop or oven baking.
Should zucchini be cooked?
It's commonly served cooked, but can be enjoyed eating raw too. It works great in salads, wraps or even made into low-carb noodles.
What's the healthiest way to eat zucchini?
That would be eating it raw in the form of salads, chips or noodles. However, many find it tasty when cooked with some seasoning.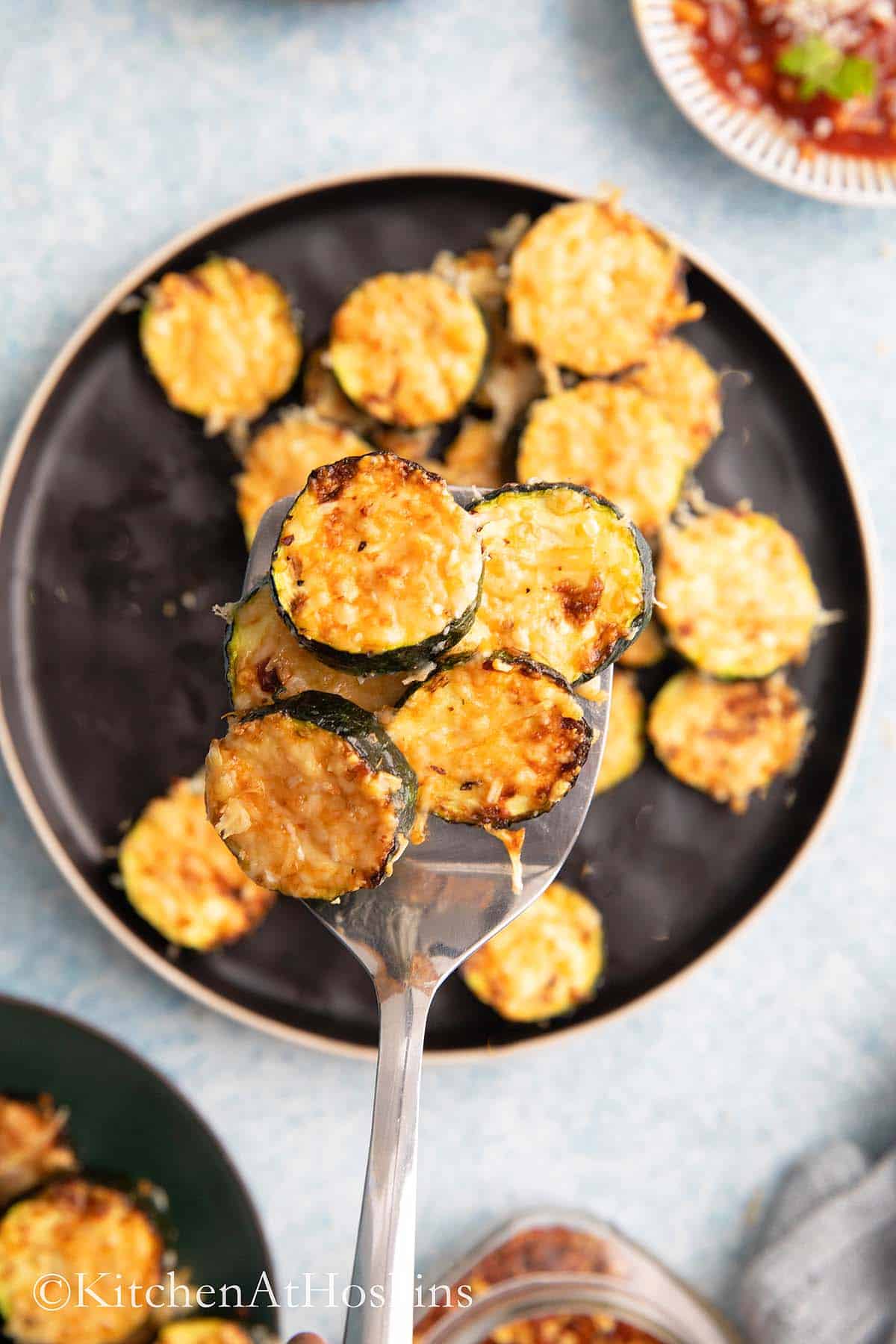 More Air Fryer Vegetable Side Dishes to try-
Follow me on INSTAGRAM, TIK TOK, FACEBOOK or PINTEREST for more delicious recipes.
Air fryer Zucchini Parmesan
These Air fryer Zucchini Rounds are made with just 3 main ingredients, easy to make, ready in under 15 minutes and is a perfect side dish or appetizer. A tasty way to enjoy garden fresh zucchini!
Ingredients
2 large zucchini
1 tablespoon olive oil
½ teaspoon salt (or less if desired)
¼ teaspoon red pepper flakes
¼ teaspoon ground black pepper
⅓ cup to ½ cup grated parmesan cheese
Instructions
Wash, pat dry zucchini and slice them into ½-inch thick discs.
Add sliced zucchini, olive oil, salt, red pepper flakes and ground black pepper into a large bowl and toss well until thoroughly combined.
Pre heat air fryer at 400°F for 11 minutes. When hot, place zucchini rounds in a single layer and sprinkle parmesan cheese on top of the rounds.
Cook until the tops are golden brown (9 to 11 minutes).
Serve hot!
Nutrition Information:
Yield:

4
Serving Size:

1
Amount Per Serving:
Calories:

106
Total Fat:

7g
Saturated Fat:

3g
Trans Fat:

0g
Unsaturated Fat:

4g
Cholesterol:

11mg
Sodium:

495mg
Carbohydrates:

6g
Fiber:

2g
Sugar:

3g
Protein:

5g
I am not a certified dietician or nutritionist. The information is a product of online calculator such as Nutrifox.com, although Kitchen at Hoskins attempts to provide accurate nutritional information, these figures should be considered estimates and not be construed as a guarantee. Varying factors such as product types or brands purchased, produce, and the way ingredients are processed change the nutritional information in any recipe. Furthermore, different online calculators provide different results depending on their fact algorithms. Under no circumstances will Kitchen at Hoskins be responsible for any loss or damage resulting for your reliance on the nutritional information. To obtain the most accurate nutritional information in a given recipe, you should calculate the nutritional information with the actual ingredients used in your recipe, using your preferred nutrition calculator. You are solely responsible for all decisions pertaining to your health and ensuring that any nutritional information provided is accurate.
Did you make this recipe? I'd love your feedback! Please let me know by leaving a comment or review below or snap a photo and share on Instagram.
All contents and images are my original work, unless and otherwise mentioned. Please do not use my recipes or images without linking back to www.kitchenathoskins.com. If you wish to republish a recipe, please rewrite in your own words and don't forget to include a link back to the original recipe.
Some of the links above are affiliate links, which pay me a small commission for my referral at no extra cost to you! I am a participant in the Amazon Services LLC Associates Program, an affiliate advertising program designed to provide a means for us to earn fees by linking to Amazon.com and affiliated sites. Thank you for supporting kitchenathoskins.com.