These Air fryer vegetable Recipes are bursting with flavor and deliciousness! You will find a curated collection of vegetable side dishes for every season that are effortlessly prepared in your air fryer. From kale chips to stuffed acorn squash, these sides are guaranteed to feed the pickiest of eaters.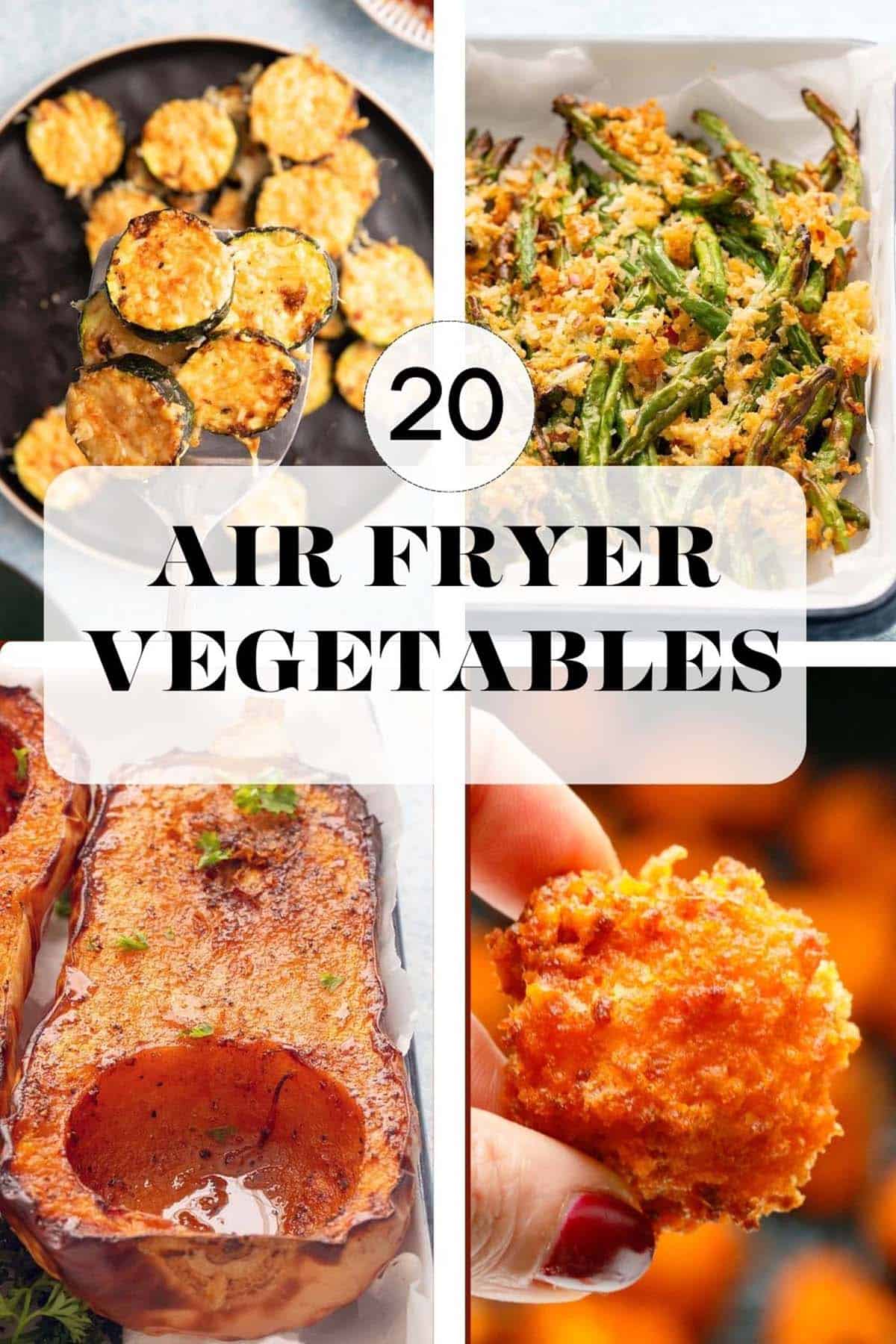 Jump to:
What types of vegetables can I air fry?
The air fryer is perfect for roasting vegetables because it uses hot air circulation to cook food, which helps create a crispy exterior, similar to traditional roasting in the oven. The high-speed circulation of hot air also allows vegetables to cook more quickly with minimal oil than conventional ovens.
You can cook a wide range of vegetables, to make deliciously crispy and flavorful side dishes. Here are some popular vegetables that work well in an air fryer:
Carrots, cut into fries, rounds or baby carrots
Potatoes, whole, wedges or fries
Zucchini, cut into rounds or sticks
Cauliflower florets
Broccoli florets
Green beans, seasoned or breaded
Asparagus spears, seasoned or breaded
Avocado, breaded
Corn on the cob, whole or cut into ribs
Sweet potato, whole, fries or wedges
Brussels sprouts, whole or halved
Eggplant, sliced or cubed.
Onions, wedges or rings
Kale
Okra, breaded or seasoned
Mushrooms, sliced or whole
Are there any vegetables that don't work well in the air fryer?
While most vegetables work well in an air fryer, vegetables with high water content like tomatoes, cucumber and delicate leafy greens like spinach or lettuce might not be ideal for air frying.
Also, very small vegetables like green peas or corn kernels might fall through the gaps in the grill plate.
Can I use frozen vegetables in the air fryer?
Sure can! When cooking frozen vegetables in the air fryer there are a few tips to ensure the best results:
Preheating the air fryer will help for faster moisture evaporation.
Cooking times for frozen vegetables will be longer than for fresh vegetables.
Give the basket a shake halfway through cooking, to ensure even cooking.
Seasoning halfway though cooking, to ensure the seasoning adheres to the veggies.
Hope you found a air fryer vegetable recipe to try for your next weeknight dinner. If you are looking for inspiration, please check out our huge collection of air fryer recipes.
Hungry for more? Follow me on Instagram, TikTok, Facebook or Pinterest for more delicious recipe
Did you make this recipe? I'd love your feedback! Please let me know by leaving a comment, a star rating or review below.
All contents and images are my original work, unless and otherwise mentioned. Please do not use my recipes or images without linking back to www.kitchenathoskins.com. If you wish to republish a recipe, please rewrite in your own words and don't forget to include a link back to the original recipe.
Some of the links above are affiliate links, which pay me a small commission for my referral at no extra cost to you! I am a participant in the Amazon Services LLC Associates Program, an affiliate advertising program designed to provide a means for us to earn fees by linking to Amazon.com and affiliated sites. Thank you for supporting kitchenathoskins.com.