CRISPY Almond Flour Shortbread cookies are Vegan, Gluten Free, Dairy Free, Grain Free and a Healthy treat. Made with only 3 ingredients, these biscuits are mildly sweet and made using coconut oil.
We love baking cookies with almond flour like our Gluten Free Thumbprint Cookies, Cookie for One, Coconut Oil Chocolate Chip Cookies or Lemon Cookies.
As an Amazon Associate and member of other affiliate programs we earn a small commission from qualifying purchases through our affiliate link. For more information read our Non-Disclosure Agreement.
Almond Flour Shortbread Cookies
This is one of the first cookie recipes we made using this nutritious flour and it has been a HUGE hit with anyone trying this recipe. Baking with Grain free flours or flourless cookies are always a bit tricky due to the absence of gluten. But, the success of this recipe has resulted us in coming up with a huge list of cakes and desserts.
Best and Easiest
These biscuits are crisp, simple, buttery (without any butter), made with only 3 ingredients and not-too-sweet!! These have no additional add-ins like chocolate chips, vanilla, cinnamon, coconut, raisins, cranberries or so on. Seriously simple, tastes irresistible (good for breakfast or a perfect munch for the kids). Check out this twist with Black Sesame Seeds.
THE 3 INGREDIENTS
The ingredients are almond flour, coconut oil and brown sugar (not including water and salt). All you have to do is mix them in a bowl, shape and bake <--- One of the easiest cookies that you will ever make.
MORE DETAILS
Almond flour - It is finely ground blanched almonds. It can be easily found in all major grocery stores or Amazon. Make sure you use "Super Fine" for the recipe. We pick up a bag from Costco and keep them stocked in freezer.
Coconut oil - Use melted liquid coconut oil, but not hot
Brown sugar - Golden brown sugar gave the perfect color and taste (check out more recipes using brown sugar).
WHY YOU'LL LOVE THESE?
Made with only 3 ingredients - Can't get easier than that.
Healthy - A eggless biscuit recipe that is packed with healthy fats from almonds and coconut.
Vegan, Gluten-free / Dairy Free / Grain Free / Flourless.
Not too sweet.
No leavening like Baking powder or baking soda.
Made from scratch with butter.
Difference between flour and meal
Meal is ground almonds along with skin whereas the latter is made with blanched almonds and hence much finer in texture.
Some varieties tend to be much more fine and is labelled "superfine" on the package. These are widely available in Costco, Amazon, Sprouts and all major grocery stores in the US. Superfine variety makes a healthier alternative in baking or even while making pancakes or waffles.
It is best stored in the refrigerator or freezer for a longer shelf life. It is rich in protein and high in heart healthy fats and omega 3s.
Almond Flour VS All Purpose Flour
The former is made from finely ground almonds, is high in fat and have a completely unique property in baking when compared to all purpose. So, you cannot substitute almond flour in place all purpose flour in baking recipes and vice versa.
What do these taste like?
It is crisp, buttery (without any butter), mildly sweet, almost tastes like European butter biscuits and utterly delicious ---> Best Cookies ever!
What does almond flour do to cookies?
Apart from giving a nutrition boost, they also add mild sweetness and amazing tenderness to the recipe. Due the high fat content, it tends to not make cookies dry upon baking.
PRO TIPS FOR SUCCESS
Use SUPER FINE variety.
Do not use meal instead - Meal is much more coarser and also contains skin. So, the cookie texture and taste changes.
Do not use hot coconut oil - If your coconut oil is not liquidy, then melt in the microwave and cool to lukewarm before making cookie dough.
Deep golden brown - If the cookies are removed from oven earlier, then they will be softer in texture.
Flatten them to ½-inch will result in a crispier cookie.
To make homemade flour - Refer this helpful instruction from Minimalist baker.
HOW TO MAKE ?
Whisk flour, brown sugar and salt together in a bowl. Stir in coconut oil and water, mix with a rubber spatula, until wet and crumbly. Shape into a tablespoon measure balls, flatten slightly and press a sliced almond in the middle.
Bake at 350 degrees F for about 20 minutes, until deep golden brown. Cool completely.
How to store?
Place biscuits in a sealed container at room temperature for few days. They tend to lose some of the crispness but taste the same.
How to freeze?
Place in a ziplock bag, seal and freeze for up to 3 months. Simply leave cookies at room temperature for few hours to thaw completely.
I usually buy a big bag from Costco and use it in various recipes. Some of our favorites include : Gluten Free Apple Crisp, Almond Flour Chocolate Cake, Lemon and Almond Shortbread, Cookie Dough without Eggs, No Bake Brownie Balls, Almond flour cake, Almond Flour Pancakes without banana, Banana Muffins, Almond Flour Brownies, No Bake Almond Butter Bars, Sweet Potato Waffles and Nutella Brownie Muffins.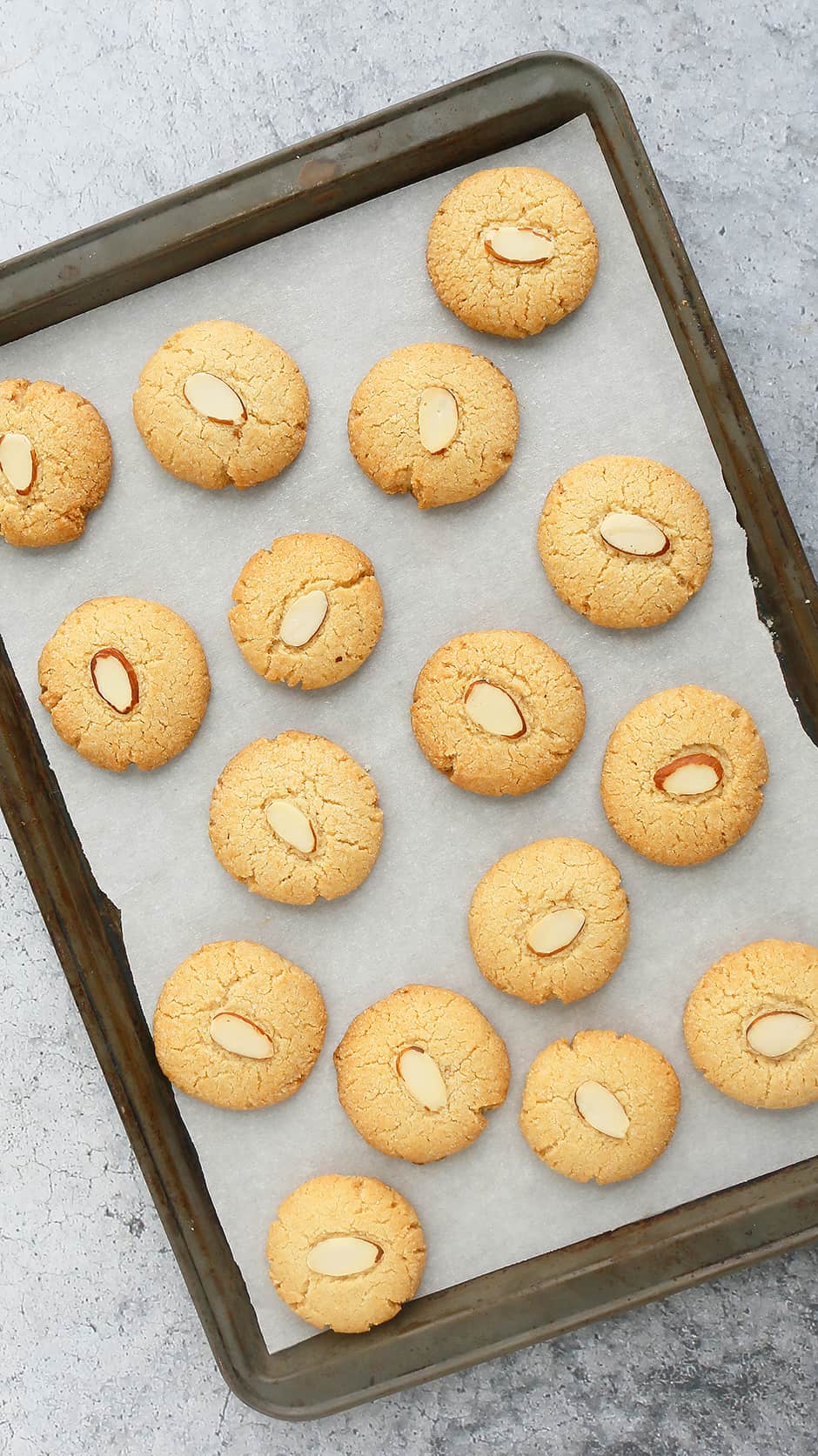 More healthy baking: Air Fryer Baked Apples, Baked Oatmeal Cups, Chocolate Hummus, Baked Mangoes, Persimmon Bread, Baked oatmeal, Chocolate Avocado Muffins, Date and Nut Salami and Carrot Oatmeal Cookies.
If you love guilt-free baked treats, here are few more recipe ideas: Baked oatmeal, Oat waffles, Persimmon bread, Date smoothie or Banana oatmeal cups or healthy and easy after school snacks for kids.
Frequently asked questions:
Can I use coconut sugar instead of brown sugar?
Coconut sugar alters the color and taste of the cookie. We loved the taste that is achieved from golden brown sugar.
I don't see vanilla extract in the ingredients?
The combination of almonds and coconut oil is delicious together, you will not need any other flavorings! Bonus, these smell amazing too.
Are these healthy?
With 21 grams of protein, 12 grams fiber, 36 grams carbs, these cookies are rich in protein, fiber, iron, vitamins and minerals.
More Popular Almond Flour Recipes you'll enjoy:
Follow me on INSTAGRAM, TIK TOK, FACEBOOK or PINTEREST for more delicious recipes.
Almond Flour Shortbread Cookies (using Coconut Oil)
CRISPY Almond Flour Shortbread cookies are Vegan, Gluten Free, Dairy Free, Grain Free and a Healthy treat. Made with only 3 ingredients, these biscuits are mildly sweet and made using coconut oil.
Ingredients
Instructions
Preheat oven to 350° F and line a large baking sheet with parchment paper and set aside.
Add almond flour, brown sugar and salt into a medium bowl and whisk to combine (making sure to break any lumps).
Add coconut oil and water and stir with rubber spatula until the dough is thoroughly combined (the dough will feel wet yet crumbly).

(To test - roll a tablespoon measure dough into balls and flatten them,
- if it breaks apart / feels dry, then stir in 1 or 2 teaspoons water
- It it feels wet/greasy, then mix in 1 or 2 tablespoons additional almond flour)
4. Scoop up a tablespoon measure dough, GENTLY roll into a smooth ball and flatten them into a ½-inch thickness (If you are having trouble with rolling the dough into balls, then mixing in few drops of more water will help with that).
5. Place on the prepared baking sheet, spacing about an inch apart.
6. Press one sliced almond on the middle of each cookie disc, pressing the almond slightly into the dough (this helps it to stay intact after baking). This step is optional and it is purely for decorative purposes.
7. Bake cookies for 18 to 21 minutes (rotating pan halfway through baking), until the cookies are deep golden in color.
8. Place pan on a wire rack to cool completely.
Notes
Use SUPER FINE almond flour
Do not use hot coconut oil – If your coconut oil is not liquidy, then melt in the microwave and cool to lukewarm before making cookie dough.
Deep golden brown – If the cookies are removed from oven earlier, then they will be softer in texture.
Flatten them to ½-inch will result in a crispier cookie.
Nutrition Information:
Yield:

15
Serving Size:

1
Amount Per Serving:
Calories:

621
Total Fat:

48g
Saturated Fat:

5g
Trans Fat:

0g
Unsaturated Fat:

41g
Cholesterol:

0mg
Sodium:

19mg
Carbohydrates:

36g
Fiber:

12g
Sugar:

7g
Protein:

21g
I am not a certified dietician or nutritionist. You are ultimately responsible for all decisions pertaining to your health. This information is provided as a courtesy and should not be construed as a guarantee. This information is a product of online calculator such as Nutrifox.com.. Although Kitchen at Hoskins attempts to provide accurate nutritional information, these figures should be considered estimates. Varying factors such as product types or brands purchased, natural fluctuations in fresh produce, and the way ingredients are processed change the nutritional information in any given recipe. Furthermore, different online calculators provide different results depending on their fact sources and algorithms. Under no circumstances will Kitchen at Hoskins be responsible for any loss or damage resulting for your reliance on the nutritional information. To obtain the most accurate representation of the nutritional information in a given recipe, you should calculate the nutritional information with the actual ingredients used in your recipe, using your preferred nutrition calculator. You are solely responsible for ensuring that any nutritional information provided is accurate, complete, and useful.
This post was originally published on 12/03/2020 and then modified on 02/15/2022 to add more details. The recipe, photos and video remains the same.
Did you make this recipe? I'd love your feedback! Please let me know by leaving a comment or review below or snap a photo and share on Instagram.
Some of the links above are affiliate links, which pay me a small commission for my referral at no extra cost to you! I am a participant in the Amazon Services LLC Associates Program, an affiliate advertising program designed to provide a means for us to earn fees by linking to Amazon.com and affiliated sites. Thank you for supporting kitchenathoskins.com
All contents and images are my original work, unless and otherwise mentioned. Please do not use my recipes or images without linking back to www.kitchenathoskins.com. If you wish to republish a recipe, please rewrite in your own words and don't forget to include a link back to the original recipe.