These Almond Flour Peanut butter Cookies are absolutely delicious with a tender crumb, high in protein, low carb and loaded with chocolate chips. Enjoy them warm with a glass of ice cold milk for the most decadent treat!
We have a love affair with chocolate chip cookies like these Air fryer Cookies, Healthy Single Serve Cookie, Almond flour Cookies or this Microwave cookie.
As an Amazon Associate and member of other affiliate programs we earn a small commission from qualifying purchases through our affiliate link. For more information read our Non-Disclosure Agreement.
Almond Flour Peanut Butter Cookies
The combination of peanut butter, brown sugar and chocolate chips with a hint of salt is just irresistible. These Cookies are Big, thick, crispy yet tender and is amazingly delicious warm with a glass of cold milk. Also naturally gluten free and can be made dairy free (refer notes).
These aren't your average peanut butter cookies that just have chocolate chips in them - The taste and texture is outstanding! They will be very soft when you take them out of the oven, but I promise they will harden and set into crunchy on the outside, perfectly crumbly and soft in the middle.
Why this recipe works
No chilling dough needed. make the cookie right away.
Uses only pantry friendly ingredients.
Loaded with protein from peanut butter, almond flour and egg.
Easier creaming method.
Great frozen.
The combination of flavors is irresistible!
The BEST Peanut Butter for Cookies
Use a standard commercial brand (we used Skippy) for this recipe. The added oil helps in the dough binding together. We recommend avoiding "natural" variety where the oil separates.
Best chocolate chips to use
We recommend using a good quality chocolate like Ghiradelli semi sweet chocolate chips. Other popular brands like Guittard, Nestle, Trader Joes are all great options.
Should I Chill the dough before baking?
Since this dough is made with room temperature butter and not melted, this recipe does require chilling. Also, the dough is slightly on the firmer side so, it is a great recipe that is made from scratch in about 30 minutes including baking time.
Why do my almond flour cookies fall apart?
The reason could be because they did not set. Be sure to let them cool on the baking sheet completely before removing them.
How long should you bake them for?
Baking them for about 14 minutes will yield crispy cookies. If you like a soft centre, then under bake them for about 13 minutes, so the edge turns golden in color. Cool the cookies slightly before trying to remove them from the baking sheet, else the cookies might break apart.
EAT them WARM
These are OUTSTANDING WARM! Simple microwave a cookie for 15 to 20 seconds (any longer might make them fall apart), until warm and the chocolate chips have slightly melted. Enjoy with a tall glass of ice cold milk for the ultimate dessert recipe like this oat flour cookies.
Can you freeze cookies?
Yes, most definitely! Once the cookies are fully cooled you can place them in an air tight container and store in the freezer for a couple months.
Pro Tips for Success
Ingredients
These homemade cookies can be made using standard pantry ingredients. Here's what you'll need to make these soft and tasty recipe:
Peanut Butter - Use regular commercial brand peanut butter like Skippy or Jif.
Almond flour - Use super fine variety.
Butter - Use room temperature unsalted butter. Skip salt in the dough if using salted butter.
Brown sugar - Deep caramel notes from dark brown sugar, adds so much flavor when compared light brown sugar. Plus, it keeps them soft.
Egg - Room temperature or cold will work.
Scroll down for printable recipe with amounts.
TIP- Use a name brand peanut butter like Skippy or Jif. The natural brands (these will seperate in the jar) yield a baked product with a grittier texture and also might spread too much.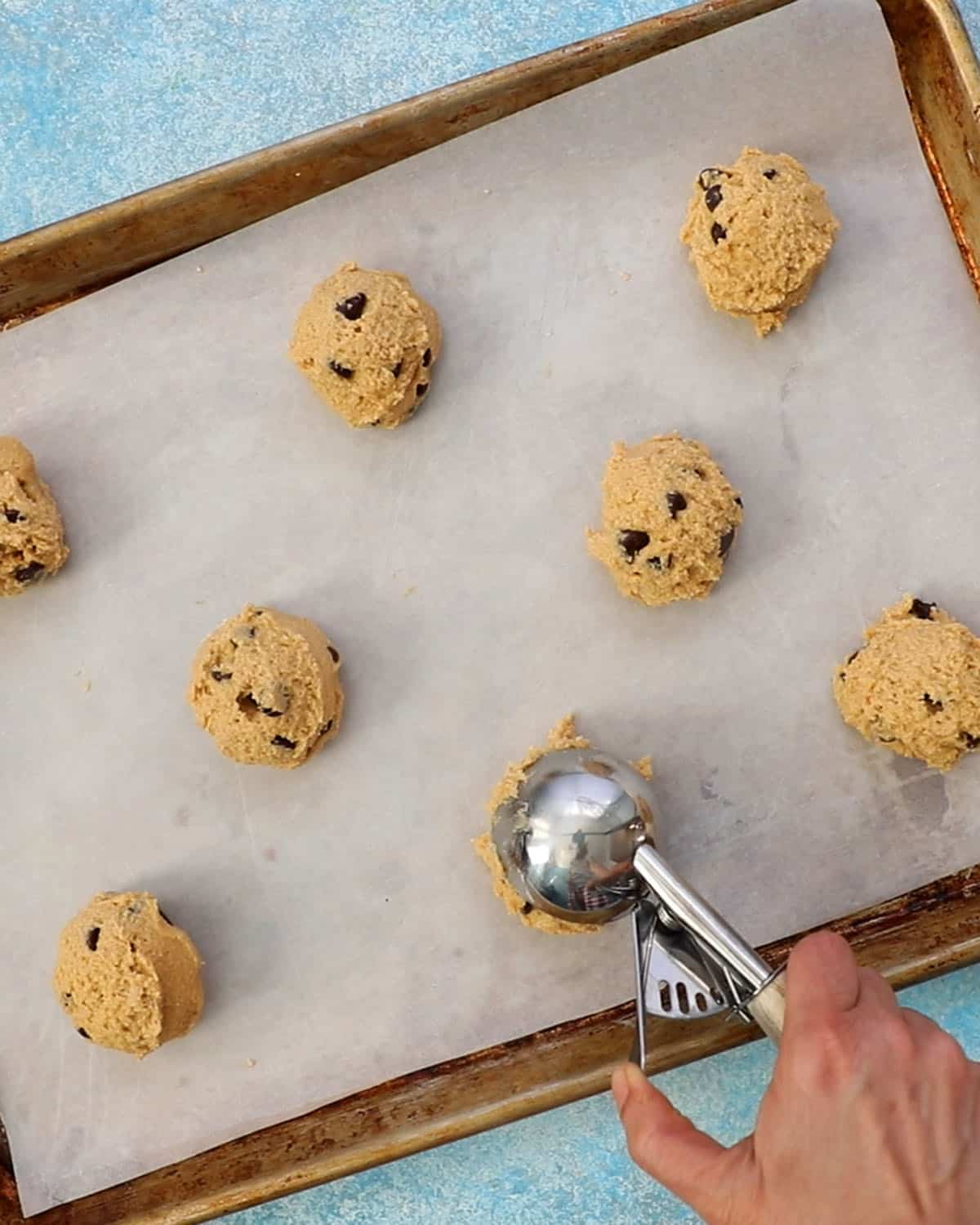 More Cookie recipes:
How to make?
Prep - Line two large baking sheets with parchment paper and pre heat oven to 350 degrees F or 177 degrees C.
Whisk dry - Whisk together super fine almond flour, baking soda and salt together in a bowl.
Beat wet - Using an electric beater, beat one egg, peanut butter, butter, dark brown sugar and vanilla extract together for about 2 minutes or creamy and fluffy.
Finish dough - Mix in dry ingredients and then stir in chocolate chips. Scoop about 3 tablespoons dough on the baking sheet, roll into balls and flatten them slightly.
Bake - Bake for 12 to 15 minutes, or unto golden around the edges.
Finish - As soon as you remove baking tray from oven, sprinkle additional salt on the cookies and then and place more chocolate chips on top.
Can I make the dough ahead of time?
Yes, you can chill the dough for up to 24 hours (just cover it with plastic wrap), bring the dough to room temperature before baking.
Pro Tip - Bake these until almost done when the edge is just starting to change color. They will continue baking with the residual internal heat and set up.
How to freeze the dough?
Scoop balls of dough and place on a baking tray. Let them sit in the freezer for 1-2 hours until solid, then put in a zip lock bag and put in the freezer. Then you can just bake a couple cookies at a time when cravings strike or a whole tray if guests show up.
More Peanut Butter Recipes:
FREQUENTLY ASKED QUESTIONS
Can I use natural peanut butter?
Natural butter makes a slightly drier, more crumbly cookie. So, we recommend going for the standard commercial brands.
Can I make the dough in advance?
Yes! the dough can be made up to 3 days in advance but you need to let it rest at room temperature for about 30 to 45 minutes, before shaping. The fats will solidify in the fridge, so it will be easy to work with only when the dough comes to room temperature.
How many calories in one cookie?
There are 278 calories with 6 grams of protein, 3 grams fiber and 22 grams of carbohydrates.
Can I make a smaller batch?
Sure can! Simply halve the ingredients to make a smaller batch.
More Healthy Desserts using Almond Flour-
More Cookie Recipes with Almond Flour:
Follow me on INSTAGRAM, TIK TOK, FACEBOOK or PINTEREST for more delicious recipes.
Almond Flour Peanut Butter Cookies
These Almond Flour Peanut butter Cookies are absolutely delicious with a tender crumb, high in protein, low carb and loaded with chocolate chips. Enjoy them warm with a glass of ice cold milk for the most decadent treat!
Ingredients
Dry Ingredients
½ teaspoon baking soda
¼ teaspoon salt plus more for topping
Wet Ingredients
1 egg
6 tablespoons unsalted butter, room temperature
1 teaspoon vanilla extract
Addional ingredients
Instructions
Pre heat oven to 350°F (or 177°C) and line two large baking pans with parchment paper and set aside.
Add all dry ingredients into a medium bowl and whisk to combine.
Add all wet ingredients into another larger bowl and beat with a hand held electric beater for 2 minutes, until creamy and fluffy.
Add almond flour mixture and continue beating (begin on low and then increase to high), until mixed in. Stir in chocolate chips with a spatula or large spoon.
Check Consistency - Roll a piece of dough into a ball, it should very soft but not sticky. If the dough feels a little dry/firm, then mix in 1 to 2 tablespoons milk.
5. Using a cookie scoop, make about 3 tablespoons measure mounds on the prepared baking sheets (spacing them evenly).
6. Using the back of measuring cup, flatten cookies to about ½-inch thickness. Make sure that there is at least 1 ½ inches gap between the cookie dough.
Optional Step - Make rounder cookies - Gently roll the dough balls into a ball using the palm of your hands, place on the baking sheet and then flatten them to get even round shaped cookies.
7. Bake cookies, one sheet at a time for 13 to 14 minutes, rotating pan half way through baking, until cookies are spread and get golden brown around the edges.
8. Place pan on a wire rack and immediately, top cookies with more chocolate chips and a sprinkling of salt on top.
9. Repeat process with the remaining baking pan.
10. Cool (cookies will firm up as they cool) and store in an air tight container at room temperature.
These cookies are best enjoyed WARM (microwave a cookie for 15 to 20 seconds, longer might make them fall apart) with a glass of ice cold milk - YUM!
Notes
An electric mixer comes handy to beat the butters, egg and sugar creamy and fluffy.
Make them dairy free – Use room temperature coconut oil instead of butter and use vegan chocolate chips.
Flatten the dough – Cookie recipes made with peanut butter prevents normal spreading. After you shape the dough into scoops, flatten them with the palm of your hands or the back of a measuring cup to help them spread more while they bake.
Use dark brown sugar for best tasting cookie – The deep molasses flavor is delicious for the recipe.
Under Bake – Peanut Cookies tend to get hard when over baked. So we recommend slightly underbaking them (about 13 minutes is perfect for one batch).
Nutrition Information:
Yield:

16
Serving Size:

1
Amount Per Serving:
Calories:

278
Total Fat:

20g
Saturated Fat:

6g
Trans Fat:

0g
Unsaturated Fat:

12g
Cholesterol:

23mg
Sodium:

139mg
Carbohydrates:

22g
Fiber:

3g
Sugar:

17g
Protein:

6g
I am not a certified dietician or nutritionist. The information is a product of online calculator such as Nutrifox.com, although Kitchen at Hoskins attempts to provide accurate nutritional information, these figures should be considered estimates and not be construed as a guarantee. Varying factors such as product types or brands purchased, produce, and the way ingredients are processed change the nutritional information in any recipe. Furthermore, different online calculators provide different results depending on their fact algorithms. Under no circumstances will Kitchen at Hoskins be responsible for any loss or damage resulting for your reliance on the nutritional information. To obtain the most accurate nutritional information in a given recipe, you should calculate the nutritional information with the actual ingredients used in your recipe, using your preferred nutrition calculator. You are solely responsible for all decisions pertaining to your health and ensuring that any nutritional information provided is accurate.
Did you make this recipe? I'd love your feedback! Please let me know by leaving a comment or review below or snap a photo and share on Instagram.
All contents and images are my original work, unless and otherwise mentioned. Please do not use my recipes or images without linking back to www.kitchenathoskins.com. If you wish to republish a recipe, please rewrite in your own words and don't forget to include a link back to the original recipe.
Some of the links above are affiliate links, which pay me a small commission for my referral at no extra cost to you! I am a participant in the Amazon Services LLC Associates Program, an affiliate advertising program designed to provide a means for us to earn fees by linking to Amazon.com and affiliated sites. Thank you for supporting kitchenathoskins.com.