Buttery, crisp, easy slice & bake cookies that are studded with candied cherries.
Your Christmas cookie tray needs this.
It tastes really, REALLY good. Simplicity at its best!!!
Crisp, buttery, not-overly-sweet and dotted with candied cherries.
Make ahead treats are such a welcome addition this time of the year.
Icebox cookies totally fits the bill. Dough can be refrigerated or frozen (up to a month).
Cookies can be baked several days ahead or frozen up to a month.
How convenient is that?
15 Last Minute Christmas Baking Recipes <—– Cookies, candy, healthy treats and even no bake recipes!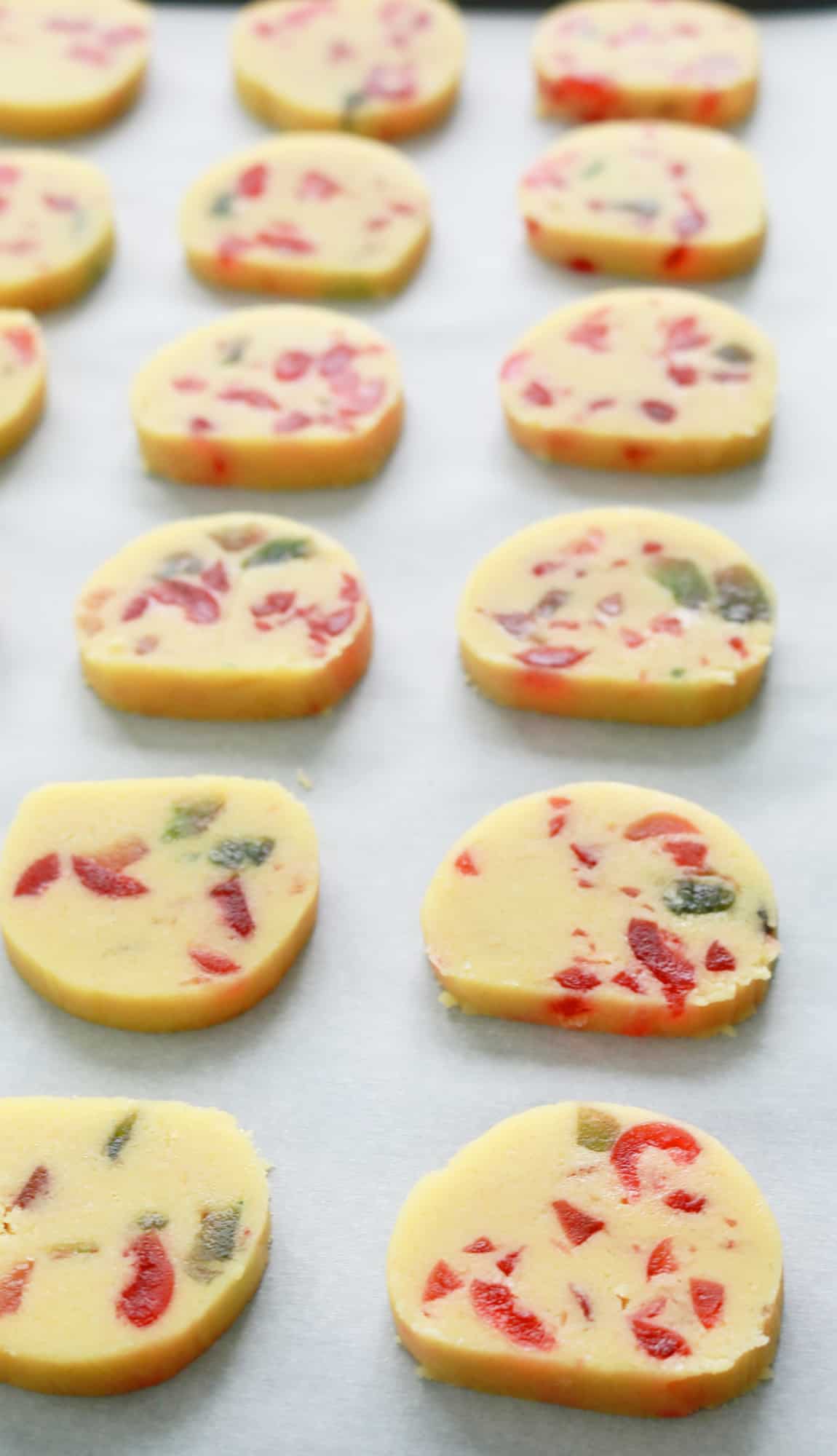 ---
Skill level – Easy
Christmas Fruit Icebox Cookies
Ingredients:
1 cup + 2 tablespoons all purpose flour (spooned and leveled)
1/4 teaspoon baking powder
1/4 teaspoon salt
1 stick (1/2 cup) unsalted butter
1/4 cup + 2 tablespoons sugar
1 large egg yolk
2 teaspoons vanilla extract
1/2 cup chopped candied cherries (red or green 0r a mix of both)
Preparation:
1. Whisk together flour, baking powder and salt in a small bowl, set aside.
2. Add butter and sugar into a large bowl, beat with a hand held electric beater for 2 minutes, until creamy. Add egg yolk and vanilla, beat for additional 30 seconds. Beat in whisked flour mixture (start low and build to high), until combined (it will look crumbly). Add chopped candied cherries and beat for a few seconds, until mixed (it will still look crumbly).
3. Knead dough with your hands to form a smooth ball (the warmth of your hands will the bring the dough together). Shape dough into a 10-inch smooth log. Wrap with plastic wrap and place in the refrigerator, until firm (at least 2 hours or up to a day or can be frozen for a month).
4. Just before baking, preheat oven to 350 degrees F. Line a baking sheet with parchment paper.
5. Remove dough from refrigerator, unwrap and discard plastic. Slice into slightly thicker than 1/4-inch slices. Place sliced dough on the prepared parchment, spacing one inch apart.
6. Bake cookies for about 19 to 25 minutes, until slightly golden around the edges (do not let get any darker). Rotate pan halfway through baking.
7. Place baking pan on a wire rack to cool completely.
Store cookies in a covered container for several days.
Makes about 28 cookies
---
Notes:
– Do not let the cookies get darker in color. Remove promptly when they are slightly golden around the edges.
-Slicing cookies thinner might make the candied cherries hard after baking. So, slice them thicker than 1/4-inch.
– Baked cookies can be frozen for up to a month. Thaw at room temperature.
-Dough log can be wrapped well and frozen for up to a month. Let thaw at room temperature for 15 minutes before slicing.
-Candied cherries can be found at the produce section of your supermarket (during the holiday season) or found at Amazon.
(cherry)